Blinman is the highest settlement in South Australia at 610metres. It has a pub and one of the distinguishing features of this area is that it sells locally-made ice cream – well, not actually made in the Flinders Ranges but in a little town in this mid north area of the State – in Laura.
The Flinders Ranges were named after Matthew Flinders who, together with his cat Trim, were the first Europeans to see the Range when he anchored his boat in Spencer Gulf near present day Port Augusta, and his name was given to the Range by Governor Gawler in 1839.
Wilpena Pound is an ancient caldera in the Southern part of the Flinders Ranges. It is one of the few places which was still on my bucket list of places I hadn't been in this vast country. The name had stuck in my mind since I read that the famous New Zealand soprano, Kiri Te Kanawa had performed here in an open-air concert – with the all kit and caboodle of an accompanying symphony orchestra.
Within the National Park now owned by the local indigenous people, the resort is surrounded by hills and the bush crowds in upon you. Ring throated green parrots are cavorting on the terrace as I am setting down my thoughts.
Six weeks earlier the area had been flooded and there is still evidence of water damaged roads. Most of the bush that had been washed along with the floodwaters had been cleared away, but the road signs still warned of flood damage and the unmade roads into the interior of the range had yet to be graded. There are plenty of hikes, which I could have done in the past, but there is still much to see.

The Flinders Ranges themselves are not that high, but they have a certain majesty. There is the huge Arkaroola Rock; there are the hills which are swirls of pink accentuated in the afternoon sun. A hill pokes out from the pink diorama as though it is a sand dune not rock. There is the Great Wall of China atop, in American usage, a butte. Nature had constructed what appears to be a dry-stone wall, which meanders up and across these flat-topped hills. Other peaks are jagged, saw toothed. This has been a playground for Mother Nature to experiment in form and texture. After all, to the local Aboriginal people this is the land of the Rainbow Serpent.
Throughout the ranges on the road north to Blinman, the dominant tree is the native cypress and, because of the recent rain, they are growing amid a greenery which has coalesced with the salt bush. There is also the mauve of Paterson's Curse, which has been let loose by the rain and, as I have written before, it can look beautiful. However, as Baudelaire once wrote, at the heart of great beauty resides evil. I always think of those words when I see this imported weed coating the landscape.
Tiny Blinman has a general store, which was closed, but fortunately the pub offered the ice cream. There was once copper mining here, and the woman at the door informs us that the tour of the mine is full. She gives me some tiny pieces of malachite as compensation. I tell her my great-grandfather, when he first came to Australia, took his family south of the Flinders Range to Kapunda, where the first commercial mine in Australia had been opened in 1842. This mine also yielded copper but has long been closed. I had been there many years ago and already gathered pieces of souvenir ore from the mine tailings.
The view from Stoke's Hill Lookout is of a red ochre expanse dotted with salt bush. Here the greenery has not penetrated and my whole vision was one that Fred Williams may have seen and painted. After all, the Flinders Ranges was inspiration for Hans Heysen also. He painted many a vibrant gum tree landscape. Although the native cypress are dominant, there are stands of several major eucalypts throughout the Ranges. There is the Southern Flinders Mallee, which grow on the rocky slopes, but along the river-beds are the imposing river red gums beloved of Heysen.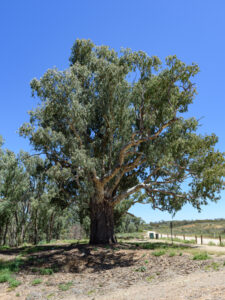 The largest of these eucalypts is celebrated in the small settlement of Orroroo, south of the Flinders Ranges, where the eponymously named tree is said to be over 500 years old. It has a trunk circumference of 10 metres and no fork in the trunk until six metres up.  It is a very healthy tree, but it is by no means the only tree of similar size and in the forecourt of our accommodation, there is a tree that is not much smaller. In the reception is a huge red gum counter made from a tree that had fallen over. Part of the massive trunk had been salvaged but the rest, despite protests, was cut up into firewood, the desecration often perpetuated by government-paid foresters.
Hawker is at the southern apex of the Flinders Range, a small settlement but with an enormous tyre service. This is an ominous warning of travel on the unmade roads that penetrate the Range. While we refuelled there, we were surrounded by an exhaust of leather clad motorcycle riders, most of whom were old enough to be directly inspired by Peter Fonda and Denis Hopper in Easy Rider. This is "easy riding" in the Outback, even though the sense of hair flowing the wind is now "kerbed" by a helmet.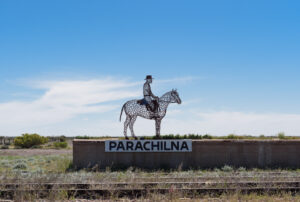 The road to the west of the range proceeds north to Parachilna, with a pub and an official population of three. The pub is managed by a young couple who have fled there to escape the Virus, and here gained employment. This Prairie Hotel is a well-known watering spot to where once a railway ran, but no more.
The hotel is deceptive. From the outside it is a normal pub with the corrugated iron roof slung over the walls to provide protection from the sun. However, it is different from the normal desert hostelry in not being a reservoir for stubbie holders, fridge magnets, car stickers, and sexist T-shirts in a dungeon-like public bar. Inside it is tastefully decorated, light and airy.  There is a wide array of quality, mostly Aboriginal, art on display for sale. It is also the general store, sells other Aboriginal-designed artefacts, has good accommodation, the place for a good feed at breakfast and dinner; and being a pub, a wide range of grog. A bottle of my favourite Hendricks gin peeps out of a well-stocked spirits selection. Over the road from the hotel there is the budget accommodation in the form of dongas, ship containers with a portal of entry. Without air conditioning in the middle of summer, they would be like being in a microwave.
The paved road now goes a long way north and last year was extended to Marree (once the cattle railhead) to try and help those "grey nomads" dragging their caravans. Thus, Parachilna is now not a terminus but a welcome stop on the way north into the desert. For us, given how late in the day it is, this was our turning point from where we drove back, bathed in the late afternoon sun.
Adam Goodes mob – The Adnyamathanha
Terence and Josephine Coulthard, in the words of the front cover, compiled a Culture and Language Book on the Adnyamathanha people. These are local Indigenous Guardians of the Flinders Range – the long title means Rock (Adnya) People (Mathanha). The book runs to 450 pages and serves as a dictionary – the written form of the oral language – painstakingly described.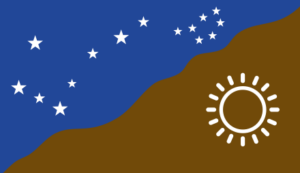 These people have a flag (pictured) which combines the blue diagonal canton as representing sky and the Blue Rock people. The brown represents the land and the Red Rock people. The saucepan star formation is the men's story line; the seven sisters the women's story line. The circle with the radiating white lines is Ikara (Wilpena Pound) and the symbol for the whole Adnyamathanha community. Thinking about the complexity in the cultural attachments to the land we now recognise as Australia, such a flag should be looked at in a national context. It is a proud flag; this is not the flag of the downtrodden.
This strength was exemplified by us being invited to come to the launch of the book under the river red gums, where Terence sang and played the guitar, where the mob had come  and now sat under the trees and the children ran free the aboriginal kids weren't running around, they sat with their parents. There was a lot of talk, everybody seemed to have a word to say, including the local member for Stuart with a long Dutch name.
We purchased both the book and the flag.
John Kitzhaber – His Thoughts
Below is a the first of a multipart series by Dr John Kitzhaber, former Democratic Governor of Oregon and the author of the Oregon Health Plan. I have known Dr Kitzhaber for a long time and he has agreed to his essay being reprinted in my blog. It provides an insight into the thinking of someone whom President-elect Biden may tap for ideas. Over to Governor Kitzhaber…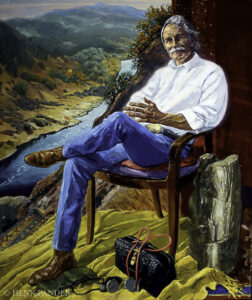 "I started practicing emergency medicine when I was 27 years old, and I still remember the vulnerability of the people who came to see me. They were sick or injured, frightened, and asking for help. They didn't know me, and yet they put their trust in me. I did everything in my power to help them and yet, even then, I sometimes failed.
As an emergency doctor, being unable to save a life was devastating. The walk across the hall to the small room where family and friends waited always felt like a long hopeless journey. Yet while this poignant intersection of compassion and mortality is difficult, it is that very compassion, and the humility and caring involved, that drew many of us into healthcare in the first place.
Today, much of that compassion is being stripped away. Early in my career, in the 1970s, we had time to build the kind of personal relationships with our patients that often contributed as much to their health and well-being as the medical treatments we prescribed. Sadly, the space in which to cultivate these deeper relationships seems to be slipping away—lost to an electronic medical record that is as much about billing as about caring, and to an impersonal corporate structure that prioritizes revenue generation over a deeper understanding of the social and economic circumstances that contribute to illness.
I became a doctor to improve people's health and well-being, not just to treat their medical conditions. I soon realized, however, that in many cases I was treating the medical complications of social problems. I was trained to treat the medical conditions, which I did to the best of my ability; but afterwards, my patients returned to the same social conditions that had brought them into the hospital in the first place. I eventually realized that our healthcare system is designed not to support wellness but rather to profit from illness. While most healthcare providers certainly don't approach caring for people that way, the underlying business model does.
Serving in public office while still practicing medicine gave me another insight: the realization that the more money we spend on healthcare, the less is available for housing, nutrition, education, or other things that are critical to health and well-being. Since first running for the Oregon legislature in 1978, I have spent 26 years as a representative, as a senator, and as governor trying to develop a new model—one built on the recognition that health is the product of many factors, only one of which is medical care.
In 2012, in the depths of the Great Recession, Oregon established such a model: coordinated care organizations (CCOs) for our Medicaid recipients. The CCOs don't just treat illness; they cultivate health by addressing not only physical, mental, and dental care but also related needs such as safe housing, transportation, and fresh, affordable food. CCOs have also demonstrated that it is possible to expand coverage and reduce the rate of medical inflation while improving quality and health outcomes. Now, with the deep recession triggered by the coronavirus pandemic, it is time to scale this kind of model up for the whole nation. My primary aim with this article is to offer one way in which we might achieve that goal.
From Cost and Coverage to Value and Health
For decades, the healthcare debate throughout the United States has focused almost entirely on coverage—on how to pay for access to the current system—rather than on health. What is missing is a consideration of value, which in this context means that the purpose of the system is not simply to finance and deliver medical care but rather to improve and maintain health. Indeed, the things that have the greatest impact on health across the lifespan are healthy pregnancies, decent housing, good nutrition, stable families, education, steady jobs with adequate wages, safe communities, and other "social determinants of health"; in contrast, the healthcare system itself plays a relatively minor part.
Ironically, since the cost of medical care consumes 18 per cent of our gross domestic product (GDP), our current healthcare system actually undermines our ability to invest in children, families, housing, economic opportunity, and the many other key social factors important to health and well-being. This is a primary reason why the United States does not compare favourably in terms of health statistics with nations that choose to spend far more on the social determinants and far less on the healthcare system.
If we could reduce our healthcare spending from 18 to 12 percent of GDP (which is the average spent by most other industrialized nations), we would free up over one trillion dollars a year to invest in the things that contribute more to health. Such a reduction in spending might seem impossible, but successful examples of how to bring down the total cost of care do exist, including Oregon's CCOs. Under these care models, providers receive a global budget to provide quality care with good outcomes for a defined population; if the global budget is exceeded in any given year, the providers are at financial risk for the difference. These care models change the system's incentives from rewarding sickness to rewarding wellness—and they work. Because they focus on improving health, they prevent illnesses and thereby reduce costs without sacrificing quality.
Effectively addressing the access, value, and cost issues in our healthcare system is one of the most important domestic challenges we face as a nation. Doing so, however, requires both a clear-eyed assessment of what this system has become and the courage to challenge that system. The global pandemic, with its profound economic and social consequences, has brought into clear focus the urgent need for a new model more aligned with caring, compassion, and the goal of improving the health of our nation. And no one is more qualified to lead that effort than the people who have dedicated their lives to the healthcare profession.
COVID-19 and Our Legacy of Inequity
In 1882, the newly formed Populist Party wrote in its platform, "The fruits of the toil of millions are boldly stolen to build up colossal fortunes for a few, unprecedented in the history of mankind." Now, over 125 years later, these words aptly describe our current social and economic conditions and how little progress we have made in terms of social justice and equal opportunity. The novel coronavirus has exposed anew the inequities and the linked class and race divisions within our society, problems that have been with us since before our nation's founding, almost always churning just below the surface, visible only indirectly when we examine disparities like disproportionately lagging health and education outcomes for chronically under-resourced— often racially or ethnically segregated—communities. Especially in the past few decades, these inequities have been masked by debt-financed economic growth that has prevented us from mustering the political will and societal solidarity necessary to address them.
Perhaps nothing better illustrates the depth of these disparities, or the extent to which social justice has been eroded, than the US healthcare system. It is a massive corporate enterprise that now consumes nearly one-fifth of our GDP, a huge employer that is increasingly dependent on public debt for its financial stability, and a major driver of income inequality. The pandemic has cast these inequities and contradictions into stark relief.
We see the difficulty nonmedical essential workers have had in obtaining adequate health protections, often resulting in significantly higher rates of infection. These are people in low-wage positions—often with minimal or no sick leave or insurance—working in grocery stores, warehouses, factories, and food and agricultural production sites. We also see that Black Americans are dying from Covid-19 in dramatically disproportionate numbers—deaths attributable to the structural inequities in our society that make Black people and other people of colour more likely to have diabetes, heart disease, and high blood pressure, and to live near major sources of health-endangering pollutants and far from health facilities and grocery stores. These are issues we urgently need to address.
At the same time, the pandemic has for the first time brought the economic interests of those who pay for, consume, and provide healthcare into clear alignment. This gives us a once-in-a-generation opportunity to transform the current system by demanding value as well as universal coverage and by constraining the total cost of care."
To be continued next week.
 What a Village
After such an above sober analysis…
The votes for the US President have been counted and, as predicted, Trump is behaving as he always has, and in so doing disgracing all American democratic traditions.
Joe Biden has won. I have not thought much of him, but now that he is on the brink of Presidency, he needs his critics – of which I am not even a speck in importance of one of these – to give him a chance.
Trump is exhibiting the sure signs of dementia. People are now openly saying he is lying and the media is by and large turning him off. The pathetic lies are obvious, but is he confabulating? There are these long blanks in his mental processes which he fills with babble. This is associated with early dementia. Therefore, with his face the colour of a tomato, which even make up cannot hide suggests a visit to an independent medical panel would be wise.
Nancy Pelosi is 80; Joe Biden is on the cusp of 78; Mitch McConnell is 78 and unquestionably the most unhealthy seems to be Donald Trump, who is only is 74. He has had a dose of the Virus and refused to heed its danger.  Instead of convalescence he embarked on a frantic schedule in which he encouraged his adoring crowd to gather into a feed lot for the Virus. He demonstrated how the President's power must be reviewed, as the Senate has done in the past, to clip presidential authority. Trump has shown how susceptible a nation can be to bullying, even when this is limited to four years.
There is an increasing adage that 70 years is the new 50, but believe me, 80 is the new 80. Something happens between 70 and 80 in many people, and that is why it is hard to detect how well they would handle the "next four years". Retention of physical and mental health in individuals begins to become more of a lottery. Therefore, both Pelosi and McConnell should be watched for any slippage, but in politics that is an inconvenient comment.
I do not fear of being called ageist, because I am in the same age group. Biden still shows he can jog to the President-elect's podium, but he called upon Obama to assist in maintaining a sense of mental resilience. I had made the comment earlier that Biden would give away to an Obama restoration. I made the comment that this may be stopped in its tracks by Michelle Obama. Obama's oratory over the last few weeks helped solidify African-American voting intentions in these closing weeks.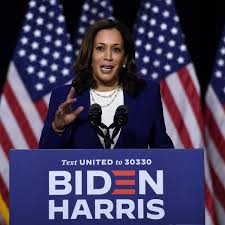 Kamala Harris is 56 years old and Mike Pence is 61. Whether having endured years of Trump, Pence might retire in Indiana to try and cure the PTSD engendered by four years at "Don's Party", with any thoughts of a future Presidency probably snuffed out. However, the future of Kamala Harris will determine whether that divide in America painted red will ever accept under any circumstances a woman, especially if Biden should die or be incapacitated over the next four years.
In short, there is much that could be added without rehashing that which has already been said. What in the end were the most significant conclusions for me?
America elected a woman Vice-President.
Trump scored 72 million votes.
COVID-19 has affected three per cent of the population and O.8 per cent of the population have died up to this point. Does anybody out of that 72 million in the imitation of a self-obsessed narcissistic ex-President really care about such a small group of "losers"? Is America that callous?
Mouse Whisper
Not Anywhere
            Not Delaware
                          But Somewhere
                                     Wilmington South Australia
The Worshipful Company of South Australian Field Mouse Grain Handlers have asked me to invite you Sir to open the Wilmington Night Rodeo on January 23 next. I understand to perform this important role you will have re-schedule a minor ceremony in Washington to be with us. However how could you afford to miss having the finest tucker at Rusti Kate's Feed Lot after a trip through the Puppet Museum, which I understand as a fine array of your predecessor's marionettes.
Respectfully