I am somewhat bemused that John Howard keeps being rolled out by the Liberal Party. I suspect that knowing Johnnie, he would be quietly – with that telltale lip quiver– badgering his colleagues to remain in the limelight. After all, he did not have the elixir of political life, being the second Prime Minister to be ejected by the voters from his electorate. Hardly, what you would call success.
Sure, Howard won a landslide election in 1996 from a smart guy who was too smart for his own good. Then he survived – just, against Beazley, one of the most over-rated political party leaders ever; and then won against the authoritarian Latham. The authoritarian personality is that dangerous individual who is happy to be on the political extremes, as far away from democracy as you can find. The syndrome is often combined with extensive gazing at one's reflection in the pool among the other Narcissi. But Latham was just plain nasty, with a zest for appropriating other people's ideas.
But come on, ye Howardophiles, he gets rubbed out by another strange character, whose basic insecurities were concealed under a filo of flaky puffery. The puffery was soon dissipated into an unelectable cloud of irritant, but remember Rudd did knock off Howard comprehensively.
The problem with the cohort of those of us who have passed the age of 80, such as Howard, is that those who are used to own the limelight now struggle for relevance. Most of us do not care. Some have hobbies or indulge in what they have aways wanted to do but did not have the time. Some write blogs. They have done what they had to do, and now separate themselves from their previous careers.
From my own perspective one notices subtle changes in personality of one's peers – the lack of sharpness and increasingly where experience and the biases hang off like fairy lights and overpower  any residual original thought.
Regard for Howard's legacy will diminish with time, but if I were he, I would not accelerate that process. Him flogging a major resource, our natural gas, to overseas interests for a pittance is one item. One problem with his Party is, I suspect, that there are a number of people of similar age to Howard still wielding undue influence.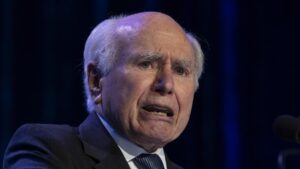 What do you do with a group of octogenarians and beyond who are unable to give up power. There is only so much biography the world can digest. And there is only so much plastic surgery that can conceal the temporal ravages of the skin, but not that of the brain.
Halibut and Homer
I must say I quite enjoy travelling Alaskan Airlines. They are a friendly mob, unlike the hard faces that welcome you on the average American airline. Still, Alaska is a long way from Los Angeles, and a near six hours in a Boeing 737, even at the front of the plane, tests the friendship.
Anchorage was the destination and we were booked into the Captain Cook Hotel. Captain Cook visited Alaska on his final voyage looking for the North-West passage. On 29th August 1779, Cook reached the Siberian coast, but then abandoned his plan to look further as he deemed it too dangerous. He set sail for the southeast to escape the rapidly approaching ice to Norton sound in Alaska, remembering that at the time Alaska was Russian territory.
It is an odd experience staying in a Captain Cook Hotel so far from home. However, it gave us the opportunity to review our acquaintance with the Alaskan king crab. This crab is harvested from the cold Northern Pacific, particularly Bering Strait. Red king crabs can reach a width of 28 cm, a leg span of two metres and a weight of about 13 kg.
To catch them is apparently one of the most dangerous occupations. Hauling up lobster pots, which may weigh up to a tonne, from a stormy sea results in a high death and injury rate. But the season is short; the returns are attractive; the show must go on.
As far as I know of there are three types of halibut – red, blue and brown. I have only seen them cooked, and to state the obvious, all lobsters are red in the pot. I had eaten them in a seafood restaurant, which once was located across 57th Avenue from where we used to stay in New York. It was a rite of passage after arriving to book into the Buckingham Hotel, with its dark art deco reminder of a New York from the 1920s. Up and across the street was Carnegie Hall; next door was the Steinway Building, with the grand pianos in the window.  A historic block, the seafood restaurant was just so convenient to the tired traveller.
There, I always seem to order oysters, which reflected the diversity of the various beds along the Atlantic Coast mainly and then the spectacular king crab with those gigantic claws. To tell the truth, I always found the crab as a gustatory as distinct from the visual experience to be disappointing. I suppose I expected a distinct taste, such as the one found in our mud crab. Nevertheless, whatever its diet, the crab flesh reflected bland feeding habits – "nice" would be a correct word for the taste. It was no different that day in the restaurant in the Captain Cook Hotel.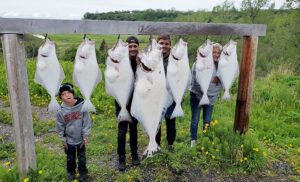 As part of recollections of memorable fish meals this one occurred in Homer. As with much of my travels, there was always a sense of the serendipity hanging around. I had an interest in the Russian settlements of Alaska, and one of these Russian groups were the Old Believers who sought religious asylum in Alaska. There was an Old Believers township of Nikolaesvk on the Kenai Peninsula near Homer, which itself is about 350 kilometres from Anchorage. Their story is a separate one, but along the way has yielded to the discovery of halibut.
Nevertheless, we needed a place to stay and there was no accommodation in the Old Believers' village. In addition, my wife reminded me that this was an area where we could see bald eagles, which she wanted to photograph – so the trip had many objectives, but a meal of halibut was initially not one of these.
Coming upon a fish meal of halibut was accidental. Halibut is a large fish, which resembles flounder, but can grow to over 200 kg. As I found out later, the name halibut was derived from the Old English for "holy flatfish", as it was a favourite with the mediaeval clergy for Friday repasts. It must have been the original monkfish.
When we arrived in Homer, we were told at the motel we must have a meal of halibut. For some reason, I had always associated halibut with English fish and chip shops and hence of little consequence. How wrong I was!
Homer is located on Kachemak Bay and has breathtaking views of the volcanic snow-covered Kenai Mountain Range. Homer itself is located on an old moraine jutting out into the Bay. There are still seven glaciers which actively drain into the Bay.
Homer itself was flattened by an earthquake in 1964, an earthquake separated by a large chunk of the Kenai peninsula jutting out into the Northern Pacific Ocean, but since it was 9.2 on the Richter scale, its effect on Homer and the surrounding countryside was that of massive subsidence accompanied by a tsunami – and the gravel spit of land upon which Homer was perched had to be re-constructed.
Now near the end of this spit are located a clutch of restaurants where we went for a meal. I think it was called the Harbour Grill, all brown timber and cosiness. Homer faces Halibut Bay. From a fisher's point of view this is where the large halibut are abundant. It was a simple meal as I remember, with chips.
Fresh halibut fillet –with its glistening white flesh. That is enough. It was a meal to remember, but unlike wine, there is no surrounding gustatory and olfactory nonsense about a hint of vanilla or a whiff of honeysuckle as one finds with some wine connoisseur musings.
Just luscious but simple – or do I sound too much like Rick Stein?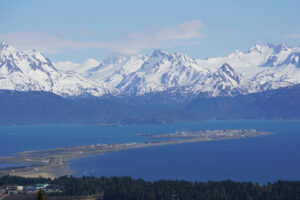 Add the twilight view across to the mountains with its celestial feeling. Does God eat halibut on Fridays?
Borders are Edgy
Sometimes when you drive the back roads of the nation, you come upon settlements where rural poverty is pronounced; houses at the dilapidated end of town where the casual passersby wonder just where the line of unliveable lies.  Often it is the shops that are closed, with cobwebs coating the edges of a dirty window where the For Sale sign has faded.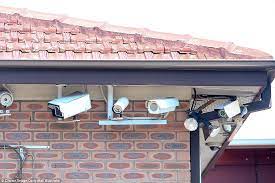 It is somewhat surprising when you drive past what appears to be an empty shop next to an unprepossessing house to see it surrounded by a high metal fence and bristling with a substantial array of power lines and CCTV cameras. There are other buildings on the property, including a large shed at the rear, and any windows seem to have the blinds down. There are limbs of animals hanging from trees dotting the property. A warning?
Parked outside this well fortified property were two modern SUVs and two motor scooters. It all seemed strange in such dilapidated surroundings.
Nevertheless, there is a pattern of small hamlets off main roads where there are multiple exit roads, where one can find such  "improvements". I remember another small town near the South Australian border where there were the same such "improvements".
Maybe this observation is a one off. However, a Victorian police officer commenting on the activity of bikie gangs, of which there are at least a dozen across Australia, some years ago made this classic understatement: "If there's not been a presence in a regional town and all of a sudden there are (bikie) clubs expressing an interest, we need to look into why. They're not setting up babysitting centres."
The Overlanders
Last week, in the afternoon, I watched a screening of The Overlanders, an Anglo-Australian film released in 1946 which was based on the cattle drive from Wyndham to Brisbane, when 1,000 cattle were moved south to escape any Japanese invasion in 1942.
The film was in black and white, and the camerawork reflected the period, but it was still compelling. Filmed in the Northern Territory, it borrowed from the American Western themes of cattle drives, somewhat drily called a "Meat Pie Western" – that is the Australian version.
The film introduced Chips Rafferty, who received £25 a month for five months, but the film launched his career. You can see in some of Chips' the facial expressions that Paul Hogan "inherited".
What attracted my attention was the juvenile lead in the film, a fresh-faced teenager called Helen Grieve, who had been born in 1931 in Sydney. She was to appear in one further film, "Bush Christmas", made in 1947. This was a bush adventure story about nasty men who steal the children's horses. They are eventually caught; the children win out. I saw it; like many children of my age.  It was a great film. I well remember the Aboriginal boy introducing the white children to the witchetty grub, which he ate with relish, to the horror of the white children.
After "Bush Christmas" Helen Grieve gave acting away to do science. The proposed sequels to that film never eventuated, and film work in Australia had dried up.
My curiosity was tweaked.  There was little further information about her. She had died when she was rather young, at 49 years, in 1981. Then I discovered a note in the society pages of The Bulletin that she had married a David Joseland in 1955 at All Saints Woollahra.
The wedding report disclosed that her father was Herbert Ronald Robinson Grieve. He was a prominent medical practitioner with a general practice in Eastwood (but who lived with his family in Vaucluse). Dr Grieve was an influential meddler in the politics of health care, so much so that he was ultimately knighted, being a mate of Earle Page. Conservative in politics he may have been, but he still had enough energy to marry thrice.
David's mother was a member of a pioneering pastoralist family near Canberra, and her husband, John Joseland had been absorbed into the Crace family when they married. She died in 1933; he too died in 1937.  David Joseland was thus orphaned and at the age of six he was consigned as a boarder at Cranbrook School.
As his daughter later said: "After seeing The Overlanders, Dad's dream was to meet my mother, work on the land and have that rural life." And he did all of that.
How they got together is for someone else to fill in. Sydney was far smaller then, and if it is assumed that the two of them were products of the privileged eastern suburbs, it would not have been that hard for young Joseland to fulfill his quest to find his Helen.
He was well connected despite his tragedy. His grandfather was a well-known Sydney architect with incidentally a deep love of fishing. His father had been a pastoralist near Canberra. David spent his vacations at Belltrees, the famous property of the White family in the Hunter Valley, still then a very large fragment of a huge landholding selected by one James White who had come to the colony in 1826, and was given a free hand it seemed to put together a half million acre holding extending from the Hunter Valley to the Manning River, and which was subdivided among his seven sons and daughter when died in 1842.
Helen Grieve was a science student at The University of Sydney while David  had left school to be a jackaroo on the Everard Park Station near the South Australian Pitjantjatjara lands. Theirs were not exactly overlapping careers, and hence ardour of David Joseland must have been the overriding factor.  When you see a photograph of him in his later years, he had the face of a very determined man, not unlike that of Reginald Williams of leather fame.
Their marriage was followed by the couple moving to the Mittiebah Station,  a pastoral lease operating as a cattle station in the Northern Territory of Australia.
To give some perspective, the station occupies an area of about 7,000 square kilometres on the Barkly Tableland, about 320 kilometres east of Tennant Creek and 285 kilometres north west of Camooweal.  The Joselands raised a family there. Helen died prematurely and her grave in Alice Springs is inscribed with a minimalist: "Her life was devoted to the outback and its people."
Seven years after her death, David relinquished the lease and moved to Tumut in 1988. He died there in 2015.
It was a story worthy of Luhrmann's "Australia", rather than his faux-view of the Outback. I doubt if Nicole Kidman would have made a suitable Helen Grieve. But you never know, the name Kidman is also associated with cattle.
An Unexpected Consequence
Helen Grieve's second film "Bush Christmas" was a resounding success in Great Britain in 1948, when rationing was still very much in force there.
The unexpected consequence of portrayal of the Aboriginal boy, Neza Saunders eating a witchety grub, in front of famished white children seems to have resonated with a hungry British upper class wondering whether grubs and snakes could alleviate food shortage.
Putting the Queue on the Rack
I hate queueing, but then it is an orderly way of accessing scarce resources, whether the scarcity is absolute or relative – or contrived.
Gripped for decades by neoliberalism Australia has developed, for those with the key to the executive toilet, a taste for monopoly and/or cartels. The aim is to eliminate risk in accumulating the dividend. The area of transport has not escaped the wondrous fingering of these people with the key.
Toll roads are one area where the gouge is well and truly cemented as part of the culture. Toll road owners seem immune from political vicissitudes; if the tolls get to "extreme outrageous", then the politicians ante up with a subsidy for the drivers, while money keeps jingling into the toll road shareholders' bank accounts.
But we have benefited by the Irish export of the flying leprechaun, Alan Joyce. An aggressive homunculus, his history with budget airlines should have forecast his contribution to Australian aviation. Drive down the costs and maximise the subsidies from government. With the pandemic, Qantas has mopped up a total of $856 million from Jobseeker and Jobkeeper and showing it had also taken substantial sums from other government support programs. Qantas has been supported through seven separate government programs so far, including refunded charges under the Australian Aviation Financial Relief Package, and subsidised flights to repatriate overseas Australians and maintain critical routes.
In future, the airline will benefit from a $200 million international aviation support program, which will outlay wage subsidies for its international crews, as well the Domestic Aviation Network Support (DANS) and Regional Airline Network Support (RANS) programs. And so it goes on…
In return, Joyce pampers those who fly up the front of the plane, with Captain's Club and all the associated frills. The irony is that most of these beneficiaries are flying on Qantas on our taxes – namely the politicians of all hues.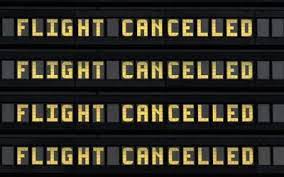 What has Australia received? An industry dogged by contrived scarcities driven by shareholder greed and Irish blarney and caic tabh.
I hope that Qantas, reputed to be the safest airline in the World, does not have to be shaken from its price cutting frenzy by Australian lives.
And this above provides a foreword to a Washington Post analysis of what is happening in America currently, with a few eucalypt driven asides.
In the past two months, 2.2 percent of flights by U.S. carriers have been canceled and 22 percent — or 260,000 flights — have been delayed. The pattern is by no means limited to the United States: 52.9 per cent of flights departing from Toronto Pearson International Airport were delayed between June 1 and July 12; London's Heathrow Airport, where 40 percent of flights were delayed, announced it would restrict the number of departing passengers to 100,000 daily.  (Sydney Airport came in at number six in the top 10 worse airports for cancellations, after it clocked a 5.9 per cent cancellation rate over the last two months. Australia's largest gateway was also named number nine in the list of worst airports for flight delays, with 34.2 per cent of all flights delayed in the last two months)
Much of the problem stems from an industrywide labour shortage. After the aviation industry was decimated in 2020 by covid-19, U.S. airlines received $54 billion in pandemic aid (Qantas received an estimated AU$2bn and Virgin AU$1.2bn). Overestimating how long it would take for travel to scale back up, they offered older employees retirement packages and gave many workers temporary leaves of absence. Now they are struggling to train and certify new pilots quickly enough. Federal data suggest (more than suggests!) (The US Transportation Department data shows air carriers were directly responsible for about 41 percent of delays through May, a figure on par with last year but higher than before the pandemic. Late-arriving aircraft — another problem mostly attributable to airlines — accounted for an additional 37 percent of delays.) that the airlines were the biggest reason for flight delays in the United States from January to May, and are responsible for a significant number of cancellations. 
Most organizations working in air travel had to cut back on staffing or pause hiring in 2020. That has led to shortages in airport staff, baggage handlers, security and more. Employers are trying to rapidly hire and train workers, but many airport positions require security clearances. The air traffic control system has also experienced staffing challenges in certain high-volume areas, caused in part by covid-19 outbreaks and a halt in training before vaccines were available. Because air travel is deeply interconnected, issues in one airport can lead to delays and cancellations downstream, overwhelming the system.
The Transportation Department have been urged to use its powers on consumer protection to crack down on air carriers. In fact, the department has opened 20 investigations into airlines for failing to pay refunds efficiently. Authorities should enforce rules if any have been violated, but investigations take time and might not always produce the desired results. (The Australian Competition & Complaints Commission is not a complaints handling body, but we can choose to take action where there are systemic breaches of the ACL. The warm lettuce leaf response.)
In a June meeting, Transportation Secretary Pete Buttigieg pushed airline executives to ensure summer flight schedules were operable. Airlines, to their credit, have cut their schedules by 16 per cent since the spring, and flight cancellations have decreased since mid-June. Yet that does not address the longer-term questions of capacity. 
Airlines, airports and authorities must work together to fix the structural issues exposed by this summer's disorder. The pilot shortage was a concern even before the pandemic. Carriers and the federal government should find ways to lower the barriers to entry to training programs and certification, which are time-consuming and costly.
It's also time to look closely at recruitment and retention in airport and ground services, jobs that are often low-paying and labor-intensive with unattractive schedules. 
The air travel industry, like much of our economy, was unprepared for the disruption from COVID-19. By acting now, it could be more resilient in the face of future crises. (Difficult to know unless it is a direct assault on patient safety, whether the Australian Government has the appetite to challenge the powers of the airlines and airport management.)
Mouse Whisper
I understand that for the Gay Pride round of the National Rugby League next year, Manly will not change the name of its side to Binary.