Near the end of last year, we decided to decamp to Tasmania for February because we reckoned then that February was the worst time to be in Sydney – always so humid and oppressive. Hopefully we would be climate-wise. Little did we think what would eventuate.
I have jokingly said that having a place in Tasmania is an insurance against climate change. Macquarie Harbour is on the West Coast and is six times the size of Sydney Harbour. Unlike Sydney Harbour, the number of people living in the rim of the Harbour is minuscular – there being one permanent settlement, that of Strahan, which is home to both a fishing and a tourist industry. Salmon farms dot the Harbour.
In my blog I have written twice about my view as a lover of Tasmania. In a blog I wrote about a year ago, inter alia, I mocked the pitiful amount being allocated to bushfire control. The West Coast of Tasmania has been thought immunised against bushfires, because it rains on average every second day of even the driest month, February, and thus having about 160cm rain annually has been some insurance. Bushfires have ravaged the area, but mostly in the mining area around Zeehan to the north where fire erupts from the Savage River iron ore mines.
This was the case in 1982 when a fire was sufficiently worrying for there to be some evacuation of Strahan. The fire had apparently been started by some mutton birders trying to smoke the bird nests in the Ocean Beach dunes, as a preventative measure against any tiger snakes that might be in the burrows. Somewhat exciting if you put your hand into a burrow and you grasp a tiger snake rather than a mutton bird. Anyway, the resultant fire spread through the scrub and nearly burnt the township down.
Nevertheless, while we have been here, there has been a small bushfire near Tullah, which I mentioned earlier in my blog – and another in a more remote area, threatening the Truchanas Huon Pine Forest reserve; a fire in that area would have been equally as devastating as if the bushfire in NSW in the summer of 2019-20 had not been halted before it reached the Wollemi Pine habitat in the Blue Mountains.
The latest news on this bushfire in the south-west is that "as a result of concentrated ground works and co-ordinated water bombing, the fire had downgraded from Going to Under Control with aerial firefighting resources and remote area fire crews continuing to work their way around the boundary edge identifying and extinguishing hotspots with continued aerial support." That report was a week ago, and there is no evidence that local circumstances have changed.
But worldwide, circumstances have changed. Climate change is now an entity which governments are freely blaming for the conditions which have caused the extreme flooding events that have occurred in both New South Wales and Queensland recently. Terms like "one in a thousand years" calamity is meaningless when it is clear that there has been a change in the environment in which we are living.
The solution to repeated fire and flood is to provide the defence, especially when in this neoliberal world designed to value exploitation rather than conservation, building on flood plains or in the areas liable to engulfed in by bushfire seems to have been acceptable.
Clearing our own property is one thing, but when your land is hemmed in by plots of land that are neglected, with local government unwilling or unable to enforce the clearance presents a problem, as we do, then we do have a problem. The owners of the neglected plots are lost in the fog of the titles office; so we have cleared most of an adjacent plot, taking out eucalypts which threatened to fall or were already leaning over our house, which the previous owners had built close to the boundary of the property. To complicate matters two of the blocks of land now don't have any access to a road, since the road which exists on the town plan has not nor will ever be built.
We have probably dodged the bullet as we go into autumn, but in fire prevention there is still much to do, irrespective of how complicated the situation is.
Governments have spent money to ensure that most parts of urban Australia have clean water – this is already a matter which we take for granted, but it spares a flooded community from cholera or other waterborne diseases which are endemic in less fortunate communities.
I remember those stories, apocryphal or not, of unscrupulous developers who used to subdivide land which only was visible at low tide; but in regard to flood plains, the lack of scruples is only a matter of degree. The cry of "caveat emptor" applies even when the information is symmetric, which is not the case in this world of hustlers and grifters, some of whom graduate into government, as we have seen.  Australia has yet another big clean up job ahead of us, because the stinking mud is not only on the streets of Atlantis, which used to be called Brisbane, but all across this land so strikingly described by Dorothea Mackellar.
Vera Putina's little boy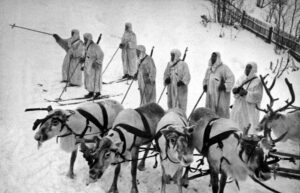 "Greetings to Ukraine. Once upon a time Finland too fought the Russian Army with everything we had and was able to hold on to our freedom and independence. That's what we wish for you as well. The whole Europe stands with you." – A message from a Finn who fought against the Soviet Union in  the 1939-41 War who is still alive at 98.
In one way, the number of options for the outcome of the Russo-Ukrainian War are diminishing. They all revolve around Putin's mental state, now that it has been determined that the Ukrainians are not a pushover. Even in those areas where it would be expected that the people would be little different from the Crimeans, there seems to be vicious fighting. The Ukrainians are not rolling over."Those Neville Chamberlains" in the US State Department who offered Zelensky asylum did not appreciate his strength. If Zelensky had accepted, that would have been the end; but Zelensky has ditched appeasement in the face of the appeasers.
For Putin, this is very inconvenient. Everybody talks about his unpredictability; but I believe he has the predictability of the tyrant. Thus, it was not long before he sent in his thugs to assassinate Zelensky. How many times he will try to repeat it, who knows! Yet when people become unhinged, as he apparently has, then do we observers put everything down to unpredictability?
While he is using the usual modern warfare device of bombarding the civilians by missiles and bombing, he must break Ukrainian morale to have any chance of winning. The Russians must husband their very finite resources. They are not endless, a very important variable now that the Ukrainians are putting up such resistance.  The cost of Putin's war should be soon, if not already, affecting the Russian population, given the sanctions and the strength of the opposition. The Russians have tried to compensate with mastery of the cyberworld, which did not have a major "combatant role" in their attempted conquest of Afghanistan. I suggest that with NATO and others supplying both military hardware and essential food and other commodities, the war will be won once the USA can reliably control cyberspace. It would be interesting to know what is the cyber surrender equivalent of the white flag.
If Putin did not have a nuclear arsenal, then life for NATO would be less complicated. NATO will just continue to use Ukraine as a surrogate to do the fighting – and eventually exhaust Russia. Obviously, a mad Putin could make good on turning his nuclear preparedness into an all or nothing nuclear winter – at least in the Northern Hemisphere. What the Chinese decide to do will ultimately decide the length of the War.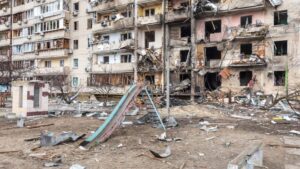 The fact that the world is experiencing climate change is one good reason why the Russians should dispose of Putin, but he has learnt the tactics of previous Russian despots, where Russia has not only survived but thrived. The only hiccough occurred in the late 1980s when Russia had a rational leader in Gorbachev.
One clue to future action is how the Russians deal with the Ukrainian nuclear reactors. They could continue the boneheaded initial bombardment or think that by doing so the World will watch a new phenomenon, namely the deliberate destruction of  nuclear reactors with all the consequences that will entail. Maybe there is a playbook for such an occurrence, learnt from the Chernobyl disaster (when there was once peaceful co-operation). If the nuclear reactors were to be seriously damaged that would be an excuse for any sane person to seek an armistice, I would think.
Anyway, it would give the Orators of Davos something to think about as, having hurriedly packed their Louis Vuitton luggage and checked the time on their diamond encrusted Rolexes, they headed out into the nuclear cloud in their luxury Gulfstreams.
"A stray orange hair to be flicked off the nation's sleeve."
I first became acquainted with George Will through the New York Review of Books as a very astute and perceptive critic. I have never met him, but he is of the same vintage as myself. An Oakeshott conservative, but with an insight not dulled by ideology. He has been a Republican, but now writes regularly for the more Democratically aligned Washington Post.
In many ways Will serves as a policy digestif, enabling the unpalatable to be analysed rather than immediately disposed of.
Presuming that as a senior member of the media and as also a student of history, he can make links that may not be immediately apparent. He has depth of experience able to fathom what have the been the quotient of all his senses over his 80 years. Thus, George Will has both literary subtlety and savagery.
This piece below should help you assess whether this veteran has more than a fine use of words or a sentence that Trump should indeed experience at some stage, when his "sin taxes" become too much to accommodate and a "prigioni lifestyle" threatens.
Floundering in his attempts to wield political power while lacking a political office, Donald Trump looks increasingly like a stray orange hair to be flicked off the nation's sleeve. His residual power, which he must use or lose, is to influence his party's selection of candidates for state and federal offices. This is, however, perilous because he has the power of influence only if he is perceived to have it. That perception will dissipate if his interventions in Republican primaries continue to be unimpressive.
So, Trump must try to emulate the protagonist of "A Connecticut Yankee in King Arthur's Court". In Mark Twain's novel, a 19th-century American is transported back in time to Britain in the year 528. He gets in trouble, is condemned to death, but remembers that a solar eclipse occurred on the date of his scheduled execution. He saves himself by vowing to extinguish the sun but promising to let it shine again if his demands are met.
Trump is faltering at the business of commanding outcomes that are, like Twain's eclipse, independent of his interventions. Consider the dilemma of David Perdue. He is a former Republican senator because Trump, harping on the cosmic injustice of his November loss in 2020, confused and demoralized Georgia Republicans enough to cause Perdue's defeat by 1.2 percentage points in the January 2021 runoff. Nevertheless, Trump talked Perdue into running in this year's gubernatorial primary against Georgia's Republican incumbent, Brian Kemp, whom Trump loathes. 
In a February poll, Kemp led Perdue by 10 points. Trump failed in his attempt to boost his preferred Senate candidate in North Carolina, Rep. Ted Budd, by pressuring a rival out of the race. As of mid-January, Budd was trailing in the polls. Trump reportedly might endorse a second Senate candidate in Alabama, his first endorsement, of Rep. Mo Brooks, having been less than earthshaking. Trump has endorsed Idaho Lt. Gov. Janice McGeachin in the gubernatorial primary against Gov. Brad Little. A poll published in January: Little 59 percent, McGeachin 18 percent. During Trump's presidency, a majority of Republicans said they were more supporters of Trump than of the GOP. That has now reversed.
Trump is an open book who has been reading himself to the nation for 40 years. In that time, he has changed just one important word in his torrent of talk: He has replaced "Japan" with "China" in assigning blame for our nation's supposed anaemia. He is an entertainer whose repertoire is stale. 
A European war is unhelpful for Trump because it reminds voters that Longfellow was right: Life is real, life is earnest. Trump's strut through presidential politics was made possible by an American reverie; war in Europe has reminded people that politics is serious.
From Capitol Hill to city halls, Democrats have presided over surges of debt, inflation, crime, pandemic authoritarianism and educational intolerance. Public schools, a point of friction between citizens and government, are hostages of Democratic-aligned teachers unions that have positioned K-12 education in an increasingly adversarial relationship with parents. The most lethal threat to Democrats, however, is the message Americans are hearing from the party's media-magnified progressive minority: You should be ashamed of your country.
Trump's message is similar. He says this country is saturated with corruption, from the top, where dimwits represent the evidently dimwitted voters who elected them, down to municipalities that conduct rigged elections. Progressives say the nation's past is squalid and not really past; Trump says the nation's present is a disgrace.
Speaking of embarrassments: We are the sum of our choices, and Vladimir Putin has provoked some Trump poodles to make illuminating ones. Their limitless capacity for canine loyalty now encompasses the Kremlin war criminal. For example, the vaudevillian-as-journalist Tucker Carlson, who never lapses into logic, speaks like an arrested-development adolescent: Putin has never called me a racist, so there.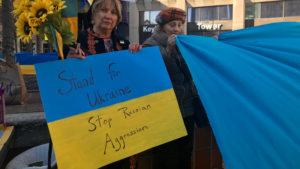 One Ohio aspirant, grovelling for Trump's benediction two weeks ago said: "I don't really care what happens to Ukraine." Apparently upon discovering that Ohio has 43,000 Ukrainian Americans, this man Vance underwent a conviction transplant, saying, "Russia's assault on Ukraine is unquestionably a tragedy," and emitting clouds of idolatry for Trump's supposedly Metternichian diplomacy regarding Putin.
For Trump, the suppurating wound on American life, and for those who share his curdled venom, war is a hellacious distraction from their self-absorption. Fortunately, their ability to be major distractions is waning.
Albored Part IV – No Longer Unready?
I have admitted that Albanese is probably not unready, but he is unsteady. He strikes me as a guy who has grown up in the kindergarten of factional politics, but really does not communicate well outside that factional circle.
He is fortunate to have some bloody good women who have shown the guts to stand the incompetents up, and hopefully, on a change of government if that occurs, they will team with some of the aspirants running for ostensibly safe Liberal seats as successful candidates.
I was worried by the absence of Penny Wong and the short statement that she has been ill has been left at that after she turned up on the Insiders program.  The problem with putting the Albanese foreign affairs approach is to work out what it is. Wong's comment on Insiders:
Working with partners in the region to build our collective security, to diversify our export markets, secure supply chains, provide renewable energy and climate solutions, avert coercion, and respond to natural disasters. By investing financially and intellectually in the security and stability of our region – because defence capability on its own won't achieve this. We share with ASEAN states an abiding interest in averting hegemony by any single power – so this is where our energy must be applied.
In responsibility terms does the distribution of Ministerial Portfolios need to be reviewed – Foreign Affairs, Home Affairs, Defence, Environment Protection? In Government, the responsibility for legislation, both future and existing, needs to be clearly defined; and yet the intrinsic danger of having exclusive enclaves centred around such legislative responsibility makes talk of co-operative government nothing more than meaningless waffle. The question is whether Albanese will have the innate skills, intelligence and authority to assure his Ministers work together.
The obvious question is if you, Albanese, get into office, what do you do on day one, because if you dissect this paragraph above, it is an overwhelming agenda – so large it leads to policy paralysis. The policy drought is evident with so much discussion on nuclear submarines, which are of no immediate relevance – and given the lead time, how relevant ever, except to continue to create for the huge hole in the Budget. If Albanese stepped back and thought that nuclear submarines are the panacea, then he is as blinkered as our supremely unintelligent Prime Minister.
I believe that the defence of Australia, as is the case everywhere, is yet to move from a traditional discussion of muskets and cannon balls. As Putin is demonstrating, it is all about killing more civilians of the "Away Team" than the "Home Team".  The Russian armed forces are seeing the people as the real target. Just look at the Ukraine. It is the war which confirms that the most vulnerable are this target. Children and mothers are the prime target, with the latest atrocity being the bombing of a children's hospital, irrespective of what the propaganda says to the contrary. Putin may claim that everyone has been evacuated; but tell that to the mothers in labour inside the hospital as the bombs fell.
Unlike the countries which have constituted the battlefield over the past 20 years, Ukraine does have a network of underground bunkers, formerly called train stations (which were an important bulwark in the bombing of Britain 80 years ago). The lessons of the Ukraine War are and will continue to be relevant, rather than government solely succumbing to the blandishments of the armaments manufacturers for more and more lethal toys, which if used will destroy us all.
In one way, just the vastness of a very dry continent with a dispersed population, yet with areas that are intensely populated, provides a defence for Australia, the strength of which needs to be exploited in any future conflict. Albanese seems to have succumbed to the one scenario of invasion, given how much sinophobia has framed the foreign and defence policy of the current government.
Just one simple question? How quickly could our underground accommodate our population, how many of them and how strong would our underground need to be to withstand a missile assault?
The other critical area is cybersecurity – far more important than a few pieces of military or naval hardware. Is the arrangement of the current capacity, in all its diverse acronyms, the right way to conduct our national security? I well remember the Hope Inquiry which Whitlam instituted in 1974. It did not help prevent his dismissal the next year.
While much has changed, Hope's biographer, Peter Edwards, has written that the principles Hope outlined then remain fundamentally important today: effectiveness must be matched by accountability; intelligence assessment must be separated from policymaking.  Intelligence and law enforcement should also be kept separate.  Most importantly, both intelligence assessment and national security policymaking must be whole-of-government processes, based in the Prime Minister and Cabinet portfolio, with no single department or minister to have undue influence.
The first decision on day one is more pragmatic. What do they do with Mr Pezzullo, given the number of strings that he has pulled under the Coalition? Presumably Albanese believes it is essential that he is removed and neutralised in his ability to have any influence.
The next decision on day one of a new Government is to review the head of the Australian Federal Police, Reece Kershaw. The danger of authoritarian governments is that they crave a secret police to enact their vengeance; and unfortunately signs are that that is occurring in a complacent Australia.
The problem is this drive towards a police state, whether it is called plutocracy, oligarchy or just plain dictatorship, is muddied with cyber security. I have not seen this matter explicitly addressed by Albanese. As someone who studied Georges Sorel, I am well aware that a secret police is the result of the authoritarian mind, whether extreme right  or left wing. Australia should not underestimate this scenario, given the example of Witness K and his lawyer, Bernard Collaery, who were not allowed to release information about our underhand dealings over oil with Timor-Leste. The Guardian did not hold back in a report of the matter where Howard and Downer were described as "shills for the corporations". Albanese has not disclosed his position, because the whole conduct of the Australian Government in this case reeks of secret police.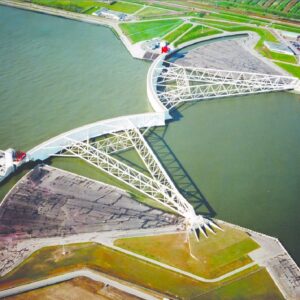 Climate change is the other enemy, against which it has been shown that Australia has almost no defence.  Flood mitigation by the Dutch has been going on since the 13th century. The Netherlands, built on a series of sandy outcrops primarily that of the Rhine, had suffered from the ravages of the North Sea well before "climate change" came into the lexicon. The flooding of the Netherlands in 1953 was the biggest wake-up call. As one writer put it:
The greatest lesson to be learned from the Dutch is perhaps less about engineering and more about mindset and culture. "It's easy just to talk about technological and engineering solutions, but a lot of the problems surrounding sea-level rise are legal and political. The Dutch have a legal and political system that is united around dealing with water issues; they've been doing it for a thousand years."
As a result, their technology provides an avenue for combating floods, which has been used in attempting to waterproof New Orleans. Yet here, the only discussion about flood mitigation seems to be around raising walls of dams.
Bushfires present the problem of occurring in isolated forested areas under a hot sun and strong north winds, lit by a lightning strikes.  In this country, the approach to bushfires should be inculcated from childhood; bushfire prevention and the community response to fire should be part of the school curriculum. As we age, so increases our responsibility and skill at dealing with probably the greatest enemy of all – fire – particularly when lightning is man made such as by a missile attack. Not sure how this has been discussed by Albanese in his quest to be Number One.
It is a curse that when war flares, conservation of the planet in the long term is replaced by survival in the short term. All the fossil fuel villains of peace time are now life savers. That is the Putin legacy, trying to maintain an order different from that which only exists in the mind of a madman.
That is one lesson of history at this time, for Albanese – John Curtin.
I may not have said that several weeks ago, but just how much times change has been shown by the events of the past two weeks.  Remember the instability of the previous United Australia Party leadership in the events leading up to the entry of Japan in WWII; the touching of the forelock to a useless ally before Curtin won Prime Ministership. Would any of our current leaders have stood up to Churchill and brought our troops back from North Africa as Curtin did in 1942? (Remember Menzies had previously committed Australian troops to the ill-fated Crete campaign under the thrall of Churchill.)
Since Curtin, there is no Australian Prime Minister except Whitlam who has put Australian policy in the world first and refused to send our young men and women as cannon fodder as an excuse to defend freedom. Will Albanese be the next?
Rupert's Quote of the Geek
The alleged comment of the Australian General, explaining the delayed deployment of the Army to the NSW floods because it was initially too dangerous.
Try Ukraine, Buster!
The Armed Forces are said to spend $40 million annually on advertising, which seems to suggest the war preparation is a succession of jolly japes, with imagery reminiscent of Coke ads in camouflage.  Even Sportsbet has joined in trivialising military imagery to sell gambling. Often in such imagery there is a grain of truth.
Mouse Whisper
There is a photograph under spotlight of eight Russian soldiers in an elevator – all looking as they were escapees from a KAL cartoon – well allegedly these heroes of the Putin special operations decided to take an elevator up to the roof of a Ukrainian building, and the Ukrainians just turned off the power to the lift.
Could the Russian soldiers be that stupid? But whether true or not, the lift occupants do look a little bewildered apart from the one with his balaclava drawn over his head where only the eyes can be seen – it has that black humour which accompanies tragedy.