Here I am still writing a blog over two years from one I started inter alia with a eulogy of Jacinda Ardern, which caused some ruction among my acquaintances. I use the word "eulogy" because I was seen as being over complimentary. Yet in retrospect, given the revelations which have come out about the predatory behaviour embedded in the contemporary political scene, she has emerged as an exemplar of how a female political staffer can become Prime Minister – and not only become Prime Minister but also be prepared to hand over the reins to her then deputy, Winston Peters, while she had a baby.
Now the self-confidence that exuded coupled with the compassion and leadership she has shown in the face of the tragedy of volcano eruption and mass shooting have been so heartfelt. But I better not lay my comments about Jacinta Ardern on with a trowel; otherwise others may wonder aloud why I am still Mr Starry-eyes. Maybe it is because she does not wear a baseball cap – well not often. It also helps if instinctively you know how and when to smile and how and when to grieve.
A Woman in White
The question always arises – am I responding to an illusion? The quote below is elegant in the way it describes such a reaction.
In the novel's famed opening scene, art teacher Walter Hartright is walking back to London on a desolate street around midnight "when, in one moment, every drop of blood in my body was brought to a stop by the touch of a hand laid lightly and suddenly on my shoulder from behind me."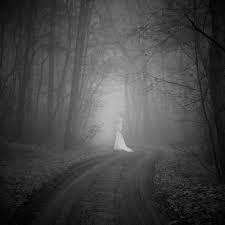 He turns to see "the figure of a solitary Woman, dressed from head to toe in white garments …"
"'Is that the road to London?'" she asks.
The encounter is both unexpected and cinematic. The dark deserted road, coupled with the late hour contrasts vividly with the light touch of the extraordinarily dressed woman and her mundane question.
No; the woman in question in this excerpt is not Christine Holgate coming home from a Parliamentary ordeal, but the woman who gives the name to Wilkie Collins' 1859 novel "The Woman in White", some say the first mystery novel. Her name, Anne Catherick, a woman dressed so by her mother, but it is a different way of looking at the one subject – a woman dressed in white.  Beware what you wish for, even when wafting as a Friday AFR supplement apparition, who was once a Premier of a State of Australia. Was it is meant to create an illusion like Anne Catherick?
Order Arms!
During the Vietnam War, there was an increased requirement for doctors. My relationship with military activity ended when I left school and, among the many wonderfully mindless activities I left behind, was the cadet corps for which, despite my years of faithful service, I was never rewarded with promotion.
My friend and I bore scars of our service. On our uniform sleeves – mine with crossed flags to signal my devotion to the signal corps – and my friend's, who was also a crack shot and had crossed rifles in recognition of his membership of the school shooting team. The school even then had a rifle range on the top of one of the buildings – long since gone.
But perhaps if my early love for the military camaraderie had not been dampened, who knows where Sousa would have taken me. At the annual cadet camp my friend and I tried to implement that camaraderie by inviting some of our fellow cadets who, unlike us were distinguished with stripes of authority, to share our gin in the methylated spirits bottle. Our invitation was met with undue hostility. We were not to know they were militant abstainers. The problem was we had no chevrons to be stripped from our sleeves, so long-term punishment was limited; and the matter was settled within the tent. I still remember being hit from behind and the rifle butt on my neck.
When it came to national service, which persisted into the late 1950s, I was excluded because of my calcanea vera which, in common parlance, translated as very flat feet. All my life, if I walked long distances or had jobs which required my standing on my feet for many hours, the spasticity and consequential pain particularly of my peroneal muscles and tendons and the small extensor muscles on the dorsum of the foot was intense. The pain was often incapacitating for a day or more, and the only antidote I found very late in life was R.M. Williams boots. Surgery was excluded very early.
My friends came back, but apart from the "Nasho" anecdotes very few continued with any association with armed forces. A number of the medical students committed themselves to the various armed services in order to pay for their tuition but also to provide 1,500 pounds tax free a year until they finished their course.
On graduation, they would be promoted to Naval lieutenant or equivalent and in return after their intern year they were expected to give four years of service. My father, who had strong links with armed service through his work in the Repatriation Department as a doctor and somebody who spent both pre-war and later during World War 11 as an officer in "the wavy navy" was keen that I join the Navy. His attention to polishing his handmade shoes I could never emulate; so that fantasy drifted away.
However, during the 1960s, with two kids and a wife also involved in post-graduate study, money was tight. I was working in the Monash Department of Medicine at the then Prince Henry's Hospital in St Kilda Rd Melbourne, which was conveniently located next to Victoria Barracks. Out of the blue, a doctor with strong links with the medical corps whom I remember as Colonel Hogan, asked whether I would do some of morning sick parades at the Barracks. This led to more work undertaking the annual medical examination of the ranks, there and elsewhere in Victoria.  Then, as the ballot came in for Vietnam recruitment, I was asked to undertake the medical examinations of the conscripts.
I had kept my opinions very much to myself, but I was personally devastated by the 1966 khaki election where the Coalition achieved a landslide as they played "jingo bells" all night. It is why I find this continual beating of the tom-toms of war even now so appalling. Apparently Vietnam has not been lesson enough, witnessing a generation of damaged men and women who emerged from that conflict and initially without the plaudits of a substantial number of their own generation, who instead protested in the streets.
Yet here was even the opportunity to examine young men who had been conscripted by the roll of a roulette wheel to fight in a foreign land for what proved to be vacuous objectives. I did not hide my distaste but nor did I volunteer my opposition on a street corner.  The fact that my step-mother shared the secretary role of the Australia-China Society with Myra Roper at that time and that she and my father went to and were lionised in China several times during the course of the 1960s did not affect my job with the army.
We were a strange bunch, who used to gather several nights a week to examine each bunch of conscripts. Two doctors were teamed, one older and one younger who did not know one another beyond vicarious professional association. Nevertheless, there were times when I was rostered alone to undertake the recruit examinations. One night when alone I had about ten young blokes, all of whom failed my medical examination. My strictness on ensuring fitness to die perhaps swayed some of the decisions that evening. It was such a calamity that such a number were unfit, but it passed without comment from above. Incidentally we were asked not to say anything beyond that required to elicit symptoms, but if a significant disease was discovered then all one could say was that the potential recruit should go and see his local doctor.
The ability to detect mental illness was very limited and the illness had to be florid. This was the case when I was confronted by a restless young man walking up and down the corridor who insisted he wanted a gun so he "could kill some commies".  When I found he had an eyeball tattooed on each buttock, I regretfully failed him by writing "atypical strabismus" on his form, thus avoiding an essay on his obvious mental troubles. These examinations did not give us leeway to highlight mental health problems; I hoped that the local medical doctor, if he ever saw one, recognised that the young man had a serious problem.
At the other end of this medical cocoon was the recruit who turned up, complete with caftan, beads and sandals, a flower child in all ways. He stood defiantly with his principled stance, refusing to be examined. Fortunately, the only doctors left that evening were a few of the younger ones, who knew one another and thus were never rostered to work together. This defiance was an exceptional situation. The older doctors left us to sort out this problem.
Thus, we did have an advantage of youth in that we did not pull out the "I'm a doctor; you'll do as I say" line. We just negotiated and as the night wore on, he knew that we would wait him out. He wanted some exposure as the "victim" being taken away, but as my fellow doctor said, "Look, we all want to go home. Just get up on the couch and let us do a quick examination". For us, it was about the minimal set of words which should have given him the hint, if he had listened, that we were going to fail him. After some more tedious palaver, he consented to a limited examination.
We did not have to examine far – only needed a stethoscope on his chest. Listening to his heart, he had a very loud "machinery murmur"; all that trouble he had put us through. There was no way he could pass his medical examination; in fact, he needed to see a cardiac specialist.  He had got his exemption.
Realising that all was not well, his attitude changed from truculence to fear – poor bugger – as he saw us discussing the finding – but all we were permitted to say was that he should go and see his local doctor as soon as possible. Even here we were not even allowed to tell him he had failed, even after such close contact. "Just don't delay, but go home – and good luck".
A Catalyst
Nick Coatsworth is an unusual doctor.  He has an impressive career inter alia working for Medecins Sans Frontieres (MSF) from 2004 in Congo-Brazzaville, the Republic of Chad, and the Darfur region of Sudan. Before becoming President of MSF Australia in 2010-11. I have never met him, but during my professional career, I have met a couple of doctors with his easy confidence and natural charisma with the underlying skill to match. "This man ain't no desk jockey," as they say. However, this past  week he has shown perfect political timing. The boyish grin has been replaced by the serious "defender of the Faith".
I think he is a beacon, despite being the face that tried to flog the COVID-19 App, which was such a dud, and which I thought might have precipitated him moving out of the Department. He was truly handed the Australian "sandwich". There are two ways such involvement can be interpreted, apart from bad judgement – of which we were all guilty of at one time or another. The first is that he genuinely believed; and/or he was the epitome of the loyal public servant.
There is such uncertainty about the government. This is a government once applauded for its suppression of the Virus. Now, its success is being assailed. Words like "hermit kingdom" and "gilded cage" are bandied about. But the polls suggest that Australians support border closure. There is another metaphor for the current situation "Switzerland in 1942" – a neutral country surrounded by ongoing war.
Australia has been inured to defending the borders. Against the "boat people", we have an enduring policy of making asylum seekers very unwelcome and thus over more than 20 years of border closure and the construction of basic facilities offshore, in PNG or Nauru and countries like Cambodia which took money for not much of anything. However, it fuelled the flame that has never fully died of "White Australia".
Stripping all the self-interest away, there are distinct matters that face the Government linked to the changing times –
The intertwining of political and scientific speak – the prize example is "herd immunity". Ask a politician to define it; I remember when the late Senator Button asked the then Minister for Science a question with notice along the lines of "what was the relationship between an inch and a centimetre?" The Minister could not answer. Here are the key words – "without notice" – to which I would add, "without understanding". Senator Pattison, in his cameo appearance on Q&A this week, has shown in his responses that this lack of understanding has persisted in the plush red of the Senate.
the efficacy and uptake of the various vaccines. The Government bet on the AstraZeneca vaccine where controversy seems to have engendered the hesitancy beloved by the anti-vaxxers. Unfortunately the chance to obliterate that hesitancy by providing a choice of vaccines has not been an option. Choice is important provided there is a similar proven efficacy. As for anti-vaxxers – they are not hesitant – they are clear about their opposition.
the prevention of community spread and the fact that there has been an attitudinal and behavioural change towards hygiene – masks are one example. There is a developing phenomenon of living with the virus as vaccination rolls out; the images of Australian intensive care units and dying patients have been removed from the media screens to be replaced by images of India. Nevertheless, so long as the health services are not compromised within Australia, then the government has eased restrictions locally. After all, there are few politicians who want to be unpopular, and in many countries this loosening of the restrictions is very much ad hoc and often premature.
the construction of dedicated quarantine facilities for incoming travellers, where it seems there is no plan beyond expansion of the current Howard Springs facility in the Northern Territory.
the agitation for Australian border opening. Now the Genie is well and truly out of the bottle as the business groups are beginning not only to agitate but also, as one influential person initially showed by her disdain for the collateral damage of lives lost, to question what might be an "acceptable" level of deaths from COVID that would accompany open borders. "Death at the Australian Open" would be a title for a crime novel; or schadenfreude.
The Coatsworth message was at its heart very authoritarian. All the seers, laureate prophets, tea leaf examiners, bird augers, and hand washing experts should be sidelined, and the only collective voice should be those who have to articulate and implement the policy.
It could be a long shot, it but sounds by his oratory that Coatsworth is submitting his application, and the one image I have of him is a very thoughtful guy, but one who when he makes up his mind that's it! He may be able to accomplish this huge Medusa head task, especially as he has a track record of leadership. Good to give him a go.
On second thoughts, maybe the application should be for Prime Minister.
The Clown at 95 
In Danville, the boy spent a lot of time at the movies. Fifteen cents bought a ticket to the Palace to see westerns, Bela Lugosi's latest or slapstick comedies with Buster Keaton, the moody pratfall master, and Laurel and Hardy. Stan Laurel, the British-born comic with the bow tie and bowler, was a particular favourite and he would practice his routines. Years later, after his own rise, he tracked down the reclusive Laurel and visited him at home. When Laurel died in 1965, he delivered his eulogy with a tearful Keaton sitting in the front row. "God bless all clowns," he said, delivering his hero's favourite poem, "The Clown's Prayer." "Who star in the world with laughter,/ Who ring the rafters with flying jest,/ Who make the world spin merry on its way."
A year later, he did the same at Keaton's funeral. 
I could not resist putting this extract into my blog. The "he" is Dick Van Dyke, now 95 but in amazingly good fettle, an actor to whom I have never paid that much attention. His show "The Dick Van Dyke Show" with his co-star Mary Tyler Moore was always somewhere in the background wherever there was a television set in a house. The times I watched it, it was a combination of slapstick towards us, the audience; yet an underlying sexual attraction between him and Moore. Otherwise, it was just conventional American sitcom.
I knew he was very tall, and that he was always fresh-faced youthfulness disguising a man who was both an alcoholic and smoked too much. Yet, teetotal but still chewing nicotine gum, he now looks remarkably fit and ever broadly smiling, his signature.
I was fascinated by the reference to Stan Laurel, and the fact that as a relatively unknown actor he gave the eulogy to Laurel at his 1965 funeral, where another famous comic, the deadpan Buster Keaton, was sitting in the front row. Keaton died a year later and again Van Dyke was the eulogist at the funeral. Before his death, Keaton gave Van Dyke one of his most valued possessions – a set of billiard cues – which Van Dyke still possesses.
These names mean very little today, but in their day, each was huge at the box office. Comedian Stan Laurel was one part of the Laurel and Hardy duo. Stan Laurel was in fact English born, in Ulverston in Cumbria, where a statue of the two has been erected.
All very interesting along the pathway of nasturtium trivia, but what caught my eye was that there is a Clown's Prayer which, in abridged form, is somewhat different from that quoted above, says:
As I stumble through this life, help me to create more laughter than tears, dispense more cheer than gloom, spread more cheer than despair. Never let me become so indifferent, that I will fail to see the wonders in the eyes of a child, or the twinkle in the eyes of the aged. Never let me forget that my total effort is to cheer people, make them happy, and forget momentarily, all the unpleasantness in their lives. And in my final moment, may I hear You whisper: "When you made My people smile, you made Me".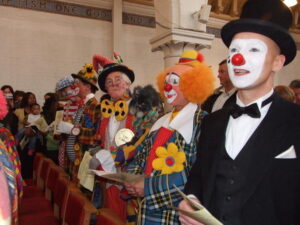 It did not take much further research to find out that there is a Holy Trinity Church in Hackney in the London East End which is known as the Clown's Church, because every year there is a service in February to celebrate the life of Joe Grimaldi, the first archetypical clown to use the white-face makeup and the term "Here we go again". Since 1967, the congregation has been permitted to dress as clowns. Notwithstanding, the most recent vicar is not only a chaplain to the Queen, but she has been made the Suffragan Bishop for Dover (which means she hangs out in Canterbury Cathedral).
I have travelled a long way from Mr Van Dyke, unless he has performed at one of the Clown services – but then meandering, as I say, plucking the nasturtiums as I go is one of the features of blog writing. And I refrain from suggesting a new form of opening prayer for Parliament – but the words of the prayer belie the title the Clown. More I think of Pagliacco.
Mouse Whisper
In many places of worship my image has been carved under many a pew.
I as a mouse may be one thing, even venerated. Mice in plague proportions overrunning and destroying the world are another. Mice showed the way in demonstrating the efficacy of penicillin, and you humans have benefited mightily by our sacrifice. Ask Howard Florey who also said that humans were 500 times the size of a mouse.
You as a human may be one thing and you too may be venerated. But humans overrunning and destroying the world are another.
It is just a matter of how the plague is controlled, especially when all who are running around don't acknowledge that they can be a plague within their world of Horizons.