Queensland was the last Australian State I visited. It was not until I was 16 years old that I ever ventured into Queensland with my father after my mother died. I suppose we needed to get to know one another, as well as have a change of scenery.  My father devised some business there. I remember only two things about Queensland from that trip.
The first was the Toll Bar road which regulated the movement of traffic up and down the Toowoomba Range. Timing was everything as the road was one way up and then down the Range, depending on the time of the day; the toll bar allowed one set of vehicles up and down the road, and if one was in the wrong line, one would have to wait hours, as we did.
The other memory was how shabby Brisbane looked. It was supposed to be a city, but the houses looked a collection of rickets on stilts, with the weatherboard more often than not in need of paint. The lack of sewerage and the gravel verges reinforced that view that Brisbane was a country town. Brisbane reminded me of that nineteenth century wisecrack about Melbourne being – "a bit far from the city".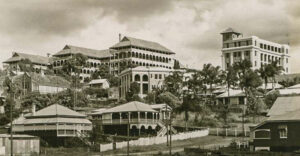 World War II was still a memory, recent enough for me to hear about the long lines of troops queueing outside the brothels in "the Valley" and that here in the middle of the city there had been the so-called "Battle of Brisbane" where Australian and American troops had fought a pitched street fight for two days in November 1942.
Even so, the people of Queensland seemed laid back. Queensland was a foreign drawl for a boy from the protected south. Queenslanders never had the airs of the Bunyip Aristocracy. Years later when we were introduced to the Queensland Club, I found that there was still an aristocratic stratum – but more Pineapple than Bunyip.
However, from then on I have travelled all over Queensland, absorbed Queensland. I particularly feel very much at home in south-west Queensland when I am allowed to go there, Premier permitting. I have spent substantial time on the Darling Downs, particularly Toowoomba. In contrast I have also spent substantial periods of time in Mount Isa and North Queensland.
When I scan a map of Queensland, I have never been to Winton or Blackall, Bedourie or Birdsville, or driven beyond Julia Creek in one direction and from Charters Towers in the other. I have never driven the road north from Cooktown, although I have been to Weipa and both Thursday and Horn Island on separate trips and been on a boat which followed Cook's route up through the Great Barrier Reef into Torres Strait and then on through the Arafura Sea. I have never been south of Boulia; I've been to Normanton and Karumba and Kajabbi, but not to Burketown. I have been to many of the larger Queensland islands including Mornington but not Fraser. However, the islands do number 2,000.
Before I sound completely like the "I've been everywhere man" Lucky Starr, some of my most lasting memories are from Queensland experiences. Lasting memories tend to leave an educative residue. 
Mate, the future is not in Coal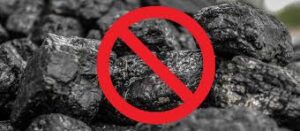 I have worked in my time on the number of projects in Queensland, including for the Government. It has enabled me to see much of Queensland and even shed, for a time, the "Mexican" soubriquet.
The problem with Queensland is that the inhabitants seem to be constantly trying to despoil it by voting for the despoilers. Yet Mount Isa seems to fit into its environment as though the Selwyn Ranges were always expecting this guest. But Mt Isa ain't coal.
Queensland is a bloody conundrum.
Australia is the third biggest coal miner, behind the USA and China, and just in front of Russia. Australian coal mines are less concentrated than in these other countries. Therefore, pollution is more diffuse, and that includes the political polluters who gather in their own slag heaps.
It is ironic that at times during the Nation's existence Australia has imported black coal. Yet the first exports of 150 tonnes of black coal from Sydney occurred in 1799 to India, since the coal seam which stretched from the Hunter to the Illawarra region was discovered in 1791 by an escaped convict. The first coal was discovered in Queensland much later, at Blair Athol in 1864, but it was not until the 1950's that the Bowen Basin was opened up and exploited; but how much has that been with a big "E".
It is quite a sight as we were driving east from Moura in the Basin towards Banana to see the line of open cut mines. Coal mining in this area has involved degassing the coal and then mining.  At least that is the theory. There had been a terrible mining explosion in the underground coal mine at Moura in 1994 when eleven miners lost their lives. Last year there was another explosion in an underground coal mine near Moranbah in Queensland, owned by Anglo-American. Five men were seriously burned and mining was suspended.
I remember being in Moranbah, another town in the Bowen Basin, not long after the town had been established. It's newness was characterised, as someone said to me, by the fact that there had yet to be anybody buried in the cemetery. Moranbah was one the last settlements to be constructed as a mining town with all the facilities expected of a town of about 2,000 people.
Thereafter mining has been populated by the fly-in-fly-out brigade, who can live anywhere. The current spate of border closures has clipped their wings in regard to how they can travel without being inflicted with the inconvenience of a 14 day quarantine.
Coal activities consume significant amounts of water, even in comparison to other large water users such as agriculture and domestic usage. The amount of water drawn by coal-related activities in NSW and Queensland is more than double domestic water use and about 30 per cent more than the water used for agriculture. Considering coal mine water use in regions such as the Hunter Valley and the Bowen Basin, the impact of its use is significant in these areas.
I do not get it. We live in a dry continent where water is at a premium. Yet the State governments, at a time when it is clear that coal is a massive pollutant and with a putative worldwide move to lessen the dependence on coal, keep on advocating new mines.  This represents the lazy approach to government, so infuriating in the country where policy is "She'll be jake", especially if there is a brown paper bag at the end of one's political rainbow.
Nevertheless, as listed above, the most powerful nations, unlike Australia with our laughable sanctions, are the largest coal producers with Australia.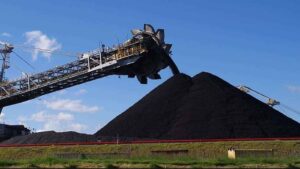 If these three countries decide as one to reduce their coal output, then Australia should at least match this action. As China is showing in its trade dealings, there is a certain contempt for us.
However, there are the coldly cynical who believe this will never happen. In Trump's America that would be true, and under cover of this Me-first American Policy, why should Australia worry? However, there has been a change of the guard and John Kerry has re-emerged. The waiting game has started in the mind of the Prime Minister – the target dates are many electoral cycles away. That is unfortunately all that politicians think about – electoral cycles. And let's face it, the Prime Minister may be canny, but measuring this policy by electoral cycles is not particularly intelligent.
Therefore, Australian policy is unlikely to respond to the external pressure in the short to medium term, especially while the National Party, which is essentially a Queensland protection racket for the mining industry, lives on. Ever since the liberal element in Queensland was snuffed out after Mike Ahern's stewardship as Premier (the actual reasonable Liberal Party element was snuffed out even earlier by the premature death of Eric Robertson), the National party has drifted to its current position.  In Queensland, it has monstered the Liberal party into a joint arrangement.
With the loss of the leadership of Tim Fischer and John Anderson, the brakes on the rural nativism have been unleashed. Trump has provided them with a role model of unabashed bullying and assault of the weak. Weakness is often seen and confused with compromise and consensus-seeking.
Yet the mines in the Bowen Basin have been racked with problems with methane leaking everywhere, and the Moranbah mine has not yet re-opened. The owners, Anglo-American, are in dispute with their workers, although they have yet to re-open the mine. The whole matter of coal mining is racked with uncertainty – whether it be climate change, mine safety or the market.
It is not as though coal mining provides that many jobs, and with the propensity of flying workers in, it is no longer about the survival of regional towns. About a third of the workers are itinerant; and while the convention is one week on one week off, some workers work a continuous three-month shift. The whole argument about mining being the saviour of rural Australia is contestable, if not spurious.
Finally, it is the bottom line. At two metallurgical and thermal coal mines the Basin open-cut operations have been scaled back due to less demand for lower quality coking coal. Metallurgical coal, its requirement linked to steel production, in 2020 remained at 18-20 million tonnes, but the amount produced in the December quarter was 33 per cent less than the corresponding quarter of 2019.
Thermal coal output was 4.4 million tonnes during the December period, which represented a 35 per cent drop from the prior corresponding period, leading to an overall production decline of 22 per cent to 20.6 million tonnes last year. Thermal coal is linked to the production of electricity. The world is edging towards coal-free; but the problem is that it is not instant change.
Hence, instead of Queensland anticipating the inevitable, the black drums of coal are being beaten for the long-term degradation of the State. The ultimate saviour seems to be the bottom line, but coal is losing its profitability. Senator Canavan's brother has seen his coal mine collapse, and yet the Senator continues to pursue his fantasies about coal. Having degraded the Bowen basin, his next endeavour is to degrade the Galilee Basin to the North, encircling as it does, Longreach. Longreach is not a mining town. The Longreach Club was the centre of the old rural graziers, when the enemy were the shearers. These days if you could find one who is not a New Zealander, would the sheep shearers still adhere to the tenets of what they fought and struck for – or would they fall for the blandishments of the Hanson or Palmer – let alone Canavan?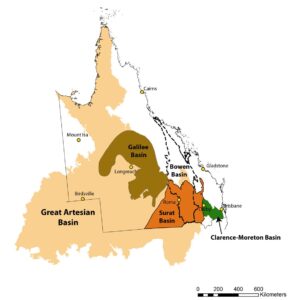 The proposed mines will remove as much as 3,000 billion litres of water from the Galilee aquifer, but far more worrying is the interconnectivity of the Galilee aquifers with the Great Artesian Basin. Now that would be the grand climax for Australian agricultural productivity – nation-wide contamination of the water supply. Who cares? Well, it's not Canberra's water supply.
That yet is a crucial question which needs an answer – and soon.
The spectre of no potable domestic water should be an accelerant to stop coal mining. However, it isn't if you listen to what the politicians don't say. The narrative is not helped when that eco-narcissist Bob Brown led a crusade up and down rural Queensland, as he did in the last election campaign. What did he achieve beyond aiding the handing over of Queensland to the barbarians? Evangelism for the protection of the environment must come from within, and therefore there must be Queenslanders who are prepared to confront the short-term pragmatism. Memory is short, especially when the Murdoch Press strangles dissent in Queensland.
As has been shown just a year after debilitating drought or bushfires, water is again plentiful. So, what is the worry? Can't see the aquifers.
What suffers from this continuing love affair with coal is tourism. This is increasingly the life source of Queensland. However, if the attractions are ruined then does it matter? There seems to be a very laissez-faire approach to the Great Barrier Reef, and its gradual destruction. Maybe people will just want to laze around resorts and not be bothered that those resorts are alongside a dead coral relic.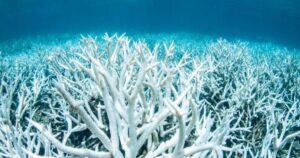 It is ironic that the Queensland Premier's obsession with border closures has hurt tourism to the extent that the Premier is now seeking special consideration. This reversion to a "mendicant" cry from Queensland is not that unusual, because for its first 70 years it was always considered as such. Therefore when, as has happened, the Premier has been tripped up by her own hubris, the begging bowl comes out.
I don't get it. Tourism employs far more people than the mining industries – despite the endless mantra about "mines creating jobs". The problem is akin to fly-in-fly-out since, in most cases, tourists come for a time and leave no footprint. Therefore some the Federal Parliamentarians do not have to bear the contumely of their electorate when the Great Barrier Reef bleaches and dies. I get it now. Coral doesn't vote and neither do tourists when they are in the reef side electorates of North Queensland.
The problem with border closures is that they severely affect tourism. Personally, in the property we own, the bookings have increased because the option of going interstate was longer an option due to border lockdowns. However, that has its limits, especially in Queensland where 135,000 workers owe their jobs to tourism. The influence of tourism is not reflected at the ballot box, since people relocating due to a perceived better climate are a different cohort. This cohort in Queensland are part of the reason the electorates around the Gold Coast and Sunshine Coast are increasingly conservative – it is the call of the concrete high rise. Over the border in NSW the call of the wild is where the vote is increasingly green and yellow. But tourism in terms of political influence is ephemeral.
The other variable, which must be factored in, is the diffuseness of tertiary educational institutions. Their influence on the electoral process, so prominent in the latter part of the twentieth century when Queensland was criminally despotic under Bjelke-Petersen, seems to be a neutral political influence now. However, this is an area where the Labor Party, despite all its so-called progressive approach to education, has been curiously ineffective at a Federal level in converting it into votes.
Therefore, what a mess the current Premier presides over. Coal is in trouble. Yet her seemingly cavalier attitude to water management forbodes a future dust bowl, and there are still some parts of Queensland gripped with drought. Prolonged border closure is the lazy public health response.
This public health performance has been characterised by the way the exemptions have been manipulated, and Queensland have been lucky – very lucky. The over-reliance on border closures, complete with a spat with the NSW Premier, may have ensured the Premier's re-election. Yet what is the ultimate price? As they say, time will tell.
Bay State Roll-Out
I found this analysis of what is happening in Massachusetts in relation to the rollout of the vaccines revealing. It appeared in the Boston Globe earlier in the week. It has been slightly edited without altering the message. What it demonstrates is that it not just a matter of a jab.
People are more likely to accept a vaccine from their own trusted doctor, said Dr. George M. Abraham, a Worcester internist who is president-elect of the American College of Physicians, the national organization of internists.
But Abraham said that only a minority of primary care physicians — he guesses 20 to 30 percent — can manage the logistical challenges.
For example, each vial of the Moderna vaccine has 10 doses, and once the vial is open, the vaccine lasts only five hours.
"If I can't have 10 people lined up simultaneously, I would have to discard the rest, which is a criminal waste of precious vaccine," said Abraham, who is chief of medicine at St. Vincent's Hospital.
Additionally, people must be monitored for 15 or 20 minutes after receiving the vaccine in case they have a rare allergic reaction, and doctors need space for them all to wait, at a safe distance from others. Not every office can store the vaccines; Moderna's requires freezing, and the Pfizer vaccine has to be kept in special ultra-cold freezers.
Forty per cent of doctors are up to the job, according to a recent survey done through several professional organizations of primary care doctors in Massachusetts. Doctors have already demonstrated they can respond creatively to the pandemic; they quickly adopted telemedicine, set up tents for testing, and opened respiratory clinics for patients with COVID-like symptoms.
"We can innovate in the same way to deliver vaccine," one doctor said.
One family doctor put up heated tents in her parking lot in March and constructed a permanent drive-through canopy in the fall. This setup has been used for COVID-19 testing and flu vaccinations. It could be the site to administer 900 coronavirus vaccines a week, if only her practice could get some. The practice has freezers capable of storing both the Moderna and Pfizer vaccines, and a list of patients eligible and eager to be vaccinated.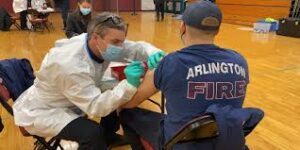 Another family doctor in Arlington and Chair of Family Medicine at the Tufts University School of Medicine, gave shots in his office's parking lot after receiving 20 vaccine doses in January, preparing for a bigger effort later. To ensure patients stuck around for the mandatory 15-minute monitoring, he wrote the time they could leave in washable paint on their windshields and had them pull over and wait to receive the cards documenting the shot. Recently Altman acquired an additional 200 doses, and all 200 slots filled up within hours.
An Attleboro family physician is also among the few who have received vaccine. He's designated a morning when eight of the 12 exam rooms in his practice will be set aside for vaccinations and monitoring. He has received 100 doses from the state and expects to receive another 100-dose batch every week or two, as needed.
In addition, he'll finally get to use the 70 doses left over after his staff was vaccinated four weeks ago, now that vaccination eligibility has expanded. Much to his frustration, he said, state officials previously wouldn't let him offer the extra doses to dentists and physical therapists working in his building, and told him to put them back in the freezer.
"I never got an answer why we couldn't give it to them," he said.
Meanwhile, large medical groups are gearing up and have posted on their websites that they plan to offer the shots but don't yet have enough vaccine. These organizations plan to provide the vaccine, by invitation, at their own high-volume sites rather than in individual physician's offices.
The group is poised to vaccinate because they have built and are preparing an infrastructure to offer a vaccine to our patients in whatever quantity it comes and whenever we get it.
There are a few worrying lessons for Australian doctors in the body of this analysis, and I hope the Government experts are taking the overseas experience into their calculation for the vaccine rollout, whenever it begins.  I am sure that they are.
Not Flash at All
It is a paradox. There are groups of Aborigines protesting in the streets of the capital cities about the fact that we whitefellas celebrate Australia day on January 26 when Arthur Phillip landed with a gaggle of convicts and British marines on that day in 1788. This is the day when our white ancestors invaded a place which was named Sydney on a vast continent, where the indigenous people had colonised it 40,000 years ago – the actual date varies but we "latecomers" are not allowed to forget we have joined the oldest civilisation on earth.
While one group of Aboriginal people is protesting against "Invasion Day", another contingent of Aboriginal people covered in oche, with clapsticks and didgeridoos, are stomping around waving gum leaves as part of what is called a smoking ceremony and seem to be going along with the whitefella celebration. In fact, it is a day where some Aboriginal people show their wares and talk up merchandise to be flogged to the community, so we can all have a part of Tradition. In fact I do not know what the Aboriginal people would do if we transferred Australia to another day, whether there could be universal joy and optimism, which we could all celebrate without division and protest.
As the Aboriginal voices have grown, so has racism not gone away. Most white Australians have never had much of an attachment to Australia Day. After all, it relates to the founding of Sydney, nothing more nothing less as a penal colony for the detritus of England. Not much relevance to the other States.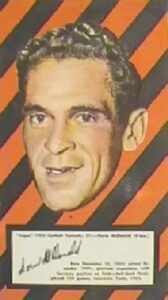 I grew up in Victoria when Australia Day was a holiday. It was convenient because it marked the end of summer holidays. After Australia Day, everybody went back to work. We never much celebrated Australia Day, and because it was in the school holidays it had no impact as a group learning experience. It was also a time when the Aboriginal people were very much a fringe group. If you lived in the city, as most of us did, one never saw an Aboriginal – and if we did, we did not see an Aboriginal, we saw Norm McDonald as a talented Australian Rules footballer who seemed to have a dark complexion. In those days, there was a series of very good Aboriginal boxers, but Dave Sands, one of our greatest, never paraded his Aboriginality.
Australia Day now has a real meaning for the Aboriginal community. Without it where could all that resentment be directed and consequently attention paid to their often-justified complaints; but also it is an outlet for their culture, confected or not. The activity on this day plays on some whitefella guilt – not mine. Having been fortunate enough to work with Aboriginal people with all their diversity, I wish that the celebrations were more varied. I would like to see more of Torres Strait culture injected; and also that of the South Sea islanders, the heirs of the kanakas, an important cultural group within this country.
After all, the real Australia Day is January 1, the Day of Federation when we became a nation, but that is an inconvenient date because it is already a public holiday, and the general consensus would be that public holidays are scarce enough without combining them. But then, what is special about New Year's Day, except it is probably the day we celebrate the Hangover.
I have suggested Wattle Day, September 1, because of its symbolic renewal and Australia then is when its country is at its most green and yellow. It is also a time of the year when there are no Public holidays. It is a serious alternative.  But realistically, the only day is the one when Australia becomes a republic.
Anyway, in the meantime let us abolish Australia Day and see who squeals. At least we would be spared the theatre of the Australia Day Honours.
Mouse Whisper
Are you sick and tired of politicians saying that the reason for border closures is to keep people safe? Does that mean that when the Premier opens the particular border that he or she is a safe cracker?
Maybe the States should agree to call their border closure The Crowbar.
Especially applicable when keeping South Australians out of your State.
Some would associate the spate of border closures with a form of idiocy.  But beware the use of "cretin". The latest ruling by that Judge that calling someone by the short version of a "congenital hypothyroidism" is defamatory, makes one very careful in pronouncing "Credlin" or for that matter people from the island of Crete, as well as those who inhabit the Canberra wetlands and were born in the Cretaceous Period.