This week the blog registers three years – every week for the past 156 weeks, including this one – not missing one. All my life, I have more or less written stuff, some published, mostly not.
Much of the blog has wandered  through my stock of memories, within which are those of my life misspent; the goals I attained and most that I did not – but gave it a good shot. I am not "a shed person", but fortunately my wife is. I have never been particularly good at any sport. I do not have any hobbies – but I write and advise – and have been very much an observer these past few years.
That has not always been so.
I have attempted many things I have not been much good at, but I have survived. I hope I have the courage to leave a clear documentary visit around myself. The reason? We all have a story. The headstones on graves each conceal a unique story.
Unlike most people, who may have had a worthwhile tale to be told and yet did not, I increasingly write mine as a chronicle, as idiosyncratic yet shamelessly manipulating my biases.
I have always wondered how else one's legacy can be recorded. If your genes hold your heritage, is it possible for your senses to unravel the heritage locked up in your genes?
Here your life lies recorded, and that of my ancestors upto the conception of my next round of forefathers (and five mothers). It is a huge reservoir – however it can be stored. That is a real question lying inside my hypothesis, for which I cannot even conjecture at this time, but does not, by itself, invalidate my thesis.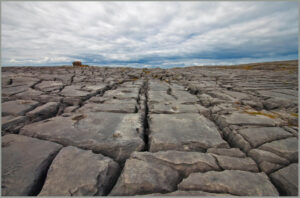 Once I was walking on that extraordinary wasteland – the Burren – in County Clare, on the west coast of Ireland, whence my ancestors came. In fact, the Burren is not a wasteland, it is just that from afar the limestone pavement resembles concrete. However, as you get close you see its uniqueness, because wedged in the limestone is both temperate and arctic flora. It is in the pavement cracks where life endures.
Suddenly, as I was walking along, I was seeing the land through the eyes of a young boy. From the change in the surroundings, I must have been of that age. My ancestor, as I presumed myself to be, was running, which I started to do also. In that instant of a previous time on the Burren and in this example of déjà vu when I reflect upon it, my sensation was of gliding into a landscape where my perspective was not that of a grown adult but that of a young boy. Then I glided out of this, with no sensation that any time had passed, except it had started to rain. Running to find shelter. Was not this a déjà vu phenomenon – I was trying to find a dry place, which I did in one of those Neolithic shelters that dot the Burren. This has been the only time where the sense of being in a place in a previous life was strong, even though I had never been there. In this case, the feeling passes quickly as though I have scratched an itch.
To me, if there is a so-called paranormal, it resides deep in my genes and therefore the further back in my genetic store, the less likely it is to flare as a fully formed sensation. Maybe it only occurs when the genes are aligned in a particular way and resonate in such a way that the stored memory can be tapped.
Thus, in chronicling my life I have provided a limited legacy. Unfortunately, with death dies what I call my genetic delusion. I can only have inherited the legacy of my mother and father up to the day of when my genetic trail was formed. However, the same resides in my offspring and all along the "Begat Trail" – a transferable library until your line is no more.
I suppose I should have returned to the scene, but let me reiterate, it is not a vision; nor a hallucination. It was nevertheless so very curious.
Albored Part V
As a friend of myself has said, Albanese is the most impressively unimpressive person who he can recall as striving to head this nation. He is not the only doubter. Crikey has said the same in more words, with an added apparent Freudian slip for spice.
If the old Albanese wasn't good enough for the job of prime minister, why would the new version be suddenly suitable?
The election will put a possibly unprecedented focus on the character, competence and deportment of the leaders of the major parties. This in part is a consequence of the absence of a detailed policy competition — it threatens to be a policy-free electron (sic).
I remember working for a politician who was considered unfairly a lightweight, and no amount of media grooming could change that view, other than in the short term. Therefore, I have experience with such characters and seriously considered, when young, going to Yale to study psychopolitics.
Albanese is not the leader that Australia needs; from my perspective it is as simple as that.
There is a need to jolt the system and then re-assure them that you are the person for the times. In government, you must determine what you do on every day of the first week – and rehearse it with your closest advisers who should have expertise rather than personal ambition. That is what Albanese needs – not someone like his shadow minister at the weekend who said something about accomplishing electoral promises in the first four months. This a variation of the catchcry – of the first 100 days. Apart from the American jargon overtones, it is a cop-out.  Hit the ground running; remember God got it right – he rested on the seventh day – not the first.
The agenda – forget about vanity projects – fireproof and flood proof the country; put corrupt politicians behind bars; and remember Ukraine is a prime example for defending our country – be an inspiration to the population.
The country burns, the country floods, the aged are treated like excrement, the education system is starved and yet the country wants to pander to a corrupt body in Lausanne for a couple of weeks of pole tasselling in 2032, because a small group of people with an overweening sense of entitlement, who identify themselves with the Davos crowd and can be seen sprouting from the recent AFR luncheon (we being told that in times of suffering, greed is good) think it is a good idea. Fine, just as long as you are part of the select few.
Albanese, you addressed them, but see how the Murdoch Press tried to mangle you? As the Robot's catchcry in Lost in Space goes: "Warning, warning, warning!" Rather apt, I would think – on many fronts!
Portrait of a Ukrainian
This article about President Zelensky comes from The Atlantic. It would have been much more convenient for the USA's "Craven A" team if he had fled the country, and become the noble leader in exile. Then the media, after initial applause, would have moved on. The Western leaders could retreat to the vapid exercise of Davos and its ilk to make sage comments about the Goddess, Inertia or Entropy, the God of Pinhead Rearrangement.
After all, the World has been treated to the spectacle of the odious ruler of Belarus committing atrocities on his own people. The woman who actually won the election, Sviatlana Tsikhanouskaya, is now in Lithuania, her husband in a Belarus gaol for the next 18 years. Brave couple – while the leaders of the free world bluster.
"Who?" "You know, the good-looking woman – what's her name?" and so she vanishes off the front pages very quickly. Name too difficult for the media to pronounce. The leaders of the Free World breathed a sigh of relief, "an invasion not confronted".  Belarus remained as a satrap of Putin's and Putin emboldened, used it as another springboard for the attack on Ukraine. Never underestimate the ability of the West to bully when they believe they gain an advantage in the continuation of their colonial past, cloaked as the Coalition of the Willing or some such bombast. But a War in Europe is a different matter.
Now to the edited article. Nothing of any consequence to the truth of this narrative has been removed.
The World War II leader whom Zelensky reminds me of is the one who chose honour over surrender and who fought for an idea of his country even when the reality was impossibly bleak. Today, Volodymyr Zelensky exhibits some of the traits that made Charles de Gaulle great and saved France.
In May 1940, France was lost, its armies overrun, its chances of victory hopeless. De Gaulle escaped and made it the mission of his life to erase the shame of his country's capitulation and collaboration—to the point of making absurd and often offensive falsehoods about France having won its freedom alone. Zelensky's conduct, and that of his compatriots, during the opening days of this conflict means Ukraine has no shame to erase. Still, Zelensky, like de Gaulle, is fighting for the idea of his homeland as well as its liberty, for its right to be free and dignified.
Analogizing a contemporary figure such as Zelensky by looking for parallels in World War II is necessarily limiting, and, as a rule, WWII analogies can be overused and should be avoided. But Zelensky's defiant spirit, whether Gaullist or Churchillian or something else entirely, does not only reveal his own character—it teaches us about the character of the West too.
There can be something a little distasteful about Western onlookers (myself included) cheering on Ukrainians for a cause that our countries are not willing to join, a stance that risks raising the price of a peace that will be paid only with Ukrainian blood. Nevertheless, it is possible to recognize this, to be inspired by what Zelensky represents, and then to be shamed by his example.
Here is a nation and a leader willing to sacrifice so much for the principle of independence and the right to join the Western world. And yet, much of the West is jaded and cynical, apparently devoid of any such mission, cause, or sense of idealism anymore.
What is it that the West believes in now? When you think of the great liberal heroes of our age, Angela Merkel and Barack Obama, say, they are actually deeply pragmatic conservatives, constantly hedging, calculating, and balancing interests with little grand vision or cause to pull their policies together. There is much to be said for this type of governance: As Helmut Schmidt, the former chancellor of West Germany, once quipped, "Whoever has visions should go to the doctor." Visions led to the Iraq War, for example. Yet conservative pragmatism is also deeply limited, allowing adversaries like Vladimir Putin to take advantage, exploiting caution and shortsighted selfishness.
De Gaulle was not unique in articulating and fighting for an idea of his country. Many Western leaders during the Cold War had a certain idea of the West: Margaret Thatcher believed in a Europe whole and free; Ronald Reagan in a struggle between tyranny and freedom. You don't have to agree with their worldview to understand that such ideas are powerful, inspiring people to do things that no "rational" person would dream of.
A senior European defense official told me recently that the West needed to find a way to reimagine itself and its role in the world, to avoid slipping into the trap of either pretending that nothing has changed or concluding that nothing can be done about it—that, Merkel- or Obama-style, leaders must simply manage the fallout and avoid becoming entangled in it.
This official said he was struck by how this sense of resignation was reflected in our culture as well. Movies and TV shows now rarely depict a heroic, grand visionary, "only a never-ending struggle for supremacy," in the words of the official I spoke with. Instead of Cold War heroes such as Rocky, we have the cynical characters in Game of Thrones, Billions, and Succession, channeling our new cynical reality. Our imaginative understanding of the world has changed. The West has killed off the idea of itself as good. Does it still even recognize a baddie, this official asked, or has it concluded that countries such as Russia or China are no worse or better? This, in fact, is the Trump view of the world, largely shared on the far left too.
Perhaps this is why Zelensky is so inspiring. Western countries don't have this type of leadership anymore: unembarrassed, defiant belief in a cause. So many people in the West have given up on the fairy tale of their own superiority because they understand how badly the West has behaved over the decades, from wars for colonial control to the War on Terror.
Yet perhaps the other reason Zelensky is so inspiring is that suddenly we can see that he is right. Vladimir Putin is a monster whose cause is unjust and immoral. In standing up to him, Ukraine is articulating a certain idea of itself that is righteous and dignified and heroic: virtues we long ago dismissed as old-fashioned. How tragic it is that Zelensky's idea has to be attacked for us to be reminded of ours.
Wayne Gretzky has his Say
Ice hockey is the favourite sport of Vladimir Putin. In fact, according to Putin himself, he is one of the greatest ice hockey players never to have mastered the sport. In exhibition games in his own beloved Sochi, he has scored eight goals, some without the help of the goalkeeper. In a triumphal lap of honour video, images have been shown of his tell-tale celebratory sign of stumbling and falling onto the ice – a manoeuvre that he is intent in perfecting to a full frontal sprawl.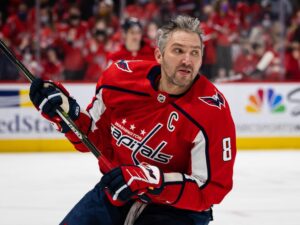 Outside himself his favourite player is Alex Orechkin, who is the captain of the Washington Capitals. There are a number of Russians playing professional ice hockey in North America. Orechkin is thought to be close to and a favourite of Putin. He has tried to distance himself from the Ukrainian invasion, but the tentacles are strong and crossing Putin may mean a stint captaining the Siberian Tundras.
In the most recent outing, the Washington Capitals were playing the Edmonton Oilers. As you would expect, Orechkin received a hostile reception. The Edmonton Oilers won. This team was Wayne Gretsky's old team.
Gretsky led them to four Stanley Cups in his 20 year career. Now 61 years old, he is still revered, particularly in Edmonton where it is said that there are 135,000 of Ukrainian heritage. He was the greatest player ever – a comparison with Shane Warne would seem appropriate – on the rink, but he was never had that nuance of being a drongo off the playing arena.
Gretsky has always identified himself to be of Ukrainian heritage after his mother's side, but the Gretsky family had large landholdings in Tsarist Russia, which include estates in modern-day Belarus. The Gretsky family was forced to flee Russia at the time of the 1917 Revolution. Gretsky's father nevertheless became a very wealthy man in Canada.
Gretsky may just have the moral suasion to be sent back to help centre  Putin perfect his full face sprawl. But who is listening?
"It's not about punishing the Russian kids. What about the Ukrainian kids that are being killed daily? The Ukrainian kids that are 12 or 14 years old, going to war. I don't want anybody to be punished. I just think it makes common sense that we shouldn't compete against this country right now, while they're at war against an innocent country." 
Pen Nibs No More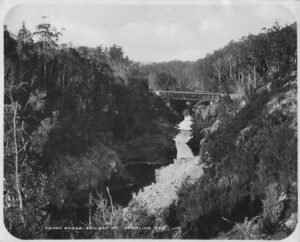 My school class was asked to research a topic. It must have been geography and for some reason I decided to undertake a project on osmiridium, which led me to dusty volumes of mining of the metal alloy in the Western area of Tasmania. My interest was probably sparked by the fact that osmiridium was the preferred metal used in the manufacture of pen nibs.  Anyway, as I dug into the project I found out that the West Coast was a lode of minerals.
As background for my interest in the alloy, the following is reprinted here – namely, osmiridium is a popular name for a naturally occurring alloy of the metals iridium and osmium. Corrosion-resistant, it is used in the manufacture of a variety of articles from pen nibs to munitions. First recognised in the 1880s as an undesirable impurity associated with alluvial gold in western Tasmania, it was discarded by the miners. A penalty was imposed by the Mint for its removal from gold.
In 1909 a dramatic increase in price created a boom for the metal, with a rush of miners moving into a number of western Tasmanian mining fields. The collapse of the Russian industry as a result of war and revolution saw prices continue to rise. By 1920 the price reached £38 per ounce and that year the Pieman fields produced 2009 ounces with a value of £77,104. Tasmania had now become the world's largest producer.
A second osmiridium rush followed in 1925. In that year £105,570 was paid to miners, but by 1930 the boom had passed with only £16,235 paid to all the miners in the state. Production of osmiridium continued until 1954, by which time more than 881 kg had been mined.
A few nights ago, we raised the question of whether there was still osmiridium mining in the area. One of my dinner companions knew exactly what I was talking about. It is not a topic that I expected anybody to know much about. Not this guy, he knew exactly what I was talking about. He had grown up knowing that there were mines behind a tiny settlement called Lowana near Macquarie Harbour and was fossicking for it, while I was probably still only reading about it in the library.
There was even a settlement deeper into the bush now almost completely disappeared called Adamsfield, where the osmiridium was alluvial. Here was the site of that second rush in 1925. A 4WD will take you now, but nothing much is left of a mining settlement which once housed 1,000 people at its peak in the second decade of the last century – for a short time, osmiridium was more valuable than gold.
Osmium is the densest metal known, being twice as dense as lead. If you have held a sphere of osmium the size of a table tennis ball, you will immediately know what dense means! Iridium on the other hand is the most corrosion resistant metal known. it is used in various important alloys, unlike osmium which, with the demise of the pen nib, has few other uses. Together with platinum, iridium is included in the standard metre bar which is housed in Paris.
So, there you are. Project complete, sir, but 70 years too late.
Daylight Come and He Want to go Home
In my historical novel, The Sheep of Erromanga, I mention a ship which left the then New Hebrides with a shipment of bananas bound for New Zealand. By the time they reached New Zealand all the bananas were rotten. I thought nothing of it – just poor stevedoring. I dismissed it as nothing more than that.
I had known that if you place an unripe avocado in a brown paper bag with a banana, the ripening of the avocado is accelerated because of the ethylene emitted by the banana.
Bananas are also said to emit methane and, in an enclosed cargo hold, that could be lethal. The other unpleasant fact is that spiders love being among the bananas – a tarantula being among such stowaways.
I read an article this week where the captain, finding that his passengers had bought bananas on board, threw all of them into the sea (the bananas that is). The fear of bananas on boats is also associated with the knowledge that with bananas, other fruit which could ripen could also over-ripen, and eventually would rot. This was a major concern when fresh fruit on board was essential as a preventative health agent against scurvy.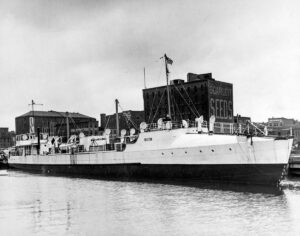 As Harry Belafonte sang, there were banana boats. His song was that of the dock workers loading bananas in Jamaica. They were very fast boats because they had to get bananas from Central America and the Caribbean to Europe very quickly – until refrigerated ships were commissioned in the early part of the twentieth century. Modern banana boats tend to be reefer ships or other refrigerated ships that carry cooled bananas on one leg of a voyage, then general cargo on the return leg.
Mouse Whisper
Heard on TV just after half time … BREAKING NEWS: "SR was taken to hospital with suspected fractured ribs."
OK, but small things do amuse small minds.