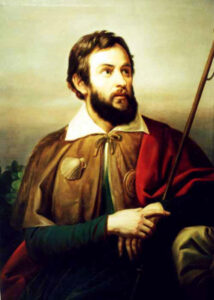 I am a pilgrim with a P/C, a bag of hessian straggling along the cyber pathway, lined by an array of "punitive cybresses".
So many blogs – such a cacophony of blogs, one may ruminate surveying the clouds of opinions hanging low.
Why write a blog then?  Because I want you to know what I think too, and I may have less time along this pathway strewn with birds twittering and on the horizon a musk fragrance which may soon overwhelm.
I love the metaphor.  Pushing it to extremes.
Take Parliament. Some may say it is more like an 18th century bareknuckle fight that went to the 80th round, as two bare-chested blokes bashed each other to pulp for the edification of a crowd inured to cockfighting, bearbaiting, and an afternoon watching a melange of hanging, drawing and quartering.
But rather than a "cacophony of blogs", I prefer to engage in orchestral imagery. The imagery of brutality is overdone in politics because the image creators often are obsessed with such imagery.
Here I invoke the music makers – whether composing, conducting or playing an instrument – as a more civilised metaphor, (although to my knowledge nobody has invoked it) the orchestra as a metaphor for Parliament.
I envy music makers since I have not a jot of a score in my brain. These composers are accustomed to transposing noise into a melody, which can resonate, which has a recognisable pitch and can be played in the policy orchestras which are currently tuning up for a major concert this month.
The problem for policy songwriters is whether the orchestras can go beyond that tuning phase or will the conductors be more concerned with ensuring that the only instrument that plays is the loudest and most discordant, and the baton used in a frenzied assault on other conductors who refuse to play the same tune, whether the lyrics are a version of ours or most probably not.
The end point of an orchestra is working in unison for the best outcome. Seems trite, but have you ever seen an orchestra behaving like politicians when they actually play.
On another level, there is an elegant metaphor for politics in the various houses of parliament to be courteous – gavottes or quadrilles in the pattern of an eighteenth-century drawing room. Cerebral serenades across a Molonglo terrace – but it does not happen. Politics will never be a cultured room of perukes and perfume, the musical metaphor remains as it was at the start, even though hypocrisy is rife.
The problem is that life is full of mixed metaphors. Politicians fall foul of the three donkeys of the apocalypse – sleeplessness, isolation and boredom.
Donkeys are associated with a serenade by a faux-Mexican and "Donkey Riding", a Canadian traditional work song, was sung by sailors as they loaded timber onto ships, perhaps because the loading was assisted by the donkey engine. The donkey metaphor is not refinement.
However, when in relation to "donkeys of the apocalypse" I am invoking policy music, past, present and future for those who never learn and for whom the "donkey" is a more fitting metaphor.  They are stubborn; they don't learn; they sleep for 3 hours in 24. What an entry to the dysfunctional habits of politicians.
Defining the physiological consequences of the politician swiftly descends into consideration of pathology due to lack of sleep.  Such lack is intrinsically assumed to be pervasive, but like so much in politics it is ignored. Lack of sleep does not enhance anything, yet the herd instinct of always being awake is a sign of toughness of leadership in what one writer once ironically stated: "To spend a third of one's life in unproductive idleness seems a demented waste to some people and now they decide the slothful practice for evermore. No one has yet succeeded." Margaret Thatcher gave it a good shot, always telling people how little sleep she needed. She ended up demented.
By contrast, it was remarkable how refreshed Albanese appeared after a week "off". Normally, the media would be berating a leader if he took a week off during an election campaign, but COVID infection is akin to a sacred time of true isolation and being able to relax and sleep, without an equally sleepless media badgering one for being a slacker.
When I first wrote about this matter, I was fond of quoting from The Goshawk" by T.H.White:
"…in teaching a hawk it was useless to bludgeon the creature into submission…so the old hawk masters had invented a method of training them which offered no visible cruelty and whose secret cruelty had to be borne by the trainer as well as by the bird. They kept the bird awake. Not by nudging it or by mechanical means but by walking about with their (the falcon's) pupil on their fist and staying awake themselves. The hawk was "watched", as deprived of sleep by a sleepless man, day and night, for the space of two, three or as much as nine nights together. It was the stupid teachers who could go as far as nine nights; the genius could do with two, and the average man, three."
As I wrote then, "Falconry obviously has a lesson for practitioners of politics."
And as a postscript, the other donkeys, Isolation and Boredom, remain untethered and I shall continue the discussion of the pathophysiology of these apocalyptic beasts. Yet the practitioners in the political arts do not want to know about them.
Worried. Not me. Just a silly little cough…
This article in the Washington Post, slightly edited, epitomises so eloquently the fears I have about venturing out into crowds, or situations where one is forced into "cocktail party" contact. Even though I have been double boosted and inoculated against influenza, I have memories of my last bout of influenza, which was highly unpleasant and took months of recovery time.
Frankly I find masks uncomfortable, but given a bout of upper respiratory infection where breathing becomes difficult and coughing does nothing but aggravate the chest pain, there is no alternative. Nevertheless, there are three areas of hygiene to observe. Social distancing means avoiding crowds and venues which are poorly ventilated. Oh, do I remember the low ceilings of the jazz clubs and the atmosphere of cigarette smoke, and how such scenes were twisted into those of romance and elegance. Remember, Casablanca – the imagery of Bogart and Bergman and Rick's Bar!
I find it very interesting how resistant people are to handwashing, even though as a child I was socialised into washing my hands before meals and after going to the toilet. Often the hand sanitiser is completely ignored – a lonely sentinel mocked by the pervasive Virus as its victims pass by, failing to use it. It is all very strange.  What grubs we are – particularly men!
Now to the Washington Post take on the subject of the end of mask wearing as mandated by Trump appointee Kimball Mizelle to a Florida District Court. Rated as "not qualified" by the American Bar Association. Nevertheless, this lawyer at the age of 33 has a lifetime ahead of her to wreak further havoc. The Centers for Disease Control and Prevention (CDC) is appealing her decision , but the horse seems to have bolted, because the intrinsic American way is to look after numero uno, not the Public Good – it is called Freedom apparently.
After a Federal judge's April 18 decision to overturn the transportation mask mandate, a JetBlue flight attendant celebrated mid-flight, holding up her mask and chanting over the public address system, "Wave 'em in the air like you just don't care."
When I saw that clip — and other videos of airline passengers gleefully discarding their masks — I couldn't help thinking of the people on those planes who had counted on general masking to reduce the risk of travel. "Just don't care" seemed an apt description of the way their neighbours were behaving — the way Americans are behaving in general.
Yes, people have expressed concern about the sudden and seemingly arbitrary lifting of the mask mandate.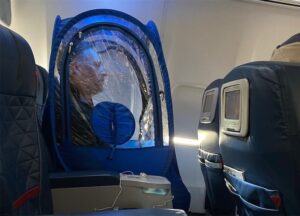 For almost two years, the right wing has framed the mask issue as one of personal liberty. And many of the rest of us think of masking in terms of personal risk: If we're not at risk, we're thrilled to dispense with the discomfort and inconvenience of an N95. 
Either way, we're thinking of masking as something we do for ourselves, rather than as something we do for the common good. 
It wasn't always this way. The common good was why the Centers for Disease Control and Prevention first told us not to wear masks — out of fear that first responders wouldn't have enough. And when the agency changed course, in July 2020, the common good was how it framed its first masking recommendation: "CDC calls on Americans to wear masks to prevent covid-19 spread."
Now, it appears the agency is more likely to tell people to mask to protect themselves. Today, it says, "Wear a mask with the best fit, protection and comfort for you."
You have no idea who's on a plane.
You have no idea whether you're carrying the virus. You could be pre-symptomatic or asymptomatic. You could be symptomatic and not recognize the symptoms.
That's what happened to me. I had a stomach ache and, after a bad night of sleep, went out the next day swearing off red wine once again. But the next day, a rapid test showed that the offending varietal was, in fact, covid.
I reported my case to the county and took to my bedroom. Three days later, five days after the start of (what I now knew to be) my covid symptoms, I received a call from the health department officially releasing me from quarantine.
"But I'm still coughing!" I said to the staffer. "I'm still testing positive!" She said, if I wanted, I could request to have my quarantine officially extended.
She declined to answer the question I thought should have mattered most, with local cases up and nearly a million Americans dead: Am I a danger to others or am I not?
A month before I got Covid, I wrote that Covid was over for me. Because I was vaccinated and boosted and my mother had gotten covid to little effect, I would no longer organize my life around fear of catching the virus. But I still planned to wear a mask while covid circulated in my community because I was afraid of spreading the virus to vulnerable people. Surely we can personally be "done" with this pandemic while respecting the fact that others are not. 
When I told the health official who released me from quarantine that I was worried about my potential to infect others, she sighed and said, "Use your conscience." I wish I didn't have to. But without a mandate to make us act out of concern for others, conscience is all we've got.
Surströmming
The discussion on the Swedish fermented fish – surströmming – Atlantic salmon, continues. The fish is allowed to ferment for six months with enough added salt to prevent rotting. Notwithstanding this, it produces a variety of compounds which have an offensive odour, including hydrogen sulphide.
Apparently it is popular in the north especially among older folk. The can must be opened under water, and you can smell it when you drive past. Cans are known to explode and hence it cannot be sold at airports any longer, and there used to be a law which marked out what time of the year cans could be opened.
One of my friends has a daughter living in Sweden, who tried it once, swallowed a small piece and then started dry retching. She seemed to have overcome the challenge of not vomiting before you taste it.
She described as like eating dog poo, which is a curious response where we confuse smell with taste. I am sure that she had not eaten dog's poo, but it is a common reaction to compare taste with something it is highly unlikely we have eaten. But to other senses the comparison is revolting enough to bear comparison.
She did make another comparison that is more within the realms of a rational comparison. Her comment was "imagine the stinkiest cheese you can eat and multiply that 100-fold!" Not quite what John Lennon would have sung, but I tried to think about what is the aforementioned cheese, my taste buds have not stored a taste that I could imagine 100-fold. Again, such cheeses are compared to the worst of smelly socks.  I have never sat down to a meal of socks, even though the bacterium used to ripen these particular cheeses is the same as can be found between toes.
The only time when I experienced gastric reflux from ingesting something that met the next gulp coming down was when, at a dinner party, cold beetroot borsch was served. The commotion caused was somewhat comical if viewed as one waiting on table, but not for the consumer.  I have safely consumed borsch since, but only when warm. Ice cold beetroot borsch is too much of a shock to the unwary stomach.
It is extraordinary how adaptable taste buds are. Those who were not brought up on Vegemite have similar reaction I understand, but I have never heard of a Vegemite container exploding despite the fact that it is a yeast extract.
Smell is one cranial nerve, a short nerve that goes only a short distance before it reaches the brain. As I once wrote, taste is a trinity of three cranial nerves. Yet the inter-relationship is much more complex. Taste signals travel first to the base of the brain where some signals are processed. Signals are then sent along to higher brain areas. Some signals go to the ventral forebrain where they may trigger areas that control emotions and memories. Other signals go the dorsal region, the relayed sensory signals that cause you to crave certain flavours. In the reverse situation, for years I avoided satay because I got bad food poisoning after eating a meal of satay; and even the smell acted as an emetic for a while. I could not eat it for years. Yet the last time I had a severe bout of food poisoning was in Cuba, and the memory of the fish hung around for a short while, and for me allergy is a different response. It is pain in the gut; not pain in the perception.
If you assume offal as the periphery of acceptable food, I once ate heart in Riga at a posh nouvelle cuisine restaurant. It was OK, so cutely prepared how could I not satisfy my curiosity?
Lung, I have never tried; tripe – only once, enjoyed it; sweetbreads – avoided them but must try; brain I won't eat (afraid of slow viruses, although at my age somewhat academic); and I love kidneys and lamb's fry.
But prejudice has funny twists. Even though I consider myself omnivorous, I would not touch mussels until I had them thrust upon me in a wonderful family restaurant in Cesenatico on the Italian Adriatic coast; similarly resisted scallops, until I was presented with large succulent ones in South Carolina from the Gay Fish Company. Refusal to eat them was just a silly illogical fad. To complete my culinary idiosyncrasies, I am allergic to crayfish (acquired) but not Atlantic lobster; also some deep sea white fish (particularly swordfish).
The worst food I have eaten is seal in Newfoundland. It was like eating rubber; and as with the dog poo above, I have never been guilty of chewing on a tyre. It is just one of the instinctive analogies in which more than one of senses is involves when trying to articulate "taste".
Finally drum roll; food that I want to taste: witchety grub.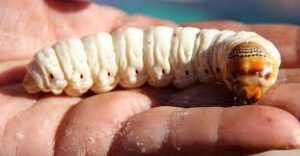 Wonderful in these latter years, there are always questions about dietary idiosyncrasies wherever you are invited out. When one was young, you ate what you were given – swedes, watery marrow and overcooked pork forever irrigated through my memory.
A worry.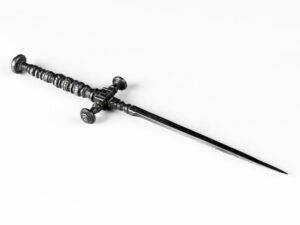 What Australia needs at this point in time is a Savonarola who thinks like Macchiavelli. A national cleanser who has a fine feel for the dorsal stiletto.
Suddenly Bill Shorten has been let loose – at least to some degree – on the campaign. Shorten is a hater; and according to many of his contemporaries, a nasty piece of work. Nevertheless, he gives Australia hope that if the vanilla Albanese is elected, there is a far more formidable force to wreak vengeance on those who have been gorging on government largesse at the expense of the "Powerless Australians" – those who cannot ring up their local politician and do a deal – maximising the personal gain at the expense of the rest of us.
Having been there I know the game. Some years ago, while I was being eulogised by several politicians publicly, some guy sidled up to me and said: "I have never heard of you. You must be important." I was not sure whether that was a question or a statement. I replied, saying that I had had my place in the sun at various times, but inevitably if one pokes one's head above the parapet, the greater the exposure and the more likely you will be to becoming a target – the inverse relationship of autonomy of action to controversy generated. Thus, I was destined to fall from grace – it was inevitable.
Some aggressive people like Shorten who have the equivalent of a rotten borough (or is it more truly burrow?) have a longer "shelf life" to ply their trade. The current government has left an incredible trail of corruption, some criminal but mostly moral – with the consequence that Australia is on the cusp of kleptocracy.
Purity of motive thus becomes one of relativity. Shorten, the scholarship boy from Murrumbeena, married first into the Melbourne establishment, then married under Vice-Regal patronage and, as he clambered up the holy mountain of Canberra, had the backing of Dick Pratt; therefore to some of his erstwhile colleagues he had enough political strikes against him to be consigned to the Maribyrnong Anabranch until it runs dry. But that is his strength.
One of my concerns is that Albanese is intrinsically a weak individual who looks for the soft option and shies away from personal confrontation. For instance, the Murdochs. They can be charming just like the 'Ndrangheta, but when you do get in their way, beware. Having experienced the latter when charm in the smile is combined with menace in the eyes, it is important for Australia to minimise the pervasive influence of the Rupert Legacy, no matter how ambrosia and nectar ridden the boardroom lunch may be.
I suspect that Shorten is now approaching the same level of hatred which burns within Murdoch, because significant fortitude is required to prosecute the scoundrels who have profited during the Morrison reign and before. However, the Labor Party have form and for the National Party which begat the Queensland bush defiler, Joh Bjelke Petersen, it is often considered the norm by some in this Party. Not many political parties have two former Health Ministers in prison at the one time.  Then there are the outliers, the rock wallaby bandits, who seduce the Microcosm to elect them to the Senate.
Let us see, if Labor gets elected, whether it is prepared to follow through with the promise of an anti-corruption body. Bill Shorten awaits.
Scarry's Law
I love this reference in The Economist to Scarry's Law:
Scarry's Law, formulated over a decade ago by this newspaper and named after Richard Scarry, a children's illustrator, states that politicians mess at their peril with groups that feature in children's books—farmers, fishermen, train drivers, and suchlike.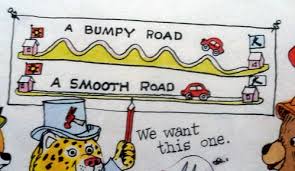 The implication of the Law devised by this American, who wrote 300 children's books and illustrated many of them was that if you denigrated any of these people, the populace at large would take a dim view.
Yet none of these jobs appear on the list of respected professionals where medical practitioners are rated first, lawyers 21st and politicians and journalists the two last at 29 and 30.  Doctors closely followed by nurses and paramedics had received a boost because of the pandemic. In the list, firefighters and police rated in the top six.
These polls are extremely subjective and one suspects so is the wonderfully named Scarry Law. Nevertheless, the warning contains a more subtle message, which at a time when "change" is a word increasingly used to associate with climate and hence is of deep concern to farmers and fishermen. These are deeply conservative people, rather than reactionary. They will adopt change not because of political popularity, but only if they see it as a means of improving their livelihood and hence income.
The level of rural subsidies has always been a major concern – shoring up ancient practices without regard to actual environmental change. I always like hearing about farmer driven innovation, where conservatism is overcome by a realisation that the change is beneficial. It is a slow process, but undoubtedly miners would be sheltering on the Scarry list.
Mouse Whisper
Everybody in the blogs seems to be into odours, and cheese is where odour and taste are dissociated. We mice are very particular about the cheese we eat. Now, a few cheeses use the same bacteria which thrive in the salty sweaty environment found between the human toes, hence the association in the smell with the use of the same bacteria in the ripening process, as was mentioned earlier. We mice have to negotiate human socks casually strewn around the floor, and these do affect our appreciation of cheeses we have heard of, but never tasted.
But everybody talks about smelly cheeses as though it is a matter of pride to have cheeses with a putrid smell.
As for us mice, the worst cheese that can fall from the table is an old cheap Camembert cheese, which has become a cesspit of ammonia and the associated vapours. But they say some humans will still eat it. It is literally the worst of cheese, and that for a mouse who is used to whispering, SOMETHING!