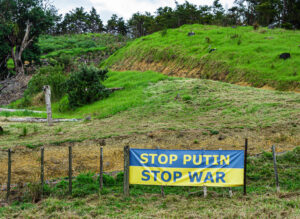 Overlooking wild surf beaches, through rolling forested areas, past marae on the road between Russell and Whangerei was the sign in Ukrainian colours "Stop Putin – Stop War".
Yes, this week we are in New Zealand. The only readily available news is sport, and the Sky sport channels provide one with the luxury of tuning into any of the popular football codes. However, in regard to news there is BBC, Al-Jazeera and CNN, together with the Murdoch propaganda channels – and Ukraine is there with all the Putrid reminders.
The wonderful feature of New Zealand is how varied yet peaceful is the countryside. Nevertheless, New Zealand lives on the edge, and its nickname of "The Shaky Isles" is well-earned. New Zealand lies on fault line; here the Pacific and Australian tectonic plates meet in a complicated manner. The edges of these plates, which meet under New Zealand, are not straight lines so the collision zone does not behave the same way along its whole length. Also, the convergence is not perpendicular to the plate boundary and there is rotation of the plates, hence an addition to this complex boundary.
New Zealand's volcanoes and earthquakes happen because it is in this collision zone where the edges of two plates converge and moreover to the east of the North Island the heavy, oceanic Pacific Plate is sinking below the lighter, continental Australian Plate. This is called subduction.
When major earthquakes and volcanoes are plotted worldwide they reveal that New Zealand is part of a huge "ring" of volcanic and earthquake activity. The plate boundaries around the Pacific Ocean are the most active in the world and this area is often referred to as the "Ring of Fire". Although the Pacific Plate is the world's largest tectonic plate, the South Island is the only significant area of New Zealand on the whole plate, thus making it a truly oceanic plate.
The upshot of this long description is that the further north one travels, the less likely there will be a major earthquake. To me, if I were to migrate to New Zealand as I have been sorely tempted to do, given the state of Australian turpitude, I would thus prefer to live in these upper reaches of the North Island. As I remarked before, when staying a little further north, there were bananas ripening and the flowers are distinctly tropically flamboyant. In this motel outside our door is a rhododendron with delicate tangerine flowers. Opening the local newspaper there is a double page spread about coffee growing up here in the Northland.
Don't get me wrong, I love the Hawkes Bay area, but the beautiful Art Deco architecture is a reminder of the massive 1931 earthquake, which effectively levelled both Napier and Hastings; hence the characteristic architecture of the rebuilt towns. I remember the story of the earth movement raising the floor of the lagoon to such an extent during that earthquake that the water drained away leaving a huge number of fish literally out of water. The image of people scurrying across the floor of the lagoon grabbing as many fish as they could, while all round was trembling and 256 people have just died is somewhat Brueghelesque.
That is enough incentive to move to Northland.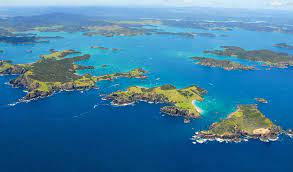 However, enough of this rhapsodising, for in this new world of COVID-19 before you leave Australia and enter New Zealand, you need to have a COVID test – either a PCR or a supervised RAT (Rapid Antigen Test). Now we all know that you can test yourself; but not if you are going to New Zealand, you have to go to a "certified testing site" for this supervised test.
Ah, Australia – the land of neoliberal gouging! We got off lightly – $110 for two. However, elsewhere the gouge was on – over $100 for one. Try one of the multi-national pathology companies which repatriate our Medicare money overseas. The unintended consequences of government indifference to what was once an excellent scheme called Medicare – now MediCarruptus!
However, I digress.
Get to New Zealand where neoliberalism lingers in the ghost of Rogernomics. Concern for the Virus is sustained more than in Australia. On entry to the country the New Zealand authorities gave us three RATs each, for free, for self-testing on day one and day five/six. An extra test was provided in the event of the test needing to be repeated. Self-administered; self-reported – at no cost. Day one RATs went without a hitch, as did RATs on Day 5.
Higgins 2019 as writ by The Guardian
"The people of Higgins — a compassionate community that wants to see a transition to a renewable economy to tackle climate change — see that the Liberals don't represent their values anymore."
Ms O'Dwyer joins a string of Liberal women who are departing at this year's election. (describing in other media she wanted to be with her family and wistfully wanting a third child even though she was already over 40)
Queensland MP Jane Prentice was dumped by preselectors, South Australian Lucy Gichuhi was relegated to an unwinnable spot on the party's Senate ticket, and Ann Sudmalis blamed "branch-stacking, undermining and leaks" for her decision not to recontest the New South Wales seat of Gilmore.
Julia Banks also abandoned the Liberal Party late last year and moved to the crossbench, describing the treatment of women in Parliament as "years behind" the business world.
Less than one quarter of Government MPs are women, while nearly half of all federal ALP MPs are women.
The Liberal Party has a goal for women to make up half of its party room by 2025
Higgins 2022 as writ by Katie
Kelly O'Dwyer having resigned, the Liberal Party preselected a woman, a paediatrician with impeccable credentials in allergy – particularly peanuts.
Katie Allen – wow Katie – not Katherine or even Kate but Katie. She must be a radical.
Alas no; if the opinion piece she recently ventilated is any guide.
After all, what was such an educated person doing in a party where misogyny is rife, where its ministers allegedly bash their partners, where funding for universities, health and research is routinely sacrificed to satisfy the coal fetishists lurking in the denizens.
Perhaps Higgins is perceived as a safe seat. Harold Holt held it for decades.
After the former leader of the Greens, Dr Di Natale, boasted before the 2019 election that Higgins was up for grabs, it was retained by the Coalition.  Thus, in the end he was wrong. Katie Allen sneaked over the line with a six per cent swing against her.
Given she is a woman, with substantial credibility from her career achievements, her electorate stretches from South Yarra and Toorak, (her comfortable stamping ground) to Murrumbeena and Carnegie – less so. She is a classical Liberal lady in the Margaret Guilfoyle tradition – very self-contained – only showing her real hand rarely.
Yet here we have an opinion piece which is just arrant nonsense.
I suspect if she were not a female she would have a Teal candidate added to the Rouge et Verde already confronting her.
I read her piece and thought here we go again. I was working for the Liberal Party leader when little Katie was a six year old and the only difference is that it is a woman allegedly saying the same old "broad church" crap – the apologia of a conservative person, who has been caught up in the brutish rural socialism and plutocracy of the National Party; wedged among the kleptomaniac remnant of the Liberal Party. Whether she authored the piece would be the subject of a statutory declaration saying that she had actually written it.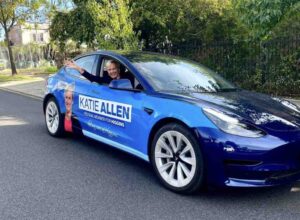 Dr Allen as reflected in her pronouncements is deeply embedded in the Liberal Party, and once stood for the seat of Prahran. Her electorate at one end represents the environment in which she has lived for her 40 years. Her electorate encompasses the dilemma of once being safe, now redistributed to include areas which traditionally are more Labor in orientation.
Over the years Higgins has stretched out to include areas that somebody inured to living in Higgins for 40 years would find unfamiliar. The image she projects in her advertisements is that of wholesome privilege; many photos of her with children from private schools, but then they have traditionally been the backbone of the future voters in Higgins. After all, she herself was a student at Merton Hall, which is now just outside her electorate – a matter of a few streets.
So here is the member of Higgins defending a party that is deeply misogynistic, deeply embedded in financial miscreance, opposed to an anti-corruption commission with real power, and moreover a former paediatrician who should be voicing opposition to the internment of refugee children including the "Biloela Four". She bleats that she has actually crossed the floor once – and is that the face of the moderate Liberals?  Once, surely not!
Then she has the temerity to rhetorically ask: "But what does he (Fred Chaney) think will happen after the election if any of my moderate colleagues, who sit inside the party room, have been replaced by teal independents who aren't inside the tent?"
What indeed.
I hesitate to say it but if she survives this election, she should use her expertise in peanut allergy to reform the Coalition. Otherwise she had better leave the tent flap open.
The Big Question
What does a breakout company like Moderna do for an encore? More than a decade after its founding, the Cambridge biotech rolled out its first commercial product last year. And what a debut it was: a cutting-edge COVID-19 vaccine that helped to save thousands ― if not millions ― of lives around the world.
It was also a massive money maker for Moderna, which up until then had been unprofitable. With more than $38 billion in total COVID-19 vaccine sales expected by the end of this year ― many of the doses paid for by governments ― investors are wondering what the company plans to do with that windfall. Despite Moderna's spectacular success, the question of what's next looms large, and the pressure is on to avoid becoming a one-hit wonder.
The same profit is expected for Pfizer and their vaccine. While there are accusations of excessive profits floating about, it is noted that Moderna is not seeking any payment for its vaccine being copied in South Africa.
Teal – the added colour of Port Adelaide
When Port Adelaide were admitted to the AFL the colour card was held at their head. Collingwood were the true Magpies – and their colours (even though neither is technically a colour) would remain black and white. The interlopers with their Prison Bar black and white jersey would henceforth have teal added to their colours and be forever "Power" not "Magpies."
After all, this was a proud group of Croweaters, who at various times have been Cockledivers, Seaside Men, Seasiders, Magentas, Portonians, Ports. So switching onto the Power should have not been too much of a "big Teal".
The colour "teal" comes from the green flash on the side of the teal duck's head (teal comes the old Dutch word for this bird). Well, the colour is not actually green but a shade of blue admixed. To me the colour of the bird's head is more a metallic green sometimes seen as the colour of souped up Holdens. However, those who have appropriated the colour for political purposes as was attempted in New Zealand in an aborted attempt to form  an alliance between the Greens and the conservative blue Nationals left the colour as its legacy.
Interestingly it was in the Italian town of Comaccio in the Po Delta where I encountered a cooked teal. We had arrived at this restaurant famous for its eels, as was the whole area, located as it was so close to the sea – in an environment of both fresh and salt water. I naturally ordered the eel, and immediately met resistance from mine host because the time that would be taken to cook it.  It was after four. They wanted to close by five pm – and we were offered an alternative.
"Alzavole" was the offer, and that was how I had a meal of roast teal. It was excellent – a fitting replacement.  The Italian word for "teal" in Italian literally means "get up and fly."
How fitting for this group of Independents seeking election.
Success is always the result of timing.  A group of women provoked by the appalling record of the government on climate change and the failure of  placement of women on the same societal level as men, should enter the political arena. Some years ago at a lunch with a journalist of about my vintage I said that this country needed a group of candidates, independents of the three major parties to get together to prosecute a centrist role. My luncheon companion was sceptical because it was 2019 before the pandemic, and he was right. The time was not yet right although the saffron cauldron was bubbling. Then enter Simon Holmes a'Court.
My experience of student politics came before the student electorate became factionalised. You were voted for as an individual not on a party slate. Mistakenly I believed that one could weave a path through politics where issues were the subject of debate not of maximising self indulgence and corruption, in all its forms. Ideals burnt with the books.
These women are all articulate and counterpoint the shallow ugliness of some of their opponents, where lurk allegations, which if true, reveal a disgusting degeneracy in those who purport to be our leaders. What currently exists in the Coalition is akin to a cancer, which keeps metastasising. On the sidelines there are, among others, Fred Chaney, a former Coalition Minister, who represented the Liberal Party I once knew, where there was a balance within the conservative ranks, but where radicals were generally on the left of the conservative element, not on the right.
The whiff of the fascist has always been there, but with the demise of the Democratic Labor Party, the Falangist element drifted into the Liberal Party. This has been coupled to this heretical mob of creationists that used to be confined to Sunday morning ranting but unfortunately given a legitimacy by one Billy Graham, has now become a suffocating legacy of humbug in the Liberal Party.
If the Teal women can exert their influence by getting elected and restoring some secular order, then Australia can look forward to moving from the current situation with some hope. What is also very important is David Pocock winning a Senate seat in the ACT under its banner. An all woman faux-Party does have a certain political vulnerability, as Maxine McKew found out when she drifted far too close to the Sun (and probably the Daily Telegraph). Some say the cause was more a defective Rudder.
Nevertheless, the accession of the Teals will mean one positive effect – the gradual removal of the Murdoch influence to another place – the sporting pages. Then they can remember that Collingwood are still the black and white; and well, Teal was a compromise.    
To Chris Brook – with considerable help from W.H. Auden
Stop all the clocks, cut off the telephone, 
Prevent the dog from barking with a juicy bone, 
Silence the pianos and with muffled drum 
Bring out the coffin, let the mourners come. 

Let aeroplanes circle moaning overhead 
Scribbling on the sky the message He Is Dead, 
Put crepe bows round the white necks of the public doves, 
Let the traffic policemen wear black cotton gloves. 
W.H. Auden's beautiful poem is so eloquent in setting  aside that time to mourn but Chris was not for me
… my North, my South, my East and West, My working week and my Sunday rest,  My noon, my midnight, my talk, my song.
Instead, in my own words without Auden's genius to guide my hand,
He was my irritant
My collaborator
That solitary polymath thinker
That unleashed gregarious drinker
He was stoical
He was not
He was rude
He was generous
He was Quixote
But also Voltaire
Above all he was my mate Christopher, flaws and all. 
And I shall miss him dearly
The last time we had an exchange of emails was on the morning of his death. It was about Aspen Medical. Just a normal day. Then we went to New Zealand. And Chris went to God knows where.
Então meu amigo não Adeus; apenas Até logo.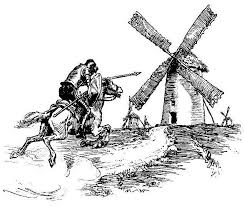 It is always Caos in Italy
Prince Rupert is always "banging on" about correctness of language, syntax, constantly worrying about splitting his infinity and when to appropriately use the colon and the semicolon when expressing opinion. Journalism is notably attracting the barely literate, he moans. Take the example of the football writer for an Opposition Roundhead publication who talked about "zealousness". The word is "zeal" or perhaps "zealotry", but not "zealousness".
It is a small sign of where journalism is headed – to the bottom.
Yes, my dear journalist who confuses "tortuous" with "tortured" and struggles with "disinterest" and "uninterest". And spells "chaos" with either a "K" or without the "h".
What does make sense if these bottom feeding journalists want to play "Gotcha", then journalists themselves are fair game. After all they rank just above politicians in community ranking. Prince Rupert did not say that!  The community did.
The smart arse journalist is always trying to find the electoral tipping point so that it is sufficient for an intrinsically lazy pack to pile in and attribute failure to this one tipping point.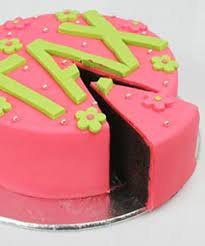 The 1993 election is always mentioned in the context of the birthday cake episode in which Mike Willesee in interviewing John Hewson asked him the effect of GST on the price of a birthday cake. Hewson gave a qualified reply, as any honest politician should give, but his answer was transposed into a triumphant fourth estate "gotcha".
As John Hewson said later, after his defeat in the 1993 election and subsequent ousting from leadership and retirement from Parliament, he should have told Willesee to get stuffed. Increasingly, the smart arse journalist should receive what should be known as this "Hewson Solution". Adam Bandt recently demonstrated its application in one of his Press Conferences.
Finally, that hesitant young journalist recently reading a very stupid irrelevant question from her phone, obviously planted by some other journalist higher up in the Albanesegotcha phylum, will live long in the annals of rank idiotic desperation. As for the young journalist, my advice is: "Get a brain and not to rely on another person's Offal."
Mouse Whisper
This is an Iranian puzzle – not that difficult.
What is blue in the field, red in the market, yellow on the table?
Answer in above text.