I don't often start my blog with a straight lift from another paper – this by the distinguished journalist and author, Joan Wickersham.
This is a story about a library in Vyborg.
Given the status of Vyborg, essentially a Finnish city absorbed by a gluttonous Soviet Union at the end of WWII, it provides an insight into how the Russians with Putinic tendencies conceive their view of the world – in this case neglect. However, underlying this neglect was its fortuitous survival of the scorched earth way in which Russia wages war. This normally results in a wrecked landscape which the Russians have neither the intent nor the money to rebuild. This will be the result of his current intent to ensure that the western littoral rim of the Black Sea is in Russian hands, despite the destruction meted out to the Eastern Ukrainian cities.
In the story below it was, until the fall of the Soviet Union and its release from the sullen adversarial conformity in which Russia had been plunged by Stalin that  co-operative work to restore the Aalto masterpiece occurred. It was a time when the deep xenophobia that characterises the mindset of Russians was temporarily dormant.
The Amber Room in the Summer Palace, two hours' drive South of Vyborg in St Petersburg, is testimony to Russian skills when they want to use them. After all, the Germans dismantled the Amber Room, and it was not until 1979, that the reconstruction of the room commenced, guided by two remaining original items: a single box of relics from the room and 86 black-and-white photos of the space, taken just before World War Two. It took 23 years, but it showed a determined creativity to restore, when Hitler had decided to destroy the best of Russian heritage.
In the article below, the co-operative effort between the Russians and the Finns led to the restoration of the building depicted. After all, for many years if you looked at any hospital built in the interwar period, they had the stamp of Aalto; worldwide he changed the design of hospitals from gloomy buildings where the Florence Nightingale wards were Queen in hospitals where the light could only shine fitfully. Aalto's creations were far more appealing and, moreover, airy and far more hygienic than their predecessors.
I disagree with Ms Wickersham's passive neglect ending to her article. Humans create and humans destroy. There is an equilibrium, which provides the opportunity for the world to recognise the need to preserve it for the next generations – knowing in the distant future the Sun will burn itself out and with it, this dependent planet.
However as for Putin, like all megalomaniacs, it is not in his or our remit to deliberately hasten the process.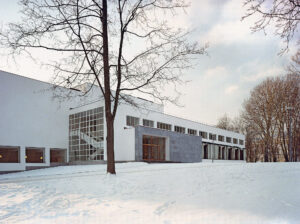 The Viipuri Library, one of the great early masterpieces by architect Alvar Aalto, used to be in Finland. Since 1940, it has been in Russia. The library didn't move; the border did.
The library was a fluid creature almost from its inception. Aalto's initial scheme for the building won a design competition in 1927. At the time, he was a promising 29-year-old architect who entered a lot of competitions and rarely won. Finland was a young country, having declared its independence from Russia only 10 years earlier.
After Aalto won the competition, the construction of the library was postponed when the great worldwide economic depression halted new projects. By the time the library client came back to him several years later, the site of the prospective building had been changed. Aalto had also matured and changed as an architect, rejecting the classicism of his earlier design in favour of a more modern Functionalist style, which displayed an airy lightness and asymmetry.
Working together with Aino Aalto, his wife and design partner, Alvar Aalto came up with a new design introducing elements that would become characteristic of his work: a grid of round skylights that let natural light pour into the building; and, in the lecture hall, an undulating natural-wood ceiling. The library was finally built and opened in 1935.
Then, in the winter of 1939, Russia invaded Finland. The Finnish army fought them to a standstill but, as a condition of the peace treaty, Finland had to cede to the USSR the eastern territory, which included the town of Viipuri, now renamed Vyborg. Seventy thousand Finnish citizens were permanently displaced from this border region and moved westward across the new border into Finland.
In 1941, war broke out again between Finland and Russia. Control of Viipuri/Vyborg went back and forth between the two armies; in the fighting, most of the town's buildings were destroyed. After the war, Finland was forced to accept the 1940 boundary that made Vyborg part of the Soviet Union.
For many years, with communication and travel all but impossible, people in the West knew nothing about the fate of Aalto's library. After the fall of the Soviet Union, Finnish architects were able to learn that the building had survived. It had been abandoned for 10 years after the war, an empty shell stripped of its contents and left to deteriorate. In the late 1950s, a limited renovation had allowed it to reopen as a municipal library, but it was only a shadow of what it had been.
Starting in 1991, Finnish and Russian architects got together to advocate for the restoration of the library. Drawing heavily on the expertise of Aalto's widow and design partner — his second wife, Elissa — they gathered the resources to painstakingly restore every detail of the original design, down to the furniture and door handles. It took them 20 years. After the restoration project's completion, in 2013, the library was hailed by the World Monuments Fund as "a stellar example of international cooperation."
I learned about the Viipuri Library in 2019, when I visited Aalto's studio in Helsinki. There was a small exhibit of photographs and drawings that included a timeline of the library's history. How amazing, I thought, that this building could be lost and then found again, could be built and then neglected and then restored.
Now the library near the border seems like a testament to both durability and fragility. It doesn't move, but the world keeps shifting around it. Things fall apart and get rebuilt. Things get built and fall apart.
Ron Castan
But while I wish I could say I knew Ron Castan, I don't think that would be entirely honest. I feel deeply connected to the idea of him, as much as to the man himself. It seems that the true memories I retain of him are like a single grain of sand, sitting in the centre of an oyster. Alone, they are almost invisible – tribute from grandson Samuel Blashki
I was discussing my youngest grandchild's future with him. He is a very bright youth in his penultimate year of school. Life is, I said to him, a mixture of experience and tribal links, coupled with intellectual, rather than just academic, achievement plus the accumulation of social capital as well as wealth or not. All form the basis of networks, which grow and then peter out as inevitably people move away or die.  Some of these links are more resilient than others.
There is a need to actively cultivate these networks even if, in the course of existence, you rarely see some of those in the network, but when you do, the link is restored as if only a day has passed since you last had contact.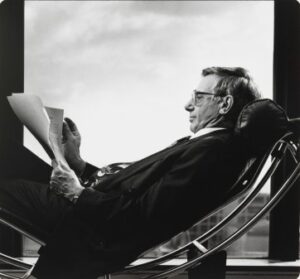 One such person was Ron Castan, and how relevant it is to remember him on the day when Australia celebrated the contribution of Eddie Mabo and the challenge to the concept of terra nullius. One of the major people behind Mabo was Ron Castan, and when the Aboriginal people are discussing land rights, I hope they will remember Ron Castan. There are a number of memorials to this remarkable man, who tragically died when still having so much to give. In particular it was a travesty that Ron was never made a High Court judge, but it was at a time that the Meanness virus was beginning to infect a Coalition which then bought to the nation one Dyson Heydon, hardly the cynosure of legal practice.
Ron Castan was a member of the University of Melbourne Students Representative Council, he a representative of the law students and myself one of the medical student representatives in 1959/60. A year was enough for Ron, but one distinguishing feature of Ron then was that he drove an American "tank"; it may have been a Cadillac, it was one of those cars that you would expect had the backseat crammed with Hollywood starlets.
Otherwise, there was nothing startling about our relationship, but some of my friends, erstwhile or not, thought I was red but turned out working for the blue – there was a tendency to look askance.  Whitlam was leading an intellectual powerhouse to government. Unfortunately, that was a myth, but for a time a well-concealed myth.
I assumed Ron was a Labor supporter, but never asked. It was not important.
Ron agreed to propose my own son's admittance to the Victorian Bar. I had not realised what a privilege it was to be proposed by a Queen's Counsel no less. Ron was very matter-of-fact when I asked him that, yet as I ever delved into questions of legal importance, he became very much a stickler for actual meaning.
Even though I saw him rarely, it was my initial impression which stayed – that of the thoughtful man with the dry sense of humour – and the deep set eyes, which gave him the expression of a raccoon.  But the eyes laughed even when I had made such an outlandish statement.
I remember him inviting my wife and my son and his then girlfriend for a family Friday night Shabbat meal. Ron wanted to pick my brains on the medical course, which apparently his son-in-law was contemplating at the time.  Not that I have been invited to many Shabbat, but I have found such meals, so quintessentially family oriented, always a privilege.
There are two portraits of Ron Castan among the National Portraits collection. One was of him relaxing apparently reading a brief; the ability to exude a sense of physical rest while in a brown study of mental studiousness. That is the Ron I remember.
The other portrait depicts him as if he were in a French film noir, complete with trench coat, beret and dark glasses. Totally convincing, if you did not know the man.
Having reflected on the future with my youngest grandchild, I read the paean of Ron written by this grandson, who hardly knew him, but exudes a sense of admiration as the amanuensis for his long list of achievement.
He certainly merited a black heart, the highest award a whitefella can achieve in the eyes of the Aboriginal people, and if a bar is given for such an award, Ron would have merited it also.
And his grandson certainly thought so; if only my grandchildren would remember me so eloquently.
Benvenuto nel mio incubo
I was going to ignore Dutton this week, given how irrelevant he is to the Normal Australian. However, his comments about the electorate of Hume I could not let pass. This electorate was retained by that other "pin-up boy", Angus Taylor, in an electorate which is mostly rural but centres on Goulburn, which to me is at the pinnacle of Irish-Roman Catholicism of conservative persuasion.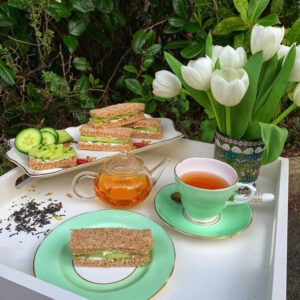 The city is located in a very wealthy area, grown that way on the back of sheep. I remember one afternoon flying into one of the landed gentry homes near Crookwell, which is in the Hume electorate. I doubt even among the vassals and serfs on the estate, there would have been a Labor vote in the grand house where we were literally served tea and cucumber sandwiches. Yes, here was the country seat for New South Wales Pioneers and members of the Australian Club.
Hence, I was not sure what point Dutton was making when he said that Hansen's One Nation Party had obtained seven per cent of the vote in Hume, which was much the same as the Informal Party; and the $100 million man Clyde Palmer, whose projected Prime Minister held the adjoining seat of Hughes until election day, received about half that number. Dutton should take one lesson to heart – if you are poison, stay away from the electorate. It obviously served Hansen well.
Now let us have a look at the figures, since Dutton has used the example to justify, as reported, an electoral "pissed off factor" in an election which he so vividly concluded as "a pox on both your houses election".
The Greens did not do well in this electorate but there was an independent, Penny Ackery, who received 15.5 per cent of the vote. She showed herself as a bit of a petrolhead, but was retired teacher, in the age range of the successful "teals", had lived in her community for 30 years, personable well-dressed reflecting muted affluence. In her manifesto she rejected all outside funding, stressing she was the "community candidate". One wonders that if she had been Teal, would she have shaken the Taylor complacency by finishing ahead of the Labor Party.
After all, in the allocation of first preferences, the Labor Party received just less than 20 per cent of first preferences which represented a fall of six per cent. Taylor experienced a drop of ten per cent; and after distribution of preferences Taylor moved to 57 per cent of the vote while the Labor Party candidate moved to 43 per cent. Taylor picked up about 15,000 of the preferences and his Labor Party opponent picked up 23,000; overall a swing to the Labor Party of 5.4 per cent.
Therefore, Dutton should not be too chuffed – whether it be "Hume-bris" or not.
Blowing in the Wind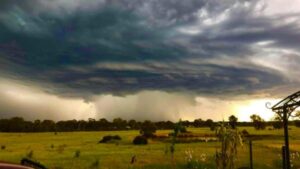 In the last week, a huge burst of pollen swept across Massachusetts as reported in the Boston Globe. The photographs are graphic, outlining a yellow pollen fog discolouring the landscape.  It reminded me of a similar phenomenon which occurred in Victoria in November 2016. Commencing in the Mallee and spreading quickly across Victoria the strong wind gusts reached Geelong and moved quickly over Melbourne's metropolitan area, as many commuters were travelling home. The pollen count was high due to the combination of hot, dry northerly winds and rye grass to Melbourne's north and west. The moisture from the storm is thought to have caused the pollen to break into smaller particles, more able to penetrate a person's lower airways and cause an asthmatic reaction. 
This incident in which nine people died from respiratory failure augured a future which, because of these extremes in weather consequential on climate change, are liable to become more common in Spring.
The advice to combat the sudden alteration in climate is simple. You know, stay up to date with pollen counts and weather forecasts during Spring and early Summer so you know if a storm is coming. Then just before and during storms with wind gusts, get inside a building or car with the windows shut and the air conditioner switched on to recirculate/recycled.
In 2016, in addition to the nine deaths, there was a serious level of morbidity which kept the ambulance service busy (and that was before the Virus!) Respiratory arrest in the victims had occurred as soon as 15 minutes after the first signs of asthma or wheezing.
"The average time from complaint to respiratory arrest was very short," she told the court.
"Fifteen minutes does not really leave anyone time to do much, " one respiratory physician commented at the time.
She added "All the victims suffered asthma and nearly all got hay fever, but only three had official asthma "action plans."  And to have a reliever puffer, such as Ventolin, on hand and use it generously. Sixteen puffs in four minutes is appropriate.  There is no health danger to using a high dose in emergencies." In fact, 4,000 people were treated and 30 were admitted to ICU.
In the following article, there is no comment made of the mortality and morbidity of the Massachusetts cloudburst, but highlighting this report should awaken our Health system, already overburdened, to another potentially deadly public threat awaiting at the end of the year – in fact every year.
For allergy sufferers this time of year is always a bit of a headache (mixed with lots of sneezing and coughing).
But a quick-moving cold front that kicked up winds and pushed pollen off trees in great bursts on Tuesday, turning the skyline a strange yellowish-green, was like nothing he had ever seen.
"There was this yellow glow off in the horizon," said a Marlborough resident. "It looked like a cloud of dust, and it was just yellow. I knew exactly what it was because I'm always worried about the pollen, but I've never seen anything like that in my life." Residents were left covering their faces Tuesday morning after the sudden weather shift created a pollen-heavy scene that resembled smog or "wildfire smoke" or in the air. Parts of the region became so hazy that people described it as a "wall of pollen" that descended on neighbourhoods.
For a Hingham resident, it was like winter with a strange twist. "It literally looked like snow flurries were coming down," he said of the thick globs of pollen swirling around in his backyard. "It was hazy everywhere. It made everything look kind of golden — it was wild."
Dave Epstein, a long time Boston meteorologist and horticulturist who writes a weather column for the Globe, said the haze happened after a backdoor cold front with a dramatic change in air mass moved through the region, shaking pollen from the trees.
"As warm tropical air was replaced by cool ocean air, the gusty winds helped release billions of pine pollen grains which were mature and ready for dispersal," he emailed. "It was just pure coincidence we had a horticultural and meteorological intersection, resulting in a dramatic pollen front."
"Just a tremendous amount of pollen as the back door cold front is pushing through. I don't recall ever seeing it so dramatic," he said.
Others agreed that it seemed unusual.
"Was outside and saw/felt it a few minutes ago too," one person replied to Epstein's tweet. "Have never seen anything like it."
One other meteorologist said the cold front was "so powerful" that it showed up on weather radars and picked up "bugs and pollen and dust in the air" as it moved inland.
The chief meteorologist for WHDH-TV, posted two images of a parking lot surrounded by trees, pictures he said were sent to him from a friend in Concord. Hanging in the air was a thick cloud of yellow dust that looked more like a sepia-toned fog.
"Got pollen?!" he wrote.
The region certainly did.
Mouse Whisper
The story of two Vice-Presidents – two Hoosiers in fact. There was that story of Mike Pence begging Dan Quayle to come up with a way to not certify the votes. Pence sounded scared, as if was he was going to be killed. He is reported to have said to Quayle: "You don't know the position I'm in". A quail to a Quayle.
Thanks be, I live in a mouse house, which is not located at No 1 Observatory Circle.