You know if a line was drawn from the Perth GPO to the Sydney GPO to represent the history of the Earth, reptiles would appear in Canberra and intelligent human life would evolve in Balmain – Author Craig Cormick then calculating in the Federal Department of Science Set Square.
More than just a Nuance 
Below is a lightly edited extract from The Boston Globe last week. Maybe it is the foretaste of more irritating daleks on benches and mantelpieces with stupid names ostensibly doing my bidding, but who knows.
There's nothing subtle about Microsoft's US $19.7 billion, all-cash acquisition of Burlington-based Nuance Communications. It's a bold statement that Microsoft intends to be the dominant provider of speech-based artificial intelligence systems to the world's biggest enterprises, particularly in health care.
This acquisition is Microsoft's biggest since the company paid $26 billion in 2016 to acquire the business-oriented social network LinkedIn. Microsoft bought Skype in 2011 for $8.5 billion
Nuance, which employs around 7,100 people worldwide, is famous for its artificial-intelligence software that enables computers to recognize human speech. These days, plenty of companies make similar software for consumers. In fact, Apple's Siri voice system was based on Nuance technology.
Amazon, Google, and even Microsoft have all built their own speech software and virtual assistants for mainstream users. Nuance also used to dabble in consumer markets. But in recent years, the company has specialized in enterprise-grade AI software that understands the meanings behind words, with a particular focus on medical applications.
Today, Nuance makes software smart enough to automatically generate medical records, assist doctors in their diagnoses, and refill patients' prescriptions. And demand for such software is likely to surge, as millions worldwide replace face-to-face doctor visits with online and remote health care — a process accelerated by the COVID-19 pandemic.
The acquisition will enable Microsoft to tap a global health care market worth $500 billion per year, it has been predicted.
And that could be just the beginning. Nuance also makes an array of intelligent programs for customer service and security applications. It makes software that can accurately figure out what a caller wants, even if they don't use exactly the right words. It even makes a product for financial services companies that can identify fraudulent callers pretending to be someone else. The software can spot crooks not only by analysing their tone of voice, but by tracking which words they use.
And now Microsoft will be able to market all of these capabilities worldwide.
Nuance had net income of $28 million on revenue of $1.48 billion for its fiscal year ended Sept. 30, compared to a net loss of $12.2 million for the previous year.
It has been pointed out that Microsoft's success with Nuance is by no means assured. IBM's Watson Health initiative has also tried to apply AI technologies to health care but earlier this year, The Wall Street Journal reported that IBM is considering a sale of the business, which generates annual revenue of $1 billion, but no profits.
Nuance's artificial-intelligence products are more advanced than IBM's. Still, doctors and hospitals are often slow to embrace new technology, no matter how good it is because the health care industry itself is a very conservative industry.
The Nuance acquisition is expected to close later this year.
I can't wait!
Digger's Rest is now in Oxfordshire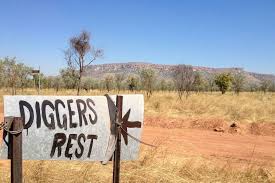 It is interesting that Murdoch's star is setting in every country apart from his old Digger's Rest in "my beloved Australia" but, as Google will show, it's in Oxfordshire.
The migration of News Corporation from Australia to Delaware in 2004 for reincorporation was seen at the time to be ambiguous. While News Corp asserted that the re-incorporation would enhance shareholder value, critics of the proposal claimed that its real purpose was to strengthen managerial power vis-à-vis shareholder power. Now assuming that the move has been the cornerstone of Murdoch family control, presumably it would not have escaped the President's notice that Murdoch has nestled in his state where the Democrats have massive majorities in both Houses. Far be it from somebody in far off Australia to suggest that the Delaware legislature would be contemplating their version of a "poison pill" to make this old Oxfordshire squire's life a little harder, but the White House does not seem to have a welcome mat out for Murdoch and Son.
I doubt if Boris Johnson owes the same Squire any favours. either, but Rupert has had this serpentine way of intruding into the political boudoirs of the rich and famous. Boris realises that if you watch the eye movements of a snake, you can very much know when it is about to strike. Pandering to a snake is not the best way to run a government, nevertheless as one source has written:
It may seem extraordinary that the worship of the serpent should ever have been introduced into the world, and it must appear still more remarkable that it should almost universally have prevailed. As mankind are said to have been ruined through the influence of this being, we could little expect that it would, of all other objects, have been adopted as the most sacred and salutary symbol, and rendered the chief object of adoration. Yet so we find it to have been, for in most of the ancient rites there is some allusion to it.
Some of the more uncharitable among us might believe that above is a perfect description of "Dear Rupert" at work. It is worthy to note that ophiolatreia, the worship of snakes, apparently burns out in the colder climes, when the snake is no longer seen an influential symbol.
Yet there is a band of contrarians. I can categorically deny that Hillsong has invited any of them, their many fraternal Pentecostal mates in the Appalachian Mountains, to come to Australia with their rhumba of rattlesnakes. They follow the dictum as expressed in Mark 16:18 which says, "They shall take up serpents; and if they drink any deadly thing, it shall not hurt them".
Unfortunately, like many a tabloid newspaper, one verse can always be taken out of context.  Being bitten by a snake, according to these believers in the literal translation of the verse, has resulted in many a pastoral death among these Hill people, with the pastors being particular sacrifices. As He may have said "Mark my words!"
But then again Rupert's version of the rhumba may have caused enough political demise for us not to need any spiritual injection from the Pentecostalist hills of Kentucky and Tennessee.
We Australians are all that is left of the "downsized" Rupert global injection room retreat.  Poor us. Son Lachlan has moved back to Australia. Really, do we deserve that?  Remember how his brilliance has shone previously in the Australian business world. 
Andrew Peacock – Not a Bad Bloke
I saw Andrew Peacock at close quarters when we were both active and ambitious young men. Most people go through life without the privilege that he had and indeed cultivated. He went to a private school, where he coveted being Captain of the School and where he sustained a rivalry for the post with Tony Staley, later to be a less successful politician in same Party. In the end neither of them attained Captain of the School. The captain was a quiet studious chap who played the piano well.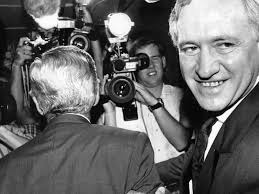 Peacock avoided student politics, while Staley was my successor as President of the Student Representative Council. However, Peacock was along a different trail. After a preliminary tilt at Federal politics unsuccessfully challenging Jim Cairns then inherited the retiring Prime Minister Menzies' seat of Kooyong, with the appropriate blessing of the incumbent.
Peacock was well suited to the then Liberal Party, especially in Victoria where noblesse oblige played a large part, and he himself was mildly centrist in his views. Nevertheless, there were limits. I well remember the debate in Parliament on abortion, where the Liberal Party then in Opposition were universally supportive, to a man and the few women, of the anti-abortionists. When the matter came to a vote in the House of Representatives Peacock theatrically stood up as though to vote for its legalisation against the wishes of the Party, looked around at the back bench and realised that nobody was following – and promptly sat down.
Peacock performed one particularly lasting service during his relatively short stint as Minister for External Territories in 1972. He befriended the charismatic Michael Somare. Peacock was refreshingly modern, as had followed a series of Ministers who still looked on that emerging nation of Papua New Guinea as a place for the continuation of patrol officer paternalism. Together he and Somare cemented the foundations which led to Papua-New Guinea. The relationship since has not been easy, but Peacock ensured with Somare that it would be ordered and peaceful. That is his legacy, and all the stuff about him being a " Treasure" will dissolve with the attendant crocodile tears.
Peacock and I fell out, after a savage speech I made directed at what I perceived, rightly or wrongly, as some of his actions. Like many things I have done, I probably regret it, but what does it matter when one old man reflects on the legacy of another old man now gone and who lived most of his last 20 years in Texas. Perhaps his $2.5bn mishap in the Gold Coast hedge fund accelerated that exit.
I believe if he had been given the opportunity Peacock would have made a good Prime Minister, but as he was never one for detail, he would have needed very good staff work. However, he knew how to handle his colleagues, except for Howard. In the end I believe he also got tired of having to deal with Howard, who was assiduous whereas he was not. In effect he was outlasted, even though there were a few interim Party leaders between him hanging up his political boots and Howard eventually gaining complete control of the Liberal Party.
After he left Parliament having never made Prime Minister, the zeal of public life with which he had pursued this Grail probably deserted him as he drifted into the cocktail circuit of diplomacy and mixing with other world "treasures".  Howard was shrewd enough to offer him an official sinecure for such a pursuit. I hope Peacock was happy, because he wasn't a bad bloke.
Nevertheless, as a wise associate of mine with a dry sense of humour said: "Only children, especially boys, should have 'only child' stamped on their foreheads to warn people."  Maybe that would have been a better epitaph for Andrew.

The Shambles is not only a street in York
I have always been a great supporter of the Howard Springs facility in the Northern Territory. However, I understand that at present there are insufficient people with the appropriate qualifications to keep the facility open. Why? Because so many of the regulars are committed to trying to staunch the COVID-19 outbreak in PNG.
Not enough resources. Is it time for that Morrisonian war footing?
Should this war footing the Prime Minister is trumpeting concentrate the attention of Australians – mobilising the country – get rid of all frippery – world surf carnivals and the like, and then truly putting the whole country into vaccination khaki.  Does he really mean to emulate John Curtin?
Or Prime Minister, are you just trying to run this country as though we are in the middle of a Mortein ad?
The increasingly erratic Prime Minister has been essentially advocating tossing away the hard-earned gains of lock down and border closure by advocating home quarantine and people being able to in effect freely travel into the pandemic areas, because allegedly some Liberal Party donor has a villa in Tuscany and/or his Hillsong mates want to import singing and clapping in viral bags from all over the world for some Convention. Somebody may have seen the success of such religious festivals in India in spreading the Virus and want to emulate these by mass baptisms in the Hawkesbury River or some such spectacular event where social distancing is perceived as a heathen ritual.
It is slowly becoming clearer about the efficacy of vaccinations, and unfortunately it seems that the Australian Government has plumped for the inferior, if cheaper vaccine. When I see only poor old John Skerrett wearing the pelt of scapegoat, assuring the Australian public about how well the Australian vaccination world is, you know the politicians have lengthened their bargepoles.
Australia has done a remarkable job in suppressing the virus, in preventing variants from gaining a hold and allowing us to live a normal life.
Therefore, for Australians, the words "war footing" either jar or are ignored. What is needed is for the Federal Government to assume its constitutional responsibility and not "tar baby" the States. It should prepare mass vaccination facilities and train enough vaccinators so that when supplies of vaccine become available, they can be manned immediately so the program can start. Part-time vaccinators, trained and ready, should have similar entitlements as if they were a uniformed force reserve, ready to present to their particular vaccine centre when called up. The vaccinations will require military precision.
The question of which vaccine needs to be resolved. Transparency is essential. Thus, as a start, it is important to know how many politicians hold shares in AstraZeneca or CSL or, for that matter, in any suppliers of essential goods. That should be done immediately. Let us get some real transparency into the decision making. Then repeat the justification for such vaccines, slowly identifying also all the consultants, their role and achievements, if any.
Then, continue with the AstraZeneca vaccine for all those over 65 – first and second injection.  As with America, weekly totals are placed on public view. If the AstraZeneca can be modified to one injection, that option should be pursued. You are dealing with many elderly people and one injection is easier to remember than two.
It seems that Pfizer and Moderna technology is far superior, and now that they can be stored in a conventional refrigerator without fear of interruption of the cold chain integrity, supplies must be obtained, and a definite timetable set. The new public relations scenario is roping poor old John Shine in for speculation on whether Australia will get into the business of manufacturing the effective mRNA vaccines somewhere sometime in the future. I don't say it cannot be done, but a timetable for completion and distribution needs to be calculated. In the interim, McKinsey continues to be financially enhanced.
The Prime Minister should be gagged unless his utterances can be confirmed to be true by an independent panel headed by Norman Swan or his equivalent in order to regain lost political credibility.
The unknowns are gradually becoming clear. There will be a need for booster injections to counter the viral variants beyond the first one; there will be a real necessity for Australia to improve its home-based technology. The advances that Pfizer have apparently achieved in reducing the age at which children can be injected should be monitored closely. Increasingly, being unvaccinated at all ages will be a risk when our world opens up to that villa in Tuscany.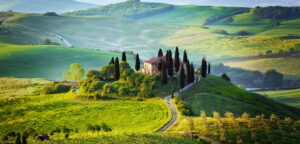 Razors – how the land scrape has changed
In my whole life the longest time I have ever gone without a shave after I reached the "age of the bristle" has been three days. That occurred at Easter 1958 which fell in the first week of April that year.  I was induced by two fellow medical students to go on a camping trip in the high plains area of Victoria.
I had never been camping before, and instead of a sleeping bag I had an old eiderdown, which proved to be a very comfortable substitute – we were lucky it didn't rain.  The nights were very cold in the high country – the Porepunkah caravan park and the Bruthen tip. I am sure the eiderdown did not conform to the kit of a conventional camper. I forgot to take a razor.
Since that time razor technology has changed to such an extent that the ritual of yesterday with badger brush, to mix the shaving soap in a custom made Wedgewood porcelain bowl for a lather prior to the application of the razor was not a two minute exercise. That was a morning ritual, and many of the professionals in my father's and grandfather's generation paid a visit to the barber in the morning before work for a shave, complete with hot towels and all the fragrances that substituted for our modern deodorants – underarm and elsewhere. Presumably a presiding judge never wanted to appear as a Norman Gunston figure – but it would have done wonders for court humour.
When I started to shave, I used to have to screw the razor into the so-called safety razor which took no account of a wrinkly face; you need to tighten the skin to avoid the inevitable cuts as the razor encountered adolescent pimples underneath the softened lathered face. This whole process was interrupted by constantly having to run the shaver under water to remove the facial hair. Often this was not a pretty sight.
The electric razor followed. This was an apparent advance, but it came with a pre-shave conditioner and an aftershave lotion, most of which smelt like a French bordello – well, an imagined French bordello.  Brut was the champion odour. Old Spice was equally repugnant.  Aramis too was another turnoff among the few young women who ventured near. The problem with the electric razor is that despite the hype, it never gave a close shave; to such an extent that I was accused of presenting for a final year obstetric oral examination as an unshaven and untidy "colt from Carlton". I well remember I was wearing a very expensive pale grey suit, and these days such a facial presentation would have been considered fashionable. Apparently, I lost marks for neatness, which was the way the senior medical profession operated in those days, especially when they thought one had the mien of a rebel and needed to be sent to an eastern suburban Siberia as an intern.
Facial salvation eventually came with the modern disposable razor, which has been constantly tweaked so that one can shave without any of the former ritual, although it does help to wet your face. And the time taken? Well, if you can't do it in under two minutes, you must have latent narcissist tendencies trapped by your vision in the mirror of your post-shaven purity.
Seriously, we forget the time saved by the modern razors, and as long as one does not use the same one more than 24 times, then it gives the facies a very close approximation to a member of human race, unlike those who bury their jaws in home grown hedges.
Mouse Whisper
The Minister for Cultural Correctness, Admiral of the Swift, Pedro Dutônão has a issued a twerking ban on the Dill Squadron. Twiggy and his sidetwiglet ScãoMão have been severely reprimanded for their inappropriate antics before the start of the Collingwood clash with the West Coast Eagles. The Admiral was reported as saying that the crowd reaction of booing one of these perpetrators was completely justifiable in view of that earlier disgraceful mass action. The Admiral went on to regret any hurt that may have been caused to any Australian viewing the original performance but failed to mention the level of reparations due to the Australian community.