It was just another evening when I was doing the medical examinations for blokes called up in the lottery for Vietnam in the 1960s.
"Next!"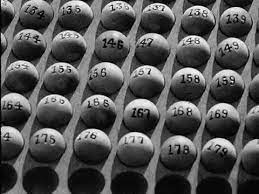 He was Chinese born and he spoke little English. Even now I do not remember what he said his occupation was. However, he was about six foot tall (183 cms) and weighed just under eight stone (50 kgs). I thought at the time this stick of celery would make a good flyweight if he could box. On examination, he seemed healthy enough, but his extraordinary height to weight ratio made him ineligible to be called up for Vietnam, so I failed him. Normally when the conscripts were examined there was a young doctor and an older doctor jointly doing the examination. But for some reason, I had been left on my own this particular night. So, it was solely my recommendation. I thought nothing much more about it until one of the guys in the laboratory, who had a Chinese girlfriend, told me about this fantastic Chinese restaurant off Little Bourke Street in Melbourne.
Off we trooped and at the end of a cobblestone lane, there was a door without any identification. Open the door and we were ushered into a crowded space, where all sorts of Chinese delicacies were being consumed by a predominantly Chinese clientele. We had barely sat down in this smoky den where you could hear the click of mahjong pieces, when poking his head around one of the screens was the young bloke whom I had failed.
Now did that change the dynamics! Suddenly I was the centre of attention, and the many food dishes with which we were presented were some of the best I have tasted, then and up to the present time. I remember the perfection of the lobster, how it was cooked is only a distant olfactory memory. They insisted on the meal being free – on the house for all four of us. My occidental friend was amazed with the attention that was being poured on me. After all, I had been the accidental guest. "Bloody hell, Jack, is there anybody in Melbourne who doesn't know you?" he said.
Heady times. I went there a few more times. The food was some of the best Cantonese cooking I had ever tasted. They insisted I never pay. It was embarrassing.  I stopped going. I have no idea what happened to him and his parents. But memories are also important, even if I never remember names. However, there are only so many free meals without being embarrassed enough and I never wanted those memories of such a spontaneous gesture to go stale. After all, he and his family really owed me nothing; I was just doing my job and the young conscript was a fortuitous coincidence with fantastic food.
The single child policy
The Chinese leader Xi Jinping was born in 1953, and because he had an important father in the Communist Party hierarchy at the time, he experienced the full force of the "Cultural Revolution" at an early age. He survived working in the fields but in his young mind was embedded an antipathy towards fomented chaos – divide and rule – and the black flag of anarchy.
His is the ordered mind of the chess player, as can be seen for instance, by the progressive blockade of Taiwan. More and more rocky outcrops in the South China Sea are being converted from pawns to more powerful pieces as he moves to the end game. In the end, once the blockade is tightened then it becomes more and more difficult for the US to protect Taiwan. Given his sense of history, Xi knows that Taiwan has a huge hostage – the unrivalled collection of Chinese antiquities looted by Chiang Kai-Shek before he transferred his Nationalist army remnant to the Island of Formosa. However, some with more intimate knowledge of China than me dispute this observation, bluntly: "he would not care a brass razoo".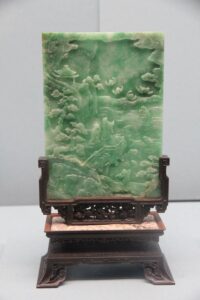 By all means open a second front, by him encouraging the Russians to mobilise along the Ukrainian border. Russia has little to lose by being an irritant. The one thing Putin has done in the past twenty years is to modernise his armed forces, and if you look at the history of Russia, irrespective of their leaders they have generally had first class generals. Nobody is going to invade Russia. The West missed several opportunities. The media have been fixated for a time on Belarus yet Kaliningrad, a major strategic target, was allowed to remain in Russian hands – after all it was the eye of Prussia. When the Berlin Wall came down so should have Kaliningrad been separated from Russia. Russia was left off the hook by Clinton and Bush who thought they could befriend Putin – something about understanding him by looking deep into his eyes.
People want to blame Trump for letting this mess grow, but others would say Obama was the real culprit with his almost messianic belief that the world would be swayed by his rhetoric. It was unfortunate that he was awarded the Nobel Peace Prize for essentially nothing but being elected President.
It can be said that what Obama did was progressively unpicked by Trump, especially his internal policies, but in foreign policy Obama theatrically gestured his way into a quagmire from which The Great Drainer Trump had no idea what to do to extricate America.
The 12 years of Obama and Trump enabled China to consolidate its influence to its current position and Putin not only to survive but to flourish far beyond what, in the long term, is unsustainable, that is without allies that can bolster that position. Russia or particularly Putin should never have been allowed "to escape from the bottle".
However, that is done, but it is high time to test the sustainability of Putin, who is no mug; for even he is not immortal. His threat about his mythical red line shows more than a hint of desperation – and exasperation – now he is being regularly called out by President Biden.
Biden is so right in wanting to get out of Afghanistan, unless America is prepared to systematically sow the whole land with salt and thus deprive the Taliban of its opium income, that's it.  Afghanistan will remain a primitive enclave inhibited as a medieval fortress by its adherence to a fundamental form of Islam, plus its geography. Given the non-recognition of women's rights, Afghanistan will remain a festering social sore made worse by the return of the Taliban. However, globally it is a distraction. It has been a root cause of weakening America, just it has been with every Occidental power who has tried to tame it.
Putin aside, China is his main adversary, and Biden knows intimately where Obama went wrong, but he knows his operatives who were shackled by Obama and who are "the hard men and women" among them. It is fair to say that by the end of eight years of Bush and his "hawks" Obama seemed to be the change that was needed. But during his time Afghanistan festered; ISIS arose in Iraq with their vision of an Islamic caliphate and its adherents now are spread across Muslim Africa. The atrocious facility at Guantanamo Bay was not closed down.
China meanwhile has flourished economically. China has shown an increasing world-wide truculence. It is the greatest enemy of climate change because it dissembles constantly.  It selects a minority within its borders to bully. First it was the Tibetans but now, since 9/11, the Uyghers. They are Sunni Muslim, and after the Hui, also Islam adherents, the second largest ethnic minority in China.
Therefore, what has this to do with the single child policy, which was relaxed in 2015 after 35 years?
Let's start with findings from China, where the one-child policy dictated family planning for nearly four decades. Researchers led by a Chinese-based psychologist in Chongqing, showed "only children" achieved lower scores in terms of how tolerant they were. According to a model of personality dimensions, tolerant people are altruistic, helpful, compassionate and cooperative. Intolerant individuals are often characterised as quarrelsome, distrustful, egocentric and more competitive.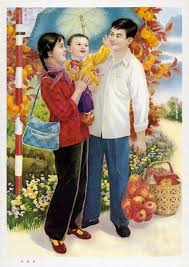 At the same time, the one child policy distorted the number of male births, so that for every 120 males there were only 100 females. A comment could be made that into the Chinese population there was an excess injection (or should I say jab) of intolerant male children lacking the peaceful qualities of women. There is no mention of any sex difference between the personalities of male versus female children, although in references to the effect of the old one child policy, there was a realisation that a Chinese female can be better assimilated into the wider family, even with the cultural challenge that Chinese have made with their male child preference.
Only children apparently because of the amount of time they spend on their own, often with imaginary games, have a tendency to think laterally and devise ways in which dominate their imaginary universe. It has been well told how only children are attached to the parents, with boys tending towards the mother as the central figure of their life, although with everybody working in the community, only children while no longer sent to the Satanic mills, it may be expected in the case of the male child to either be the "princeling" or expected to muck in.
Thus, my solution for every meeting with Chinese diplomats, given so much of their population over the past 40 years has grown up as single children, should have an expert in "the only child", and develop strategy around an essentially monochromatic culture. Once it was Mao jackets, but now the world is faced with the foibles of an "only child" Chinese generation or two.
The Chinese after all have traditionally believed themselves to be the centre of the universe. The single child policy can only have reinforced that notion. I do not think that we should be worried by the Chinese government losing face with that degree of overt or latent hubris. As somebody said, time to confront not to pander to any confected loss of face.
There are those in the Biden administration who were frustrated during the Obama years but have now been unleashed to attack Chinese policy. Perhaps there were a few others besides myself who were blindsided by the Biden bumbling campaigning persona. However, you cannot blame Obama for everything. He did pick Biden as his running mate.
As someone far smarter than me has said "It is always a question of nuance." I think he thought I needed a bit more of it.
Did someone say Urumqi?
I went to China in 1973 with Bill Snedden and Geoff Allen.
Let me say it was a trip which Phineas Fogg may have found challenging.
It all started uneventfully. We were passengers on a BOAC V10 – the so-called "whispering giant" – flying to Hong Kong. The plan was for us to travel from Hong Kong to Guangzhou by train, and then by local airline to Beijing.  I think we still called those cities Canton and Peking even then. However, on the way over southern France, the plane developed problems with its gyroscopic equipment, which resulted in the plane being diverted back to Heathrow.
This meant an overnight stay in London while there was feverish activity to determine another way of getting there to fulfil our obligations. There was a scheduled Air France flight which, unlike BOAC, flew directly into China to Shanghai. The port of entry required a separate visa, but the Chinese Embassy in Paris responded promptly and our passports were duly stamped with another impressive entry permit. However, the next day when we reached Paris, bad news awaited us. The Chinese had or were about to detonate a hydrogen bomb at Urumqi and had closed the border for the duration of the test.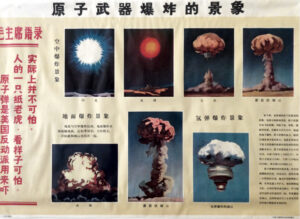 Undaunted, Snedden looked for other possibilities, and there emerged one feasible way of getting there, and that was to fly directly into Beijing. The solution was complicated because we had to fly to Frankfurt and link up with a Lufthansa flight bound for Australia. One of the immediate stops where we would alight was Karachi, where there would be enough time for us to catch the PIA flight to Beijing. There was another complication when we reached Frankfurt – the air traffic controllers were on strike. For some reason I still have this vision of three figures in this long underground tunnel under the runways, as if caught in some science fiction movie, with overhead lighting assisting all shiny aluminium cladding fighting the shadows from enveloping the tunnel before the aliens would appear at each end of this long tunnel. Why we were in the tunnel was the way to move between two terminals. Shoe leather was the only way given the time of night. Incidentally, the aliens stayed away.
In the end, the air traffic controllers called off their strike, and off we went, and the intervening eight hours allowed some sleep. We were told we had a 16-hour stopover in Karachi, and we were greeted by guys from our Trade Office there. They treated us royally with a dinner at the Trade mission where Australian red wine flowed generously and left a few of us finding ourselves sleeping on the floor.
Before dinner we had had the opportunity of walking freely around the streets, including the then Elphingstone Road. I do not think I have ever seen such abject poverty as I saw that afternoon. Given what has happened since, our wanderings through the bazaars and alleyways made me realise that we were outsiders, but even now I never think of Karachi as a dangerous place for us on that day. The other memory was the number of children, who had obviously been disabled by polio, begging, being wheeled around in makeshift carts by their brothers.
We were roused very early the next day and thus a bleary unkempt group of Australians lined up for the PIA flight to Beijing. We now had a further visa granting us permission to come to Beijing even though we had had a turbulent experience, but the Chinese were very prompt in granting the third round of visas to these Travelling Aussies. Here we were next to a hangar where, in this cold morning under the arc lights the Boeing 707 was being filled with cargo. The few passengers were to be confined to the front section. Cargo made up the bulk.  Up front, there was a sort of hierarchy in the economy seating. The Swedish princess and her partner and small entourage were first. Then came two Ugandan ministers and then us. We noted there were empty seats, and once we reached Islamabad we were invaded by Chinese guest workers going home, and Bill, who had wanted the luxury of an empty seat to sleep, found he was next to a Chinese worker.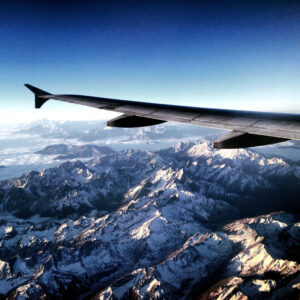 So far so good, and off we flew across the Himalayas. I remember having Everest pointed out to me. Bill and I were standing by a porthole window, when he turned to me and said: "We are turning round." Indeed, we were and several hours later as we landed in Islamabad, the Chinese workers all erupted into clapping and cheering. They thought they were home.
We were disembarked and now it was the middle of a very hot day, and there was nowhere cool into which to retreat in the airport. From what I could glean it appeared that when our airliner approached Chinese air space, it was denied entry. It turned out the refusal was directly related to the Urumqi blast and the possibility that we may pass through remnants of the radio-active cloud.
We had a few more uncomfortable hours where refreshments were non-alcoholic and the food meagre as our return had been totally unexpected. The Australian embassy was well nigh useless. The Ambassador was away in some cool highland retreat, and the nearest we got to having somebody "providing assistance", I remembered, was a young nervous third secretary who did not have any information but came anyway. He endeavoured to engage in small talk and given we had been travelling for over a day he received a frosty welcome; he was so different from the trade guys in Karachi. Bill ignored him after his first venture in conversation. Geoff and I alternatively did all the requisite work in attempting to find out whether we would be leaving at all.
Not the easiest time I have ever experienced, but we told the young man he could go, and he bounded off into his embassy car, a rabbit with his eyes still firmly in spotlight. Geoff was always more tolerant than me, but even his ever-ready smile became strained. Then we waited and waited – suddenly it was all systems go. This time there were no hitches but we arrived very late in the evening. Smiling Chinese staffers, Snedden's wife, Joy who had come to Beijing independently, and Stephan Fitzgerald, Whitlam's choice as our first Ambassador, greeted us. He could have not been more helpful during our visit.
That is how we all reached Beijing – Bill, Geoff and Jack – and of course the Chinese workers. There is a photo on this final leg of this eventful journey, of Bill asleep with his head on the shoulder of one of these workers. The caption to the photo "Fellow Traveller."
A Burnt Offering
Anonymouse
Anonymouse has always asked: cremated bacon – why? Not that hard you would have thought, overcooked, over-rated and, thank heavens, over there.  Yet it has to be a love affair that only an American can understand. Cremated bacon – as American as Mom's apple pie.
More amazing is that just a little research reveals detailed articles on this process – very little research but still, 880 words on how to cremate your bacon – 880 when three will do:  just burn it.
However, sticking to the task and the recipe, there is much said about skillets, laying out of the strips and rendering the fat "to achieve bacon's character-defining crispness" (read, burnt to a cinder). Apparently, a non-stick skillet is better than cast iron, all the better to ensure even incineration.
So, on your stove top, here is the tried and true method. Lie the strips in a cold skillet, place over medium-low to medium heat, flip and fry until you reach your desired "incineration" and then transfer to a plate lined with paper towels to drain. The key is to slowly render the fat to achieve bacon's character-defining crispness. This method is said to produce superior results every time, however defined.
Apparently there is also a water method. Add enough water to cover the bacon in the skillet which is said to result in a slightly less shatteringly crisp end result compared with "cookin' it naked".
For those planning to serve this delicacy to a crowd, you need only turn to your oven and then experiment with parchment paper, foil or none, depending on who is washing up. The choice 350, 375, 425 degrees or blast off. The options are endless in the pursuit of baseball-capped bacon (the equivalent of a Michelin star).
The final rule – no matter the method of cooking – is to save the fat which apparently is not only full of flavour, but also great for cooking vegetables, making vinaigrettes, frying chicken and even baking bread and desserts. Just pour that grease into a metal or glass jar, pop it in the fridge (it should last for at least three months) or freezer (where it keeps indefinitely) and grab it whenever you want to add "bacon crisp" flavour and more than a dash of cholesterol.
The Foetus is a Boy
As reported in the Boston Globe, police in Kingston, N.H., say a mysterious explosion that shook and rattled nearby homes Tuesday night was linked to a gender-reveal party.
The party was held in a quarry where officers discovered the source of the explosion was 80 pounds of Tannerite, an over-the-counter explosive target used for firearms practice and sold as a kit, police said in a statement.
The explosion included blue chalk, according to the New Hampshire Union Leader, indicating a baby boy was on the way. Nobody was injured, police said.
These celebrations can be quite dangerous since they were popularised in 2008, by a woman who now regrets starting what if it were not a privileged white heterosexual activity would have been proscribed long ago. The use of pyrotechnics to announce the genitals of your pre-newborn, as one writer suggested was symptomatic of a patriarchal society. I am not sure of that generalisation but starting forest fires, crashing planes and killing grandparents during such festivities is not a particularly good look. It is only a matter of time for either the fad burning out or legal sanctions enacted. 
Mouse Whisper
I am indebted to the bicyclist who went on a country road trip outside the Canadian city of Toronto. He cycled through the hog and dairying country and came upon a hamlet named Punkeydoodle's Corners located where the Oxford and Perth Counties meet. The origin for this name is lost in the brew that flowed down the lanes, but one theory is that when the local innkeeper sang "Yankee Doodle" it sounded more like "Punkey Doodle". Needless to say, the hamlet signs are often stolen, but there is one more claim to fame: the world highest street address number "986039 Oxford-Perth Road".