Public health experts and academics — who have the luxury of not having to ever be elected, and who don't need to care about the consequences of a prolonged economic crisis — have been demanding Italy-style quarantining from the get-go. The pressure to shut schools from media commentators and worried parents has been enormous.
A quote from Crikey, and yet … I have just added a footnote, which seems to fly in the face of the above. However, it is about time the highly paid individuals in the public health community takes responsibility and stand up to the politicians.
It's late Saturday afternoon on 21st March and I am angry – very angry. Why was that cruise ship, Ruby Princess, owned by one of Trump's mates, allowed to dock in Sydney and the passengers hurried off without being quarantined?
I would have asked that question at the Hazzard press conference if I had been there on Saturday, except for him coughing all over the place. Nobody asked that question. The media present did not. So Saturday's spectacle was of NSW having at least 48 people off the boat infected with coronavirus roaming the community as the signature for the NSW health system. "Self-isolation" – what a joke if there is nobody to enforce it. Who at the media conference was the journalist who asked about that action of the Health Minister coughing and infecting NSW wantonly?
Kerry Chant, I remember you as a promising young public health physician. What were you thinking letting this occur? It flies in the face of all public health logic.
I know your Minister is well named, but Dr Sheppeard, who was at the press conference deputising for you, should have told the Minister to step away the requisite number of metres and "do unto himself as he would do unto others" what he had been spruiking. Did anyone do that? Did the Minister use hand sanitiser after he coughed into his hand? What measures were taken to shield those there from this hazardous coughing fit? Dr Sheppeard, Director of Communicable Diseases, was there to ensure that the Minister did conform…not!
Border measures in place whether by ship or plane were non-existent as the Minister blustered.
Watch the curve rise, Dr Chant, and weep for the contribution of the spread that the lack of border surveillance under your watch. You have been in the job for 12 years – too long – time for you to go, Dr Chant. After all, you have had a long time to develop a plan that would have avoided the current border chaos.
But before you go, Dr Chant, the reason for these ships dumping the passengers and repatriating most of the crew? It has been speculated President Trump wants to reveal that he has commissioned a number of these cruise ships to be used as hospital ships to lie off the US Coast – and guess what he will be using? But then, Dr Chant, you may have passed it off as only a rumour. If you read the American media, it is no longer a rumour.
And of course, there are the other four cruise ships allowed to berth. They should have been stopped from berthing. If a modicum of time had been spent in doing so, I presume that was your role.
The NSW Premier announced on Tuesday morning that 149 new cases turned up in NSW overnight, but failed to credit the decision on how many resulted from the failure of border control – and of course there are the other States to be unimpressed.
Overall as reported there are at least 133 cases from the Ruby Princess with three known deaths – the number of cases is still rising. Did I hear the Minister for Health asking whether someone would pass him the Sherry? Or was I just hearing things?
And, by the way, the collection of people on Bondi beach, which occurred at the same time as the cruise ships were berthing, and received condemnation. Is it about time that if COVID-19 was being spread through that congregation it should be manifesting itself? We know those testing positive in the cruise ship but what are the positive results from those who were on Bondi Beach that day?
As an important afterthought, could all States inform us daily not only of the number of positive cases and the number of deaths, but also the number who are in hospital and of those, the number who are in intensive care, together with the number of people who have already recovered. We need to stop the dazzling modelling and deal with reality on a daily basis.
I vicoli vuoti
The quote:
The neutron bomb is a nuclear weapon that maximizes damage to people but minimizes damage to buildings and equipment. It is also called an enhanced radiation warhead. The neutron bomb is a specialized thermonuclear weapon that produces a minimal blast but releases large amounts of lethal radiation, which can penetrate armour or several feet of earth.
Nothing like what the coronavirus has done to the streets of Italy. Barely a piece of paper floats along the lanes of the closely packed cities and towns, most unchanged since the Renaissance or before.
The neutron bomb, the development of which commenced in 1958 as a by-product of the atomic bomb, was eventually abandoned as too dangerous. Even though it protected the architecture, the radiation effects were lethal on the population. There were debates around cities being devoid of population – literally dead cities. It was a consequence that the then leaders could not tolerate. The image of beautiful sights where no-one walked was just too terrible to contemplate. The Duomi, their massive doors open, but nobody came.
But the Virus did.
Memories of Poliomyelitis
There was a polio epidemic each side of WW2 in Australia. I remember one; and my cousin who is 94 remembers the other, when she was in her first year of high school. My mother-in-law, who is the same age would today have been at high school but in those days my country cousin was the exception. Girls left at the end of primary school to work on the farm. It was the Depression, and to her family my mother-in-law was unpaid labour.
However, it was the 1937-1938 polio epidemic and in a way closure of schools in the country was somewhat academic. They both remembered the permit system. Everybody travelling from Victoria to NSW needed a permit because there were more cases of polio in Victoria than NSW. In fact, Victoria was seen to be the "villain" of the epidemic. Tasmania had restrictions on travel but that did not prevent the epidemic invading the island.
As one extensive thesis by Anne Killalea on this Tasmanian epidemic written some years ago concluded;
The greatest poliomyelitis epidemic of all time has left its mark on survivors, however well they have accepted their disabilities and built successful lives. Its mark also shows on those who themselves escaped the scourge, but lost beloved family members, or patients, or school pupils. Volunteers unceremoniously dismissed when no longer required also feel the hurt to this day. Many, if not most – patients, professionals and volunteers alike – expressed surprise to think that anyone after so long would be interested in their story.
As their story is so much part of what Tasmania is today, no one should forget.
They were prophetic words, and they did not only apply to Tasmania. A generation passes, and another polio epidemic was upon Australia.
My and my friend's memory of the 1949-50 epidemic was of school closures. Our preparatory school was not closed; but there was a death of a young boy in our companion preparatory school. However, I did remember we didn't play inter-school sport. Swimming pools were closed. My friend's preparatory school was closed down for a period because one teacher's son developed poliomyelitis, one of 760 reported in Victoria that first year. We were sent home straight after school, no chartered school buses in those days. The poliovirus is a gastrointestinal virus and for me, a boy living in an unsewered area where the nightman cometh, and where travel from school was on public transport entailing two trains and a tram, it was not exactly social quarantining.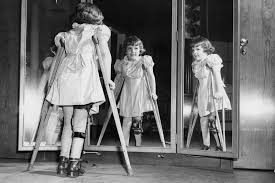 However, I remember no panic; I remember children of my age with those unwieldy leg irons; thirdly I remember that we were told not to eat ice cream – and being an obedient child, I did not eat more than one ice cream a day – there were the penny and three penny cones. I always dismissed the penny cones.
Obviously, I was too young to follow the vaccine debates, but when the liberating vaccines came – first the injectable Salk and then Sabin in a spoon. In a few years polio became rarer and rarer. Even then there were the anti-vaxxers who refused their children the vaccine, often with calamitous consequences.
The epidemic provided the physiotherapy profession with a great boost, and I well remember the physiotherapy team at Fairfield Hospital in Melbourne concentrating on the rehabilitation of the chronic cases.   By the mid-1970s the number of chronic cases had declined to such extent that the physiotherapists were re-deployed into the early childhood development community health program.
However, remember, polio was a disease that disproportionately struck the young, and while there were closures, there was a different mindset in Australia then. When faced in Australia with an incurable disease caused by this virus, one epidemic in Australia during the Great Depression; the second just out from a horrendous wartime.
I am not sure now whether the stoical survival of that virus said something about resilience or resignation that it was just God's Will.
However, schools were not closed, unlike during the 1918-1919 flu epidemic when the death rate among school age children was low compared to the older age groups – as far as I can estimate 3 per million – but then school attendance was far different from today.
I listened to one of the younger medical brigade expressed in public that "those of us had not experienced anything like that". Not quite right, Dr Kidd.
Letter from Sweden

A Swedish medical friend sent me this data from Stockholm as of 24 March. Currently Swedish deaths from COVID-19 are 2 per million. It is calculated that Sweden is 15 days behind Italy, where there are 91 deaths per million. Nevertheless, it is a very big gap, and appeared similar to the situation in Australia. However, a subsequent communication indicates that the deaths there may have moved up to 4 per million – a little more than one per day.
The restrictions in place in Sweden include gatherings of 500 or more being forbidden, voluntary quarantine and an intense propaganda campaign to wash hands; and not to go to work if any – and they mean any – symptoms are present. Sounds familiar, and apparently as my friend described it, "a cosy après-ski party" had a significant role in spreading the virus.
Nevertheless, the Swedish government is pushing ahead with increasing the number of intensive beds, and using military hospital beds. The problem is that we are monitoring Italy with a ferocious thanatopsis; but from a more relevant public health point of view, maybe monitoring Sweden would make far better sense for Australia.
As directly reported in (and translated from) the local Swedish media:
A total of 2,016 people have been reported infected with covid-19 in Sweden (20 cases per 100,000 inhabitants), 54% of the reported cases being men. The cases are available at all ages (median 52). Half the cases notified so far has been infected abroad, but of the cases reported last week, the majority have been infected in Sweden
Some of the victims in Sweden have been infected by people, who have fallen ill after traveling abroad. Nationally, 25 of the cases have died.
In total, 80 intensive care patients with laboratory-confirmed Covid-19 have been listed in the Swedish Intensive Care Register's special reporting module SIRI. The median age is 64 years (26-84 years).
Back to the Past
It is interesting to see how society copes with a catastrophe. My maternal great grandfather, a prudent and wealthy wood merchant, had his money in the Bank of NSW during the Depression of the 1890s, which was entwined with a major drought. He was cashed up, and survived.
On the other hand my paternal grandparents lost a substantial property when they were foreclosed in the 1920s. It was a financial disaster for the family as the property, "Oswego", later became the Waverley Golf course, nearly 100 acres on the country fringe and long since subsumed by housing and light industry. These case histories were repeatedly drummed into me as a boy, so that I am a person who always wants to be debt free and I cannot stand having no cash.
We all have our foibles and for me, no less than any other. However, the world in which I grew up after WW2 was far different from today. Australia had managed to avoid being massively indebted because of the use of the taxation power, which the Federal Government assumed from the States and never gave back. Government bonds were sold locally and industrialisation, commenced seriously in the late 1930s including defence industries, occurred behind high tariff walls. The backbone for our prosperity was our primary industries – living off the sheep's back, but not completely.
However, there was a great deal of stress, there was rationing and with rationing comes profiteering. There are always good stories. During the war my Aunt Chattie, who lived in the country would send eggs, cream and butter to her daughters in Melbourne. She used to put the parcel on the train at Beaufort; the parcel was addressed to the stationmaster at Barker station, with instructions that my cousins would pick it up.
However those were frugal times – cash or cheque, which had to be signed in ink, only. The nearest one got to a credit card was to put it "on the tick"; but I was always bought up to pay.
Now we have a community loaded with debt, and the economy is shot to pieces. There have been multiple responses from government to COVID-19, each time increasing the pain – but it is confined to the ordinary people; there is no application to the elite.
All the over-paid need to do is to take a pay and perks cut –from the Prime Minister downwards, all those with inflated salaries and perks, including the inflated retirement packages – they should be reduced. All have been built up by sophistry to justify patronage, greed and corruption.
Superfluous political staff need to be pared back; lobbyists put on the same list as the beauticians. Given that the Parliament has voted the current Government a great deal of money, with its culture of handing it out to its mates, then it is all the more reason for Parliament and Government offices to cleanse themselves of rent-seeking vermin and put an end to rampant mercantilism which has been underpinned by our woeful taxation system.
It is thus a good time for levelling out the income scales – those who have been on the government mammae need to be forced to stop milking the system. Once the community went into debt to ape the lavish lifestyle of the seductive lifestyle magazines. Now this social tear in the societal framework with its long lines of inequality may change the attitude to one of disgust at the pampered life of an elite reinforced by these same lifestyle magazines. In the end the fuel is being accumulated for community uprising, especially when there are a large cohort in the community who face death, suicide being an obvious option, rather than from a virus, which seems to act like the common cold. That situation may change if the population is unable to maintain itself with a consequent weakening of the immune system.
However, this virus is wily and in each country is revealing the vulnerabilities of the health systems. America is reaching its moment of truth as already Italy and Spain have.
It is all very well for insulated politicians to tell us all to stay inside our houses, but as The Economist said this week "Suppression strategies may work for a while, but there needs to be an exit strategy…if the governments impose huge social and economic costs and the virus cuts a swathe through the population a little later…there will be hell to pay."
Especially as there is a clown who perpetuates the distrust in politicians by lying about the reason the MyGov website fell over – a blatant lie. Does the Federal Government do anything about him? No, nothing. And his apology? An adolescent "My bad".
Dangerous, even revolutionary times. Australia now has the population to sustain a popular uprising.
At present the Government's solution appears to be to set up a "distinguished group" to advise, with the Messrs Gaetjens and Pezzullo as the bureaucratic conduits. Inspire anybody?
Hairdressers  
Janine Sargeant Highlights
Amid the rubble of businesses closed this week, hairdressing is still surviving as an essential service, but with strict adherence to "social distancing" and hygiene together with a curious debate about whether a haircut can be achieved in less than 30 minutes.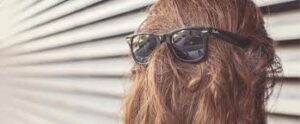 Some hairdressers, like mine in the Sydney suburb of Rozelle, had already instigated special hygiene measures, like handwashing on entry (here's the basin, we'll sing along for the 20 seconds), regular cleaning of all chairs and surfaces and the card reader, maintaining "social distance" and close attention to staff health with regular checks – they all have families. But what about this 30 minutes rule?
In 30 minutes I can still get a hair cut, but the foils are foiled for the foreseeable future and you can easily skip the blow dry and the colour for the present time. But tell me, Dr Murphy, what is the evidence for 30 minutes, or was it initially done with a roulette wheel.   And then, just a day or so later, all time restrictions off – not that you could have policed it anyway.
I did have my hair cut this week and I dreamed of that past time when one could find out easily how many people had tested positive and had subsequently recovered (that's the problem of public health training, always thinking of the denominator). Increasingly it seems the community is now not allowed to have a complete overview. Just try to find out how many people have been hospitalised. There are some data – very little – on the number of patients in ICU, but difficult to find out. Dr Murphy, so why are you hiding this data? We are really not wanting to see any more of the horror photos from Italy. Are they really relevant to Australia?
But back to that 30 minutes, that became 90 minutes or whatever … and I'm still wondering what is going on in hairdressing.   Listening to the very loud calls for all hairdressing to be closed down immediately it becomes clear where the friction is – if Government closes down hairdressing then the salons don't have to pay out the staff they stand down – Mr Just Cuts didn't say this, but that was the underlying argument; it was made very clear on Sydney radio on Wednesday. Economics underpins everything, but it still doesn't explain why hairdressing received special attention in the first place.
And one more brief lowlight before the mouse takes the stage … it was reported this week that a man in Italy contracted COVID-19; his wife and daughter caught the virus from him. But in two degrees of separation, 70 – yes that's 70 – relatives caught the virus from those three at a family funeral. The normal disease pyramid pales into insignificance in the face of this sort of transmission.
Mouse whisper
From The Washington Post (murine edition)
It could only happen in America under that old Fox, Trump?
As of six days ago, my wife called up her former co-worker, one who dwells in Fox news so much that she has to rush home for certain Fox shows.  She was still intending to drive from San Jose to Seattle in order to visit her son and daughter-in-law.  They planned to stop and stay at gambling casinos along the way.  I betcha they had to change the plan.
The point here is that in the Fox news bubble, an awareness of the situation had not sunk in.