This is my 50th blog without missing a week – 2,500 words a week plus my Topolino's contribution. This week I have written about a dilemma, presumably it is a dilemma being faced by a great number of us Australians.
Plague
I am writing this, not as a last will and testament, but as somebody who has booked to go overseas in less than a month, visiting Morocco, West Africa, taking a 250 person Ponant cruise berthing at a number of Atlantic island ports from Dakar to Lisbon and ending up in Portugal for a week.
I am one of the Government's older Australians. This blog represents my ruminations on the current situation – in no way a manifesto for anybody to necessarily follow. Therefore it is just my reaction to yet another viral disease emanating from China.
First of all, it is risible to hear journalists talking as though they know anything about public health. I am watching Monday on the ABC Drum, which without Norman Swan or anybody who knows anything, has descended into the farcical. The problem is that these "opinionista" are there to fill in time not to help with the dilemma by providing evidence based in science, and consequently not any worthwhile advice.
News bulletins talking about "deadly" outbreak and "killer virus" and front-page photos of someone stockpiling food, does not help alleviate community anxiety. Most of the journalists producing these stories are economically literate, but when they talk about public health they are on unfamiliar ground.
Every year we face an influenza epidemic, for which we can get injected with a vaccine; in the case of recent outbreak, not particularly effective. That is because there are multiple strains and they mutate. And people die, but we do not go into a funk and close Australia down.
However with his "doomsday comments", the Western Australian AMA President has been the winner in the escalation stakes. He said Australia had not seen anything like this since Spanish influenza in 1918-20, when 30 million died worldwide and 15,000 in Australia. I beg to differ.
Take this quote from the Centres of Disease Control (CDC):
Currently circulating influenza A(H1N1) viruses are related to the pandemic 2009 H1N1 virus that emerged in the spring of 2009 and caused a flu pandemic. This virus, scientifically called the "A(H1N1)pdm09 virus," and more generally called "2009 H1N1," has continued to circulate seasonally since then. These H1N1 viruses have undergone relatively small genetic changes and changes to their antigenic properties (the properties of the virus that affect immunity) over time.
The common cold is due to coronaviruses. Like influenza it tends to be a winter disease. That is why we all line up in May for an injection. Is there any reason to suggest that this coronavirus is not aided in its spread by a cold climate – just look at where it is rife.
Will this "pandemic" just fade when the weather gets warmer in the northern hemisphere? I believe there have been some muted voices suggesting that will be the case. SARS virus, another disease with its origin in China from bats, caused problems between November 2002 and July 2003, and no cases appear to have been reported since 2004. In other words it disappeared in the Chinese summer. The bats are still in their caves in Yunnan and there is no vaccine after 15 years. Amazing what happens when the spotlight leaves a disease.
And by the way as we all know there is no vaccine against the common cold which is caused by other coronaviruses.
However after the SARS epidemic, the Chinese authorities did not do anything about curbing the sale of wild meat in markets. The underlying problem is "traditional Chinese medicine" that uses the products of wild animals; and inroads into wild life availability would strike at the core of Chinese cultural beliefs.
Xi Jinping has issued a declaration to ban the trade and consumption of wild animals, but how long will that last – how many exotic viral disease outbreaks will it take for the Chinese to see sense and feeding misinformation? Eating wild meat has a long history in China and it is a source of income in many areas; any ban will only be as good as its enforcement so do we just wait for the next animal to human virus to occur? Tiptoeing around reality is a nonsense because we worry what China can do to our economy. For God's sake, China is already stuffing up the world economy with initiating the coronavirus outbreak.
When the data suggest a mortality rate of about 2 per cent, which is tolerable given the level of underlying respiratory disease in the community, then when Iran reports a much higher death rate, it may be because this community may be basically more unhealthy – more likely it is a question of underreporting. Therefore, it was convenient initially to slap a ban on travel from Iran because of an alleged higher mortality rate.
Also in order to show everybody that people "are taking the outbreak seriously", the government is advocating a number of measures.
Washing your hands regularly is a simple but effective way to reduce the odds of getting sick, the CDC recommends scrubbing your wet hands with soap for at least 20 seconds, then rinsing them with running water. If water is not available, the CDC recommends using a hand sanitizer made with at least 60% alcohol, but warns these solutions do not kill all germs.
I remember being the foyer of a large teaching hospital in Melbourne waiting for somebody and to while away the time, I watched how many people used the hand sanitiser dispenser prominently displayed with an invitation to use it. Maybe one in 20 then stopped to use it.
One of the most remarkable advances among hospital staff is the use of hand sanitiser between touching patients; very simple. After all, in the operating theatre sterility has been one basic reason that operative infection is relatively low. In the recent evacuation of Australian citizens from overseas, it is understood that Qantas used the same level of background hygiene as you would expect in a clean hospital including hospital grade air filters. In fact all airlines, all cruise ships should assure that same level of cleanliness.
To counter this disease if everybody, including children, washes their hands regularly then the public health of the community will benefit.
CDC does not recommend that people who are well wear a facemask to protect themselves from respiratory diseases, including COVID-19.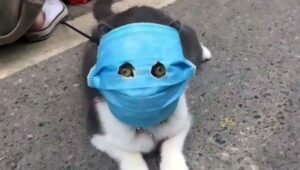 The doyen of hand hygiene, Professor Grayson has said, particularly as there is minor evidence of secondary infection (in other words transferred within Australia), that "it's not a practical option for the average person to walk around the street in an N95 mask…or worse a product whose effectiveness has not been scientifically tested."
Hospital staff can verify their protective clothing, but there is already some suggestion of both price gouging and fraudulent products being produced, at least in the United States, where the Surgeon General incidentally has also come out against wearing masks.
However, one reason for wearing a mask has not been discussed and that is the cultural habit of spitting as a body purification ritual. A mask makes it difficult to spit, and spitting is not a habit that has been highlighted in the list of preventative measures. It should be.
Surface disinfection with 0.1% sodium hypochlorite or 62–71% ethanol significantly reduces coronavirus infectivity on surfaces within one minute exposure time."
Conversely, solutions of a biocide called benzalkonium chloride produced conflicting results; and finally chlorhexidine digluconate, which people use as a topical antiseptic, was ineffective.
The sight of people in white clothes spraying disinfectant indiscriminately in public places does not particularly reassure (although the television cameraman in the middle of the group of sprayers was filming happily without either a mask or goggles or white suit in a recent television item). I well remember when we landed in Australia, the quarantine staff would come onto the plane and spray the cabin before the passengers could disembark. It does not seem to happen now.
If you are going to regularly disinfect areas apart from food handling areas, then make sure the door handles and any button which needs to be touched, are wiped. After all how many grubby hands open doors leading into the workplace without a disinfectant in sight. One is unable to pat the door handle or lift button on the back, Mr Minister.
Also presumably all parliamentary offices should have hand sanitisers wherever there is a door handle or lift button. The penalty: 14 days in quarantine with other offending politicians or staff members for failing to do so. Maledetto inferno, Parliament in lockdown. Something might get done.
Also, as an anti-hugger and who as a young boy watched Lindwall take a wicket, and then walk back to his bowling mark without being deluged by his jubilant teammates, I shudder. Our society thus is now a very "touchie-feelie" one among which the viruses can perform their own danse macabre. Cultural traditions are very difficult to change.
The new coronavirus first appeared in Wuhan in December. By January, officials had quarantined the city — halting planes, trains, subways, and most private vehicles. As the virus spread beyond Wuhan, so did quarantines that shut down businesses, stopped travel, and curbed emissions. A map of the country before the quarantines (from January 1st to 20th) is covered with orange and red splotches, while those splotches are noticeably absent in another map depicting China after quarantines were put in place (from February 10th to 25th).
The cleaner air will hopefully provide some relief as China copes with a novel coronavirus that affects the lungs. On its own, nitrogen dioxide can inflame airways and make it harder for people to breathe. It also reacts with other chemicals to create soot, smog and acid rain.
However, just a few comments that may be relevant when we have a tribe of climate change denialists: Wuhan seemed to have been a very polluted environment, and the one positive thing is that the level of air pollution there has been shown to have fallen dramatically as elsewhere. The photos of Wuhan in lockdown did not seem to recognise how very polluted the atmosphere has been. Lombardy in Italy is the industrial heartland – and South Korea and Japan are highly polluted high population density areas. Our upcoming travel itinerary fortuitously avoids these areas.
The other factor, which needs to be recognised, is the countries where the virus is prominent and where the level of cigarette smoking is high and hence there is an underlying respiratory vulnerability greater than countries which have kicked the habit.
Vaccines have historically taken two to five years to develop. But with a global effort, and learning from past efforts to develop coronavirus vaccines, researchers could potentially develop a vaccine in a much shorter time.
That sums it up. There is a great amount of activity, and there is the usual public relations-inspired media blurbing. We however shall not hold our collective breath. Here Trump is really a menace saying that a vaccine is almost here.
Now to weigh up all of the above – and make a decision. Watch this space.
Bean there, dung that
First of all, I must acknowledge the New Scientist for this rather clever heading, when it ran an article on civet coffee back in 2004. It was a time when the coffee cherries run through the bowel of the mongoose relative, the civet cat, produced an astronomically expensive distinct coffee. At that time the price of a kilogram of the coffee beans was US$1,000.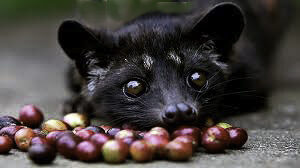 Known as kopi luwak across the Indonesian archipelago, it is available in East Timor now, given the wealth of coffee and the presence of wild civets. There are stories about how civets are caged and force-fed coffee cherries. Who knows in East Timor? The price has dropped to US$100 a kilogram. Given that was an exotic product, which I had heard about, I bought 250 grams when I was there. Topolino heard about it and he produced a joke in an earlier blog about catpoo-cino.
Now eating civet was implicated in the SARS virus that also emerged in China. Civet is traditionally roasted in hoisin sauce, garlic and many spices or as an ingredient in one of those Chinese cauldrons blended with cobra and chicken – Tiger, Serpent and Phoenix soup. This is still able to be served "under license in China", since like many of these concoctions it is all about stimulating the Chinese libido, as though China needed more of that.
The civet coffee I bought back to Australia, (where you can bring in a kilogram without having to declare it) proved to be disappointing. I thought it very nondescript and bland with a "very muted" coffee taste. As quoted in the article however, "educated drinkers can detect an syrupy, chocolate, earthy, musty with jungle undertones (whatever that might be)". One supposes that comment is like the wine sommelier who can detect the complexity of honeysuckle, vanilla and violets with just a tincture of feral cat in the grape.
Ah, what a multicultural world we live in! But the lesson from all this is that "bush tucker" has now been banned in China. However, as the South China Morning Post has pointed out, the sheer size of the wild animal foraging and breeding means effective policing on any useful scale will require far greater resources than made available up to now.
Pig slaughter as a result of the swine flu outbreak means a serious loss of income as does a putatively effective wild meat ban – obviously now a necessary follow up to this novel coronavirus, especially in the light of a previous outbreak emanating from other viruses able to traced to animals.
And before you have any sympathy for the Chinese diner…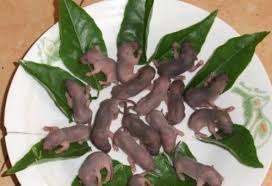 Consider for instance the three squeaks dish – the first squeak, when the embryonic rat is picked up alive with your chopsticks; the second, when it is dropped into a hot sauce and the third squeak when you crunch it between your teeth.
Now that is civilisation!
And I'll pass on the civet coffee in the future.
And as a final tidbit
The inspiration for this tidbit comes from the same 2004 New Scientist. It is just an interesting scrap floating along one of the information byways. The civet is not unique in providing human food where the flavour derives from an encounter with its digestive tract. Honey bees pass their nectar through an enzymic process before they vomit up; and then there is another Chinese delicacy, bird nest's soup made from the dried saliva of birds called swiftlets.
Finally, there is the Moroccan goat, which climbs the argan tree and eats the fruit. Until recently, the fruit seed had been extracted from the goat excrement and traditionally turned into cooking oil. However, the argan trees are under threat. The goats kill the juvenile trees, so the Berbers have substituted their own seed grinding for the goats' bowel.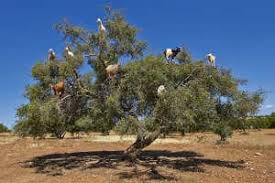 Moreover its properties as a cosmetic have meant that the beauty industry has "monstered" the market for the oil. There is a conservation program in place to preserve argan trees. How effective will this be in the face of demand, the land being swallowed up in housing development and climate change? Familiar story?
As with the argan tree, the honey bee and the swiftlets' nest are all in danger of dropping into the endangered zone and then into the sunset of extinction.
How much of this was on the community's radar 16 years ago, when these three were mentioned in the New Scientist?
They then were singled out because of the digestive feats; not because of their future viability.
Is it only viruses that will wake our community from its hedonistic torpor and pay attention?
Mouse whisper
This caption was placed on a certain cartoon. The subject surprisingly is not Morrison.
"I believe I heard from the back of the room, someone failing to ask me the question I will now answer."
The figure in the cartoon? General de Gaulle.
You can still learn from the great and famous, Morrison.