There is an interesting reaction to Premier Andrews. Victoria has been a gigantic COVID-19 stuff up – in Australian terms. There is a group of well-heeled Victorians that has been discomforted by him. Andrews generally has been popular but has not acted in the conventional manner in which politicians are expected to behave.
John Brumby, his ALP predecessor, was an Old Melburnian, a product of Melbourne Grammar School and he showed it! Brumby was abrasive as his predecessor Steve Bracks was genial. Although also ALP, Bracks found that Melbourne conservatism fitted him well; he a well worn sports jacket and moleskins metaphor after those tumultuous years of Jeff Kennett's brattishness.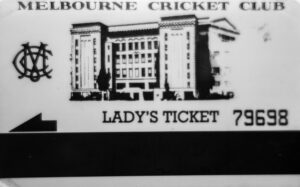 After all, the first things the Melburnian, rather than those who live in Melbourne, will ask you is where did you go to school. School is such an important stigma in the life of a Melburnian. After all, I am a three generation Melburnian – but without the ultimate stigma, namely to be a member of the eponymously named Club. But of the Cricket Club, I plead guilty, although I did ask forgiveness by conforming to the Biblical utterance: "Greater love hath no man but to lay down his Lady's Ticket for his wife." Yes, a full member had one Lady's ticket; and I even remember there was a time when there were members of the Cricket Club who had two Lady's tickets – one for the mistress presumably.
However, Daniel Andrews is refreshingly different – a country boy with an outer Melbourne constituency, accused of being beholden to the Unions and hence to those who live in Melbourne and Victoria – but not beholden to the Melburnians.
Perhaps it is true and that allegiance with its factional arithmetic has left him with a mess of incompetents holding ministerial portfolios.
I met Daniel Andrews when he was a young politician first appointed Parliamentary Secretary for Health. He was so deferential for a politician to someone who, after all, was a substantial nothing; he even gave me his mobile phone number. I never followed it up. Later, when he was Health Minister, he appointed me to a Committee as his Ministerial representative, but at a distance and with a friendly acknowledgement – and with no emolument, as Gough was used to say: "What is the emolument, comrade?"
However, I have only focused on Andrews' performance since the COVID-19 catastrophe. It is not until it is in your own yard that you realise the consequences; long gone are the happy scenes of politicians washing their hands on ABC TV.
Here you have a group of people who have spread the Virus throughout Melbourne and, to an extent regionally, along a trail of incompetence. Years of promoting sycophants, yes people, drongos, paying them peanuts with an occasional cashew in all walks of life, are coming home to roost.
So day-by-day Andrews is doing penance – taking on the sins of his Ministry and his Bureaucracy. He has gone beyond the 40 days and 40 nights. After all, he has been accused of being a control freak. Ergo, it is all his fault. Perhaps he has created the intellectual and social Sahara beneath him, but fortunately with a few notable oases that I have mentioned before.
Andrews may see vindication in his actions. The number of those with the Virus will reduce; the Canberra Pharisees may see what he is doing and stop the blame game and start to mimic him.
We should be thinking about what is an acceptable level of sufferers – elimination does not work: see New Zealand and Queensland. The States that are running the elimination line if they want to send their people spare should look at the Melbourne lesson. Australia has to derive a strategy along the lines of NSW, which has a very efficient contact tracing system to quench the outbreaks while they remain small.
In the long term social distancing will not work unless it is enforced by the spectre of those exposed being put into "bespoke" quarantine facilities. You cannot close down the country for political gain – health yes; political whim no – and ultimately no amount of dressing the political in the cloak of health will disguise the fact that approaching elections appear to be influencing states' lockdown strategies.
Hand hygiene – the sight of sanitisers everywhere will have an effect, but just like those running the traffic lights there will always be those who won't use them.
Group punishment does not work forever in a democratic society. A masked society – even if temporary and focused, I do not think so. Yet how long should Victoria live in a world of anonymity? Facial expression and unmuffled voice is the essence of humanity. It will eventually wear down even in the most civilised democratic society.
The Ruby Princess, Newmarch and this Victorian disaster should provide a lesson, and whether the remedy is that the Premier has to scapegoat himself each day as Daniel Andrews is doing, so be it.
After the Ruby Princess fiasco, the sackings could have been done, clinically and quickly, because it was an obvious failure of the public health area, because they were well informed. Incompetence. Only recently has the NSW Premier said she was sorry. Her minions have survived, and some seem to have learnt, as judged by their improved performance.
Politicians and the media were dazzled by the Carnival cruise ships' management over a decade – the media was sucked in despite the clear evidence of its litany of disasters here and elsewhere. Now, anybody for a Ruby Princess experience? Where are those marvelling media who took that glass of sherry, those cocktails, on the shimmering deck of hidden squalor?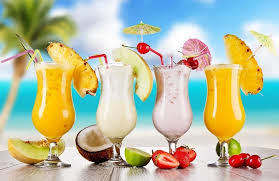 Victoria has been different. Public health expertise on offer was ignored. The Ruby Princess had already demonstrated what failure of public health brings. It seemed to have had no effect on Victoria.
In Victoria there was just basic public health ignorance.
Retribution is coming in Victoria, but may Andrews have the strength to stay the course and ensure that Victoria's disgracefully inadequate public health system is brought to the level that paradoxically NSW has always had due to the previous work of Dr Sue Morey.
Andrews is all that stands between a Victorian society on the brink – a society that will increasingly be impatient for a scapegoat or two. However, nailing Andrews to the Cross is not the solution. He needs ongoing support. The length of this lockdown occurring is a severe imposition, especially when there is loss of income on top of "cabin fever".
Andrew's ongoing resilience is the key. He is showing that canniness by appearing to be defeated when absorbing the shock horror of his request for a twelve months emergency extension. He will settle for six months – what he really wanted and give his opponents an apparent win. That will mean he is not the only one who owns the six months extension. It is an old ruse when you are confident in your own skin and you do " deference in defeat" so well.
What is happening in Victoria is important as a lesson for any government when the Virus escapes into the community and spreads to nursing homes in particular. The Coates Inquiry, if she joins the dots, will be able to accurately chart the remedies. Hopefully Andrews will have stared down the Virus by that time.
Nevertheless, the outbreak of COVID-19 in correctional centres in Queensland is worrying, and its containment will test the Queensland public health arrangements. Again, prisons have been shown to be a hotspot in the USA. Quoting the NYT:
"The number of deaths in state and federal prisons, local jails and immigration detention centers — which stood at 1,002 on Tuesday morning — has increased by about 40 per cent during the past six weeks, according to the database. There have been nearly 160,000 infections among prisoners and guards.
The actual number of deaths is almost certainly higher because jails and prisons perform limited testing on inmates, including many facilities that decline to test prisoners who die after exhibiting symptoms consistent with the coronavirus.
… Prisoners are infected at a rate more than five times the nation's overall rate. The death rate of inmates is also higher than the national rate — 39 deaths per 100,000 compared to 29 deaths per 100,000."
Let's hope that Queensland is spared the disastrous effects of the Virus, in this case being let loose in the correctional system, despite the fact that there may some people in the Southern States with a repressed sense of schadenfreude should the Virus spread in Queensland.
The Saturday Evening Post
The Saturday Evening Post is always associated with Benjamin Franklin, even though he was well and truly dead by the time it was first published in 1821. The two shared Philadelphia. Moreover, Philadelphia was the capital of the fledging United States between 1790 and 1800. The Saturday Evening Post used the portrait of Benjamin Franklin often, which gave the magazine presence – America without The Saturday Evening Post was unthinkable at the time I grew up.
Not that I grew up in the United States. I did not even go to America until 1971, when the magazine was then in severe decline. Yet I remember The Saturday Evening Post well. My father used to subscribe to it; my mother to the Ladies' Home Journal, even though there were severe currency restrictions on Australians buying US dollars. The journals were always about two months late, because they came by sea. However, it mattered little because it was, apart from American films and the occasional entertainer and the war brides coming back to see their families, to my parents contact with American lifestyle.
My mother had just one of these "war-bride" friends with whom she regularly corresponded. Nan, her friend, had met and married a US air force officer named Bob Daggett during the War and followed him to America. Our family album was full of pictures of the wedding, where my mother was her matron of honour, a quaint term for a married bridesmaid.
Both of these journals were the mainstay of Middle America. The portraits by Norman Rockwell were the mainstay of the Post covers. Rockwell's ability to depict life in America as a contemporary tapestry, alternating whimsy with pathos, was extraordinary.
When I use to pore over the magazine as a small boy, before they were thrown out, it was seeing another culture, a far wealthier culture with stuff just not available to Australians at the time. I wished I could paint like Rockwell.
Then the Post went into decline. However before it did, after my mother died in 1956, our subscriptions to these magazines died with her. After all, the arrival of the Ladies Home Journal each month just reinforced my father's loss and my father had eventually gone to America in 1957, and fulfilled the ambition anyway.
But The Saturday Evening Post still exists – a two monthly publication. The publication is not for the millennials, even though the ubiquitous "Coles spruiker", Curtis Stone bobs up with recipes for barbecued turkey burgers with homemade pickles and grilled corn on the cob with parsley and garlic brown butter.
The advertisements are for rechargeable hearing aids, plush recliners, the Zoomer wheel chair, betterWoman bladder control tablets. There is a concentration on health and lifestyle in the content but with a very strong nostalgic sense for an America that probably never was.
Yet among the detritus of the most recent issue was one article detailing the decisions of one lady who decided that her ongoing renal dialysis was really too much. The dialysis for this 60 year old lady was accompanied by an increasing number of savage complications. So she broached the subject of stopping the dialysis with her doctor. The author of the article was then a medical student and her report of the exchange between doctor and patient is written in simple direct prose.
"When you stop dialysis, one of the most common things that happens … you can have difficulty breathing… so I will give medicines to help prevent any gasping or difficulty breathing you might have."
"Good, I don't … want … to suffocate. I don't … want pain."
The doctor quickly re-assured her that kidney failure generally doesn't cause pain, and pain, and death would arrive only after loss of consciousness.
"Kidney failure," he told her gently, "could be a merciful way to die."
I had never seen this type of doctoring before. 
These medical reassurances struck a responsive chord with myself. I don't want to suffocate; I don't want to die in pain. Nobody does, but many do.
Later on in the article, the author notes the woman did become unconscious three days later, her family encircled the bed, singing and tying balloons on her bed posts, she dying apparently at peace, but those last few minutes – who would know what is happening, but she was not gasping for breath nor grimacing in pain.
This article carries a message that in a world which prides Self above all else, there is this other World of genuine care – a world that you wish to see in every nursing home, every place where the aged are cared for, and not the shemozzle that it is today.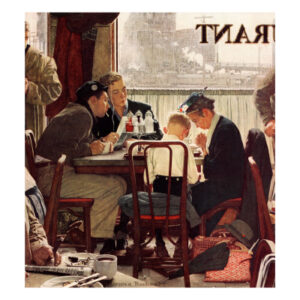 As of today in the USA, 40 per cent of deaths from the Virus have been elderly people in nursing homes and other residential facilities. 420,000 have been infected; 70,000 have died – but how many without suffocating or in pain? And dying all alone, apart from that life-giving technology which for them had come up short.
Strange how this recent copy of The Saturday Evening Post evokes so much reflection.
July 5, 1969, thus he wrote
A young assistant professor in zoology at the University of California at Berkeley named Richard Dawkins wrote a detailed letter to The Times. It was published on June 5, 1969. I have reproduced it in part because it provides a troubling picture of an America that basically does not seem to have changed. He wrote it at a time when the Vietnam War was at its height, and across the world the previous year there had been an outpouring against the War from young people, particularly those at universities, which had met with fierce resistance from the Authorities.
In 1969 Nixon had recently been elected to the White House, replacing the hapless Johnson. Ronald Reagan was in his Californian Governor's office in Sacramento. Despite the carnage in Vietnam, the Americans were not winning the War. That was plain, yet Nixon was watching, contemplating, calculating like Kissinger – men whose blood was colder than Lake Baikal – to carpet bomb Vietnam.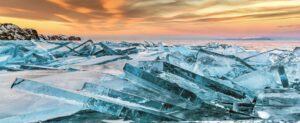 Documentaries of the time, which have recently been revived on Australian television, show how much wanton damage had been done and yet how vulnerable the Americans were. There were Vietcong in the grounds of the American Embassy in Saigon. Unthinkable.
I remember the time well. I still remember my own involvement, my own reactions, my numbness that had followed the 1966 landslide victory that Holt achieved. Yet I went about my postgraduate study unscathed.
Yet it is somewhat ironic to see a former very conservative Thatcherite Conservative, Michael Portillo, languidly travelling by train through Vietnam 40 years after the War, enjoying its hospitality, enjoying the sights of what is a beautiful country, no signs of war, and "Don't mention the War".
The renewal and the resilience of these Vietnamese people after such physical destruction of their country contrasts with the mental destruction of America, where the aftermath stills lingers like a toxic cloud, fanned by Trump and his followers.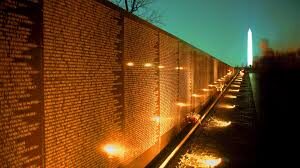 One thing, which struck me as I read Dawkins' letter to The Times, is how the seeds of class hostility were ignited. Young working class men drafted to fight and returning from Vietnam were vilified, spat upon by those with Ivy League credentials, who had evaded the draft, one way or the other. Resentment can be transferred from one generation to another. It is a macabre sight to see Trump, a draft dodger, a child of privilege, as the leader of these alienated, xenophobic predominantly white "midnight's children of the Vietnam War".
Thus on reading Dawkins I am struck with an uneasy feeling of déjà vu:
"On May 20 Berkeley became the first city in the continental United States to come under military attack from the air. An army helicopter swooped low over the campus spraying the irritant and nauseating CS gas developed for use against the Vietcong. At the same time masked soldiers blocked all but one exit from the plaza, which was the centre of the attack, making dispersal of the terrified crowd slow, and seeming to show that the gas was being used as a punishment rather than as an instrument for rapidly clearing a crowd. In any case the gas drifted all over the campus and the surrounding area, causing the hospital to put at least one respiratory patient into an iron lung, and necessitating the evacuation of children from some schools…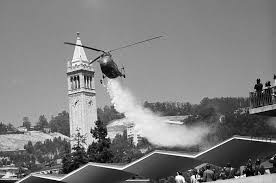 "What is even more ominous than that these things can occur, is that the majority of Americans seem heartily to approve. This was true over the Chicago affair, and Governor Reagan's soaring popularity in the polls is universally attributed to his "hard line" on campus dissent. It may not be too surprising or even too worrying that the police and military should tend to favour Gestapo tactics for dealing with student rebels. What is really disturbing is that the Governor of the State can markedly improve his chances of re-election by allowing and encouraging such methods." 
Maybe someone out there with a playbook in hand in the run up to the Presidential election has made the same observation as Dawkins did, but 50 years on – that every riot, especially if property is torched, is a vote for Trump in 2020 as it was for Reagan in 1969 and beyond, so crucial in "swing States".
Would I lie to you?
There is always something that puzzles me about contact tracing.
Contact tracing demands a degree of honesty, and if the contact tracer comes across a group of people who habitually lie for one reason or another, especially when that group believe the police are looking over the shoulders of the contact tracers, are they going to tell you, the contact tracer, where they've been – to disclose their networks? Probably not.
But then part of police work is contact tracing. It is not generally linked to public health. There are rules for contact tracing when it is part of a policeman's business, but when contact tracing is stated as being for public health purposes, it seems that the police are excluded from using that information.
However, if a "person of interest" tells a contact tracer all their links over the recent period, can the person of interest be interrogated by the police concerning the information that he/she has told the contact tracer of his/her whereabouts?
"No, says our "person of interest being interrogated", "I have given my details to a public health person, and therefore you can ask him or her."
However, whatever information that person has given to the contact tracer is protected and cannot be accessed. Right?
Can somebody give me some advice?
Mouse Whisper
I came across certain documents relating to my mausmeister when he was mauskind. 
Apparently this happened when he was a young, boisterous and adventurous child. His Aunt Grace lived in a large home in the Melbourne suburb of Hawthorn. She looked after her Uncle Frank and Aunt Mildred until each died.
My mauskind wondered why the rooms down the right side of the long corridor were always locked. One day one of the doors was unlocked and the boy looked in and saw an extensive collection of architectural drawings and plans all over the room.
Before he could venture in, his Aunt said that he had to be careful because the room was inhabited by a carpet snake. Kept it there for mice … distastefully. However, carpet snakes were huge, long – pythons that could crush the unwary, Johnny.
So he never tried to go in those rooms again. He was scared of snakes.
Many years later, he mentioned it to his cousin who was much older than him.
She laughed. Aunt Grace had once taken my cousin into her confidence.
There never was any carpet snake.