I was born on the west coast of Ireland many year ago & up to now I thought I had a hard life as a young boy picking potatoes for farmers, plucking turkeys for meat exporters, caddying for rich golfers wishing for a bag of clubs on each shoulder. But after seeing (how the Blasket people lived) I now I know I lived the life of a prince. The Blasket people were made of granite. I now live the life of a softie in England compared to what they endured …
This stray Twitter comment from some guy who had watched a video on the Blasket islands off the coast of Kerry typifies many of us with West coast Irish heritage. There is something about really returning to one's Celtic roots if you travel to one of the islands.
The Blasket islands have not been inhabited since 1953 when the then Taioseach Eamon De Valera moved the last 22 inhabitants off the island and onto the mainland. Nevertheless, this group of islands has much Gaelic literature written about them.
Sometimes, especially as you grow older, you like to relax in your heritage. Mine is partially rooted in Co Clare and off the coast are the Aran Islands; an intrinsic part of the Gaeltacht.
I remember the day I went to Inishmore, the largest of the three islands. I took the ferry from Doolin. The ferry was delayed until the tide came in, and if you get impatient, remember the Irish nostrum: "A watched kettle never boils". So we all waited and waited. However, the day was one of those days when you thought you were going to a Greek Island rather than to an island in the Atlantic Ocean.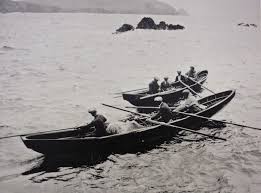 The 1934 documentary called Man of Aran that I watched recently, made and remade the point that the seas around the island were very rough and perilous, and not a good place to be out rowing your curragh. It is a dark film.
The island seems to be enveloped in gloom – dragging the curragh from the surf, gathering seaweed to provide nutrition for the soil, breaking stones to uncover that precious soil in which to plant potatoes, cliff fishing – a hazardous exercise of throwing a long line down the cliff wall into the sea. Conversing in Gaelic – hard to hear with words drifting the waves and wind.
Overall, men, woman, boy – these are the toilers of the seas, to borrow from Victor Hugo. Light is provided when the figures are set against the backdrop of grey skies hacking at rocks or looking out to sea. Or else light is the white spume of the dark tempestuous sea crashing against the rocks and cliff face.
The film uses black and white imagery, which has been so over-used, to define an Ireland deprived of its emerald hue – sunless and poor.
Contrast it against the unexpected experience of being on the Aran Islands when the sun shone and you could be in the Mediterranean. Here was an optimistic panorama and not a cloud in the sky; the ocean a millpond. An island where you could take off your heavy fisherman's jacket and sweater and go bare-sleeved.
I trekked across the limestone and grass and over stone walls to the ancient Neolithic fort which sits on the edge of cliff overlooking the Atlantic Ocean. It has the appearance of half being there, and the other half having broken away and fallen in the water. The Legend of Atlantis often gets a run when you see the ruin, especially from above. But it is an illusion; it was just built that way, as if to defy the elements.
In the progress of the trudge across the island, I was sunburnt – for God's sake in Ireland. Twice that has happened. And that was before I could blame it on climate change.
The Man of Aran, however authentic it may have been when it was a pathfinding documentary of a vanishing Ireland, now can be portrayed as a caricature of an impoverished land.
But that day on the island aroused in the emotion of an ancestral intrusion. The landscape is a limestone continuation of the Burren, an extraordinary pavement that appears to have the hand of my ancestors in its creation. Yet it is where Nature has brought together Arctic and Mediterranean flora in the nooks and crannies of this pavement. It is a place where I have had the sensation, walking across it, of having been there before – was that chance or was it predetermined that I had placed feet on where one of my ancestors had trodden.
I have always been fascinated by the concept of the Celtic twilight.
Therefore, one of the privileges of an Irish heritage is that it has provided me with a sense of that past, which has shaped who I am – both my insignificance and my significance. That day on Inishmore I was tempted to buy a stone cottage and live surrounded by dry stonewalls and green fields. The life of an ascetic lingered for a moment.
That urge passed because in the end you are one person no matter where your heritage may lie, and I am Australian not Irish, not someone who repeatedly says that my mob have been here for 40,000 years but nevertheless proud of my mob who have been in Australia for 170 years.
I hope I have added value to the nation of many nations brought together under the Southern Cross even as the twilight gathers. In the end, it is what you do with the privilege of being here, be it one year or 40,000.
I disagree with the Twitter who escaped from the West Coast to become a softie in England.   Migration does mean being, as he terms, "a softie". It was not a soft option for my ancestors to leave, after all it is a long way from Tipperary, let alone County Clare.
The Cylcon
I first saw them in a roadhouse at Little Topar, lying alongside the emu eggs in a dusty display case. I asked whether I could buy one of them. The guy behind the counter said no. He was only minding them for the owner. Same reply each time, I asked. The owner was elusive. Stone walls are stone walling and I did not stop at Little Topar often enough to nag.
So there it rested, until I saw one advertised on e-Bay. I am not one of those people who regularly trawls e-Bay, but I was attracted to a couple of Aboriginal artefacts, which looked ridiculously cheap. However, they became part of a bidding war – and I have never bought anything at auction. In any case, I am a tyro when bidding against skilled operators, who have so much better timing of their bids (to say nothing of the automated bidding programs).
Anyway, once on the e-Bay site, I had a further look for anything else that that might be interesting. Then there it was – one of those items that had been displayed at the Little Topar roadhouse.
It was a cylcon and it was for sale.
To put Little Topar into context, it is a roadhouse about 100 kilometres from Broken Hill. Nothing else. Cylcons, as the name implies, are conicocylindrical stones. They are said to be found across Australia, but were often picked up by those working on properties in Western NSW and South-West Queensland. Markings are not uniform and it is said that the local Aboriginal Barkinji knew nothing of them.
However, then you read elsewhere about a mob around Lake Eyre who were still using stones that resemble cylcons at least 50 years ago.
Tchuringas are often mentioned alongside cylcons as having magical powers. I know what authentic tchuringas look like as I was shown several when I was travelling around the Kimberley in the late 1970s. An elder of the local mob, who thought I was important enough to unwrap this valuable legacy showed them to me as we sat alone. As I worked out later, this was one of the most sacred possessions. That's all I will say recognising that anything I could say about it would be strictly men's business and remains so.
So now I have a hard sandstone cylcon. I can talk about it, still not knowing what its significance is – it remains unfinished business.
The messages are getting mixed again
A couple of recalcitrant families have tested positive for the Virus in Victoria and the postal address of these families suggests they are not "white anglo-saxon protestants". Anyway there is no mention of heritage, and there was only passing reference to the fact that last month it was Cedar Meat abattoir at Brooklyn in one of the targeted local government areas (LGA), which was associated with an outbreak resulting in 111 workers testing positive. Do we really want to punish the whole of Victoria because of one group? Let us not be coy about where the problem lies.
The fact is Victoria has used the first lockdown in March to refine contact tracing to a very comprehensive level. However, there is need to develop a strategy to selectively isolate those groups who persist in flouting the rules, without disrupting everybody's lives.
An Essendon football player has tested positive for COVID-19 virus. He has been found guilty of flouting the very tough guidelines, which have tried to isolate these gladiators in some sort of safe house environment. Then they show the image of this player on the field with his teammates. First, he spits on the ground and then he blows his nose so the droplets spray everywhere.
So the AFL says that they take every precaution to ensure that the behaviour of players is hygienic; so is this player as pictured the only one spitting and blowing his nose without a tissue? No evidence of hand sanitiser here. No evidence that he was disciplined for those disgusting pieces of behaviour. The game must go on, the tills must keep jingling – metaphorically.
There is confusion about whether he has tested positively or not; and anyway Essendon say he only had contact with a marginal player who would not have been selected.
That seems to be the first mixed message; just like the scurry before the Grand Prix in March. Essendon player contact vs a large Keilor Downs family contact – different approach?
Then there is the matter of quarantine facilities.
One topic that has not received much attention is the need for permanent quarantine facilities.
Australia has been quick to lock up asylum seekers. They are clearly different from those who flout – accidently or intentionally – the rules laid down in one major respect, the latter group vote. The way the Biloela Four have been treated is nothing short of disgraceful.
This situation is more than regrettable if an ignorant populist tries to bend public health discipline for short-term electoral gain. One of the problems with the Victorian outbreak is that it is within Labour-voting electorates. However, the Premier seems imperturbable.
That is no reason for the current Government adopting a different reaction to one where the outbreak is in Liberal- voting electorates
In the past, where there was a need to quarantine people, quarantine facilities were located close to the shipping. However, while cruise ships have been shown to be a very real source of infection, it is air travel where the major problem of ongoing infection will arise. Therefore, as quarantine is now becoming an ongoing issue, it is now important to rapidly develop facilities close to airports, where those to be quarantined can go.
Using hotels in the centre of the city with obviously unskilled staff is not an ideal long-term solution. Hotels are not constructed to quarantine people – quarantine facilities must be secure.
As has been shown in Sweden, believing people will take seriously a foe that they cannot see, hear or touch has not worked. This Virus may show its presence through smell and debatably taste, but they are not the primary senses to stimulate a "viral defence policy".
The second mixed message is thus that politicians think quarantining the asylum seekers is OK; but not those fleeing the Virus.
The Prime Minister is keen to have a building /renovation program. Constructing appropriate quarantine facilities would be an important way to consolidate in more ways than one on the governments' achievements; rather than fritter the sense of unity away on acrimony over the borders or fritter away money on some renovation scheme accessible to a few well-heeled homeowners. Some would say a return to the primitivism of politics rather than a rational way of devising a sustainable quarantine program.
In doing so, the government must realise that this situation is not a three month wonder since it seems that some countries, notably the USA have given up, irrespective of what they say, and just wish for a vaccine or that the Virus will go away.
Therefore, such construction recognises that this situation is not going away any time soon. One of the dozens of facilities currently seeking a vaccine might be lucky, but inescapably the most recent vaccines for HPV and chicken pox took 15 and 20 years respectively to develop.
When government wants to, it can use its own land to construct anything.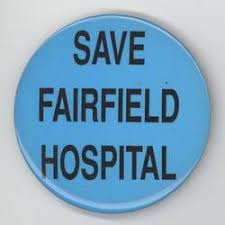 Those that are sick go to hospital. There used to be infectious disease hospitals – the last one being Fairfield Hospital in Melbourne, which was closed in 1996. I once had a week in Fairfield as a teenager when I had a severe respiratory infection for which there was no obvious reason. In another time, I could have been the first in a line of pandemic victims with an unusual set of symptoms.
COVID-19 has shown that it is preferable to have the capacity to treat an infectious disease for which there is no cure and but importantly to have the skills to treat patients without the disease being let loose in the general hospital environment.   After all, warnings of recent epidemics have been largely ignored; but now the pandemic has come upon a World which has been shown as hopelessly unprepared.
The third mixed message follows on and involves border closures. With the Victorian outbreak, the hysteria is rising again. "Victoria is the Lazaret State". Australia has suppressed the Virus to such an extent that it can be isolated to specific areas. So you can lock down particular areas; not the whole State. You prohibit movement outside that area until the virus is suppressed; those who don't obey go to the quarantine facilities and join the overseas arrivals.
The bluntness of this message may act as a deterrent. We have not worried about the niceties of language for the asylum seekers; so why not those that flout the COVID-19 regulations. No exceptions, not even for the rich and infamous. However, there must be designated quarantine facilities that are run as such. Once you have defined quarantine facilities and the staff requirements you bring certainty into the process.
My son came back from the United States in early March and was case 13 in Victoria. It was uncertain times as knowledge of the behaviour of the Virus was not as well known as it is now. His spread was contained. That meant inter alia that the whole family stayed at home without any direct contact with anybody until all were virus-negative. However he and his wife have defined antibody titres, as presumably have all those who have recovered in Australia.
Before we have more mixed messages – of having some recognition of their status, what does it mean? Can such people travel freely around the country or internationally? Around the world there are a growing number of such people. Do they get the equivalent of a diplomatic passport to travel? What is the ideal threshold titre for immunity required? And the questions mount up because there is still so much unknown. To avoid a fourth mixed message, does Australia just subscribe to the WHO conservative dictum on this subject – especially the immunity passport as suggested by Chilean sources have superficial appeal to some?
After all, there will be a graduated requirement for return to travel. Some places will be safer than others. This one area where a fifth mixed message is liable to arise as the "politician itch" to go overseas becomes unbearable. This pandemic has questioned the need to have all the junket paraphernalia – sister-cities, inter-parliamentary delegations, most conferences and even business travel – let alone ministers and their staff spending vast sums of money for nothing much more than say, having lobster bisque at the George V in Paris.
Been there; done that. Time to suppress the virus of Self Indulgence, which also selectively affects tastebuds. However, for others it has been a fascination – the overseas all-expenses paid junket. What is the government's advice in relation to this? What twisting and turning will Australia see to make sure the lobster bisque does not go to waste?
And of course there is the sixth mixed message to end all mixed messages, Ann Sherry. She has, as recently as February this year, been applauded for all the good works she did for the Carnival organisation. She has now bobbed up co-chairing some Australia-New Zealand outfit to promote, among other things, tourism. Given her propensity to flog ships can we expect Carnival, her old ahoy, to be plying between their ships between Australia and New Zealand?
I understand there is no foundation to the rumour that Carnival is renaming its ships: the Rabies Princess, the Diarrhoea Princess, the Plague Princess and the Leprosy Princess. 
Five Characters in Search of a Disease
We were having lunch in the neighbourhood restaurant that serves freshly shucked rock oysters mostly from the south Coast.
Nearby, in retrospect far too close to us, a table was set for five.
They straggled in and sat down at the table with their bottles of wine. They were five men, well into their sixties and beyond, and typical of men when they gather together, loud talking, joking, passing the booze – as they have probably done whenever they've gathered.
The problem is that these are not normal times. Were they social distancing themselves? Well, no. Their bodies were touching. Was there any evidence of hand sanitiser? Well, no
In fact in retrospect, given that the courtyard was virtually empty, they could have located there.
However, suddenly one of them sneezed and coughed extravagantly. No tissue – he at least belatedly put his hand in front of his mouth. I told him off – told him to cough into his sleeve. I said a few more words. The table shut up for a short time.
Who was this other old codger telling off one of their number? They were stunned, as though being pulled up for a transgression outside the confessional box was itself a venal sin. Then they said no more and went back to their crowded space – except nobody coughed.
It emphasises how tenuous this whole community regulation as been on any long-term change of behaviour, even attitudes. Here was a group of men in the target age for serious trouble if they were unfortunate enough to catch the Virus.
However that is not the imagery that is projected on the screens; rather it is of old people being the victims. In some cases this is true, but there is a problem. It is being able to tell old people what to do – especially when they are not culturally attuned to change, except by extreme coercion.
In this case, I remember these guys as young men – not this particular quintet. They nevertheless represent that chap who limped into the surgery 50 years before with a severely infected leg following a seemingly minor injury a week before. If they have come earlier they would not have had such drastic treatment. Now these men have aged but their attitudes have not changed. In their minds they are disease-proof – that is until the Virus comes calling. They are the most vulnerable age group.
When we left, one of them muttered something that was obviously in the same literate genius sense of "What are ya?", given the others guffawed. Sometimes the larrikin in the Australian persona is seductive; at other times, not so much.
My dining companion who is a well-known public health physician said to me afterwards that we should have told the proprietor to ask them to comply. We did not. That is our fault. It poses the dilemma of calling people out, especially the elderly who always know best (you know the guy who smokes heavily and boasts that he has never had a day off work in is life), when you only have the authority of your voice to make them comply.
Premier, you who presided over a government that gave us the Ruby Princess, should recognise that the situation occurring in Melbourne is only a cigarette paper thin barrier away from occurring in Sydney suburbs in NSW that have similar ethnic demographics where large family gatherings are the regular occurrences – let alone among the men who lunched next to us last Friday.
So may I respectfully suggest that you get your competent Health people to look at the potentially vulnerable local government areas and the level of compliance within each with the COVID-19 guidelines?
Mouse Whisper
Sometimes I come out of my mousehole, and there is this sleek lizard skink sunning himself in the morning rays. He cavorts around my mausmeister's kitchen, and has done so for a long time.
My mausmeister decided then that he would call my industrious friend Dyson, because of his ability to vacuum – clean the floor of pesky insects.
However with the revelations in this week's papers, it asked me why would any self-respecting lizard (and it emphasised the self-respecting) call himself Dyson?
He is petitioning to change his name to Hoover.