In my heyday
Young men wrote to me
Everybody seemed to have time to devote to me
Everyone I saw all swore they knew me
Once upon a song
Main attraction, couldn't buy a seat
The celebrity, celebrities were dying to meet
I've had every accolade bestowed on me
And so you see
If I never sing another song
It wouldn't bother me
I had my share of fame
You know my name
This was the last recorded song of Matt Monro when he was dying of cancer. Matt who? Frank Sinatra recognised him as his equal in voice and ability to connect with his audience. However, there is a plaintive quality – you know my name. Really, you, Mr Monro have been a long time dead – and there is limited space in a nation's collective memory for anyone, even if a superb crooner such as yourself.
The problem is that you may know my name but the passage of time will dull and obliterate it.
That is unless you make sure that there is a memorial, where its message is relevant to an ongoing generation, and not just to remember "my name".
For me, the muffled sound and grainy sight of Salvatore Allende crying out "Larga vida a Chile", and the fact that his cousin, Isabel has been such a prominent author, has meant the name has stuck around, as a romantic standard bearer for the oppressed – something South America has in droves.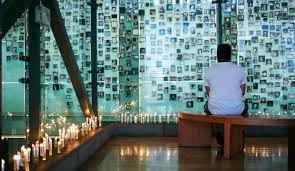 I have recently returned from Santiago where I made a point of visiting the Museum of Memories and Human Rights. This was the brainchild of President Michelle Bachelet, to ensure that one memory sticks in the mind of the Chilean people. On a wall on the first floor are myriad photographs of Chileans murdered by the Pinochet regime – 130,000, probably more.
People who are just an anonymous as Mr Monro may be now, but they exist, not by names but as a powerful dark photographic reminder of the cruelty of Chilean to Chilean; in other words, you may be nameless, but collectively you are not forgotten and that is due to the overarching forgiveness led by this remarkable woman. After all, her father was killed by Pinochet's thugs and she and her mother tortured.
Perhaps this memorial will serve the people of Chile and remind them to never abandon democracy again. Never, never. Ask Chileans of the age what they were doing on the 11 September 1973, when the military forces were unleashed on the democratic institution and they know, as well as those of my age know what they were doing when we heard John Kennedy was assassinated.
On the surface, Chile is now a stable country with a reasonable economy, the most robust in South America. Some may say its economy is built on copper, but Chile is increasingly diversified. Santiago could even be a Spanish speaking Australia city if it was not for the appalling slums that litter its outskirts.
But what of the forces behind the public face of the Chilean coup and the lugubrious Augusto Pinochet on 11 September 1973, during which the legitimate President, Salvatore Allende, was probably assassinated? That ghastly horn-rimmed Kissinger and his President Nixon, who also gave us the Killing Fields of Cambodia; only worth remembering for the cold-blooded approach to their fellow humans.
Unlike Michelle Bachelet who has gone some way towards rectifying one of the injustices they perpetrated.
Pain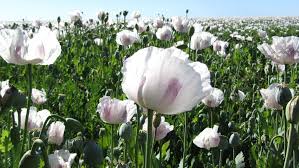 One of the most unexpected sights is driving around northern Tasmania in early summer is seeing field after field of opium poppies with their delicate pale mauve flowers giving such an innocent touch to the sinister drug industry which is dependent on its supply from this one of few legal areas for opium cultivation.
I am not one to unnecessarily applaud anyone, but I do applaud the Chief Medical Officer, Brendan Murphy, for sending out 5,000 letters to doctors who have a profile of high prescription of opioids. That letter elicited the usual aggrieved response, particularly as it was sent to so many doctors. The problem with many doctors, even in a climate of increasing peer review, is this natural reaction to being questioned on "infallibility".
Even if the letters implicate those who have a legitimate excuse, it should flush out those who are just drug dealers with a medical degree. Let us get one matter straight, this letter relates to chronic usage – not acute usage. There are times when complaints have been made of the under usage of such drugs where the need is acute.
I well remember the country doctor who was well known to government for over-servicing which, among other misdemeanours, involved handing out opioid prescriptions. When this particular doctor died, his funeral procession through the town streets was lined by grateful dependent patients. It was an ironic way to end one's days, with a town, which had become addicted to this one doctor.
I hope that the Murphy initiative ends with a marked decline in the chronic prescription of opioids – it is a strange state of affairs that doctors are reportedly suddenly afraid to prescribe opioids because of the letter rather than fearlessly continue to exert their clinical judgement as to whether opioid use in a patient are justified.
For my part I have an auto-immune disease in which pain has figured so prominently that I was taking the maximum dose of paracetamol each day and counting the hours until my next dose. However, I eschewed opioids because of the fact that I feared addiction, given how long I would gave to take them. Just hankering for my next paracetamol tablets was warning enough. I survived the time without resorting to opioid, and fortunately my need for analgesia has abated.
It was interesting to note that the recommended maximum dose of paracetamol in the USA is lower than in Australia. I wonder whether this had any effect on its use and the substitution to opioids.
The other problem is exemplified by the woman who claims to have been prescribed opioids for 25 years for pain and now her prescription base has dried up. I make no judgement on any individual case but it is not difficult to hypothesise that there is a cohort of people who have become addicted because of doctors, who act as drug dealers rather than as medical practitioners.
I do hope that Dr Murphy's action will lead to this cohort of medical practitioners being exposed and appropriate action taken. The medical profession will be well rid of them.
In the USA, as usual with the vigilante approach long after the wrong has happened, they are lynching the drug companies without solving the problem. The drug addicts are there; the overdoses are there. Making the drug companies pay does not solve the problem. However, when combined with an initiative such as being prosecuted by Murphy, it just may work. Keep it up, Doctor so that its success will be celebrated as part of Murphy's lore.
Where do we go from here?
The ABC has produced a four part series Old People's Home for 4 Year Olds; it is modeled in some degree on a BBC series of the same name.
Lucy Mangan wrote in the Guardian about the BBC version (sic):  The show continues to tread the fine line between heart and sentimentality, between reporting on measures involving vulnerable groups without patronising them … and that at the very least the sociological gubbins should be let fade into the background instead of the makers trying to paint a scientific gloss on the commonsense appreciation that anyone's mood, mobility and memory will improve if you throw activities, new experiences, a few highly supervised hours with some charming infants and the money to pay for it all at them.
I am somewhat uneasy at the sight of four year olds being led into an old people's home to play with the residents. To me, the children could just as well be going to the zoo. These are strange creatures to the very young; and the carefully depicted interaction predictably elicited parental clucks by the commentariat at the wonder of it all. Annabel Crabbe is the ideal presenter.
However, where is it all leading after the cameras are turned off and the academics drift away to write their papers? The numbers participating are few and given that the camera cannot be a continuous record but one determined by the selectivity of the director, then the temptation is to have the cutest cuts and leave out the scenes that do not correspond to the producer's definition of bliss.
There have been other experiments, such as the Seattle one where a preschool was placed in an old people's home. It has been locally successful if one can believe the reports. However, it is just one example; but what does a policy maker do with such a project to make it generalisable? The other factor is the enthusiasm of those who initiated the transfer of concept to action. They have a vested interest in making it work, but times change, enthusiasm wanes. These sort of projects need a wider support base not only to be sustainable but more importantly generalisable.
The actual conduct of the operation probably requires a high level of supervision, because one is dealing with the interaction of two groups where there is both dependence and yet a high level of unpredictability. One group will soon move to another age group and perhaps will be left with a positive view, while the other group are about to die and leave their trace on a filmed archive only.
I remember when I was a small boy and following my father as he went around a ward full of war veterans. At one bed while my father saw other patients I got talking to a patient – a soldier. He was friendly and he talked so that I understood what his life had been, without any sense of self-pity. I remember saying I would see him next week. He smiled, called me "Blue" and patted my arm.
Later, (I cannot remember the time gap) I came back with my father and went straight to his bed. I don't remember whether it was empty or if there was another person in the bed. However when I asked about "my friend", the reply came back that he had died. I could not believe it. I think it was my first experience of loss. Whether this was experienced by any of the children in this "experiment", coming back to see one of the old people only to find they have died. For me the memory has stayed tucked away for years.
Why do you tell stories as you get older? Nostalgia is the province of the elderly and the benefit of this type of interaction is that the elderly have an audience – admittedly a very fleeting, easily distracted audience to which to tell your tale. Perhaps in the end the ability of old people to tell a tale where the audience still has the flush of wonderment is a good thing. But loneliness is a 24-hour experience.
However, if the attempt of mixing the groups is just voyeuristic – "been there; done that"; then I believe the makers of this series have probably done a disservice to all involved if nothing further eventuates.
Old age is an increasing societal challenge. It should not be just a case of waste management. Yet I fear that is happening – and David Attenborough-like explorations of human foibles and cuteness should not replace serious consideration of what can be done.
The clue is in the series – get the elderly to tell their stories, whether they have a four year old audience or not. After all, it gives you a sense of relevance, even when you may be the only one listening. However even one child listening and responding with questions is a bonus. After all, I believe we are all storytellers.
Mouse whisper
I don't know what I will be able to squeal and the Press to write once they silence Trump, but this quote from the New York Times has a degree of murine richness. And I thus thank Mr Krugman for the quote.
At that point you might expect an intervention from the grown ups in the room – but there aren't any. In any other administration the Treasury Secretary Steven Mnuchin, a.k.a. the Lego Batman guy, would be considered a ridiculous figure; these days, however, he's as close as we get to a voice of economic rationality. But whenever he tries to talk sense, as he apparently did over the issue of currency manipulation by the Chinese, he gets overruled.
Protectionism is bad; erratic protectionism, imposed by an unstable leader with an insecure ego, is worse. But that's what we'll have as long as Trump remains in office.