"Ladies and gentlemen: the story you are about to hear is true. Only the names have been changed to protect the guilty."
Strike me lucky, Blue, did you hear that? They are at it again – the Coalition of the Willing has now changed its name to a self-preened great Aukus. Yes, I know the Great Auk has joined the Dodo, but the word here is Aukus. Remember the name! And no cracks about Noah's Aukus.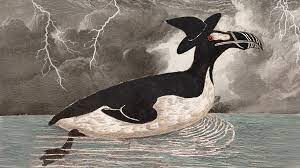 I've a friend who has been associated with the Senior Service since he was 19 years old. I asked him a simple question – why does Australia need submarines? He thought it was a good question, and he answered in conventional terms, that he thought Xi had the same expansionist propensity that the Japanese military had before the Second World War. I said to him it sounded like a version of the yellow peril coming from the North.
My friend made the observation that the French contract was rubbish, and the Adelaide shipyards were just not up to the requirements. From my point of view, having heard from a variety of sources, Master Pyne will have a lot to answer for this in relation to his involvement, apart from any fiduciary gain, just to shore up a few South Australian Parliamentary seats for the Liberal Party! Any objective assessment would have concluded how poor were the underlying assumptions, an impression reinforced by knowing of the recent involvement of Jane Halton as a consultant.
Yet five years ago Australia had entered into a contract – ill-formed, ill-thought through – but did the Australian Government confront the French with its concerns? Probably not. If so, why now go behind the back of the French government?
Nevertheless, the cackhanded way in which Morrison has responded to being hoodwinked into the nuclear submarine imbroglio is par for the course. That was compounded by the gratuitous insult by an American President, who knows of Morrison's failed bet on Trump. Biden seems unable to bring himself to utter his name.
Despised by Biden. Morrison has also pissed off the French (and probably the EU as well) and the Chinese. The rest of Asia is looking askance, especially when they also see Boris, the dishevelled spectre of the playing fields of Eton College, in the mix. The question may rightly be asked – why are the British meddling in the Pacific since they do not even have any British Overseas Territory tax havens in the Pacific to defend?
Nevertheless, Morrison is following in the traditions of the recent past Australian Prime Ministers where, despite the trumpet blast about the number of members of the Coalition of the Willing (apart from a Danish contingent of about 50 troops), only Australia and Great Britain made any sizeable military contribution to America's ill-starred invasion of Afghanistan.
The French refused to join, although it had previously committed 17,000 troops to the Gulf War in 1991.  And who can forget Menzies' embarrassing involvement in the Suez Crisis in 1956 where, by Jove, those "gyppos" needed to be taught a thing or two. At that time the French joined the British in tickling Menzies' vanity.
According to my source, the Americans will probably flog Australia the Virginia class nuclear submarine.  At what cost? A lot is the best estimate, and just re-emphasises the non-answer to my initial question, when Australia has a small navy, minuscular compared to both China and the USA.
This Virginia class submarine, with a crew of about 135 sailors, can carry up to 24 torpedoes and Tomahawk cruise missiles. The boat's top underwater speed is about 25 knots (46km) per hour. The submarine has an advantage, namely the reactor plant will not require refuelling during the ship's lifetime. But the question remains of what will the life time look like if it takes 20 years to build this fleet. It does not make sense.
Just look at the logistics. From laying down plans to final commissioning seems to take about six to seven years; but General Dynamics already has a backlog, with the boondoggle being a tasty supplement to maintain the money flow to the American armaments industry in, say, 20 years' time. Needless to say, these submarines will be built in the USA, not Australia. There are just so many subsidiary suppliers of equipment to make Australian involvement in the manufacture impossible.
There are a few other queries, especially as the life of a submariner is not one which is immensely popular with the younger generation. Long periods of time next to a nuclear reactor underwater is not the most enticing job prospect, given the amount of time needed to ensure that the person recruited has the ability to remain sane in a closed underwater environment. So how is this to be answered?
The alternative is to invest in smaller unmanned submarines, more suitable for our shallow coastal waters. These are being built by Boeing and, according to my source, may be the future. They are cheaper; and nobody cries over the sinking of an unmanned drone.
The observations from my friend seem very sound, especially as he is concerned with our defence; not some vain manoeuvre to spend a great amount of funding on a project where the competition is already set between the two heavyweights. The Chinese are investing in more and more nuclear submarines.
Deployment of nuclear submarines confronting the Chinese in the South China sea should be left to the Americans – and the Japanese. In the undersea domain, the increase in Japan's submarine force is highly regarded throughout Asia, and even America's anti-submarine warfare operators struggle to track Japan's modern fleet of super-quiet non-nuclear submarines. Note the comment about the stealthiness. This was a major criticism of the French submarines ordered by Australia, which apparently are so noisy one can hear La Marseillaise anywhere if the enemy wishes to tune in.
Even Taiwan is building new submarines. Paradoxically, there are some suggestions, one of which is that the Americans are seeking to reduce their nuclear submarine fleet. This may give some clue as to the US interest; and hence sloughing a few off to Australia – obviously at the right price whether for outright sale or some form of lend-lease – to shorten the period from 20 years to a much more "acceptable" timeframe. These alternatives may have more currency now the possibility of such has been denied by a former US Secretary for the Navy.
Sometime in the future there may be six nuclear submarines under an Australian ensign; an expenditure which could have been spent on a more mobile unmanned underwater navy, able to have quick deployment around the vulnerable coast of north-west Australia demonstrated so clearly when the Japanese attacked there, as well as Darwin in 1942. I wonder still whether this "sometime in the future" scenario will ever eventuate, but I certainly won't be around to see it.
I do not weep for the French. In the 1990s, when President of the Faculty of Public Health Medicine within The Royal Australasian College of Physicians, I coordinated with Saatchi a protest against the French nuclear tests in the South Pacific at Mururoa Atoll. This protest involved colleagues from New Zealand and other South Pacific constituencies. I also well remember the callous bombing of the Rainbow Warrior by the French in Auckland Harbour in 1985. It should be noted that the French last withdrew its ambassador from Canberra in 1995, after Australia had withdrawn our ambassador from France two months earlier.
Given all this, I am sure that Malaysia, Indonesia and the Philippines will be unhappy about Australia gratuitously poking around underwater in the archipelago, knowing that there are already a number of nuclear submarines close by, if not in disputed territorial waters.
The other diplomatic problem for Australia is that the last thing the South Pacific nations will want is a nuclear reactor with a boxing kangaroo motif berthed in their harbours, which reinforces that point about the unattractiveness of the submariner's life.
But then, will this whole extravaganza ever occur?
To boost or not to boost 
An advisory panel, independent of the Food & Drug Administration (FDA), has voted to recommend administering Pfizer vaccine booster doses to people over 65 and those at high risk of severe COVID-19. The shots would be given at least six months after the original two shots.
The panel had earlier voted against a broader proposal from Pfizer to make booster shots available for people 16 and older. However, the FDA is not bound to accept the recommendation.
What is important is that Israel and USA have evidence for the efficacy of boosters, and it seems that six months is an indicative time for a booster dose of both Pfizer and Moderna vaccines. The need for a booster for AZ vaccine is less clear. What is known is that the AZ vaccine is a "slow burner", and immunity levels build over time, especially when the dosing period is stretched. Currently the gap between first and second doses is between eight and 12 weeks which gives an optimal immune response.
For the third booster dose, it may be preferable to give a different brand of vaccine than the one used for the first two shots. This is specifically mentioned for the AZ vaccine. This would be positive news for those Australians over 65, who have been denied access to the Pfizer vaccine for their initial inoculation.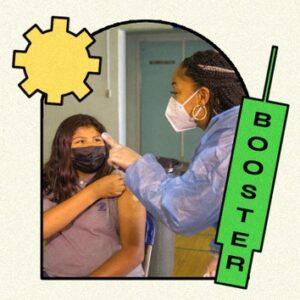 Booster shots are subject to speculation as to efficacy, but both Moderna and Johnson & Johnson are lined up seeking FDA approval. There is a suggestion that the Moderna booster requirement may be half the initial inoculation shot and, given the arrival of Moderna vaccine into this country, such information is relevant.
What is important is for the Government to develop a national approach to boosters, assuming that Australia will follow the FDA decisions, and moreover Israeli experience. In other words, let us not get caught up in the no man's land of indecision; the Government failed comprehensively in relation to vaccines – they cannot afford to fail again.
The debate still centres on the level of vaccination and applauding the great response of Australians to be vaccinated once the vaccine hesitancy was  overcome. I for one, was in that cohort, and masked my hesitancy by taking the advice to space the influenza and COVID-19 vaccines. As I wrote in an April blog:
The other one, given the problems with the rollout, if I was able to secure a first dose, how long shall I have to wait for the second dose, and then more importantly, for the booster? It does not seem clear to me, whether (or more optimistically, when that will occur). That is why the J&J vaccine appeals to me more because it is single dose; but will it ever be registered in Australia? Questions, questions everywhere, but only opinions to imbibe. That is my reaction as an elderly consumer eligible for the injection. I am confused, and so will hold back. In the Australian climate it seems the best option is to wait and see.
I hope that same indecision does not dog mixed vaccine boosters, but at least if Pfizer is approved for boosters it can be used potentially across all of those over the age of 65 years. In retrospect, my comment in relation to the J&J vaccine seems have been a good bet. Although there were production difficulties, it is said that the second injection provides near to 100 per cent protection.
In any event, the matter of boosters should not be let slip in the way other matters have been mismanaged, because if boosters prove successful, then a six-monthly cycle hopefully can be converted to a minimum one year with further tweaking of the vaccine. This would then cement the booster added into the influenza vaccination cycle, with the possibility of a combined flu-COVID vaccine. This is in the future, but the matter of boosters must be part of the conversation now.
There is one distraction, if it can be called that. Why should Australia be applying for boosters when the undeveloped world is largely unvaccinated? Australia cannot take responsibility for the world. Yet if Australia accepts public health responsibility for our neighbours, the level should be clearly defined; and once it is clearly defined then these nations should be incorporated so their level of access is the same as ours.Yet at the same time those nations should accept the same level of responsibility as us.  Every society has got its "whack jobs", every society has its level of ignorance, but public health responsibility is universal just as taboos are universal. It is all about the acceptable mix of persuasion and coercion.
Sweden Calling
I read the article by James Baillieu in Crikey extolling the virtues of the Swedish approach to the COVID-19 pandemic.  After reading it, I am sorry to miss articles on the benefits of the "English moat usage in repelling the Virus" or the "Cumulative benefit of monocle use when taking ivermectin."
But I joke, my Lord, when such an authoritative source as yourself waxes lyrical on Sweden and its approach to the Virus. I appreciate you attribute your expertise on Sweden to your genetic pool.
My Swedish friend, a distinguished doctor from the Karolinska, who unhappily has not had been afforded the wisdom of working for seven years for McKinseys, which has been so much on show in its advice to that other McKinsey genius, Master of the Hunt, Greg.
I took the liberty, my lord, of forwarding your Epistle to The Nation of Crikey to my Swedish friend.
My friend, having read the Epistle has replied (sic):
Outcome measures obviously differ vastly whether you are a potential pub client locked (at home) or a frail elderly  person with the sword of Damocles sharpened above you. 
Australia is to be congratulated having saved so far ca 50,000 lives (compared to similar countries including Sweden)
It is somewhat callous to imply that a 0.1% death rate is negligible. The figure is also off by a factor of 10 in developed countries.  I strongly disagree.  
However there are other costs, lives not lived, children not schooled, economic problems to evaluate also before a total score can be tallied. 
To me it seems that Australia 
Was lucky to be able to close borders
Enforce lockdowns that saved many lives
 School closures may not have been evidenced (i.e not been objectively assessed).
Lockdowns only work for short times during which extensive vaccination must occur lest the disease take hold again savagely which is now occurring (in Sweden). 
We are now in Sweden following Denmark in repealing nearly all Covid restrictions, hoping fervently that our vaccination rate is ultimately sufficient.
(Consider) that there are groups in society both more exposed and sadly neither accepting vaccination nor being reached by the information, which is also as clear as it was more than a year ago when the typical Covid patient(in Sweden) was an immigrant taxi driver.  
Subsequently, he informed me that the architect of the Swedish approach, Tegnall is showing signs of stress. Baillieu labels Tegnall as independent; no he's not – he is a civil servant. Baillieu maybe means "maverick". Perhaps if Tegnall resigns, "maverick" becomes "martyr" in Baillieu language.
Baillieu trumpets zero deaths from COVID-19 in Sweden. On 17 September alone, there were 22 new reported deaths and 1,009 new reported cases; then on 22 September, 19 deaths. What a callous statement by Baillieu saying "Sweden's COVID death toll of 0.14% of the population was nearly all people who had a short time to live." 14,000 people about to die on his say-so. As my friend wrote: It is somewhat callous to imply that a 0.1%(sic) death rate is negligible.
While its economy may be showing signs of recovery, Swedish sources still say there is significant uncertainty. It's possible that restrictions to curb the spread of infection will tighten again in autumn if cases rise, and this would impact economic growth.
Over the course of next year, employment growth is predicted to slow down further as GDP increases more slowly, but the number of employed people will still increase. Many businesses are looking for skilled workers again. A total of 190,000 people in Sweden have now been without a job for over a year. It seems a sober assessment of the current Swedish situation complementing my friend's comments. Not a small hit, as Baillieu asserts.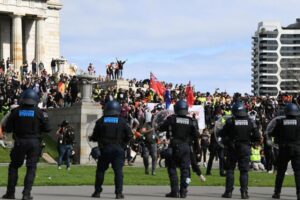 I don't like what is occurring with the Virus unsuppressed in both Melbourne and Sydney, but when an over-privileged graduate of the Melbourne Establishment has a childish tantrum disguised as an objective assessment then I too, a product of the same environment, feel deeply ashamed.
What nonsense his final words: "Restore our rights and freedoms. Stop harming our children and instead protect them."
I hope he was not wandering along the Westgate Freeway protesting this lack of Freedoms with all the irresponsible.
My great grandfather did not lose his money in the Depression of the 1890s in which the Baillieu family was a prominent player; the consequences of the Depression still affect Melbourne to this day. My great grandfather did not have much time for the Baillieus either.
John Shelby Spong
Spong sounds as if came from the world of Spike Milligan.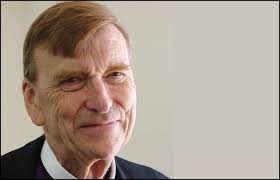 Yet John Shelby Spong was a very, very serious influence. Some may say that Spong flaunted once-controversial views, but now many have become mainstream.  At times I wonder why I retain my Anglicanism, until I am reminded of Spong. I have been fortunate in knowing some great Anglican priests, but it is hard to live in the Sydney diocese which has all but abandoned people like Spong in its literal Bible interpretation and acquired intolerance of anybody not in its own image – seemingly not that of the Trinity anyway.
Yet one statement in the obituary prompted me to seek further information, and that was the statement about Judas Iscariot. He is so vilified, and yet in an excellent article on the iconography by Dr Felicity Harley relating to Judas, the early church was much more forgiving of Judas and his suicide. "The reader is explicitly told that he had remorse; and there is no condemnation of Judas in his choice to take his own life in the way that he does. Rather, in recording the suicide Matthew allows guilt to pass from Judas to the Jewish leaders who ignore Judas's confession and his atoning gesture and are thereby rendered guilty."
Later he was further vilified for that act in addition to his betrayal of Christ, and by the time of the medieval church the Hanged Judas had been consigned to the darkest parts the Inferno.
It is testimony to Spong that even in death, his obituary has made me think, in any areas I thought very much cut and dried.
I am indebted to this lightly edited obituary from The Washington Post, which I doubt will get much currency in Australia.
Long one of the most liberal voices among the nation's Episcopalians, Bishop Spong has died at the age of 90.
In 1989, while he was bishop in Newark, N.J., he ordained the first openly gay male priest in the Episcopal Church, the Rev. Robert Williams.
Though the Rev. Ellen Barrett, an openly lesbian priest, had been ordained a decade earlier, Bishop Spong drew national attention by sending letters inviting all the church's bishops — many of whom opposed his actions — to attend the ordination of Williams that December.
"Christian moral standards have changed quite dramatically," Bishop Spong told The New York Times before the ordination. "We had slavery in a Christian nation. We had oppressed women. I think that our world is more Christ-like when it's open to all of God's children."
And he added: "We believe that the Church needs to be honest. We have gay priests in every diocese."
The author of more than two dozen books, Bishop Spong questioned some of Christianity's fundamental doctrines while over the years he had often taught and lectured at Harvard Divinity School.
"He was trying to find the kernel and sweep away the husk of what it meant to follow Jesus. He was always seeking after that truth," the Rev. Canon Kelly Brown Douglas, canon theologian at Washington National Cathedral and dean of the Episcopal Divinity School at Union Theological Seminary, said; "What he truly came to understand is doctrine and dogma doesn't make us Christian. Doctrine and dogma doesn't make us church. What makes us church is respecting the sacredness of every single human being and creating a world that does that and making sure the church is leading the world in doing so."
"In so many ways," she added, "he was ahead of the church."
Nine months after Bishop Spong ordained Williams, the Episcopal Church's House of Bishops voted to pass a resolution affirming that it is "inappropriate" to ordain a practicing homosexual.
"The way the church treats its gay and lesbian members," Bishop Spong said afterward, "strains the very fabric of my life by tearing it between my loyalty to Jesus Christ, who made a habit of embracing the outcast, and my loyalty to a church that historically has rejected Blacks, women and gays."
Born in Charlotte, N.C., on June 16, 1931, John Shelby Spong was raised in fundamentalist churches amid those whose values were racist, sexist, and homophobic.
When he was young, he was taught that gay people were sinful, women were subordinate to men, and whites were superior to people of color.
His father, a salesman who struggled with alcoholism and died when John was 12, told him he should always say "sir" and "ma'am" to his elders, so long as they were not Black.
Bishop Spong later said the greatest influence on his upbringing was his mother, who was part of a strict Presbyterian sect that refused to play hymns because the lyrics were not "God's words." He later targeted that kind of biblical literalism in his books and sermons.
In 1998, for example, he criticized LGBTQ opponents as "uninformed religious people who buttress their attitude with appeals to a literal understanding of the Bible. This same mentality has marked every debate about every new insight that has arisen in the Western world over the last 600 years. It is a tired, threadbare argument that has become one of embarrassment to the cause of Christ."
He graduated from the University of North Carolina in 1952 and received a master's in divinity from Virginia Theological Seminary in 1955. That same year, he was ordained to the priesthood and married Joan Lydia Ketner, who died in 1988. In 1990, he married Christine Mary Bridger, an administrator in the Newark archdiocese who went on to edit his work.  He was survived by his wife, five children and six grandchildren. He had a sister, who also has outlived him.
Before he became a bishop in New Jersey, he served for 20 years as a priest in North Carolina and Virginia. As rector of St. Paul's Episcopal Church in Richmond, known as the Cathedral of the Confederacy because it was where Robert E. Lee and Jefferson Davis had worshiped, he took down the Confederate flag that flew above the building.
As the civil rights movement progressed, Bishop Spong found himself preaching to Black and white congregations alike, and said he worked to shed what he called the "residual racism" of his upbringing.
"I happen to believe that God's image is in every human being, and that every human being must [be treated] with ultimate respect … And the Black people in America were the first people who made this very clear to me," he said in a 2001 interview with the ABC, Australia's national broadcaster.
He later expanded his ministry to encompass the fights for gender equality and LGBTQ rights. Soon after he arrived at the Diocese of Newark in the mid-1970s, the diocese became one of the first to ordain women to the priesthood.
The Rev. V. Gene Robinson, who in 2003 was consecrated as the church's first openly gay bishop, has recently called Bishop Spong "a prophet", using the term in the sense of "someone who speaks truth to power, who says those things that people don't want to hear because it calls their morality and their lives into question."
"I stand on his shoulders," Robinson added. "Were it not for the work that he did and the ministry that he did and the advocacy on behalf of LGBTQ people that he did, I wouldn't be a bishop. He did it long before it was popular or politically correct — he did it because he believed it was the Gospel."
After publishing "Resurrection: Myth or Reality? A Bishop's Search for the Origins of Christianity," Spong spoke with the Globe in 1994 about parts of Christianity he was challenging.
Neither Judas Iscariot nor a betrayal by one of the 12 apostles was mentioned in early parts of the New Testament, he said.
"Judas was a creation of the Christian Church, which sought to shift blame for Jesus's death from the Romans to the Jews," he said.
In his 2005 book "The Sins of Scripture: Exposing the Bible's Texts of Hate to Reveal the God of Love," Bishop Spong wrote:
"I am now convinced that institutional Christianity has become so consumed by its quest for power and authority, most of which is rooted in the excessive claims for the Bible, that the authentic voice of God can no longer be heard within it."
He did not say Amen. Others may.
There's a Tree in the House
I was looking at an old repeat of Grand Designs in Australia where the owners erected a huge tree trunk as a centrepiece of their house in the tropical bush south of Darwin. It was a huge endeavour.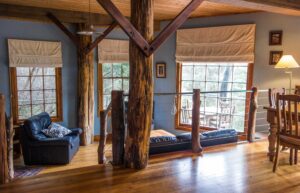 By chance, at the same time, we received a short message from a renter of our property in Tasmania, which read in part; "Thank you so much for a wonderful stay in your holiday house. Our young boys absolutely loved the trees in the house."
I had watched this installation of the tree trunk in the Northern Territory house, and yet did not immediately associate with the three massive blackwood trunks which support our house together with the trunk of a King Billy pine, which was the only old wood.
The blackwood poles were green at the time of construction and this is shown by some splitting in the poles , but the house is nearly 30 years old and seemingly that is now stabilised. The simple observation of children entering the property for the first time, full of wonderment at something we just take for granted; for them the house may be a fugue of interwoven wood. But from ageing eyes like mine, you only see what you don't see.
Mouse Whisper
In Italy, May 1 is known is "Festa dei Lavatori". It is a day of little work, also known in Italian as "la toiletta". In southern England on the same day, there is a little known ceremony heralding the harvest of the first honeycomb. It is known as "Bee Day".