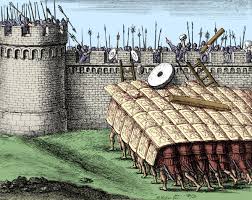 Our jolly duo and their retinue have been in Washington for the normal annual discussions on reintroducing the testudo as a secret weapon in the invasion of the Chinese consulate in Sydney and whether oars for the Australian quinqueremes are suitable for a long blockade of the Sino-Territorian harbour in Darwin. Their visit coincides with the national security adviser in the White House testing positive to COVID-19.
In a more serious vein, it seems a long way to go to give the Yanks a gentle slap.
The question remains as to whether a custom-made suite is being created in one of the defence establishments to test how comfortably these stalking horses can be accommodated for 14 full days after they return. Facilities so plush as to make even the Ministers blush?
By "stalking horses", would the Commonwealth be setting up such a facility so that all the Ministers can assure us mug punters that they can freely travel overseas and say that "all measures will be taken to protect the Australian community" on their return from overseas where "fruitful and productive talks" were undertaken.
The basic cancer in this country is that the politicians and their mates are sealing themselves off from the rest of the country, so they retain all the healthy remuneration and the perks of office and beyond – irrespective of the party. A special quarantine facility would just serve to emphasise this separation. This whole situation is only going to be cured by some deep electoral cleaning, a very difficult task given the way the media's saprophytic existence supports the status quo.
Nevertheless, it may be interesting to see if an obscure single line item appears in the coming Budget. 
Growing Old 
* Residential aged care or nursing home. I grew up with the nursing home nomenclature and feel comfortable in it describing what should be emphasis on the "nursing" rather than the "residential".
It was a revealing article. On a day when the pandemic was raging through Victorian nursing homes*, a report appeared in the Property Section of the AFR (28 July), headed "Estia Health can't quantify pandemic hit to earnings". Says it all.
Estia Health is one of the largest residential aged care providers in Australia with 69 homes, 6,180 beds and more than 7,500 employees across Victoria, South Australia, New South Wales and Queensland. Its chair and board have nobody with any clinical health expertise. Gary Weiss, the Chair, Doctor of Juridical Science (JSD) from Cornell, is the very model of the modern business tycoon, "legendary corporate raider", asset stripper, draining the demand side to maximise profit.
His responsibility portfolio also includes Ardent Leisure; so he is a very busy person. Yet he appears to have no expertise in the central issue – containing pandemic in nursing homes, given that two of the Estia homes have well over 100 COVID-19 sufferers. Doesn't fit your business model, Dr Weiss? What are doing to improve the situation about the rest of your Empire?
For many years I was involved in the management a number of public nursing home facilities in rural Victoria as the both Director of Medical Services and also later as Director of Clinical Training. When I came into one of those positions the first thing was to undertake a review of the nursing home residents' medications with the local pharmacist. It is one measure of a doctor's involvement in nursing homes because one gets a sense of how often the residents receive medical attention by such a review.
There were always stories of medical practitioners, who did visit private nursing homes waving to the resident and then moving on and billing Medicare. The fact that such stories had currency was disturbing enough, but I certainly found in some areas a reluctance of doctors to visit nursing homes on a regular basis.
I was fortunate that the nursing homes I was involved in were attached to the hospital and worked under the rules of the particular health service. I was able to thus monitor and encourage the local doctors to see the residents regularly. May I also say that there are some general practitioners who are interested in geriatrics and they should be identified as future role models for their less involved colleagues. At that time there was a country health service that had completed the transition from being an acute care facility to one which concentrated on care of the elderly, and the nursing staff re-trained accordingly.
The problem was that this model needed a "champion", but the doctor, who initiated this change was too self-effacing to promote his model widely. It was regrettably a lost opportunity.
These public nursing homes exist as a function of the health care system. It is ridiculous to maintain the fiction that they are a home in the conventional sense. Health care is superimposed on a residential environment. It should be noted that the public sector has 10 per cent of these nursing home "beds" in Victoria and yet only 0.6 per cent of the COVID-19 sufferers.
Private nursing homes and the local health care services are under different jurisdictions. There is thus a situation when a facility for the elderly, the most vulnerable people in the community, has no formal link to the local hospital. This has been the case before the advent of the Virus and the early responses to this situation showed so clearly this dysfunctional aspect of the health care system, even to the extent of a private nursing home initially refusing to cooperate.
Let us consider the "Before Virus" situation, when an individual resident needed urgent medical attention in a private nursing home, the immediate conventional response was to send them to hospital, often without informing the hospital in advance – or ever. If there is an agency aged care worker, or just a very understaffed nursing home at night, it is just a natural response for the patient to be sent off to hospital regardless.
On arrival by ambulance the resident waits, often in the ambulance, is admitted to the hospital or left in the emergency department and sent back to their "home" often without any communication between hospital and aged care facility. If admitted they are either discharged back to the home or to the mortuary.
So much for coordinated action! The lack of same has led to mutual resentment between nursing home and hospital.
However before the pandemic arose, establishing a Royal Commission to take the heat out of the sector seemed the best choice.
The Aged Care Quality and Safety Commission has been, as I said before during the Time of Newmarch, one of the most useless neo-government bodies I can remember. The Royal Commission seems to be an irrelevancy as it grinds on, with Lynelle Briggs and Tony Pagano only reporting in October; personally I have a high regard for Lynelle Briggs.
Significantly the Commonwealth now with a medically qualified Departmental Secretary, Brendan Murphy, with a broad knowledge and contacts with Victoria, his Department has been able to move relatively quickly to mobilise the hospital workforce, bolstered by AUSMAT, to fill in the deficient work force in the private nursing home sector. How different from the uncooperative, often confrontational scenario described above!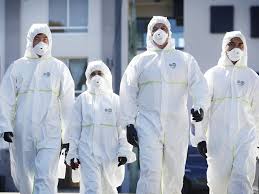 The Victorian government is developing a strategy on the run. The question remains of whether NSW should have recast their policy after Newmarch rather than having it been bogged down by one of those face-saving useless inquiries. On the other hand by early response using AUSMAT, the North-western Tasmanian infection of a number of nursing homes was nipped in the bud. That was a lesson Tasmania seems to have learnt. The essence is that the States assume responsibility for the private nursing home sector. What is happening in the other States in the wake of the above disasters – nothing? One only can presume that the private nursing home industry is fighting back, and of course seeking government support rather than asking their shareholders to assume extra financial responsibility.
The nursing homes are not generating the Virus; it is being brought in from outside. However, once it is in the nursing home, it has the sort of chaotic environment in which the Virus loves. Nursing homes thus will require extensive structural updating, and not the least in this time of the Virus, the most effective air conditioning. AUSMAT brings that order to curtail the Virus.
However, the staffing, the qualifications, the required skills, the discipline required are the critical element. I find it somewhat baffling that the AMA have called for a Royal Commission, while there ostensibly is one due to report before the end of 2020.
However, in this area where there is a lack of objective data because in reality government oversight is minimal; then the various politicians fall back on anecdote. In so doing, it only serves to emphasise the disparate quality of the private nursing home sector; one politician has a good experience and therefore it is only natural to generalise from this one case in the absence of systematic data; a second politician has a bad experience … It is another matter for the politician to use his experience to defend the whole sector.
Having had a long association with this sector, it has been clear to me that it is important the industry should be recognised as part of the health sector – and therefore management should be devolved to the States so the possibility of co-ordination can exist, particularly in times of emergency. For instance, it was almost nigh on impossible to get nursing homes accredited and staff credentialed – as occurs with hospitals, because private nursing homes exist under Commonwealth rules. Those with shoddy practices are always resistant to such oversight, and unfortunately my experience is that the Commonwealth effectively goes along with that.
The problem is the all the health services concentrate on the services for which they are directly funded; and any regional co-operation is personality dependent. If there is a lazy or incompetent manager, the system is such that it protects them, because conflicting anecdotes and personal prejudice tends to thwart the solution – competent management.
Public/private health services have tended not to work because the mix stumbles over the financial imperative. The question boils down to how much am I, or my family, willing to pay for me to be placed in a nursing home environment. For the family without contacts in the health sector, the lack of objective information is a major problem when families are faced with making a choice and thus fall back on affordability and public relation handout where every private nursing home is "an invitation to Paradise".
The better the nursing the less the knee-jerk reflex to bundle the patient off to hospital when ill. The more a doctor visits the better the preventative measures. The presence of a competent specialist geriatrician, especially those with psycho-geriatric experience who has a regional role in not only reviewing the difficult resident but educating the local general practitioners and nursing staff, the better the care. The whole matter of medical training in geriatrics and its ongoing turf dispute with medical rehabilitation specialists is another issue, which needs resolution in the longer term. However, "turf issues" are not helpful.
The last thing that is needed when the AUSMAT bring order and control of the Virus and then leave, its immediate task completed; yet there appears to be no national plan follow up. You know the normal mantra, "we have to wait until the Royal Commission reports."
I would accept what Murphy and his mob decide rather than wait for a Report encased in governmental aspic, even one with the redoubtable Ms Briggs.
By the way, it is unfortunate comparison of AUSMAT with the SAS, AUSMAT do not, to my knowledge, kill innocent bystanders.
To Dr Weiss and all of your fellow owners of nursing homes, nursing home care should be a different vehicle – one shorn of the primacy of the dollar, one where you realise irrespective of how wealthy you are, old age approaches.
If one of the outcomes of this pandemic is to improve overall standards, improve co-ordination with the nursing home sector, enhance mutual respect, have a regular interchange of data and engage in all the rules of good management that the text books provide, then Australia should be satisfied. I for one want to be assured that I will not die in a bed of soiled sheets, where nobody comes and death arrives as a massive relief.
Fr Don Edgar OGS
Don Edgar died last week. Don was a country boy; his parents ran the newsagency in Wangaratta at the time I entered his life. Don and I met in College. Don was a theology student and I a medical student. There was nothing memorable about our meeting, which is often the case when you run into somebody and although you may immediately have nothing in common, you have an instant mutual regard – and form a friendship.
One person we both admired was the College Chaplain, Barry Marshall.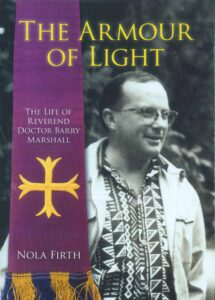 Following Barry Marshall, Don had a lifelong association with the Oratory of the Good Shepherd, in which he was appointed Companion, which brought a set of obligations where "piety" had a real meaning.
Barry Marshall was a charismatic figure. He influenced Don immensely. Marshall grew up near Coolah, north of Dubbo. His father was a grazier. It was unsurprising that after a stint in the RAF during the war and then ordination he became a "bush brother" based in Bourke. It is a funny thing but if my friends and acquaintances were a typical cross-section of Australian professionals, then there must have been a rite of passage to pass through either Bourke or Broken Hill on their way to their future career.
Both Marshall and Edgar were committed Christians, and Trinity College at the time of Marshall's chaplaincy had a balance of spiritual guidance and robust secular behaviour. Marshall had a twinkle in his eye and reminded me of Father Brown with his kindness, his ability to listen, to have an easy relationship with the "Jocks" and possessing disciplined firmness. There were boundaries that he would not cross, and Don inherited much of this sturdiness. It was a tragedy that Marshall prematurely died as the result of an accident in Oxford, when he still had much to fulfil.
Don's religious discipline I suspect had its seeds in his early time from the age of 13 being a naval cadet, with an eventual career beckoning at the end of his teenage years. He was a model cadet, midshipman and at the time of his resignation to pursue his religious vocation, a sub-lieutenant. Many of his fellow naval officers were in College at the same time but studying electrical engineering. Generally, aspiring naval engineers were sent to the UK for graduate education. Electrical engineering was the exception because graduates could study under Charles Moorhouse, who was Professor at University of Melbourne and regarded internationally as the doyen of this discipline.
There was one memorable night after we had both graduated and he was a curate in a country parish near the Victorian border in the North-east in the lee of the snow-capped mountains. My then wife and I were invited to stay with him, but the weekend was one of filthy weather that only Victoria can produce, windy, sleety rain – and the drive north in a car, far from waterproof. The heater gave up early early in the trip.
It was miserable, but eventually we were able to find the vicarage. We were almost completely frozen. However when we entered, the transformation was miraculous. The building was small and hardly imposing, but inside the fire had turned the rooms into a welcoming environment; the claret was at room temperature, the soup was simple – and Don was an easy-going welcoming host.
We had arrived long after the time we hoped to get there, but the fact that Don had provided such a comfortable destination is a memory that has been indelibly imprinted ever since. Never then and since had I felt such a welcoming environment – there is an element of magic – or is that another word for a unique spiritual experience?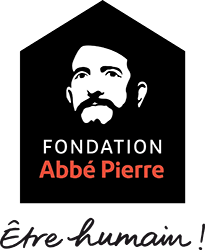 Such was the nature of this extraordinary man who spent many years emulating the Abbé Pierre dicta – as a worker priest in railways yards in France, where he always said he was cold-shouldered by his co-workers until they found out he was an Australian not a Pom. On his return to Australia he continued to work in the railway yards in Darwin, he got married, had four sons.
During this period he re-entered the mainstream to the extent that for a time he was the vicar in Tongala, a dairy community in northern Victoria. It was another wintry night in 1981 when I was on my way to see him and his family, when my car aquaplaned on the flooded road, and the car ended up against a post and burst in flames. Maybe, it was an intercession, which caused the miracle of my escape from the car before it caught fire and  burned. My injuries caused by the accident prevented me from moving for weeks afterwards, and I was shuttled from hospital to hospital. Don visited me in hospital, but it was another six months before I visited Tongala and met the family.
Over the years we would see one another periodically as his domestic circumstances and calling changed, but when he finally landed in the western suburbs of Melbourne working among recent arrivals, in particular the Southern Sudanese community, it was almost impossible to find out what he was achieving so self-effacing he was. He just would not talk about himself. It was only listening to the sons talking about their father at his funeral that I knew what I had missed.
We had seen him last in February when we shared a Candlemas cake. He was then hampered by bilateral carpal tunnel operations, which ironically left him not only with stigmata but also dependent, which he hated.
This year has made communication separated by borders difficult, and it was only several days before he died that his stepdaughter asked that he was moved to palliative care and he specifically had asked her to let me know. As I said, I thought he was indestructible and he would bury me, but that was not to be. When he heard an audio message I sent to him, he responded with: "Good old, Besty."
He died two days later.
The Eucharist was held at All Saints Footscray, from where he was farewelled by ten family members and an impressive array of the Church hierarchy. There were over 200 sites watching via online streaming. Modern technology had enabled us to be involved from 900 kilometres away.
Given the simplicity of his life, I wonder what he would have said if he realised that he was being borne away to his Destination in a Rolls Royce hearse. "Good old, Besty, trust him for noticing" and I can hear that laughter as he said it. 
The Day the Mormon came calling
It was just an ordinary day in Parkville some years when looking through the window of his terrace house, he saw two young clean cut men in dark suits, white shirts, thin ties and close clipped hair walking down the street. The boys had arrived from the Ark of Mormonism, he thought. It was an affluent neighbourhood so the two Mormons took the chance of separating. They stopped in front of our hero's house. Next moment there was a knock on the door and the young watcher answered the door. The normal response to tell them to politely to go away was replaced by another stratagem. There being only one chap was just too tempting.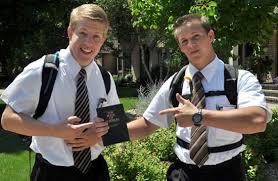 The young man was invited in and seated in the front room. Before he could get a word out, our hero asked directly "Are you a Christian?" looking intensely into the eyes of the young man. "I am a Mormon," he commenced as he fingered what was probably the Book of Mormon. The Book of Mormon occasionally joins the ubiquitous Gideon Bible in motel rooms. Once our hero had flipped through the Book with all its underlying basic dogma, which could be construed as a derivative of American values. Pity about the polygamy, white supremacy with a Palestinian tan, and so on. It was not by chance that it was a Moroni who passed the tablets or was it cactus juice to jolly old Joseph Smith. Bit of intolerance in our hero, (which can be ascribed to youth) when he burst forth with "You are heretic. You need to be saved. You need to repent. You need to embrace Anglicanism."
This conversional diatribe continued; our hero was now out of his chair stalking around stabbing the air with his finger calling out: "Hallelulah' let this infidel be saved." The voice rang out. The Mormon was now on his feet backing around the room trying to get away from the intense yet beatific expression.
"Repent ye, and be saved from this work of Satan. Become an Anglican."
At this juncture, a young woman entered the room. She looked at the chap with his back to the wall. She laughed at the sight as much as that young woman ever did.
"For God's sake, would you stop yelling, you'll wake the children. Let him go. You've had your fun."
"Nearly had him converted when you interrupted. Fire and brimstone. Good for the soul. He just about ready to change your gear that of the Anglican – sports coat, leather elbows, college tie and cords."
"Don't mind my husband, you can go whenever you would like." She had ignored her husband, moved out of the front room and opened the front door, there being little distance between the room and the front door. The terrace house was one of those with the front door is almost on the footpath.
If you have never seen a "scuttle", then you had to see that one, eyes to the ground, clutching his Briefcase and Book, and into the arms of his partner who had come back to see what had happened.
The young woman gave her husband one of those looks and went back to the kitchen or wherever.
Never been troubled by Mormons since though. Whether the Anglican converter's transmission matured as he aged is a moot point.
Putin Nyet
As an addendum, Sydney Russians were one of the groups that voted against Putin. A shirtfront? At least a tug on the coat tails.
Mouse Whisper 
The John Travolta of the Australian Parliament, Furbo Wilson has set up a ginger group called The Wolverines (given the colour of wolverines perhaps it should be more appropriately called the "umber" or perhaps "melena" group.)
Now for Mr Wilson, a few facts:
wolverines stink like skunks
they feed off other animals' kill – the animal equivalent of rent-seeking.
wolverines are snowy relatives of the weasel
So your group of jolly jape-ridden parliamentarians could be called the Wolverine Skunk Weasels.
Beware also if the Labor Party ever set up a Grey Wolves group. Grey Wolves are the biggest killers of your WSW. Take your pick Tibetan, Eurasian, Caspian Sea or Tundra Wolves -all Grey.
We rodentia know stuff!