Given what has been happening this week and I have been on the road in areas suggested as potential hotspots, I am starting this week's blog with a few jottings. The radio has been the constant companion and television ever present in motel rooms, wherever you stop to socially distance.
I jotted down "self important politicians pontificating about how bad everything is – all on fat salaries and perks".
I have never been a great fan of Tony Abbott, but when he was engaged as a firefighter or as surf lifesaver, he may have attracted some media attention, but unless it was all spin he continues to provide a real tangible service to the community.
So what of the current batch of politicians? What are they doing? Now in the time of the Virus where are all these well paid politicians and their side kicks – on the ground helping out rather than buried in spin – helping out with food deliveries – helping their constituents get through the crisis and not inflaming it.
For instance, those people in the high rise have two local parliamentary members – one Federal; one State. Both are Green.
Their names are Adam Bandt and Ellen Sandell. The photo-op outside the high rise apartments – of course. What else, running around picking up scraps of paper at the foot of the apartment blocks setting down the grievances of the locked down residents – and there is more – they are complaining to the government or in the political terms " making representations".
Now given that they represent comparatively small geographical areas, I would expect that these two would know what resources can be rapidly mobilised and instead of uselessly fluttering around be working to assure the "care element" for the tower residents.
Now if I were the local parliamentary member, given so many people have isolated in a series of high rise building, I would be seeking answers to questions of resident safety in the case of fire. Simple questions as to assure the smoke alarms in each of the flat are in working orders and nothing is blocking the emergency exits.
As I jot, in this fast moving scenario, comprehensive testing has  concentrated the Virus  in one of the towers. The Government has seemingly restored some order here.
I sympathise with Premier Andrews. He has the cattle he has been left with – often elected through branch stacking and factional deals. Obviously, a few able colleagues will have escaped the net of incompetence. One of these is Richard Wynne, who is the Housing Minister and the State member for Richmond who is very much acquainted with public high rise towers and what's more effective.
The Victoria Opposition? I'm sorry I suffer from coulrophobia, which makes me having difficulty commenting further.
However, there is one person who overcomes my coulrophobia, and that is Premier Gladys. Obviously the spectre of the Ruby and Newmarch keeps her awake at night.
As soon as the pandemic flared up, she was into border lockdown without any contingency plans. Then a COVID-19 positive teenager turns up in Merimbula -after all, if the spread is going to happen, school holidays is a perfect time as Victorians flee winter.
However, had she anticipated border lockdown and was there a contingency plan? Well, apparently no. However, next day, she is encouraging NSW border townspeople not to travel and may have to lock down that area.
I bet there is no contingency plan in place to withdraw her troops in the face of the advancing Virus to the Murrumbidgee River, and yet she stigmatises her NSW border constituents and reinforces what has been said for years – that the NSW border should be reset at the Murrumbidgee River, so little the NSW government is concerned about its Riverina population welfare.
Data, Gladys, data – 10 cases across Albury-Wodonga and not one for 92 days until a couple of Melburnians were caught escaping Melbourne. The Victorians have locked down metropolitan Melbourne – that should be sufficient in any case.
It also raises the question of why isn't the Government coming down hard on the appalling behaviour in Sydney, where social distancing appears to be reduced to about 30 cms if you're one of the massive pack of people lining up to enter a hotel in Double Bay. Callers to ABC's breakfast program discussed strategies for avoiding unwanted hugs – there seems to be a pandemic of short memories about how to avoid catching COVID-19 if that discussion is anything to go by.
Then Gladys' nightmare continued, JetStar slipped a plane through the NSW cordon, emphasising the inherent fragility of policy being as strong as the weakest link.
Now two of the 48 passengers refused to be COVID-19 tested. If that one percentage of "refuseniks" is considered representative of those who are probably the same cohort as the anti-vaxxers, then there is a need for quarantine space not being a plush hotel to accommodate them.
No doubt, NSW has done an excellent job in relation to hotel quarantine, but that does not diminished the argument for designated quarantine facilities. The new and immediate challenge is a government intent on providing a refuge for an unspecified number of Hong Kongers at the same time as the States are showing hotel fatigue by pleading for fewer overseas flights.
Then, there must be a plan to cater for expanding travel given that for a long period into the future, the world will have reverted to the nineteenth century quarantine situation given the differential effect of the Virus on nations – and not wanting to completely stifle international travel yet not wanting travellers to be isolated for quaranta giorni, the basis for the word "Quarantine".
The Greater Green Triangle
I have spent a lot of time in the Greater Green Triangle over the years. From the time I was responsible for some community health projects in Western Victoria and more recently when I was Director of Medical Services at Edenhope Hospital for a couple of years. If you asked 100 people in Victoria or in South Australia (outside the GGT) where is Edenhope, I would guess the number who knew where it was in each State would run into single digit figures.
However, Edenhope exemplifies a border town and the interdependence of border settlements with one another. Their ability to accommodate to different governments with different legislation is one of the qualities that I love about such towns. I have worked in many.
The problem is that being at the extremes of the State, unless in Queensland where the border is close to the capital, the border residents tend to be forgotten. And this is so, even in Queensland! At the Post Office Hotel in Camooweal on the Queensland-Northern Territory border, you can get the best steak sandwich in Australia – but who would know.
However, let's return to the Greater Green Triangle. The Victorian-South Australian border was set in 1836 to run along the 141st meridian. Although there is some discrepancy between the then and now measurement, what distinguishes the area east and west of the line is the limestone South Australian coast and hinterland; and this is reflected in the buildings. Mount Gambier stone is a distinctive limestone. One of the ways community in rural Australia has traditionally defined itself is through its football leagues. In this area traditionally there has been a strong Australian Rules tradition; all the border leagues are organised around perceived communities, and these do not seem to recognise borders as a barrier.
The Greater Green Triangle has its base along the coast from Apollo Bay in Victoria to Kingston in South Australia, and as it goes north, where the major population centres are Horsham and Keith, before it runs against the Mallee, an area that also crosses the border.
The point is, as I found out when I assisted in the establishment of the cross-border Greater Green Triangle University Department of Rural Health, that it proved a viable size to deliver an area where medical students could gain enough clinical experience. It showed that the region had both the intellectual capital to provide tertiary education for the population locally and also a population to support clinical training. Both Flinders and Deakin University have had a significant investment in this putative region.
Working at Edenhope demonstrated how clearly important Naracoorte (known locally as Nazza) was to those living on the other side of the South Australian border. This was emphasised by the 2011 floods, which closed the road between Edenhope and Horsham. This meant that services in South Australia were crucial.
Look at the data. Regional Victoria has been virtually free of the Virus for a long time. Therefore, the case is clear for a more sensible approach to border closure in the south-west of Victoria and the south-east of South Australia.
The recent cross-border exemption of 50 kilometres recognises the importance of Mount Gambier and Naracoorte to Western Victoria. However, it dose not recognise the importance of Portland, Hamilton, Warrnambool and even Horsham to South Australians living along the border. As I write this, there is apparently a substantial backlog of people seeking to gain the requisite permits to cross the border
Recognition of the Greater Green Triangle – a long-established and recognised area by three governments – is now being undermined under the current COVID-19 restrictions. The tri-governmental decision to close the Victorian border with NSW fails to recognise that this economic, educational, health and community zone should not be undermined during the COVID-19 pandemic.
East of Eden
The Victorian border south of Eden suddenly looms as a small notice and a bigger notice further on announces the East Gippsland Shire. There is one mobile neon sign saying that those from some undefined hotspots are not allowed into NSW. The cars that whiz past, including several towing caravans – all with Victorian number plates. There is no sign of any active policing of the border.
However, that was before the NSW decision to close the border from Tuesday midnight.
There is no doubt that this border crossing will present a logistics problem. It is going to be interesting to see how the NSW police will arrange their supervision of the Princes Highway border for an extended period, given that it very sparsely populated in an area of bush regeneration, with lots of tracks and not much population until Eden 50 kilometres up the Highway. The ADF may be very useful here. Presumably for completeness, the NSW water police or the Navy will be patrolling the 31 nautical miles between Mallacoota and Eden.
This past weekend we decamped to Merimbula. We were curious to see how the devastated region, after the ghastly summer bushfires, was regenerating. We had watched, as did so much of Australia, with horror and helplessness the destruction being wrought. We contributed to the bushfire relief, but it seemed a pittance. We were then ashamed at the politicians' response, many of who were overseas, even though there was forewarning of the disaster afoot, much in the same way this border closure has been handled. Many warning signs; then the white stick panic.
Our visit coincided with the weekend of the Eden-Monaro by-election, and although some equated the electorate with the bushfire, the actual area of the electorate burnt was comparatively small and unpopulated. However, that statement is little comfort to hamlets like Cobargo or Mogo where the devastation was numbing. In Australia loss of property is like losing your mind – your memory.
Yet in Merimbula there are few signs of the bushfire. The trees grow tall in the gullies and onto the rises of this hilly settlement with its glorious views of the water stretching out into the Pacific Ocean. Here is a world of the best rock oysters and great fish cuisine. And that emblem of middle class – the golf course – that has been unaffected. The trees are majestic and the fairways green.
Here is the remnant temperate rain forest, which stretches out onto the slopes of the Great Dividing Range. Yet here is an electorate, where a climate denier whose only bush fire policy seems to be fuel reduction, nearly got elected. I would like to see how she would go about man-contrived bush fuel reduction on Brown Mountain. Fortunately, she received a huge thumping by the Merimbula voters.
South of Eden where the devastation was so pronounced there is a very small population – tiny settlements such Kiah are littered with the graveyards of houses, although the local store stoutly displays a "bottle shop" sign.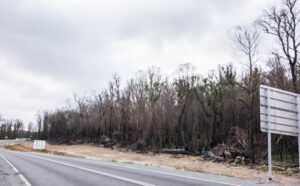 I remember the reports from Eden, which saw people congregating at the wharf. The flames across Twofold Bay must have been a terrifying sight.
The sturdiness of the bush has been shown by the way the new green leafy growth has been shinnying up the black trunks – to announce its new arrival. However, death is beige, trees whose beige foliage hangs forlornly. The trademark colour of emerging wattle is noticeably absent. Yet there are banksia and grevillea in flower – small numbers but as with the grass, and the ferns and wildflowers, exhibiting regeneration. Nature does not wait for government assistance. Will the thousands of eucalypts across NSW and Victoria that now have epicormic growth gradually recover? Time will tell, but the intensity of the fires was such that we are unlikely to see recovery any time soon, if ever.
There are areas of clear felling and trees scorched beyond immediate redemption. There are no sounds – no bird sounds, no evidence of wildlife, no animals skittled on the roadway. It is not yet Spring but this is a silent world, apart from diminishing noise of the highway.
Yet the two government bush fire inquiries are meandering down bureaucratic gravel roads. The NSW Inquiry finished its community consultation in May, and the Federal Inquiry is due to finish on August 31. When will there be recommendations; when will there be action?
The governmental inertia is appalling and, as has been shown by the Berejiklian approach to government, it gives no idea of whether she knows what she's doing – apart from kicking the can down the highway and trying to find it in a white stick panic. The NSW bushfire report is due "before the next fire season" (policy by length of the string principle) and presented to her (policy by ceremonial burial)
However, get ready for her response in 2021 when the remaining South Coast bush may have been subject to fuel reduction, but not in the way she meant – only it was not her fault. Nature had just misinterpreted her message.
Stabilising our "Arc of Instability"
Neil Baird – Guest blogger
Celebrated American travel writer Paul Theroux describes his impressions of our neighbouring Pacific islands in "The Happy Isles of Oceania". It is an ironic title for a book that others have described as "The Arc of Instability" – the chain of islands extending from the Cook Islands in the east to Indonesia in the west.
While the latter epithet was originally applied to geological instability, it now much more accurately applies to geopolitical instability. The Chinese "dragon" has awakened and is blowing its hot, corrosive and corrupting breath in the direction of our archipelagic neighbours.
That makes it high time that Australia and New Zealand wake up to the threat that accompanies China's interest. We should be doing much more to counter that threat while we still can. Instead of our benign neglect of the region during the past 75 years Australia and New Zealand need to become very proactive and pragmatic. It is far too late for idealism – the light on the hill burns low. 
Anyone sceptical of the danger that the Xi Jinping-led China presents to Australia should be reminded that his approach shares the hallmarks of a number of pre-World War 2 dictators.
Inter alia, Winston Churchill's "The Gathering Storm" and Willard Price's "Japan's Islands of Mystery" and "Japan Rides the Tiger" very perceptively and accurately predicted the likely outcomes arising from the behaviour of such "Imperialist" dictators.
Willard Price's books are most relevant to Australia's current situation with respect to our neighbouring archipelagic nations. His description of the Japanese strategy and actions in regard its League of Nations Mandate of the Micronesian territories north of the Equator are particularly apposite in our current situation. President Xi's China is closely following General Tojo's playbook, albeit a little less brutally; so far.
Xi Jinping has demonstrated his imperialist credentials in the South China Sea. They have since spread rapidly with his "Belt and Road Initiative" which, as well as many Pacific and Indian Ocean states, now even encompasses the satirically characterised "Democratic Socialist Republic of Victoria".
A serious and rapidly worsening problem in Australia's immediate neighbourhood has emerged. While many of our neighbouring nations have been described as "failed states", it is probably more accurate to class them as "unviable states". In hindsight, it would have been better if they had formed a federation giving them some critical mass when they gained independence from their former colonisers.
They are, apart from Indonesia and Papua New Guinea, mostly too small, in terms of land area and population, let alone resources, to be economically viable individual nations. All are, to be bluntly honest, seriously deficient administratively. That makes them unusually mendicant and, therefore, vulnerable to external influences.
This reality must be allowed for in any approaches Australia makes to our neighbouring nations in an effort to counter the influence of the Chinese government. These countries need help and, to preserve its own future, Australia needs to help them.
However, to effectively help protect our neighbours from Chinese hegemony, Australia must be much more realistic and practical in its approach than has been the in the past. The paternalistic, diffident approach of Australia has created a vacuum that China is rapidly filling.
Australia must help protect these "Pacific paradises" from the detrimental effects of Chinese "colonisation". This will require a very different diplomatic approach that to challenge the capabilities of both Australian and New Zealand bureaucrats – be they diplomats, trade representatives or "aid" consultants. They will need to be very incorrect politically.
That will require a much more culturally sensitive and realistic approach than has ever been demonstrated by current employees of Australia's Department of Foreign Affairs and Trade and flies in the face of their education and departmental acculturation.
The simple fact is, as any senior island nation bureaucrat will privately confirm, their biggest problem is "political interference". Read "corruption" from elected representatives from ministers downwards. The Chinese government panders to this. Australia does not. This policy puts us at a great disadvantage. Australia must learn to work around and overcome that distasteful reality.
With that reality firmly in mind, Australia needs to much better plan its approach to those tiny nation states. We have to accept that they are not really "democracies" in the way that most Australians and New Zealanders understand that word.
Apart from brown paper bags of cash, diplomacy has a long tradition of purchasing influence. Scholarships, similar to those offered by the successful Australian Indigenous Education Foundation, provided to the bright – they're always bright – children of politicians would be a start.
So would appropriate venture capital funding for business start-ups. "Educational" tours for politicians are always popular. There are numerous examples of what could be done in that line without having to go so far as the old German trick of "limitless" credit cards.
Australia could do much more in the areas of health, education, transport, agricultural, forestry and fisheries development, disaster relief and even defence. Australia could provide these island nations with safe, efficient and comfortable Australian designed and built ferries for inter-island transport. Importantly, Australia should train them to operate and maintain those ferries safely.
In contrast Australia should not be:
(a) building "Taj Mahal" financially unviable convention centres, or
(b) providing fleets of fancy cars to transport the delegates to non-existent conferences.
Above all, unlike our Chinese rivals, Australia should not be pushing debt onto the islanders, which only serves to reinforce their mendicant status.
The aid provided should be practical, sensible, conspicuous and culturally sensitive. There is no point in providing aid in any circumstances where someone else gets the credit for our generosity. Importantly, rather than handing over cash that inevitably would be spent on Toyotas, Yamahas, Hyundais or Maseratis, Australia should promote purchase of Australian goods or services.
"We have plenty of desirable home grown goodies to offer," as one reliable source said to me.
Not To Know What Happened Before One Was Born Is Always To Be A Child
I once had dinner with the essayist, author and sometime editor of Harper's, Lewis Lapham, in New York. It was very cordial, entertaining dinner. I was trying to entice him to Australia to give a talk, but somewhere, sometime he slipped out of the net and did not come.
Later he did come to Australia and Bob Carr hosted him. The meeting of those minds is not surprising because although Lapham was a gifted essayist with a very astute mind, he could not resist writing such words: "I first met him at a New York dinner party in 1962, among the company then traveling in the entourage of President John Kennedy, and over the next half century I ran across him at least once or twice a year – in a Broadway theater, on a lawn an Newport, Rhode Island, in the Century Club dining room, on the stage of an university auditorium." However, he carried his self-importance more easily than Carr, probably because he was a true intellectual.
In any case he was talking about Arthur Schlesinger. Schlesinger was a historian, a very good historian, who saw the world in which he lived, as Lapham recalls, as a place "to construe history as a means rather than the end, the constant making and remaking of the past intended to revise the present to better imagine the future."
Schlesinger, although he died in 2007 at the age of 89, had witnessed the growth of the information revolution, without watching it explode. He noted that it was associated with "an attitude of mind which accommodated the floating world of the timeless fantasy, impatient and easily bored, less at ease with a stable storyline than with the flow of brand names images in which nothing necessarily follows from anything else".
The problem with eloquence is that those mentioned above are listening to a different beat and hence the comment is lost in that floating world. Further, eloquence may mask thoughts that may be too personal, too generalised or just too loquacious.
"The problem is if the population do not recognise that history captures the past then the populace may be presented with solutions where there is no link between cause and effect. To be told what is right without any evidence, without the benefit of history is to caught up in the whirlwind of fake news, fascist politics and quack religions."
Schlesinger was talking about Bush The Younger's legacy in dumbing down American educational standards. Such a statement retains its relevance 13 years later, when the barbarian is no longer at the gate – he is within the gate. Now educational standards are reduced to slogans and chants of invective repeated.
Lapham compares Schlesinger's analysis of history with that of a man who "forged the strength of Roman history into a weapon". According to Lapham, both this man and Schlesinger recognised history was not a nursery rhyme. The name of the Roman was Cicero.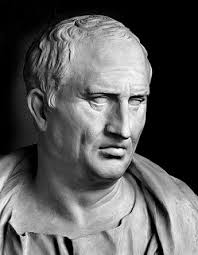 Cicero paid a mortal price for his defence of the integrity of the republic against vanities of would be Emperors; and by the way, the quote at the head of this article was written by Cicero; how prescient a description of the current American President.
Mouse Whisper Primo
Overheard in the executive office of an unnamed casino: "Of course we have bought a vat of sanitiser – how else are going to launder all the money we are getting?
Mouse Whisper Secondo
Premier Gladys, my whisper from the floor, may I give you a tip about salt and pepper shakers – use them first, then hand sanitise. Then everybody can share or else wipe the shakers down before you use them.