If you are writing a sermon, it is good to have a text, in this case from The Gospel of The Boston Globe.
At a time when climate change and those who fight it demand that coal be treated like tobacco, as a danger everywhere it is burned, Australia is increasingly seen as the guy at the end of the bar selling cheap cigarettes and promising to bring more tomorrow.
Along with koalas, kangaroos, and beaches, the country — the world's third-largest exporter of fossil fuels — is becoming known for refusing to clean up its act.
With just days to go before a major UN climate conference in Scotland, Australia is one of the last holdouts among developed nations in committing to net-zero emissions by 2050, and it has refused to strengthen its 2030 target or make plans for transitioning away from its deep commitment.
The country's prime minister, Scott Morrison, only recently agreed to attend the climate summit after criticism from Queen Elizabeth II and a crowdfunded billboard in Times Square that mocked his reluctance to address climate change, calling him "Coal-o-phile Dundee."
Australia's inertia points to a pressing challenge for the world: how to get places that profit from a dangerous product to transition before it becomes too late. With the threat of even more damaging storms and fires looming if temperatures keep rising, a combine-and-conquer approach is required — fossil fuel users and producers both need to kick the habit.
The kings of carbon are not in a rush. A UN report recently released found that coal, oil, and gas production will keep growing at least until 2040, reaching levels more than double what is needed to prevent a catastrophic rise in global temperatures.
Australia is a major contributor to the problem. In energy terms, the continent is essentially a bigger version of West Virginia: Coal is still king, natural gas is celebrated, and the conservative government has a lot in common with Senator Joe Manchin, a West Virginia Democrat, who has blocked President Biden's sweeping plan to shift the country toward renewable energy.
In May, the International Energy Agency released a detailed overview of what it would take to cut carbon dioxide emissions to net-zero by 2050 and keep the average global temperature from increasing by 1.5 degrees Celsius over preindustrial levels — the threshold beyond which the Earth faces irreversible damage.
Near the top of the list: end investment in new sources of fossil fuels.
Australia's response? Yeah, nah.
The federal government still revels in Australia's role as the world's largest coal exporter. A report from the Department of Industry, Science, Energy and Resources last month used a medal icon in denoting the country's status as the world's coal leader, expected to ship out 439 million tons this year, up from 400 million tons last year.
In the last month alone, three new coal mining projects have been approved. In New South Wales, a production hub for the thermal coal burned in power plants — some of the biggest contributors to global emissions — proposals for 20 new coal mines are under review. And that does not include a giant project in the state of Queensland, where the Indian industrial giant Adani is trying to build the largest coal mine in the world.
Nor does it include Australia's expansion of natural gas. The government plans to open at least five new gas fields, including the giant Beetaloo Basin project in the Northern Territory, which has been granted subsidies of around $170 million. The tax breaks given to the fossil fuel industry last year alone were worth more than what Australia spends on its army — and the federal resources minister, Keith Pitt, said this month that the government should spend even more to protect coal and gas.
Critics argue that it is all the product of a warped political and media culture that has spent decades doing the industry's bidding while deceiving the public, exaggerating coal employment, and understating the need to reverse course. Federal elections are often won or lost in the coal areas of Queensland, and with another contest due next year, the coalition government's junior partner, the National Party, which represents regional areas, is playing a familiar hand.
"For at least 10 years, they've been telling people that climate change is rubbish, that it doesn't exist, that we can continue digging up and burning coal forever and a day," said Zali Steggall, an independent member of Parliament who unseated a former prime minister, Tony Abbott, in 2019 with a campaign focused on climate. "They have a difficult job now in turning around to those communities and saying we were wrong or misleading you and we need to do this."
Until the devastating bush fires of two years ago, Australians might not have blinked at their government's continued support for fossil fuels. The country is responsible for less than 2% of the world's carbon dioxide emissions.
But the Australian public has become increasingly concerned. Polls show that a strong majority of Australians want climate action even if the costs are significant and want the government to stop approving new coal mines.
There is some momentum at the local level. Several states, including New South Wales, have committed to net-zero by 2050 and more immediate emission reductions that go beyond the 26%-28% cut that Australia promised with the Paris climate agreement.
Thanks also to changes in farming practices and solar panels on people's homes, Australia's emissions are now projected to fall by around 34% by the end of this decade compared to 2005 levels. But that decline is still weak by international standards, with the United States promising cuts of 50%-52% by 2030, Britain agreeing to a 78% decline by 2035, and Japan pledging a reduction of 46% by 2030.
I remember the first weeks of Whitlam's reign. I also remember the treachery and traducery of McMahon's last year where the Government refused to confront the obvious reforms needed. And with the decay, the government leaked continually rather than made a splash, with McMahon himself the master of the watering can.
When Whitlam won the 1972 election, there was no leisurely transfer of power. He brushed the inept McMahon aside and, with Lance Barnard, with the blessing of the then Governor General Paul Hasluck, set up a temporary duumvirate.
This enabled Whitlam to immediately abolish conscription, end Australian military participation in South Vietnam and release Vietnam draft resisters from prison. He recognised Communist China and warned the United States against renewed bombing in North Vietnam.
Whitlam had a degree of courage, which I have found in only one other major politician in my experience.
I only hope that when the next Government comes to power, the person who becomes the Prime Minister acknowledges the matters relating to climate, as so clearly set out above, and sets about a clear remedy.
It should be possible through those who have paid the Porter legal bills to identify the biggest polluters in this country, not only in terms of climate change but also of the social fabric of the nation …
… and stop this disgraceful persecution of people, who are universally of colour as the modern version of non-white is now called, by releasing them from the various concentration camps, if you want to be brutally frank, imprisoning these persecuted refugees who have come by sea.
And finally, let us judge those who would loot the Treasury, and release their names. Strip away the black tape of redaction and coverup.
The overriding lesson for Australia at this very difficult time for the future of not only ourselves but also the planet – those determining the nation's policy are just not up to the challenge. Brown nosing is no substitute for policy.
An Eloquent Statement on leaving Kinross Wolaroi School, Orange
… I believe that each and every one of us in the graduating class of 2020 has something special to offer to our friends, our family and to our community so long as we persevere. After 13 years of schooling, we will finally enter into the wider world and go our separate ways. They say that smooth seas do not make skilful sailors. This year has been anything but smooth sailing and I know that wherever we end up, we will all be well equipped to face and overcome the challenges that life throws at us. I hope that you find happiness wherever you may go in life and I wish you all the best for the future. – Edward Taylor Year 12.
In explanation, I was looking for something else and came across the magazine of this hybrid Presbyterian/Methodist co-educational boarding school located in Orange New South Wales. I don't know whether I had ever heard of the school, but casually reading it, I came upon the valedictory address given by this young man. I wished I had been able to articulate my future at his age as well he did at the end of a difficult year. He will need all that resilience while the present clowns of climate change control his generation's destiny and will be headstones by the time this young man will fulfill his own expectations.
George Repin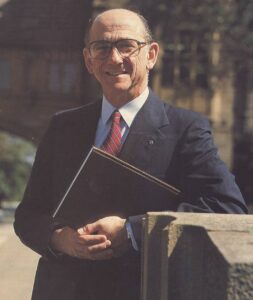 George died a week ago at 3.30pm. He was 93, and thus he had a life well lived. He was a Russian émigré from Shanghai, whose family started Repin's coffee inns in Sydney in 1930. These were very successful, and the name Repin became a household name for a place to have a cup of tea as well as coffee. During the Depression, hard-up businessmen used the coffee shops to run their ailing businesses. American servicemen during WWII, unused to tea, found access to coffee through Repin's – a boon. Repin's in the fifties were the places the Push literati frequented in the afternoon to discuss how many angels were on certain pinheads.
George Repin's father died suddenly in 1949 and George, recently graduated doctor, was midway through his residency at the Royal Prince Alfred Hospital. He abandoned his medical career for the moment and took control of the family business.
Despite being a household name in Sydney, the name Repin meant nothing to me because I was born in Melbourne, and there was a large social gulf between the two cities. I cannot remember any Sydneysider who holidayed in Melbourne. We had family in Sydney, but although we were frequent visitors, my father loving Manly and my mother having a close friend who lived in Point Piper, I can never remember Repin being mentioned. It would have been easier if I had known this when I moved to Sydney in 1979.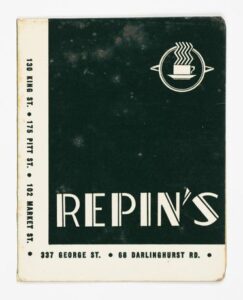 After the family coffee business closed in 1966, George joined the AMA and after a period became Secretary General, just in time for the negotiations to commence on the shape of the health care system following the report of the Nimmo Inquiry in 1969. The Ludecke Inquiry was where George became blooded in dealing with the Federal Government. Then the Whitlam government came to power in 1972, with its stated intent of introducing a universal health scheme.
George was an avowed opponent of governmental control of medical practice. He was also very skilled in preserving the interests of doctors, including medical incomes, while ensuring that he never confused the Federal government's constitutional power to provide a range of health patient benefits – but not doctor's fees. The word  "fee for medical benefit" was the mantra one used when discussing medical benefits and beware the glittering eye if you strayed into saying that the Commonwealth government had the power to set doctors' fees.
It was not riveting stuff, but the meticulous way that George controlled such syntax meant the AMA countered the Commonwealth Health Department from implying it determined doctors' fees. Yet I believe it was a deliberate ploy to imply, falsely, that if doctors did not charge a fee equivalent to the patient benefit, they were flouting the law.
Doctors could charge what they considered to be fair and reasonable. Incomes and prices were the responsibility of the States and I was closely associated with the referendum that Whitlam initiated late in 1973 where the intent of a "yes" vote was to transfer these State powers over incomes and prices to the Commonwealth. The referendum was soundly defeated, but it meant I was well acquainted with this division in Commonwealth powers.
The disciplined Repin approach meant that, for a long period until the destructive Shepherd influence, the power of the AMA over medical incomes was due to this one man, paradoxically through the way he handled the periodic government-initiated reviews of the patient fees for medical benefits.
As such he had a major stabilising influence on the profession at a time when there was a diffusion of medical specialties into subspecialist groups. Much of this could be attributed to the adherence to the relativities which had been built into the medical benefits system but owed somewhat to the way the various existing specialties in 1970 valued themselves. This resulted in distortions of the actual value, but it was the genius of Repin that maintained acceptance of relativities – in one word some of the profession were more knowledgeable and skilled than others in the initial phase. This self-valuation created distortions.  Yet George always maintained that a doctor could do anything, given circumstances, and somehow he was able to assure the relativities in the fees for medical benefit – no mean feat.
His resilience was tested by a severe bout of Guillain-Barre syndrome, but in true Repin style he overcame this disease, which almost paralysed him for a time, and went back to full-time work..
For most of the time during the Repin stewardship, government accepted the AMA as the sole legitimate representative of the profession. George had to juggle  differences, such as between the NSW Branch, which was essentially an employer's organisation, and the Victorian branch with very much an industrial approach negotiating terms and conditions with the Victorian State in a number of landmark cases.
For five years from 1979 I was his Deputy at the Australian Medical Association. We were two very different individuals; he did not support my appointment, but just after I commenced, George went overseas and on return he seemed satisfied with the way I handled the preparation of the AMA submission to government, where I had the opportunity to work with one of the most highly respected and able Sydney lawyers of the time, Bob Stephens.
This gave me an early insight into how organised and meticulous George Repin was. Despite his distaste for government control, his strength in negotiation and ability to coalesce the profession around the importance of medical benefits (whether Medibank or Medicare) paradoxically ensured that his legacy was woven into both schemes. In turn, this has assured the ongoing system Australia has today, despite it having become somewhat tattered over the past decades.
Not long after I started, in early 1980, he agreed that I should take the lead secretariat role in the preparation of the AMA submission to the Jamison Inquiry (the Commission of Inquiry into the Efficiency and Administration of Hospitals). This enabled me to travel around the AMA branches and receive an early valuable lesson on how organised medicine worked around Australia. The AMA agreed to the appointment of Robert Wilson, an excellent economist and cost accountant, to assist me.
The submission was highly regarded by the bulk of the AMA grandees and more importantly for myself was that I achieved an independence within the organisation, which forged the basis of our ongoing relationship.
My relationship with George was totally professional. I do not remember having any social interaction with him. I was never invited to his home; I never even had a social drink in his office or elsewhere. He only told me one thing about his boyhood. It has stuck with me. On one occasion when at Scot's College, after being bullied, he hid behind a fence and threw rocks at his tormentors. I bet he was accurate, but I didn't quiz him.
Always combative though our relationship was, he imposed a way of handling circumstances which proved very valuable. I wish I had had him as a tutor as a young man as he would have imposed an intellectual discipline, foreign to my instincts but I suspect very Russian. Our politics were so far apart, but only rarely did they disturb our relationship, and as someone commented if we happened to be on the one side, which occasionally happened, nobody could stop us.
At the outset I said I would work there for at least five years, as the superannuation arrangements were second best only to Qantas then. In five years and one month after beginning the job, I left to set up a consultancy business. I remember George firmly shaking my hand as his last gesture. George was to work for another three years before relinquishing the post. Having negotiated the move, understandably he himself did not want to move to Canberra.
The one thing I did wonder about was why, after 1984, the periodic reviews between the Government and the AMA were abandoned with his say-so; that was George's source of power and authority. It may be that, after supporting their abandonment, he missed them. Maybe he just got tired of Bruce Shepherd.
As for me, I had experienced one of the most productive five year periods of my life; George taught me a lot; yet I never asked his advice.  After I left the AMA I never talked more than a dozen words to him.
It was a pity because reading his regular column in the "Pittwater News" only after his death, I realised what an underlying affinity I had for George. As with everything he did, he did not waste a word.
When I heard he was terminally ill, I sent a short message thanking him. I hope he read it. I meant what I wrote.
Monterey
The challenge came. What about canneries? You've spent enough time in northern Victoria to know all about them. Mentioning canneries reminded me of what has been one of my favourite places to visit in the world. Previously, in one of my earlier blogs, I had mentioned the junction of the Darling and Murray Rivers as my favourite place in Australia.
After my blog, last week, on tanneries and stannaries, she had said "What about canneries and for that matter granaries!" Monterey, an easy choice!
Lying south of San Francisco, Monterey was written about by John Steinbeck. The canneries that line the waterfront are now stylish reminders of an era long gone when the run of sardines was such down the Pacific coast that catching and canning sardines became the sustenance living of many, especially during the Depression. But like so many profitable fishing industries, it died when the fish were no more – overfished in an era where the notion of conservation did not exist.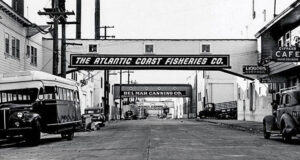 We amble down Cannery Row, made famous by Steinbeck. It retains some of the old atmosphere, if not the smells of what it was. Monterey has its own "rialto", structures bridging the road now announcing that this is Monterey Canning Row, but yet prosaically this "rialto" was only a place for offices rather than being vibrant walkways above the street.
This was one of Steinbeck's haunts and he was very friendly with Ed Ricketts, the pioneering marine biologist whose work, particularly on tidal flows, established his reputation. Ricketts was not unlike Steinbeck in appearance, politics and living a full life, whatever that means. He was killed on the edge of Cannery Row in 1948 when hit by a train. He was only 50.
The cannery façade thus still exists, punctuated by hotels and stores selling memorabilia, but what is the most memorable at the end of the Row is the three-storied Hewlett Packard Aquarium, with the three-storied kelp forest as the first sight of this structure.
The one area where the child in me emerged was the interactive pond where one could handle the various sea creatures, the starfish and the gooey sea anemones. I don't remember any sea urchins, but given their spikes and the care taken to ensure kids like me still had a hand after removing my arm from the water, there probably weren't any; yet it was a tactile experience so important in tuning the senses.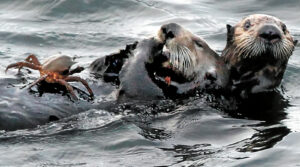 Staying at the Monterey Plaza Hotel enabled us to see the sea otters, frolicking in the sea in the lee of the hotel, with its deck acting as a viewing platform. The sea otter's fur, unlike that of the seals is not waterproof. Therefore, the otters have to eat a large amount of fish and shellfish daily. One's sleep can be disturbed by the sound of those animals cracking open the shellfish as they float on their backs in the sea. One of the reasons for them becoming an endangered series was that their voracious appetites provided competition for the fishermen – and the otter pelts could also command a good price.
Like many of the places I have visited, I suspect Monterey has become one of those tourist destinations, and therefore I probably will never go back, if only to retain memories of a less tourist-infested age.
The Age of Confusion
The advent of vaccination has shown a course of action where there have been both positive and negative aspects, but moreover it has provided a window on what works and what does not.
One of the prime movers in vaccination, when the national levels of vaccination had started lagging in the mid 1990s, was Michael Wooldridge when he became the Federal Minister of Health in 1996. One of the most vocal advocates of the campaign was the late Gay Davidson, whose daughter, Kiri, had died of a complication of measles. Gay was both an influential Canberra journalist and a mother who had first hand experience of the horrific decline of her daughter from a beautiful vibrant child to a helpless vegetative state because of this rare late complication of measles.
The message was clear. Vaccinate! Now another campaign.  What has been encouraging, after a very hesitant start, is how vaccination against COVID-19 has progressed. The problem is that the early ambivalence, aided by the social media, allowed all the misinformation to gather momentum.  Fortunately, the momentum for universal vaccination that may have been slower at the outset has at last been far greater recently. The rare complications from the vaccine administration, which fuelled the initial hesitancy seem now to have been mostly cast aside as witness the successful introduction of vaccination in school children above the age of 11.
The other complication of the early hesitancy was the failure of the Commonwealth government to effectively lead the response, because it had not ordered enough of the mRNA vaccines , banking on both the Queensland version and the licensed AZ vaccine to do the job. The Queensland vaccine was a flop, and those academics who promoted it so vigorously should have been more roundly condemned than they were for their flagrant self-publicity. As for the AZ vaccine, once the production line was sorted it has been effective, if less popular than Pfizer and now Moderna.
What has been done in NSW and Victoria emphasises the desire of people to get out of prison – to be paroled – except each Premier has a huge number on parole, including a substantial number who should continue to be locked up because of their flagrant disregard of the rules. Separating this unvaccinated group for re-incarceration would be a challenge, and currently the appetite for any such action is not strong.
It is time to change reporting the number vaccinated to a more correct number by incorporating the 12 years plus age group. Presumably this is not being done because of the lesser level of vaccination of this age group. This number has been increasing rapidly and will soon not be different from the adult population.
This will be further complicated by the extension of vaccination to children aged five to 11. The White House announced (and since confirmed by the FDA) that they will soon be able to get a COVID-19 shot from paediatricians, the local pharmacy and potentially even from their schools. The detailed plans for the expected authorisation of the Pfizer shot for these younger children are expected shortly, after lengthy studies to test vaccine safety. The recommended dose will be about one-third of the adult dose. It will be interesting to see whether the TGA delays approval in Australia until just before the school year starts next year.
United States regulators have also signed off on extending COVID-19 boosters to Americans who received the Moderna or Johnson & Johnson vaccines and anyone eligible for an extra dose can now receive a brand different from the one they received initially.
From our point of view, there is a need to assure the same level of vaccination in every State (and that includes Western Australia); and the challenge of assuring the first double dose vaccination, monitoring the teenage vaccination, introduction into children and assuring an ordered booster regime needs to be answered – as does the need to factor in additional variants, such as the emerging new Delta AY.4.2 variant identified in the UK and USA. It would be useful to obtain details of the vaccination program – the assumption being we have enough vaccines and identification of recipients nationally is assured, and I mean assured, not waved away into some contract deal among mates.
May I suggest somebody think of Jeroen Weimar for the task, even if he doesn't bob up in a general's uniform (but look out for the coffee cups).
Congratulations, Minister Hunt, you seem to be adopting aphorisms from The Prince, in particular when the news is good: release it unto the multitude in small amounts deliberately and progressively. Apparently this ploy helps maintain the applause.
Mouse Whisper
I was talking the other day to my one of bandicoot cousins, Bullum, and the topic turned to this Virus, the one we are hopping to avoid.  I thought it was a good test of the efficacy for each of the Commonwealth funded Aboriginal Medical Services (AMS) to see how well they vaccinated their particular mob. Bandicoot Bullum said he was a bit nonplussed by those who seemed to speak for the various AMS complaining about the Government not vaccinating their mob.
He thought that it would be one of the key jobs for each AMS to get to as close to 100 per cent vaccination as possible, and only complain if they were not supplied with enough vaccine. He thought there was no shortage of supply; yet doses have been reported as going to waste. But maybe the bush telegraph would tell him something else.
He seemed to have a good point. This is now a time when the strength of the AMS can be tested, rather just being at the mercy of our brother rhetorical advocates.