Today was Melbourne Cup day. You know, the sporting event that stops a nation. Except we have just driven 800 kilometres from   Dubbo to Broken Hill. It is not the first time we have driven between the two cities, but it served as a reminder that going on a long journey with yourselves through the Outback of Australia is a reminder of our diversity. Australia prides itself on its multicultural diversity, but even to my urban eye, Australia also has great climatic diversity.
In the brochures which highlight this diversity there are always pictures of the Great Barrier Reef, tropical rain forests and beaches, Uluru and red deserts, and the Sydney Opera House. However, along a road on a hot day, diversity springs out at you if you care to look.  The subtle changes in the landscape are there. The problem of being the driver is that one drives essentially with a strip of bitumen in front of you. Traffic is increasingly sparse the further you penetrate into the country.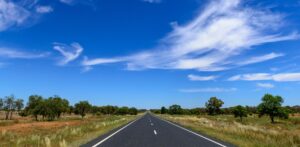 Whenever I go on one of these trips, I say to myself that I must learn more about eucalypts. There have been multiple experts who can tell a gum tree variety just by running their eyes up and down the structure. The fragrance of Australia is breaking apart a newly picked gum leaf and smelling it. Describe the smell and you describe Australia as it has been for thousands of years.
Between Dubbo and Nyngan, there are a number of small towns. This is wheat country interspersed with natural habitat.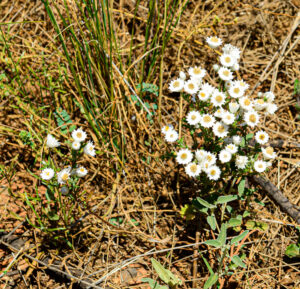 There is a white blanket along the sides of the road. They are tiny white everlastings that nature has gathered into posy-like clumps and then strewn through the bush.
As the soil becomes drier, everlastings give way to small clumps of salt bush dotting the landscape and foreshadowing that there is saltbush country beyond the horizon.
The scrub varies from open woodland to areas of brigalow, with the grey feathery foliage atop a black trunk, the mallees – greenery close to the ground, then clumps of native cypress, some gidgee trees. These are interspersed with the gum trees I wished I could identify.
I well remember driving from Bourke to Goodooga in the north of NSW and my companions identifying the trees as they would their relatives. The most striking of all of them was the leopard gum. Each of these trees and others reflect microclimates in each of these areas being distinct, which in turn makes the whole landscape such a diverse experience.
On our trail today, animal life is scarce – one emu, no kangaroos, a number of feral goats, no cattle and a small flock of sheep in saltbush as we neared Broken Hill.
After Nyngan it is 130 kilometres to Cobar. At Nyngan, in a unprepossessing iron shed which houses the toilets, we find that rarest of commodity, soap – and something in my wide usage of such facilities I have never seen before – paper towels, all maintained by the volunteer group that run the adjacent wool shearing shed display.
Contrast this with the stop at the MacCulloch Range wayside rest area which boasts a children's playground, a barbecue and a long-drop toilet without toilet paper – and where the birds are conditioned to congregate around the toilet when occupied, because the outside wash basin discharges its waste water directly on the ground for the birds to drink. Here there are several plaques identifying NSW Ministers who have made the journey to unveil them – one in recognition of the completion of sealing of the road between Nyngan and the South Australian border in 1972 and the other for the creation of the children's playground and the other facilities there! Talk about turning up for the opening of an envelope – but then the latter was Carl Scully.
However, that stopover is closer to Wilcannia than Cobar, which owes its existence to its copper mines. Then it is 260 kilometres to Wilcannia from Cobar, with no settlements in between.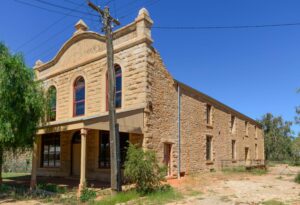 Wilcannia was once a thriving river port where boats were loaded with the wool clip and sent down the Darling River. The magnificent buildings made from the distinctive Wilcannia stone attest to a past colonial magnificence. I was once shown the quarry from which the Wilcannia stone was extracted. It was disused although stone remained under a cover of bush. The stone makes beautiful cream coloured buildings, so much in synchrony with the intense clear sunlight. Perhaps the quarry has been worked out – but the stone would still attract use for building if that is not the case.
Wilcannia is now an Aboriginal town as it has been all the 30 years since I first stayed and worked there. Here was where I learnt so much about the Barkinji people. Today in 40 degrees heat, parked in a nearly deserted main street, we watched the Melbourne Cup on a laptop.
This year travelling the route was somewhat unusual in that rain had come and turned much of the country green.  The salt bush seemed to coalesce with this greenery. The red earth still broke through, and in particular there were some areas which had not received much rain.
The last kilometres through to Broken Hill pass through a plain almost devoid of trees. While there was a rim of hills in the distance, this land was flat and green – it seemed to be a continuation of the Hay Plains to the South, which are so treeless they give an illusion of a flat earth. It is said these plains are the area which most effectively demonstrate this illusion.
At last Broken Hill nears, we turn our watches back half an hour to South Australian time. Now on all sides we see what many people describe as the engine which made Australia – the huge silver-lead-zinc deposits – after the gold rush petered out. There is no way Broken Hill can be described in one paragraph.  I'll reserve that for another time since this one day in the Outback stands alone – yet another tincture to colour the wonderful commodity – experience.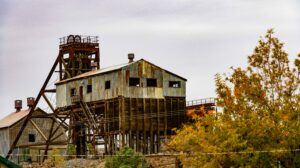 The Three Horsemen of Politics 
"To spend a third of life in unproductive idleness seems a dreadful waste to some people, and now and then they decide to shun the slothful practice evermore.  No one has yet succeeded. After a couple of sleepless nights they are as sleepy as anyone else, eventually become incoherent and irrational and seek the season of all natures."
                  The last six words are stated by Lady MacBeth.
When I listened to the tirade from Minister Frydenberg demonstrating his basic ignorance of what Daniel Andrews had done, I could not believe it – coming from the mouth of someone who in all public demeanour before has shown control albeit behind a quizzical expression.
So what did this outburst signify?  Many applauded him for it. I did not. I thought the content wild and illogical. I have watched politicians over the course of 50 years. Published many years ago in the print media, but seemingly forgotten, I have been jogged to repeat what I said then.
There were three challenges for politicians that I identified.
Sleeplessness
Isolation
Boredom
As I wrote about sleeplessness, it seems to be a badge of honour of some politicians not to sleep. I remember that Margaret Thatcher boasted about how little sleep she needed. She ended up with dementia. When I first wrote about the deleterious effects of lack of sleep, there was not the evidence there is today about its link with Alzheimer's and Lewy body dementia.
I have always likened sleeping as the time you put out the cerebral garbage.  This image seems to have been validated by scientific evidence. When one does not sleep, then the garbage in the form of amyloid or other toxins is left to accumulate in the brain.
I well remember the experiment of "the tipping cat". Here the cat would just be allowed to fall asleep and then immediately be tipped up. This was repeated time and again, eventually turning the cat into feline paranoia.
The image of Frydenberg scribbling away and then launching into the tirade made me wonder about how much "good sleep" he is getting. From a forensic point of view it would be interesting to know what he actually scribbled, and the psi impact on the paper hopefully not reflected in the way Trump violates paper with his black signature.
So that is the first question I would ask of Frydenberg. What about your sleep?
Turning to isolation; the figure brooding, looking out the window – the Person Alone – is supposed to indicate strength and a thoughtfulness, the ability to sustain 40 days and nights in the wilderness. However, the reality is that most politicians hate isolation. My thought is that when they all moved to that new Mussolini era-architecturally inspired mausoleum called New Parliament House, to offset the innate isolation of the long corridors and the vast atria with offices designed for excessive space with the consequence of distancing themselves from us plebs, the politicians employed more and more staff. In the Old Parliament House, people lived close to one another, which in itself reduced isolation – apart from which, the place was so small no one could fit a large number of staff.
However, now politicians have to work in a building which structurally promotes isolation enhanced by the ever-increasing levels of security; then, when a pandemic appears, the frailty of those isolated is shown. When isolation is a negotiable commodity, then it can be brushed aside – but when isolation comes with compulsion to save the health of a nation, then it becomes very challenging because it is real, physically.
Because in a pandemic that's exactly what they should happen -one isolates oneself.
Another problem with isolation is that it breeds ignorance and, when combined with sleeplessness, an inability to adapt. One of the ways to combat this is to listen, not as a public relations exercise, nor one looking for an anecdote to bolster your belief system, but as a genuine effort to discover alternative views. I always remembered the politician who said he went to meetings outside his comfort cocoon, because there was often times one comment or an idea would jolt him from his "cocoon of isolation" and make him think further. Isolation thus has a mental component.
The final component which has grown over the years to feed isolation has been this obsession with security. The activities in the Middle East have fuelled this, together with the increasingly inflammatory comments from politicians revelling in the inferno of populism. When I first entered the political scene, security was not the industry it is today. Even when there was the attempt to assassinate Arthur Caldwell, then the Leader of the Opposition, in 1966 there was no knee jerk response. Security has now become an industry – a commodity – to be traded- and alongside its growth are the vested interests. It is no doubt a contributor to isolation, but how much? One can only say that if one believes it is important to combat "the politician as an isolate" it needs to be factored into any considerations.
Then there is boredom. People believe that hustle and bustle is activity. This boredom was exemplified by the criticism of Mr Albanese's office. It sounds like a playground with or without a sandpit. The problem is that there is not enough real work for these characters to do. They then just play endless games of "gotcha" in between their sycophantic acknowledgement of their various politician employers.  As I once wrote: "Boredom and its consequences have the effect of pushing away some people who could have been important contributors. It would disastrous if, at the centre of the political world, are solely those who delight in the entrails of boredom, and who actually revel in gossip, ritual and games."
In the intervening period I have witnessed how true most of this is. There is no reason to believe that Frydenberg ever gets bored, but it is reason for him and others in high places to be aware that boredom breeds mischief – bouncing between venial and venal. Staff members need useful work to do and if that doesn't exist, you don't need them.
Therefore, if a government does not have an optimistic agenda demanding substantial policy discussion, hope is rationed and eventually boredom thrives from a lack of hope, because there is nothing to do but obfuscate, let forth tirades and generally be unpleasant. Because there is that ghost of the Cheshire cat and all it conceals, to goad. Then add sleeplessness and isolation and it becomes a toxic mixture!
Paul Collier – Lest we forget
I don't know whether his name has been mentioned in the Disability Royal Commission. I very clearly remember meeting his mother though.
At the time I was on quixotic mission handing out voting cards at the Woodcroft booth in the seat of Mawson. Dr David Senior, a rural general practitioner friend of mine, was standing on a single issue of saving the Royal Adelaide Hospital, a perfectly good building on North Terrace, rather than have it replaced with an extravaganza further up the road. The new hospital has since been built; it has had huge commissioning problems but is a legacy to that man of impeccable judgement, Mike Rann, then Premier. This judgement was attested to by his chummy relationship with Lance Armstrong.
Then, as now, Mawson has an ALP member. The electorate is a predominantly outer suburban electorate, but also includes a significant slice of the state's wine industry and now extends to include Kangaroo Island. Woodcroft, where I was handing out cards, was very suburban – wide streets, not many trees, the signature brick veneer homes but not McMansions.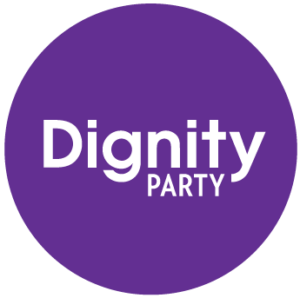 This is where I met Paul Collier's mother. Collier was a quadriplegic, highly qualified who, at the age of 21 had the accident which rendered him with this severe disability. This had not stopped his advocacy for the disabled and he had formed the Dignity Party. He was on top of the Party ticket for a place in the Upper House, but 11 days prior to the election, he died from a cerebral haemorrhage. His name had remained at the top of the ballot. His votes were passed on to the second person on the ticket, Kelly Vincent, a young woman with cerebral palsy, who was duly elected and served one term, and tellingly was not re-elected in 2018.  The conventional stated reason for this was the change to optional proportional voting. If so, this is an indictment of how the community viewed her candidature, not important enough to either vote for or preference her, disability and all.
But then in March 2010, I shall never forget that extraordinary woman, having just farewelled her son two days before, handing out how-to-vote cards for her dead son's Party. I did not discuss her motives with her; she was still wrestling with the grief.  She had told me enough.
When I wrote this to Mike Steketee, a journalist I knew well then, I myself was not disabled, as I am now. Once I found out the complexity of being looked after, as I have, I recognise how difficult it all is. Frankly, I don't know why you need a Disability Royal Commission over four years. What will it tell me in its recommendations about what should be done that I do not already know.
The labour intensity of keeping people alive is huge and thankless; one problem of medical science – from the marginally viable 22-23 weeks pre-term to the centenarian with dementia – is intent on keeping them alive at all cost.  An increasingly number of people recognise, as they do elsewhere, prolongation of life of an obsolete product is about cutting losses – but tell that to the religiously superstitious! It was reported this week that almost 50 per cent of those who have died in aged care in Australia from COVID-19 had dementia.
Society is conditioned to mourn the dead, often a self-conscious piety when it just boils down to how, in personal terms, the dead are just names. We fumble in how we express ourselves when we feel nothing. Going to funerals as a matter of form is not grief. Grief is a solitary situation, and when you lose your mother as a boy, it lives with you for the rest of your life.
Disability has been raked over. Let's assume the cost is considerable; the modelling light on "how much" flashes "a lot".  In these times with a government in deficit, if you want to care properly – you need a tax.
Confront the country with the figure for care for a moderately disabled person if treated individually at home or in an institution; then ask each taxpayer individually would they be prepared to pay that tax, given that around every health problem is a shell of fakery and profiteering associated with the privatisation of aged care. The Disability Royal Commission should be able to answer some of the questions underlying the statement in this paragraph.  If they have, then why the need for extension?
Apart from the here and now I faced the dilemma of how to confront disability almost 50 years ago when I was a young doctor responsible for an adult rehabilitation ward. One day in 1971 a 12-year old boy was admitted, paralysed down one side, a spontaneous event without apparent cause.
He was a bright boy and I had immediate empathy with him. I saw him every day. He came from the country, but nobody came to see him. His parents seemingly had disappeared at the onset of his medical condition when the boy was transferred to the city. It is very difficult to be child in a rehabilitation ward where most were elderly. For some reason, it was difficult to discharge him, because facilities for a child soon to become an adolescent with all that meant were poorly differentiated. Adolescent medical care as a specialty was in its early stages.
Thus, for respite on a couple of weekends with the agreement of the hospital, I took him home so he could experience family life.  Our sons were seven and five at the time.
We lived very close to the hospital. My then wife and I contemplated whether we could go further and seek to take over his future care and education. We consulted a range of heath professionals, before initiating anything. We never mentioned it to anyone – we were not adopting "a pet" to be discussed over morning coffee. The question was whether we could give him a better life, not him to be regarded as a trophy.
We both agreed the question was whether we could be both appropriate "foster parents" or "adopted parents". In the end we were dissuaded; we had to cast off any incipient emotional ties. However, for a period we wondered whether we had done the wrong thing. As it turned out, we probably did the right thing – but how would you know as we did not maintain contact. We did ensure that he would be cared for in the short term and not be forgotten. No Royal Commission could have helped us then or, I suspect, now.
In hindsight, given where we both are now, it was obviously right, but then nobody will ever know what would have happened if he had become part of the family. Dwelling on such matters at an individual level gets one nowhere, except to think that Ron Sackville must have wisdom which the rest of us do not. 
Mouse Whisper
As someone who remembers the toll of the 1980s, this piece from the New York Review of Books is sobering, so much so that if a mouse could shout from the rafters and not squeak, I would say loudly:
There is a terrible fear that the toll on health care workers from COVID will have been in vain if Trump's failure to effectively tackle the pandemic continues, if testing is not ramped up to levels that allow for identification of carriers and contact tracing, if distribution of protective equipment is not done rationally but rather through nepotism and profiteering, if experts are removed from important positions after questioning incompetent political leadership, and if reopening the economy is done haphazardly to fulfill talking points on cable TV in hopes of gaining re-election. 
Perhaps the greatest lesson we can take from the AIDS epidemic is one that came after the movie star Rock Hudson died, effectively removing the blinders that President Reagan was wearing. Reagan, a friend of Hudson, at last ceded authority to scientists like Fauci, who knew how to speak to the public about illness and create a sense of common cause, and to mobilise both the public and private sectors to triumph over a virus that had never been seen before and many believed could not be effectively combated.  AIDS arrived as a murderer; now it can be shackled. We are nowhere near that point with COVID-19.