From the Carnival playbook as reported by The Washington Post:
More than 20 passengers were still too ill to leave the ship (Coral Princess), along with 38 crew.
Of the 1,020 passengers on board, about 993 were expected to be declared fit to fly, he said. They will be taken by bus straight to Miami International Airport, where most will avoid terminals and take charter flights. A minority of the passengers, he said, would take commercial flights; those passengers would be brought to a terminal that is not being used until they board.
As with the above Washington Post report, it is now 4 April and the number of COVID-19 cases has just reached 5,548 in Australia. If it had not been for the cruise ships, it would be considerably less than 5,000, and fortunately not the 10,000 Dr Greg Kelly and his fellow petitioners prophesised for 4 April.
Fortunately, at the centre of this activity federally we have a cohort of knowledgeable, calm public health specialists that you need in a crisis and obviously they are not going to release the models if the assumptions are wrong. The world is not a TV reality show. It is a planet at war. Therefore getting the strategy right is everything.
The Carnival is over?
As the Ruby Princess saga grows, my recommendation to sack Dr Chant appears mild now that all of the NSW Government seems to be in a state of self-preservation or that of hazard reduction. It was so obvious from the start that people being hurried off the boat meant something was afoot. Only too true – 10 per cent of the positive cases in Australia and 11 deaths as of 6 April.
However, the media were dozing – but not now. The Australian Financial Review at last discovered the media demure Ann Sherry. The Australian is calling for governmental scalps.
Now three weeks later, it is the NSW Government trying to weasel out of its responsibility. Carnival is the culprit shipping line that has the dubious honour of having two firms in Miami that specialise in launching legal actions against it – that includes all the shipping lines owned by the Miami-based Arison family. Mr Sture Myrnell is their local head and has sparingly fronted the media. Mr Myrnell, born in Bergen, was once the sommelier on the QE2 and although he has been promoted to dizzying heights, he has probably not lost his taste for a good sherry.
Which reminds me.
Now Ann Sherry was replaced by Mr Myrnell as CEO in 2018, but is still the Executive Chair and it was pointed out that she was responsible for external relations – aka lobbying.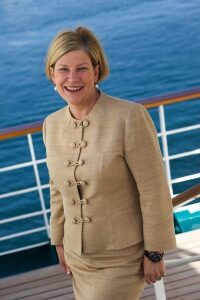 Once Ms Sherry was not afraid to front the media. In an interview, she made the point that thinking big was crucial. She was quoted as saying in this 2018 interview:
"I think it's important not to lose touch with what's happening in your organisation. One of the great challenges of leadership is that you're busy and there's a million things people demand from your time. So, it's easy not to know what's happening on the frontline of your business, and just let people tell you. My view, though, is that it's better to find things out yourself rather than rely on layers of organisational filtering to tell you what's going on. I think this is especially important in a customer-centric business. It's crucial to be visible and to communicate to people on the frontline that you understand how important their jobs are."
After all the above interview started with the following "Coming off a high-profile, extremely successful tenure as CEO of Westpac New Zealand…"
The report in the NZ Herald 5 December 2008 begged to differ somewhat:
Sherry was chief executive for four-and-a-half years and resigned from Westpac after she was moved sideways to head up the group's Pacific banking division on the back of poor performance from the New Zealand division.
She earned more than $3 million per year in the position.
Maybe the word was not "profile" but "profitable" – and an interesting definition of "extremely successful".
The situation is serious – very serious – not just because of the number of additional COVID-19 cases and deaths directly attributable to the Ruby Princess, but because the NSW Government somehow lost control of its public health measures during a worldwide pandemic when cruise ships had been identified as one of the most effective vectors for the virus. That is unforgivable.  
Therefore every link in the communication chain needs to be examined. I believe that Ms Sherry's role as Executive Chair, irrespective of her belated attempt to escape the title, in influencing the decision-making process now and over the time of her stewardship should be critically examined as part of this review.
Now that there is a full police enquiry underway, in the end there may be the prospect of criminal charges. This review must be comprehensive and nobody should be shielded; equally, innuendo should be confirmed as fact or any particular person exonerated.
And finally Prime Minister this cruise ship behaviour has not been an isolated example to flick away. It has been happening for years.
Hibernation
I have been chipped for not looking forward to predict what we might look like after the virus has passed.
My predictions on the future are based on the proposition that there will no vaccine against this virus in the near future. The second is that immunity to COVID-19 is not life long. In other words, one infection will not guarantee that the individual will not be susceptible to other attacks. The same applies to a vaccine; some common colds are due to coronavirus and come back in a different form year after year. There is no vaccine that works.
The problem with the hibernation analogy is that the animal sleeps through its time of food deprivation. Its life is about foraging for food to be converted, and here the brown fat accumulation is an important factor up over many generations – not an immediate fix, but one essential to sustain the slumbering animal.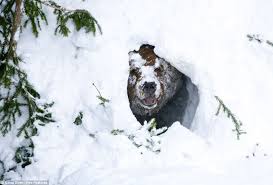 However, when the bear emerges from hibernation, the external factors have been at work providing the bear with sustenance from the very time it comes out of its den. The hibernation cycle does not factor in a continuing winter because spring always comes.
When the government uses hibernation as a metaphor it should realise hibernation it is not a one-off aberration of nature. It is not for everyone. However for some creatures, it occurs year in year out – the word itself is derived from the Latin word for wintry – hiemalis. Thus Prime Minister, you are not the head bear, although many of your sloth of bears may be somewhat grizzly.
Australia must emerge into a new world, which prizes personal and public hygiene. It is a world where everyone including the police force carries hand sanitisers. It is a world where coughing without shielding your mouth becomes as unacceptable as spitting. Every restaurant has pepper, salt and sanitiser on the table, and before food is served the patrons are politely asked whether they have used sanitiser.
At home as I was in the days before antibiotics lulled the community into a false sense of security, children always washed their hands before a meal – but then we said grace. As we grew up, with the advent of the fast food industry with the disposable society, washing hands before meals then lapsed.
Meanwhile, hygiene in hospital has improved immensely, and that is largely because it has been recognised that washing one's hands between examining each patient is essential. It was a simple manoeuvre as was the abandoning of wearing ties and the improvement of the attire of staff – particularly those archaic nursing outfits. It is now as different a world as the time when surgeons operated in their frock coats in the nineteenth century and more recently when I was a junior doctor, when the anaesthetist's monocle fell into the sterile neurosurgical site. Why, because this particular gentleman was peering over the neurosurgeon's shoulder. Bad form old boy.
It is time to transfer these hospital lessons to the community. One measure of this is the standard of public toilets. As I have written before about how these are diminished in number in the major city centres. However, the technology is evident to establish a clean safe environment in those facilities.
Thus, when the virus passes for the moment Australia needs investment in hygiene – in public health – so that it is the aim to generally reach hospital grade level. In so doing this should evoke a cultural change in this country where nobody is exempt – and that means settlements like Utopia or Soapy Bore, Toorak or Byron Bay – yes you! Not singling you out, just reminding everybody that we are a nation with mutual obligation – it applies equally to you as it does to the smallest outstation.
One Labor Minister in Whitlam's government once made the astounding observation "Australia is an island surrounded by water."
The Terra Australis face that was turned towards the original adventurers and buccaneers was very unappealing and they left and those who were shipwrecked died in the harsh climate or were absorbed into the local aboriginal people.
Then our border control need be mindful of the unseen, not spend time hounding the vulnerable and looking in the mirror of this nation and seeing Pauline Hanson.
However the underlying premise is that the Federal government should take the original power allotted in the original Australian constitution – that of quarantine and thus assume national control of public health.
Australia has emphasised biosecurity in relation to fauna and flora, which has been moderately successful, but in terms of spread of human disease less well.
After this last episode it is not the poor unfortunates awash in the Timor Sea, but cruise ships with their crowded cabins and archaic air conditioning. Huge floating cesspools no longer should be allowed to berth in Australian ports. It is an industry that needs urgent review. As one correspondent has written:
Long ignored by cruise lines seeking to sell older tonnage are air conditioning and plumbing issues.
Ships built after 2000 are suspected of having air conditioning and plumbing and sewerage problems, some of which problems are major. 
The older ships will not survive nor are resaleable as they'll be seen as potential health problems. Why? Breathing the same recycled air in every cabin or room will no longer be acceptable to paying passengers.  
The cruise industry must be re-evaluated, and Carnival and all its affiliates banned indefinitely – or should it be said that any ship owned by the Arison family. In other words, nobody begrudges a well-run shipping line, one that does not evade taxes, does not fly flags of convenience, does not use underpaid staff – and if the arcane Maritime Law needs to be repurposed for Australian conditions let the government assure that is so.
The other major area of potential infection and violation of the borders are the airlines. However, biosecurity in relation to plane passengers has always been lax – handing out pieces of paper is no substitute for targeted testing.
The question must arise as to the level of hygiene on planes where people are packed together and the air conditioning is dodgy at best. Should the passengers be handed sanitiser along with bottles of water; should passengers be handed out masks at the same time as headsets.
Once the country had quarantine stations; once Australians going overseas carried yellow books to assure that we had been inoculated (or vaccinated in the case of small pox) against typhoid and cholera and, if we were going to endemic areas, yellow fever. Until this pandemic, only the latter has survived as mandatory. However, given there is no vaccine for COVID-19 then having a yellow booklet does not apply except for yellow fever.
However, there are past measures that worked, but reminding the passengers of basic hygiene becomes as important in the training of cabin staff as being able to serve meals. Toilets on planes are a potential source of infection given how poorly the hygiene is policed and on long flights used to change into sleep wear.
However, it is also air conditioning that needs to be assured at "hospital grade", not continually recycling stale air but providing clean air at all times. As one source with more knowledge in the air ambulance sector where there is liable to be more exposure to infection has written … It has not yet been disproven that exhaled droplets are not aerosolised by the cabin conditioned air flow, and some planes may not recycle enough air to effectively dilute aerosol pathogens, or they don't pass recycled air through HEPA (high efficiency particulate air) filters.
Therefore, the future Australia as it emerges must have a different approach to hygiene. Once this is assured then it must have a continuing impact on the economy, and not be forgotten by government with a strangled budget.
The Long White Shroud
In this time of COVID-19 crisis, a farce is being played out within the Royal Australasian College of Physicians. Once a prestigious body responsible for overseeing the qualifications and hence the quality of consultant physicians and paediatricians it is rapidly becoming the Ruby Princess of the medical profession.
The Royal Australasian College of Physicians (RACP) was founded in 1936 as the Australian College aping its British counterpart, because our medical traditions have always been linked to the Old Country, fob watch and chain. Two years later, the New Zealanders accepted the invitation to join. Between that time and 2010 there had been only three Presidents from New Zealand.
Then Dr John Kolbe emerged. A respiratory specialist at Auckland Hospital, his wife a prominent surgeon who had been President of the counterpart surgical Australasian College and one who has publicly listed herself as a consultant for Siggins and Miller, a consultant firm based in Brisbane which is entangled in the current college mess. This is a slightly complicated situation since one of the principals of which, Ian Siggins died two years ago, but Mel Miller is still lurking around. Her role and ongoing involvement, if any, is for others to investigate further.
And indirectly, another Queensland connection lingers around as the Commissioner of the Australian Charities and Not-for-Profit Commission (ACNC) which is the middle of this imbroglio has as its Commissioner, Garry Johns, a former Labor member for the Brisbane seat of Petrie but now a darling of the right. He has been, as reported, experiencing his own internal problems within the Commission. His original appointment in 2017 was described as bizarre by certain of those familiar with the charities field, especially in regard to statements ascribed to him about indigenous people.
Following Kolbe there has been another New Zealander, currently the incumbent, Mark Lane. Two of three aspirants in the current election for President-elect are New Zealanders. There is thus this select pack of All Blacks. There were three New Zealand Presidents over 72 years; now the prospect of three within 15 years. It suggests that there is now enough confidence among the New Zealand physicians to form their own College; never tell a New Zealander that they should be a State of Australia. Let us guarantee a fond farewell.
The next problem is that with time, the active elements of the consultant physician workforce have formed their own specific societies based on subspecialist skills and technology.
Some of them drifted completely away and formed their own collegiate enclaves, such as the psychiatrists and dermatologists. At the same time, the paediatricians, whose governing body had been separate although existing under the same certification, rejoined the College.  Faculties were created in public health, occupational and rehabilitation medicine, and the consultant physician element in the college was further diluted by the creation of College Chapters.
While this dilution effect was progressing, the College undertook a review of the "collegiate relationship" with the then "specialty societies of the RACP"; the upshot has been that the relationship was effectively severed. The societies were relegated to distant cousin status, while at the same time the College took all their existing curricula as part of upgrading its own responses to AMC requirements. The specialty societies were left delivering training within an increasingly bureaucratic and unresponsive college structure that, in the view of the societies, was unwilling to provide resources to those societies for their contribution.
If it were not for the fact that the letters FRACP certify their members a meal ticket, many sub-specialties would have broken away, but government unwittingly, through regulation and connivance, have allowed this monopoly to continue. Therefore the College, irrespective of its current intrinsic hollowness, has been allowed to continue in its current unchallenged form.
Over the past 20 years since the time that the ill-starred late Craig Paterson was appointed the CEO the internal troubles have grown. However concurrently the level of farce has grown, fuelled by the presence of another New Zealander and would be physician rangatira, Dr John O'Donnell.
I was once on the Council of the College in a saner time when its impact on the community, apart from being a certification mill, was evident. However, what has stirred me to write this was a ridiculous set of propositions put to an extraordinary general meeting (EGM) held fittingly in New Zealand in 2019. The intent of the propositions was to create a select group to be known as "respected Fellows" whose role was to create a quasi-theocratic model superseding the current College democratic elections.  One young female college Fellow asked whether passage of these motions meant that all other Fellows would not be respected. Enough said. This takeover attempt by a small cabal was soundly defeated.
But now they are at it again. Presumably the same crowd with the same would-be rangatira is leading this pack of All Blacks. They want to convene an EGM at a time when this country and New Zealand are locked down in crisis. There is no valid reason given for this action, but apparently they have the numbers to pursue this self-serving, totally unnecessary course of action.
Perhaps it is linked to a document produced by a Brisbane-based firm Effective Governance. Their review purported to describe what is wrong with the College, but the endless list of recommendations revive some of the very problems identified in 2019 – e.g. a nominations committee to select Board candidates to ensure they have the "right set of skills" for the Board and essentially to remove the concept of popular election by Fellows of candidates who don't necessarily have such skills. At the same time the proposed number of Board members is 6-8; that, combined with the "required skill sets" will make it increasingly difficult for a College Fellow to be elected to this Board. Is this what the College Fellows really want? On reading the document I raise the question of whether the report should have been consigned to the garbage can long ago, and incidentally what did this Review cost?
If I were a conspiracy theorist, I would be asking how much of this advice on governance over the years has emanated from a limited number of sources in Queensland. What of the direct Kolbe connection to Siggins Miller?
And why are certain people so seemingly keen to cover up about those who have requisitioned the EGM? And as for this EGM, especially at such a perilous time with COVID-19 and both countries effectively isolated, why are the usual suspects pushing such a destructive line?
However, I am not such a theorist, but I do like Kolbe to Bolitho to Talley to Yelland to Lane – what a sparkling daisy chain of "respected fellows. Once they were Presidents, and now…?
Last year I wrote to the RACP President, the New Zealander Dr Lane, asking for the release of the list of signatories to the 2019 EGM request. His dismissive reply relies more on legal smartness rather than common sense. Why was the list of signatories withheld? What did Dr Lane, as the President of the College, want to hide – a preponderance of NZ signatories?
The problem presented by this year's EGM is that it ultimately will become an exercise in unexpected consequences, which may lead to a totally new organisation to guide the training and ongoing guidance of consultant physicians and paediatricians.
Maybe it is about time for consultant physicians to dispense with the current structure altogether with its over-regulation and expensive payments to a band of rent-seekers.
Maybe it is the right time to let the New Zealanders go and we revert to a purely Australian college. Our health systems are so different, our training is different; we may speak the same language but our cultures separate. Yes it is a good time to flag – once we are on the other side of the current health crisis – that we need a debate about this College of ours being purely Australian; after all, such a proposition is based on a purely utilitarian approach. It is totally ridiculous that this College could be run by a NZ rump.
And further, what about a breakaway College prepared to look after the interests of Australian consultant physicians and paediatricians, and not be burdened by the vestments of yesterday?
And as a footnote, almost as an afterthought, does having New Zealand Fellows compromise the charity status of the College in Australia. I cannot see the College's New Zealand element being ascribed charity status in its own country. Just asking for clarification. Nothing more.
But first, in the interests of decency, those behind the resolution should withdraw their request for an EGM immediately. Otherwise every politician in Australia will know about this unnecessary distraction in this time of coronavirus. 
Mouse Whisper 
From a riverine relative, I am indebted for the following
Hydroxychloroquine costs around USD90 per 50x200mg tablets in the US for those who have insurance, or USD650 for those who don't.
By contrast 100x200mg tablets cost AUD16.50 on a private script in Australia – a 40-fold difference before taking account of currency differences.
Make America Rich Again!!!