"Australian state and federal police routinely carry firearms. While on duty, most officers' duty belts consist of a handgun, Taser, expandable baton, pepper spray, a set of handcuffs, ammunition magazines, gloves, torch, and a two-way radio."
When the Queensland police were bailing up people at the Queensland border checking on their status, there was not the slightest indication that they were observing any of the rules explicitly set down to minimise the spread of the virus – no gloves, no masks, leaning on car doors, no evidence of hand sanitiser as they handed the documentation and pen to the driver … and as for keeping the requisite distance from their fellow officers, what a joke.
The police are so used to walking virtually hand in hand, nobody has seemed to have told them that just because they are a member of the police force, the virus will not quail at all the ironmongery jangling from their belts. It is far more likely that the belt and the attached items will attract the virus especially as unwashed hands fiddle with them. Where, Madam Commissioner Carroll are your COVID-19 virus protocols and where did you gather your officers together to be briefed on the importance of following the guidelines before they were let loose on the motorists?
It is salutary to remind the Australian police forces that 500 members of New York police force are COVID-19 positive, and there have been a number of deaths. Thus, at the very least each police officer should have a bottle of hand sanitiser placed between the gun and the Taser – and use it.
As for the air conditioning in these lock-down hotels, it is as important for the guards to be especially conscious of the health guidelines and not congregate, as police tend to do. Most of the air conditioning in the hotels is not hospital grade, and therefore there is no guarantee that the virus will not spread.
The last thing the hapless NSW Premier wants is police officer(s) or for that matter an army staff member testing positive in the next two weeks.
Her performance and that of the even more hapless Dr Chant is shaped by their failure – even up until 28 March – to quarantine the arrivals at Sydney International Airport. The Garuda flights where it was reported to ABC radio by a passenger that there were coughing and spluttering passengers allowed to pass through the country's borders without any checking. If true, this just adds another entry into the charge sheet.
But back to the police – the incongruity of the social distancing in relation to the police force is shown in the images of their patrolling. Presumably the police are now ordering paddy wagons, which provide each recalcitrant with 4 square metres of space.
However jokes aside, the most impressive figure this past week in NSW has been the police commissioner, Mick Fuller – firm, decisive but compassionate – and incorruptible. He was prepared to take the community into his confidence by indicating he had a 90-day supervision delegation from the government to continue to do what the police were doing.
The images are now changing of some of the police force now with gloves and masks. But viruses ride on gloves and there is no evidence that they are being changed regularly. I still could not see the bottle of sanitiser at hand, so to speak.
By the way, where has the NSW Health Minister been? He was last seen coughing a week ago but popped up again on Sunday still looking congested. I hope he has not being doing a Boris, and got impatient with isolation.
The strange case of the Premier and the Fourth Saturday in Lent
One has to give it to the Queensland Premier Palaszczuk. She has a compliant Chief Health Officer, who is not a public health physician. She has closed the borders and at the same time allowed local government elections to proceed, even though they could have been deferred. The images of the voters not "socially distanced" and effectively gathered in large groups could not be reconciled with the health warnings currently agreed by the National Cabinet, of which she is a member. It is even reported that the electoral staff walked out of one voting place stating that they felt at risk.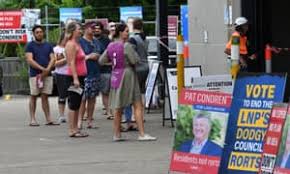 However, by this questionable activity, the government could cover up the two by-elections being held to replace to members. One was in Bundamba, held previously by one who had said that the Queensland Treasurer was a four-letter word as she resigned. That is true, she is Treasurer Trad, but I am not sure whether this disaffected female member meant that word.
The second case was the long-standing LNP member for Currumbin, who had the temerity to vote for the abortion bill and was hounded by the trolls that seem so part of the LNP right wing so that she resigned. She was replaced by someone who had been a member of the LNP for a month and once appeared on a show featuring '"Australia's Worst Drivers" – a trait among the politician class, yearning to be the centre of attention. The electorate seemed unimpressed, but that person seems heading for a narrow win – just a normal day in the politics of the Sunshine State.
Under cover of the local council elections, it is postulated the Palaszczuk government wanted to test the waters before the State elections due later in the year. If that postulate is correct, and in the 93 member unicameral Queensland parliament the ALP would have retained power whatever the outcome, it seems reprehensible to have held these by-elections at this time. But this is Queensland, the home of progressive health policy and One Nation (which incidentally polled very well in Bundamba). As if to highlight stuff-up, the Electoral Commission stumbled badly and most of the results were still unclear on Sunday afternoon. As will be the long term consequences of this essentially political preservation action by the Palaszczuk Government.
Obviously the Premier has not given up political machinations for Lent.
Cone of silence
The Diamond Princess caused much mayhem in Japan.
The Ruby Princess has since caused much mayhem in Australia. At least ten per cent of Australians infected with COVID-19 as of this week came from that one cruise ship.
Are the media asleep? Can nobody join the dots?
Why have there being no interviews with Ann Sherry, the Executive Chair of the Carnival Shipping Lines, asking how this all occurred. Why was the Ruby Princess allowed to berth? Why were the passengers herded off without even a passport check? Look, you gullible NSW voters, no hands! Surely no political pressure – beggar the thought.
But then the media, over the years, has performed a series of gushing tributes to this former bureaucrat and adviser to the Federal Government.
After the Diamond Princess fiasco in Yokohama, the CEO of Carnival Cruises, Arnold Roberts, was quoted as saying
"We have hundreds of cruise ships, very few had cases on them. The one that had the most cases was very early on when no one understood hardly anything. With 20/20 hindsight, could everyone had done something sooner? Perhaps. But it was an evolving, learning situation."
Not soon enough for the Ruby Princess obviously.
Now Mr Roberts made his first fortune playing blackjack on cruise ships by counting the cards it would seem and used this astuteness to run both weedkiller and sweetener enterprises. He was brought to the Arison owned shipping lines in 2014 because as was quoted:
It's been a rough two years for the company. First, its Costa Concordia sank off the coast of Italy, killing 32 passengers. Then an engine-room fire on its Carnival Triumph left the ship without power. For five days, passengers lacked air conditioning, hot food and use of most toilets. Cable news was fixated, dubbing it the "poop cruise." 
Training for a pandemic?
Now, Ann Sherry, what have you got to say about all this and especially in regard to the Ruby Princess and it berthing in Sydney with infection on board?
As for Dr Chant, Chief Medical Officer of NSW, you read this about the Carnival ships and especially look at the dates and tell us "mug NSW punters" why you should still be in your job:
Shared swimming pools, compact and enclosed spaces and quarters, frequently touched surfaces from handrails to slot machines, and meals shared with hundreds create an "increased risk of infection of COVID-19 in a cruise ship environment," according to a warning issued by the Centres for Disease Control and Prevention (CDC) on 8 March.
(At time of publication)There have been at least eight cruise ships with confirmed coronavirus cases across the entire industry, including the Diamond Princess, Grand Princess, A Sara, MSC Meraviglia, Costa Luminosa, MS Braemar, Silver Shadow, and the Silver Explorer.
Carnival and other major cruise companies, halted all travel only after the State Department advised Americans not to travel on cruise ships and the CDC published a no-sail order of March 13."  
The Ruby Princess berthed in Sydney on March 19 – without any quarantine intervention from you Dr Chant. Turn off the light as you leave.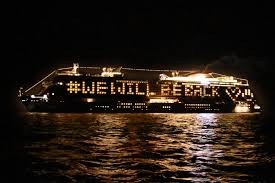 The Danger of the Hospital
I was asked whether I wanted to help out in Queensland. There were no immediate problems, which arose at the time of the first request. Then came the escalating restrictions and the changing job description.
Having to negotiate the border and being accosted by a police force, which were exhibiting doubtful levels of hygiene, especially in the transfer of documentation was the first problem.
The second was that the first job indicated it would be restricted to providing COVID-19 and public health telephone advice only, and then as I have been used to in any jobs relating to Queensland, the job description changed to one of face-to-face contact. As I am of the age where the government have suggested strongly I be confined at home, which I take to be a domestic situation, telephone advice was feasible and something that, as a public health physician, felt I should undertake.
The one particularly important thing that Australia has done, undoubtedly having Paul Kelly and Nic Coatsworth with their extensive knowledge of public health to back up Brendan Murphy, has helped establish the testing regime. The messaging has come a long way since the time early in March when a member of my family resisted the determined attempt to turn him away from Box Hill Hospital and insisted on being tested despite then having to wait one and half hours, despite there being no-one else there.
Coupled with closing the borders with China the testing regime has probably saved Australia. Early testing means that fewer people have had to go into hospitals. Testing has improved with a faster turnaround time for results. I for one, if tested positive, would have stayed at home as long as possible as opposed to hospital admission.
If you read the list of health workers dying in Italy it is reminiscent of reciting war casualties. The headline in the Italian newspaper early this week read "Coronavirus, morti altri dieci medici. Dall'inizio dell'epidemia sono 51." You do not have to be fluent in Italian to know that 10 doctors died on one day earlier this week, bringing the total to 51. This number has continued to rise.
Despite the shroud waving led by the ubiquitous Professor Talley in the MJA and the intensivist petitioner Dr Greg Kelly and his collection of medical jeremiahs, Australia is not tracking Italy. I have already expressed my disgust at the NSW Department of Health in regard to the cruise liners, and there should be appropriate retribution at an appropriate time.
If you read the Johns Hopkins Centre for Systems Science & Engineering (JHCSSE) modeling this week, according to JHCSSE's modeling when there were 3640 cases (about right) in Australia, we had 460 deaths; the modeling is based on Italy given this prediction of 460 deaths would be close if the case and death rate was similar to what has happened in Italy,
So much for modeling; and I wish that everybody would stop printing these hypothetical figures, which may as well have been got by reading the tea leaves. The problem with the media is that, over the years except for a very few people like Norman Swan, it is totally gullible in relation to health, reporting every bit of public relations fluff that is put out about so-called medical "breakthroughs". That is particularly dangerous when there is a pandemic and the hucksters are abroad.
However, this does not mean even at my vulnerable age, that I would want to be admitted to hospital if I developed a fever and a tell-tale cough. I would hope to tough it out; but then again I hope I won't have to make that decision.
Now that is an ordeal
We have been seeing a flood of returning passengers from ill-fated travels, many of whom commenced these travels at the wrong time when the portents were there of gathering clouds – 16,000 left Australia after 18 March when the Government's Level 3 travel advisory was issued (Reconsider your need to travel because there are serious and potentially life threatening risks).
Those who have been able to return should count themselves lucky. Complaining about their situation in five star hotels reminds me of a time, of my father's generation and of a place called Singapore. Here were a number of involuntary travellers called soldiers who were deserted by their leaders, with their braid and red banded caps called generals and brigadiers. The soldiers were confined, not for two weeks but for three years – if they survived – as guests of the Japanese. Their first place of confinement was known as Changi.
Therefore the younger members of the currently 5,000 in confinement in Sydney hotels, would never have been contact with some of those soldiers, who eventually returned. I was taught by some of these men – they never had a sense of entitlement; they had not been locked up in a hotel room for two weeks with three meals a day, phones, internet, television and new towels every day. They had a slightly different experience over three years.
They never moaned; very few wrote about it. Very few ever talked about it. Some of my generation – people I knew – never knew their fathers – today a word lost in the slush of that term "loved one".
There was no TV series called "Survivor" with inane presenters and faux battles. Maybe after you are released there will a scramble for a media contract to tell all.
In contrast, in my youth I remember there was the man who always dined alone on Christmas Day away from his family because that was the day his mate left his quarters for the last time, not to the streets of Sydney but to an unmarked destination.
So take a powder, you lot, turn off your Skype; stop making yourselves look totally selfish on Facebook, and just deal with it.
As for the media giving these people oxygen, what about the Biloela Four locked up on Christmas Island – a sort of Changi without the cherry blossom. Forgotten them?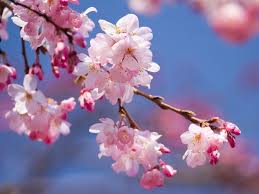 Skiing in a time of coronavirus
Janine Sargeant – Guest Blogger
The media have been reporting on the now infamous Aspen 9 who are reported to have brought more than a ski tan back from their recent trip to Aspen in Colorado.
Burnished with schadenfreude the reports have followed members of this group through birthday parties in Melbourne and Noosa and a visit by one couple to their beach shack at Portsea; the reports have included tallies of the number of confirmed cases among the ski party and those apparently directly attributable to the two birthday parties. The Noosa party resulted in many positives among guests, but also among the restaurant staff. There is talk of legal action. The 14-day mandatory self-isolation for overseas arrivals was introduced the day after the ski party returned.
More broadly the Aspen 9 saga raises the question of what plans there are for the Australian ski season, which normally opens on the long weekend in June. The skiing might be out in the fresh air two ski poles apart, but the ski lift transport, aprés ski scene and accommodation is not.
Having spent quite a bit of time on the skifields, skiing, running a ski shop and working a bar at a lodge – my version of a well-spent youth – I still remember a case of tonsillitis that sent everyone into a spin because the close-living environment of ski lodges was so conducive to the spread of illness. However, if even the well-heeled in their plush accommodation are catching COVID-19 in record numbers, then there's really a problem. Without knowing the denominator (how many there were in the Aspen group) there's no way of knowing what the incidence of infection was, but there are enough cases to raise alarm.
One of the highest COVID-19 infection rates per capita in the USA has been reported by "The Washington Post" as being in Idaho's Wood River Valley – 192 cases in a county of only 22,000 residents; there have been two deaths so far. Why is this? Idaho has some of the best skiing in the US and is a well known conference destination. Skiers fly in from around the country and around the world and no doubt have brought in COVID-19.
The source of the infection in Blaine Co, home of Wood River Valley and Sun Valley, was almost certainly skiers from Seattle, from which there are direct flights. Washington State had the first confirmed positive case in the US and up to mid-March, had the highest absolute number of confirmed cases and the highest number per capita of any state in the country. That has now changed with the epicentre shifting to New York.
However the counties surrounding Vail and Crested Butte in Colorado and Park City in Utah – all skiing hotspots – are now also COVID-19 positive hotspots.
Wood River Valley's small hospital has been partially shut down because four of its seven emergency doctors were quarantined. The fire department that also operates the ambulance is relying on volunteers. One of the doctors who has tested positive said he thought he had caught the virus because of close contact on ski lifts.
All State Governments in Australia have effectively banned recreational travel within the State, and absolutely banned travel between states except where a permit is in place or a resident is returning home – but 14 days of self-isolation are required. Everyone is supposed to stay home, but for how long? The June long weekend is eight weeks away.
Faced with the experience of the US, which has spilled over into Australia with the Aspen group and around 50 positive cases, presumably NSW and Victoria should be putting skiing on hold for 2020 – and without any intervention from Master Barilaro, the local member, especially after the Ruby Princess fiasco.
Mouse Whisper
Paul Barry brought this to my attention as I was gnawing my way through my late night supper 
What is this constant mention of Petri Dish in relation to coronavirus?
Viruses need living cells to propagate, not Petri Dishes containing blood agar, upon which bacteria and fungi party.
Fortunately, my relatives are less exploited now as a medium in which to grow viruses, but embryonated eggs have always been a favourite culture medium. However, now most viruses are grown in cell culture.
Nothing to do with Petri Dishes. Today's tip for the journalists, if you want to sound knowledgeable at least check the details; a Petri Dish isn't something from "My Kitchen Rules". So drop the Petri Dish metaphor. Even a simple mouse like me knows it has nothing to do with viruses.