In an advertisement for the MD Anderson Cancer Center in a 2009 issue of Harper's, a healthy triathlete smiles. His name is Bill Crews and under his name is the word "lymphoma" with a red line through the word. It is five years since he had been diagnosed and now following "an individual treatment plan", he was in remission attested to which was completion of 14 triathlons at that point.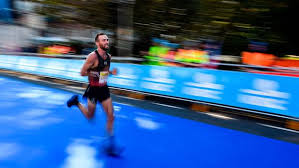 To celebrate his achievement a Bill Crews Remission Run was organised annually to provide funding for this Houston- based Cancer Center. Then there is a brief note in 2014 to say the website advertising the run is "inactive". There is no record of Bill Crews dying – just that one word "inactive".
It got me thinking, since my closest male friend also succumbed to lymphoma some years ago, although his course between diagnosis and death was far shorter. Once you get cancer, except for some skin cancers, you know your life will be limited. We all will die, but there is no need to face it until the doctor across the desk signals your mortality. You can of course avoid this confrontation by suiciding, being murdered, killed in an accident or sacrificed deliberately by those who would wage war.
What if I responded to the doctor after the sentencing: "I want you to tell me the exact day I am going to die." What would be the response?
"Unfair question. Impossible to know."
"OK, then will it be next week, week after… and this year, next year, sometime, never?"
We can be very precise with the input when we are provided with an individual treatment plan. Therefore, if you can give me such a plan, then it is reasonable to know the outcome, or what to expect. After all, infallibility is a power that some health professionals like to assume – well doctor, how long will I live? But then nobody writes on a funeral notice – he lasted x time longer than the doctors predicted or that the doctor got it so horribly wrong, he died well before the predicted date – perhaps in the middle of some surgical procedure, where the euphemism for "surgical vanity" is "heroic".
The problem is that what I have written above is so foreign to how society is ordered. Most of us try and live in a predictable world. We expect that if we go to the gym in the morning it will be open at a certain hour. We know that lunch follows breakfast and we have a mid-morning coffee break.
Bill Crews probably had such a regimen. Cancer came; cancer went; but it never does. It marks time. How much of that time was consumed by unpleasant morbidity; how much did life become unbearable; and in the end, how much did he wish to live – all unanswerable now.
In fact, we live in a world of uncertainty. The flow of information from so many portals means that life is like traversing an Arabian souk. We never know what will happen next, but we always have the option of wanting or not wanting to know what we have bought – without it being varnished with fakery.
What does that all mean? Government, despite the various inputs, has to make the most cost effective allocation of resources in the face of all the individual treatment plans. There is no incentive for those manufacturing, distributing and prescribing the various medications to be less than optimistic. The cost of development of a drug is always stated as being so expensive so that the end product mirrors this expenditure. However, in the World of Optimism, who is going to undertake the rationing on behalf of community affordability. The plea, the crowd funding, the picture of the cancer sufferer, the hoped for remission mistaken for cure are all part of the emotional appeal. However, what price does one pay for a small addition to life of variable quality – what is an average of six months worth?
Policy should not be predicated on the outliers. Bill Crews had non-Hodgkins lymphoma. Through all the obfuscation surrounding survival rates, maybe his ten-year survival rate was about average when the last mention of Bill Crews was made.
Therefore, assessing the cost of Bill Crews' treatment may be a useful indication of the individual cost for the condition. That statistic is just as important as knowing the relative success of the individual management plan and generalising from that one example.
But my whole case is predicated on two assumptions: the first is that the lack of mention of the poster boy by MC Anderson Cancer Center (now also with a red slash through the word "Cancer") public relations, and the inactivity of the Remission Run from 2013 onwards means that Bill Crews is now cycling on a higher plane. In line with MD Anderson Center publications, I have not mentioned the word "death".
The second is what Bill Crews' individual management plan cost when everything was tallied, its figure would be useful enough to be used as a guide to cost – assuming that those costs could be found and adjusted for current prices.
Hopefully the responses, outraged or not by such reductionism, would be a welter of data trying to disprove my assumption. However, that could lead to a good controversy if the policy makers were listening, and cost could be determined with all the accompanying arguments laid out. Then tell the taxpayers!
The Senile Trail
Listening to the Health Minister, he talks about "self stigma" and that we should reach out for help. Well, may I tell you, if you bother to listen, Minister, self-stigma is a meaningless term, when you are crying spontaneously for no reason, when your body is at a point where you cannot undertake the activities you were once able to do; and you are alone. You reach out for what? The phone lines are always busy in the daytime. Trying reaching out at 3am in the morning wherever you are for help. About all that is left is the late night / early morning radio programs that provide an outlet to the old, the sick, the lonely who can't sleep and who communicate with fellow callers from across the state or the country, through the radio: "How is Beryl from Cooma, we haven't heard her on the show for quite a while, does anyone know?"
There is a great deal of breast-beating going on, because despite all the expense spent on input, nobody has a solution to care of the aged. I have been associated with nursing homes that work well, because there is a continuity in management and the constant positive is that those in charge worry and care for their nursing home community.
Being dependent implies that I have a carer, which fortunately I have "in spades". I can no longer live independently unable to have shower, cook, dress and generally manage any housework efficiently – without help. It is frustrating knowing that when you are dependent, you have to wait – you have to learn patience without surrendering yourself to outright submission.
However, being in a wheelchair and then suddenly left facing a blank wall in an airport adds another dimension. The person responsible who leaves you without saying anything just adds that element of being ignored. It is no longer just waiting, you are being ignored and that adds a new reality. It is a sign that you a bit of garbage to be swept when the mood takes the handler. In the end, you lose your self-respect unless dementia beats you to that realisation.
Such are elements of growing old – such are the elements of being in care, where the rules are such that you – the resident – are governed by regulations engineered by government bureaucrats far away from your bedside. They call it compliance or accreditation – a meaningless term to indicate everything is under control. Unless you have a family, whether natural or manufactured, to act as the antidote, then every day is one day nearer to death, and increasingly you wish that day will come. Those words like "accreditation" have a meaning to those who love making paperwork look like an illuminated manuscript.
Are there any solutions beyond having a caring carer not an impersonal person – a shift worker with an inadequate handover when they come on duty, their measly remuneration ultimately dependent on some distant hedge fund?
All solutions are just a variation on that fact of individual care without the negative embellishment.
For instance, I mentioned in a previous blog the series shown on the ABC where four year olds visited an aged care facility over a seven-week period. Then the series finished, with an elaborate farewell antic. I wrote in my blog* at the time:
However, if the attempt of mixing the groups is just voyeuristic – "been there; done that"; then I believe the makers of this series have probably done a disservice to all involved if nothing further eventuates.
Old age is an increasing societal challenge. It should not be just a case of waste management. Yet I fear that is happening – and David Attenborough-like explorations of human foibles and cuteness should not replace serious consideration of what can be done.
The clue is in the series – get the elderly to tell their stories, whether they have a four year old audience or not. After all, it gives you a sense of relevance, even when you may be the only one listening. However even one child listening and responding with questions is a bonus. After all, I believe we are all storytellers.
My argument was not against the idea; my concern was it being generalised – the implication being that infant schools be co-located with nursing homes, so there is ongoing integration of experience – not just a one-off "gooey-eyed" curiosity but as part of a conscious government policy.
After all, each group's experiences are transitory – the children grow up hopefully socialised to understand what it is to be old; and one of the aged care participants died between filming and release of the documentary. Such is life, as Mr Kelly is reported to have said.
It was ironic when the aged care report was released recently there was no mention of the documentary as one remedy – even seemingly by the ABC.
* Modest Expectations – Duckworth 30/8/19
Mount Augustus
 Uluru has been closed at last. To me, there has never been any question. The traditional owners should have the right to invite strangers to climb this extraordinary monolith. I have walked around the base which is measured at 10.6 kilometres and to me it felt 'right". Being a "whitefella" does not exclude you from being in touch with this extraordinary country. One of the things I have learnt from my association with the Aboriginal people is to know when the Land is accepting your presence.
The idea that climbing the Rock is akin to climbing a cathedral may satisfy some people as an excuse. However, the analogy does not hold. Tourists are like ants on the roofs and spires of famous cathedrals and churches; and prohibition to climb churches is more related to safety or privacy rather than it being a spiritual taboo.
The bogan chant of why can't I go anywhere because this is Australia and I am Australian is OK if you are a self-absorbed narcissist who does not believe that any restrictions apply to yourself. There is a high-falutin' word for this – "libertarian" and a more macho term – "individual", its anthem: "I am what I am".
Well, Mount Augustus may be just what you are looking for, to express your feeling and being what you are. Mount Augustus is technically a monocline but then for you guys, it is a "humongous Rock". It is not red and bald like Uluru – it is covered by bush and it is still called by the "whitefella" name rather than its Wadjari name of Burringurrah.
However, it is the largest rock in the world and I went there 20 years ago; so it exists and has not shifted. It is a bit inconvenient being 500 kilometres inland from Carnarvon. Uluru is tiny compared to Burringurrah. There is an eponymous Aboriginal settlement close to the monocline.
Rather than walking around the base, we were carted around the 43 kilometres in a minivan at a hair-raising speed by a male nurse then living in the outstation. The trip ended back near the settlement, when the van hit a large pothole and lost its wheel. Fortunately the sand provided a cushion and we were all uninjured and trudged back to the settlement. It just emphasised how huge this Rock is.
Currently, the local Wadjari people allow visitors to climb Burringurrah but unlike Uluru, there is scrub and a trail, which takes around five hours to climb and return.
Watch this space! I remember when Uluru was Ayers Rock and was hard to get there.
Sydney Ferries Fiasco – A form of naval gazing
Guest Blogger: Neil Baird#
It could be said that the only thing keeping the New South Wales Liberal/National Coalition state government in power is the even greater incompetence of the State Opposition. If the latest controversy over the renewal of the Sydney Ferries fleet is any indication, the Gladys Berejiklian led coalition is certainly not an exponent of open government. The Opposition has only now awakened to an announcement that was made nine months ago in February.
Unusually, the announcement about Sydney's ferry renewal was made from Liberal Party headquarters and not from the Minister for Transport's office. Sure, the party was in election mode but what were they doing issuing a press release announcing a $1.3 billion project in such an underhand way? What was the government trying to conceal? Why will just 13 comparatively simple and small ferries cost $ 1.3 billion? That figure appears grossly excessive. Or does that include running and maintenance costs for nine years as mentioned in one report? Why would the government not be more transparent?
Given their other shenanigans with the Northern Beaches and Mona Vale hospital projects, for example, taxpayers have every right to be suspicious. For the record, the three larger ferries are to be built in Indonesia, presumably by Penguin Marine; the 10 smaller ones are being built by Jianglong in Zhuhai, China. The local firms mentioned below Ross Roberts/Harwood Marine were never invited to tender. Nor was anyone else apparently.
It has since been fully revealed, in an 23 October 2019 press release from Opposition Leader, Jodi McKay, that the fleet replacement was a "done deal" by 27 February 2019 when the Liberal Party announcement was made.
The story goes that in early February this year a couple of Australia's leading ferry builders had been approached with a vague invitation to tender for the ferries. Apparently they didn't respond to the approach. So did at least one leading firm of naval architects. None could be bothered to respond as they had such bad previous experience in dealing with Sydney Ferries, apart from being very busy anyway.
The subject went quiet for a few months and has only now been revived by Ms McKay who seems to have confused the facts.
Simply put, after endless problems, mainly with the maritime union, the operations, but not the ownership, of Sydney Ferries has not officially been privatised. It is a public-private arrangement, which avoids the need to go out to tender. The French-owned transport conglomerate, Transdev have contracted to operate the ferries, and seem to have eliminated most of the problems when it was run by the NSW Government.
Yet the curious way the ferries were ordered remains, with virtual concealment of the nature and cost of project from the taxpayers of NSW.
While Ms McKay has revealed some of facts, other parts of the story are off-beam. While the Trade Unions have been one of the major reasons for the problems at Sydney Ferries, the relative absence of shipbuilders in NSW has not helped.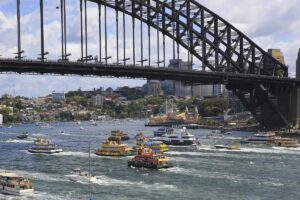 However, she is partly correct. The ferries could have been built locally, as she advocates, but the only company in the NSW with experience in building ferries of the size ordered is Harwood Marine of Yamba in Northern NSW.
Strangely, Harwood was not even approached or invited to tender. Indeed, the managing director of Harwood was unaware of the government's intentions until very recently. Harwood has been busy with a major expansion of its company's facilities including, ironically, a 60 metre shed in which large aluminium ferries could be built. Equally ironically, those who could have benefitted – the local youth workforce in a town where unemployment stands at 23 per cent – didn't get a look in.
Apart from Transdev, which is expected to correct Sydney Ferries' inadequacies, one major local firm will benefit from the association with Transdev. That is the Port Macquarie-based company, Birdon, which moreover has been contracted to build ferries in China and Indonesia for Transdev.
Birdon is a highly reputable company, as is Transdev. This fiasco is no reflection on either. The government may well get a good deal in the end. However, the problem is the opaque process that the government followed. The State Opposition has been unaware of such a major project, until the belated statement from Ms McKay. It is also a major problem that Harwood, a significant employer and highly reputable local shipbuilder was not even asked to express interest in the project.
The taxpayers of New South Wales have not been well served by its politicians.
We have not heard the end of this.
# Neil Baird is non-executive Chairman of Baird Maritime, a global maritime trade publisher. Among his other positions, Neil is a long-serving director of the Australian Shipbuilders Association.
Mouse Whisper
Once I heard the confession of a poker-faced mouse whisperer despite it being difficult to squeeze into a murine confessional box.
"In January 2004, I was in grade 12 of high school and about to graduate. I operated a profitable web design business as a part time job for some spending money. Seeing as my legal name is Mike Rowe, I created the domain MikeRoweSoft.com for my portfolio. The Canadian lawyers of Microsoft didn't like this (I really don't know how they found my site, I had 2 visitors a day. One was me (sic), one was my mom). They sent me a couple of emails and a large legal document telling me to give up my domain name. I asked for $10k. They said no. I went to the media. Hilarity ensued.
Since then I've been a full time professional poker player for the last 3 years. I've made enough to buy a condo and live very comfortably in that time. I have finished 5th in the PokerStars Sunday Million for $97,500 as well as 31st at the PokerStars Caribbean Adventure earlier this year for $40,000. So I guess you can ask about the poker stuff as well if anyone wants to.
And no, I didn't sell out for an XBox."
The site was still active in 2017, but not now.