It is high time for me to put an end to your sitting in this place, which you have dishonored by your contempt of all virtue, and defiled by your practice of every vice. 
Ye are a factious crew, and enemies to all good government.
Ye are a pack of mercenary wretches, and would like Esau sell your country for a mess of pottage, and like Judas betray your God for a few pieces of money.
Is there a single virtue now remaining amongst you? Is there one vice you do not possess?
Oliver Cromwell on getting rid of the Rump Parliament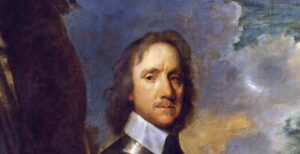 In the first weeks of working for Bill Snedden in 1973, I remember the office in Canberra was visited by a delegation of Myall Lakes' miners. At the time, Myall Lakes was a major source of mineral sands, the source of the then new wonder metal – titanium. They were concerned with the intention to close the mining. It seemed genuine and that they were not proxies for the mine owners since they had a union representative with them.
In their minds there was no consideration of the need to preserve the beaches and dunes that constituted part of the landscape. It was understandably all about their jobs, a familiar theme. A very relevant theme now that there is an intention to close some coal mines in the region.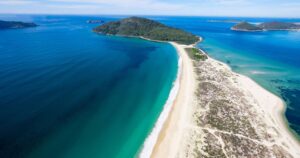 I knew about the Myall Lakes at close quarters because a decade later, after the mining had been closed down, I and three others walked the colourfully named trail between Mungo Brush and Hawks Nest. It was a very varied walk through coastal rainforest before emerging upon dunes and then back into scrubland and wetlands. It was a superb if challenging walk, the last part of which was through a marsh where there were supposed to be blocks of wood forming a boardwalk. This had collapsed in places and we were forced to wade through water up to our waists, and then at the end of the walk to rid ourselves of the leeches. However, on that day, I was very much a conservationist.
The miners thus had come to Snedden as a last resort, because they had been told that even the union was not supporting the sand mining being retained. Yet this was not far from Newcastle, where the ALP is electorally entrenched.
What could we do about it?
Snedden chose to be publicly sympathetic. He realised very clearly that there is a political divide in this country, where one side saw representing its task of protecting labour, including here the role of the State, as paramount. Any support in any case would have been seen as opportunistic and fleeting, while alienating traditional supporters.
On the Liberal side, which Snedden led at the time, essentially the policies were around encouraging individual enterprise and the development of wealth, independent of the State, yet not entirely disregarding that the State had a crucial role. It provided certain services, which had been shown or were deemed better to be public enterprises. The problem with such a separation is that in a democracy, such attempts at differentiation are riddled with inconsistencies, paradox not to mention conundra.
Disaffected union members thus do not easily fit with the so-called Liberal side of politics when a basic two-party adversarial system forms the basis of this country's democracy. The adversarial system has been distorted by the alliance of the protectors of free enterprises with the agrarian socialists who, in their purist ideological form, have been known to ally themselves with the ALP briefly.
There are other elements. The sectarian division in the ALP, which has resulted in once defenders of worker rights, albeit with more than a tincture of Roman Catholicism, separating themselves into the DLP. They crossed the political divide, were regarded as renegades by the ALP and eventually were destroyed as a Party. Elements remain as a core reactionary Falangist rump now embedded in the conservative side of politics far away from their traditional roots. Their ideological basis aligns more easily into the "new liberalism" which has evolved.
The other political party, which probably has progressed beyond the charismatic individual, is the Greens party, but there is no discounting the effect of Bob Brown on promotion of environment protection in Tasmania.
However, a proto-anarchic party, which paradoxically has blind beliefs as a substitute for reasoned policy, is doomed to irrelevance. As was shown in Western Australia hugging trees wearing a twinset and pearls does not win a constituency.
In the end, political parties which do not progress beyond the individual who sets them up or the individual who works the Senate system, primarily but not exclusively a Tasmanian phenomenon, exists so long as they exist. Who still remembers Brian Harradine and the antics he inflicted on this country to secure largesse for Tasmania? So in your lifetime, you were influential, but that Life of Brian, your legacy?
I believe very much in the definition of conservatism that to change your view can be done by persuasive evidence-based reasoning. However, such logic seems to be in short supply these days.
The problem with politics in Australia as I have written elsewhere, is that vested interests typified by the urgers, rent seekers and mercantilists on both sides of the political spectrum have emerged to distort and compromise the political process. They have one basic belief, irrespective of what side of politics they profess, and that is: "Government is an ATM. All I need to have is a password; that is a politician in my wallet".
Vested interests squeeze out those who have a belief that the political party of choice will take account of your views, if you are a member.
It was salutary watching the 2010 documentary of the GFC debacle and how Wall Street and an array of "respected" academia were involved in almost destroying the world's financial structures. What happened to them? Many of the perpetrators ended up not only with handsome dividends but also as faces among Obama's trusted advisers.
Was anybody prosecuted as a result of the Wall Street shenanigans? Nope. No wonder Obama paved the way among the deprived for the ascension of a "saviour" who has avowed to clean the swamp with a broom, he himself infected by fake news and conspiratorial theories.
The Haynes Banking enquiry in this country showed the extent of our diseased society, but already the Government are unravelling the structural cures so recently put in place. Symptomatic?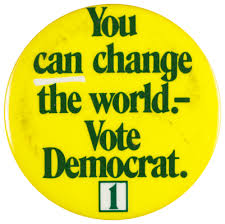 Don Chipp had the right idea when he used the slogan "Keep the Bastards Honest" as his party's brand. Unfortunately, Chipp did not have the intellectual capacity to articulate policy arising from what was a strong call for change and, most importantly, integrity.
However, 40 plus years on, with ongoing corruption so evident across the political spectrum, the demand for a "National Integrity Commission" is the perfect way in which what seemingly is a simple issue could become the centrepiece and rallying call for a national party. The issue should be attractive to most of the independent members in the House of Representatives. It seems a single issue, but it is not.
A simple single issue upon which to campaign has the potential to focus the electorate – an Integrity Commission – so much to say about how to promote such a body; so many reminders of integrity lacking in the current crop. Contemplate a party with a pristine white banner with a blue "I" one way-intersecting at right angles with a blue "I". Maybe throw in a few stars as well.
Eureka may at last have a long term meaning.
The problem with any centrist party is that it has to have a structure, funding, and a strategy attuned to that. In an earlier blog, I suggested a Haircut Party aimed at reducing the entitlements, perks, and the overstaffing which politicians are afforded – something which would test those already within the "parliamentary tent".
Being a member of Parliament as I identified in articles I wrote years ago when the entitlements and perks were far from what they are today had a number of challenges and bogeys. Staffers then had legitimate policy roles, rather than just harassing bureaucrats and playing puerile undergraduate one-upmanship scherzi. The individual targets such as the choleric Craig Kelly are many, but need to be franked in terms of lack of integrity.
I mention this just to assure those who do glance at this blog, that the two notions are not incompatible – a good haircut gives one a good view of integrity.
However, I am also mindful that after Cromwell died, five years after he uttered the above exhortation, the Rump resumed and needless to say, they exhumed Cromwell's body and hanged him.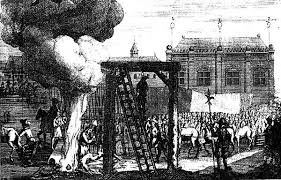 Says something for cremation – but also about embedding policy so that it has no single author.
The Spectre of Parkinsonism
The discussion about post-infective sequelae to viral infections should not surprise anybody. However, those people who carelessly disregard history should at least take notice that the possibility exists.
I had an uncle. He was a very active, successful businessman who built his father's agency into a profitable business. He was closely involved in attracting Roger de Stoop and his Belgian enterprise in high-end fabric weaving to set up a factory in Melbourne.
However, during the 1930s as a young man my uncle contracted encephalitis lethargica, the aetiology of which has never been worked out beyond an influenza-type pathogenesis being suspected. It was also known as "sleeping sickness" because of the severe alterations in sleep patterns. Within the family, I was told that my mother helped nurse him.
In any event he seemingly recovered and was fit enough to serve in World War 2. However, in the late 1960s, he began to show neuro-psychiatric symptoms, which were initially diagnosed as "anxiety attacks" for which he was prescribed chlorpromazine. That just made him worse, and soon after he was diagnosed as having Parkinsonism, which rapidly progressed – the trembling hands, the mask face, the rigidity. It was the time that levodopa had just been introduced and to that was added the then experimental dopa decarboxylase inhibitors to try and dampen down his movement fluctuations. In hindsight, once his prior medical history was disclosed, the association with his prior disease was made.
The disease progressed and he eventually died, not the death that such a previously active man would have wanted. Nevertheless, even though I was never close to him, I have two strong contrasting memories of him. One was the uncompromising man with a fierce expression in his late forties telling me off in no uncertain terms when I was barely twenty-one – and rightly so; and the man 12 years later in a wheelchair barely able to talk. We two were alone briefly then. I got up to leave, shook his trembling hand and said good-bye. It was the only time I have ever touched anybody on the cheek; his brother, my father, had died years earlier when I was not allowed to see him until he was dead, cotton wool already stuffed in his mouth. But that needs more explanation at another time.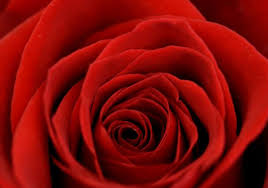 However, the spectre of Parkinsonism is real, especially if theoretically there was a long life ahead of you before the Virus came. I wonder whether it will be associated with a loss of smell, one of the symptoms of the Virus infection, because that may suggest an entry point into the brain along the olfactory cranial nerve, which is not only the shortest cranial nerve but also originates in the brain itself (rather than the brain stem, unlike all the other cranial nerves, except the optic nerve).
We shall see.
There is always a solution
It was a Saturday morning. The phone rang. It was my son. I was working in Broken Hill at the time and coming to visit me, he was in Mildura. He had been booked and had a ticket to travel on the Eastern Airlines Cessna 402 flight. However, he arrived in Mildura at the same time as the camera crew, with its baggage, which was about to film a Coca-Cola commercial outside Broken Hill.
The tiny settlement of Silverton outside Broken Hill had served as the image of the Australian Outback in multiple films, and the road out to the Mundi Mundi plains was the backdrop for the early Mad Max movies. The Mundi Mundi Plains are flat land stretching to the South Australian border, and sitting on a rock overlooking the plains watching the sunset makes one realise how lucky you are to be an Australian as long as it was not a set for Mad Max.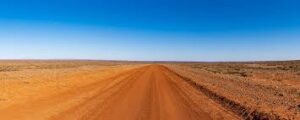 Coca-Cola was rumoured to have a set somewhere on the plains where they shot commercials, and who was this young man with a ticket to stand in the way of a commercial eulogising dark fluid which looks like haemolysed blood but a tried beloved method of stacking on calories for many generations of the world's youth.
Anyway, son was bumped, and when he rang he presented me with the problem. There was one fight on Saturday; none on Sunday. He enquired whether there was anybody flying to Mildura that day who could pick him up for free. There wasn't. We quickly dismissed the idea of him hiring a car to drive the 300 kilometres between the two cities. The cost would have been prohibitive for someone of his then age hiring a car under "remote" conditions. Hitchhiking: forget it.
However, there was one outfit from whom I could charter a plane and pilot. They said they could accommodate me – at a price. The pilot had to be roused and when he arrived unshaven, I ignored the fact that he drank a whole bottle of milk immediately.
All systems go.
I phoned the Mildura airport and let them know to tell my son that I was coming down to get him. I went with the pilot, who still stank of alcohol. Despite all the signs, it was uneventful; an hour down and an hour back. I cannot remember the type of small plane, but it was adequate to fit at least four. Flying to Mildura and back on a clear morning as this was before the thermals made their presence felt was diverting. It was a time when the waterholes were filled after substantial rain. When that occurs, it took about a year or more for them to dry out, if there was no more rain – and the farmers used to sow them – it was a harvest of pocket money. Generally, two harvests could be obtained. A tremendous sight.
Yes, I remember clearly this morning and these vivid spots of green, distinct from the unending blue grey of the saltbush, blending as it does into the ochre of the desert.
I always remembered this morning as one in which a potential disaster was so quickly solved – at a price. My son was given a taste of why Broken Hill is what it is – a place that everyone should see before they die. It is the essential Australian whitefella legendary Outback.
My son met Pro Hart while he was there, said he was broke, and did Pro Hart have anything he might have for free. Pro Hart probably thought he was an urger, but generously remembered he was probably the same when he was my son's then age. The son still has the purse with the Hart dragonfly painted on one corner.
In a way, it was a variation on that wonderful "The Gods Must be Crazy". Here the Coke bottle stayed in the plane, and bumped my son onto the tarmac. Never thought that I was a bushman or my son was a surrogate for the Coke bottle.
Andrews – a Career going North?
The future is not about his response to COVID-19. Andrews made the wrong decision, just as he narrowly avoided a similar debacle had he allowed the Grand Prix to go ahead in March. If he had done that, and it must have been a close call, Melbourne's "first wave" may have been as bad as the second. So I hope he remembers who gave him that advice to pull out. Otherwise he would have been cactus.
The Health Minister, Jenny Mikakos, recently resigned and conveniently, being a member of the Upper House, her resignation will require no by-election to fill her vacancy and thus few ripples. Depending on the media, she will become a footnote and then forgotten like so many. However, the parliamentary election of her successor may generate a platform for some of the more infantile in the Opposition.
Ultimately no matter how softened, Andrews will be tainted with the decision to hire the private contractors. Whether it was out of contempt for a Department over which he once ruled or not, Victoria was ill-prepared for a major public health emergency. The problem with Victoria, and Melbourne in particular, is that the politicians are continually being told how wonderful medicine and medical research is in Victoria and thus there is a belief that Victoria can weather all ills because of the Parkville precinct. It is more the Parkville rather than the Stockholm Syndrome. Generation after generation of politicians and business leaders have been lulled into believing this.
In this sea of self-congratulation, public health was a casualty. Now public health is very central, and what is happening clearly has been painful for those within Melbourne in particular; but are we witnessing what has to be done when the Virus calls. It is obviously shambolic elsewhere in the world where the Virus is rampaging. Does it need politicians with the resolve of Andrews and his tactical skill to control the outbreak?
Andrews tried the carrot but needed the stick to bludgeon the Virus out of the community. Victoria has surely seen a winter of discontent, but Australia faces a summer far better placed than elsewhere in the World, where the Virus has already conquered and colonised. Here the Virus is being forced into the underground – a terrorist force nevertheless, which will break out. Think ISIS; think Virus – a smaller form, but nevertheless terrorist.
Thus, the challenge for Andrews is to know when his anti-terrorist support is strong and reliable, able enough to be maintained, so that he can "declare a peace" and free his people, who are now knowing the anguish of wartime.
Are the lessons learnt in Victoria generalisable? What time is required to suppress the Virus once it is rampant? What is important is that Andrews has overseen a bungle, responded decisively, and did not cave in despite some attempts, particularly by some elements of the media intent on giving him a permanent pariah status. The legacy of these decisions is yet to be known in full; the Virus has been suppressed – but at what cost?
Reponsibility has been handpassed from Department to Department. But we all know. Of course, who caused the stuff up was the Channel-9 cameraman.
In the end, scherzi aside, let's face it, if you stand out there as the Premier has done, enduring all the slings and arrows day after day, recognise that this is an act of penance. Soon, the penitent can remove the purple drapes, forgiveness has been given? Who knows whether the electorate will give absolution. In the meantime, Victorians, you should move on. There will be no Pallas Revolution.
Mouse Whisper
"Thanks be to God," Father Ted was breasting the bar of the Balaclava pub in Whroo when he heard.
He remembers when his mate from school, George Pell, could not travel back to Australia because of health problems.
In 2016, supported by a two page medical Report, "Cardinal Pell's office in Rome issued a statement at the time saying his heart condition had worsened, making it unsafe for him to travel."
In 2020, glory be, miracle of miracles, a medical report unnecessary because of such a miracle, Cardinal Pell did not issue a statement that his heart condition four years later has improved to such an extent, he was able to scuttle back to Rome on Qatar Airways.
Or perhaps the clouds of civil cases have begun to gather.