The Cook / Covid-19 comparison highlights a problem with a cohort of young doctors who go into public health medicine. Generally they are very intelligent, but some, unlike Sue Morey or Nick Coatsworth for example, have lived a professional life in cotton wool. Among them, you get a few smartarses, where the ready availability of Twitter and one more glass of red than should be imbibed leads to a misstep. The higher up the career ladder, the more the misstep becomes obvious. If the misstepper ends up on the ground, the question arises whether the person is mortally injured or will just bear a stigma on his or her professional life.
There are no real excuses for such a puerile tweet, where superficially it may be seen as a clever expression of a belief. However, despite the predictable blustering from the Liberal political cognoscenti pazzi, they should rest assured that the good doctor would have been given a verbal flogging by the Premier.
Yet he would recognise that she is a hard worker in a stressful position, and one who would definitely be against premature opening up Victoria and having to combat the "joy boys", jocks and the Murdoch publications braying for sport to be reintroduced for solely financial benefits with a slight simpering regard for the community health.
Andrews learnt a lesson at the last minute, pulling back from the Grand Prix. With the potential of a cohort of infected Europeans mingling with the crowd, Australia may well have been plunged into a crisis. It has been bad enough with the antics of the NSW government in regard to the Ruby Princess. I do not underestimate the involvement of this good doctor given the reckless behaviour in the neighbouring State with Victoria not locking its borders against NSW.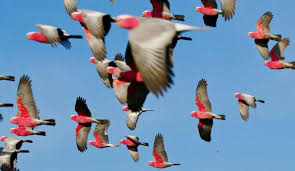 Just a word of advice to you Dr Van Diemen, if you want to say what you like publicly, wait until you get to my age, and then it does not matter. You will recover from this glitch and hopefully have a successful career. But ditch Twitter and leave your wisecracks to spaces where the walls are not listening. Everybody in stressful positions needs to sound off occasionally, but go find a few like-minded galahs to share your frustrations. I mean the fluffy grey and pink ones.
A little known encounter of Jimmy Cook
Since everybody is getting into Cook, I thought reviving a relevant part of my novel "Sheep of Erromanga" would enliven the discussion about of the impact of this Yorkshireman on one small island in the South Seas. The story centres around a young Australian called Philip Morey who spent two years on the then New Hebrides island of Erromanga in the1930s, and this describes the end of a trek across the island.
At last, Philip had emerged from the dark jungle through the line of giant tamanu trees. Through the foliage he was met with a vista of huts along the water's edge. To his left, the dancing silvery shards of the river Ounpontdi made him stop. 
So this was Potnarvin, lying under the lee of a mountain called Traitor's Head. He shaded his eyes as he looked upwards. The mountain appeared to rise to what he estimated to be about 3000 feet. Its height was hard to gauge as clouds obscured the peak. As Philip was to find out over the three days of his stay, Traitor's Head was almost perpetually covered in cloud. The clouds concealed the fact that Traitor's Head was a volcano. It had not erupted for nearly two hundred years, but had done so twenty-five years after Captain Cook had been there on an exploratory voyage. 
The mountain had received its name from Cook who, on landing on the beach, wondered why such apparently friendly people were armed to the teeth. One of Cook's muskets had misfired and the friendliness had vanished in an instant. A battle had followed and, before Cook was able to get back to the ship, one of his sailors had been mortally wounded and at least two of the Erromangans lay dead. Philip thought the "Traitor" was an odd choice by Cook, given that he had a meticulous way of naming his discoveries. The Captain was probably just annoyed. "Traitor" did not seem to be the right word, although the incident was certainly prescient of Cook's future.
The villagers, unlike their ancestors, had welcomed Philip. They seemed to appreciate the quiet tall young white man, who came out onto the beach stopping to look around and unbuckle his rucksack.
Cook's response was predictable – confrontation with bloodshed. At the time of Cook's visit, the Erromangans were cannibals, with a strict etiquette concerning where the white man could move around on the beaches where they landed. These rules were transgressed as they were later with the arrival of Presbyterian missionaries. When they crossed this line they were killed. In addition the natives developed quite a taste for Scottish missionaries – haggis?
Purchase a copy of The Sheep of Erromanga! Email enquiry to: SheepofErromanga@gmail.com
The recidivist Carnival
On February 27 this year, a cheery ABC reporter noted:
… the effects of swine flu in the grip of the 2009 pandemic was confronting. This disease affected people who don't often get the flu, afflicting young adults whose previously healthy lungs became white and cloudy with pneumonia. While most recovered, many did not. By the end of 2009, more than 37,000 Australians had been diagnosed with swine flu. 
More than 190 people were dead. 
Worldwide, the US Centres for Disease Control estimate swine flu killed as many as 575,000 people. Eighty per cent of them were under 65. 
Let's contrast the swine flu epidemic with the spread of the novel coronavirus — or COVID-19 as it is now known.
The new virus is sweeping through parts of China and infecting small numbers all over the world…
I will not detail some of the learned academic predictions that were criticising our draconian measures e.g. close our borders to China. Their expert advice was just wrong.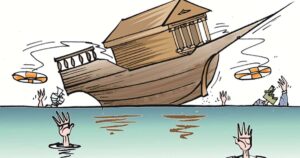 Now just what was being reported in the media in the autumn of 2009?
As suspected swine flu cases in the Hunter New England health area jumped to 72 yesterday, a Hunter family quarantined at home after a cruise on virus ship Pacific Dawn slammed the handling of the outbreak. 
The Exxxxxxo family of Thornton was ordered into quarantine on Tuesday, a day after they arrived home from a 10-day cruise on the Pacific Dawn, and only after Mrs Chris Exxxxxxo contacted health authorities.
"There were 2000 or so passengers wandering around who had no idea that they should be avoiding contact with other people." Mrs Exxxxxxo contacted NSW Health who confirmed the family should be quarantined and was later contacted by P&O Cruises.
As the flu emergency escalates, the Federal Government has ordered enough doses of swine flu vaccine for 10 million Australians. The Exxxxxxo family has spent the past week in lockdown in their home and will not be allowed out until they receive the all-clear on Sunday… 
…When the Pacific Dawn cruise ship docks in Brisbane today, after cutting short its cruise because of the flu threat, the Queensland Government will invoke tough quarantine powers to stop interstate passengers disembarking. Three crew members have tested positive to the virus, but have recovered with treatment. Five passengers await test results. Health officials will screen the ship's 2000 passengers and 700 crew. Only Queensland residents will be allowed to disembark and will be asked to quarantine themselves for seven days.    
"We are being extremely cautious in our testing arrangements for anybody who presents themselves with flu-like symptoms" Carnival Australia chief executive Ann Sherry said.
Of course, that is what you would say, Ms Sherry, with your winning smile. It is however understood that people with swine flu contracted on Carnival ships may not have agreed.
And then about the same time there was another media release…
Minister for Health, John Della Bosca, today announced NSW would upgrade its Swine Flu protocols for cruise liners who arrived in NSW waters. 
The NSW approach to arriving cruise ships has been developed in consultation with the Commonwealth. 
"When the Pacific Dawn arrived this week, its passengers had not been to any jurisdiction where Swine Flu was present and it was considered unlikely the virus was on the ship," Mr Della Bosca said. 
"The two children from the Pacific Dawn who have since tested positive for Swine Flu had not travelled overseas before boarding the ship, had no contact with affected countries, and were not considered to be at risk. 
"An additional 16 people from the ship have since been confirmed to have Swine Flu. Six of these people are currently in Queensland. 
"These people have been assessed by public health staff and placed into isolation. 
"Further public health assessment of contacts of these passengers is now underway."
Similar pattern. Let them all off the boat – she'll be "jake". The NSW Chief Health Officer then – the incomparable Kerry Chant.
Unlike COVID-19, a vaccine was rapidly developed for swine flu, (the existing influenza vaccine was partially effective) which then helped contain the viral spread. Nevertheless, on a population basis Australia had the third highest number of cases worldwide. The virus affected the elderly, young children and pregnant women particularly, and spread so rapidly that contact tracing was well nigh impossible. Fortunately, it was not as deadly as initially believed, unlike COVID-19.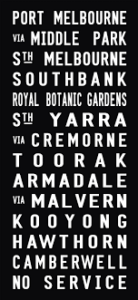 In the case of Victoria, it was bought there by a well-to-do Australian family returning from the USA by air. Their children spread it in the two well-known private schools they attended and the spread was accelerated by a "social" dance. Later, its spread was tracked along certain tramlines passing through Bolli-wood a.k.a. Toorak.
It is interesting that although it was first berthed in Victoria, the cruise ship made sure it spread the virus to NSW where the normal laissez-faire attitude (see Chant) predominated. However, in Queensland the Pacific Dawn was refused permission to berth, and the following may be apocryphal but nevertheless it is a good story. A highly-placed Queensland official threatened to order gunboats, a.k.a. whatever Dutton inherited, into the Brisbane River to make sure it did not happen – bit of a wimp the current Premier – only closing the borders.
The Office – viruses thrive on randomness
Some time ago, as I reported previously, well before the COVID-19 outbreak, I was sitting in the foyer of the Alfred Hospital in Melbourne where there was a hand sanitiser predominantly displayed. Virtually everybody entering and leaving the hospital ignored the instructions to clean their hands.
Last week I was waiting in the foyer of Cabrini Hospital in Malvern and next to where I was sitting, near the hospital exit, there was a hand sanitiser. Despite the hospital foyer having all the trappings of virus prevention, this sanitiser was mostly ignored. Yet on the other side of the foyer not five metres away all the preventative measures were in place – maintaining a safe distance in defined queues, temperature and verbal screening, hand sanitiser use being required.
The difference – one side of the foyer was supervised; on the other, no supervision.
The problem with any loosening of the COVID-19 chains is that the new concepts of hygiene are yet to be embedded in the nation. As I have said, the standard of public toilets gives a clue as to how seriously hygiene has been embraced by this country. Driving between the two capital cities this past week for medical appointments, I observed that the toilets along the Hume Highway are just as bad or as average as they have always been. There has been no change except toilet paper has disappeared for various reasons from some of the dispensers.
Having issued this caveat, there is no doubt the underlying strength of the Australian health system has been shown even given some of the dills, often influential, who have tried to disrupt the public health protocols, because that is what they are – dills with a deep-seated sense of entitlement and self-importance – the essence of "Do you know who I am?"
As I wrote last week, there is a good case for the re-opening of schools, and paradoxically Premier Andrews being so hardline means that the other politicians have to be more measured.
Viruses love disorder
The more that you contain the natural community Brownian movement into more laminar flow then the more order you bring to contain the enemy. However, at the same time it must be recognised that open plan and activity-based work spaces designed 20 years ago to maximise the number of occupants were also designed to maximise "random" contact between staff members who were moving around in the workspace. The post-COVID-19 office has to contend with minimising disorder while dealing with now-outdated office planning that maximised apparent randomness.
While the concept of working from home has seemed to solve the problem of halting the viral spread, the evidence of long term efficacy of working from home is mixed. Some may praise its "flexibility" and claim that efficiency has improved, while others use the word "chaos".
In my mind's eye I have a hospital operating theatre. Here people are gathered together for hours on end to perform operations and in so doing assuring the patient does not acquire an infection attributable to the operation. The air conditioning must be maintained at such a standard that the air circulating is pure enough for the most complex operation – such as a joint replacement – to be undertaken with the least risk.
In the end, the assumption must be that the post-virus office must be big enough to provide sufficient space for people to congregate while maintaining a certain distance from one another without shouting. Street clothing does not seem to be a major factor in viral spread, but the operating theatre staff do not go into an operating theatre in their street clothes as the nineteenth century surgeons did. They change into their green or blue scrubs, their head covered and mask at hand. And at the operation a further gowning with all the appropriate obedience to the rules takes place, and this ritual is repeated for each patient.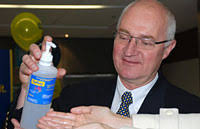 Professor Lindsay Grayson, the Australian doyen of hand hygiene succinctly summarised the national hand hygiene study after eight years observation in 2017 – The National Hand Hygiene Initiative (NHH) has been associated with significant sustained improvement in hand hygiene compliance and a decline in the incidence of staphylococcus aureus bacteremia (HA-SAB). Key features include sustained central coordination of a standardised approach and incorporation into hospital accreditation standards. The NHHI could be emulated in other national culture-change programmes."
The challenge to community cleanliness is to accept the challenge for its offices as set down by Professor Grayson.
The new office order
The elements of the new order now are being tested everywhere, have they penetrated into every individual's brain … at least not yet.
The elements include:
Social distancing and limiting the time spent in face-to-fact contact or in a closed space with others
Lift etiquette and disinfecting
Masks (understanding how and when they should be worn and by whom)
Air conditioning
Hand hygiene and not touching the face
Temperature checks
Responsibility for the regular cleaning of one's designated work area, including equipment such as computer keyboards and phones
Regular cleaning of the office, reception, kitchen areas and the toilets
Quarantining anybody who shows the slightest sign of a respiratory infection
Viral testing
Being able to plug into a internal form of contact tracing to identify if employees are not generally within their designated areas (that is, for the purposes of maximum numbers to ensure social distancing)
Food outlets
Making provision for workers who are at a higher risk
This is part of the equation – the other major element is how to get employees to and from work safely when public transport is designed around maximising the number of passengers and when work hours are not staggered, but that is a future blog.
One of the theoretical advantages has been the advance in communication over the past decade. This has meant that isolated people can see one another – good reliable images of the people. How far that improvement in this distant communication can supplant actual face-to-face contact will give researchers a great deal of time to seek answers. Online meeting platforms will be an essential part of the response to this pandemic.
It is up to those who head the large firms to enforce social distancing – not sitting huge distances away, although appropriate spacing of work areas will be important, but being careful of exchanges – the hand shake, the hug, the kiss on the cheek, borrowing somebody's pen. It is these social gestures, essentially random, upon which the virus thrives.
There must be an etiquette in the use of lifts, as is occurring in hospitals already, with the maximum number of people prominently displayed. Again this demands discipline.
The meeting room should contain a round table of appropriate size, and the air conditioning should be such that a joint replacement could be performed on the table with little chance of airborne infection. Time spent in closed meeting rooms should be minimised.
This leads to the discussion about planning an office to be open plan or not. As the NYT reported this week: "Some companies have begun mentioning a return to one of history's more derided office-design concepts: the cubicle. There is talk also of the cubicle's see-through cousin, known as the sneeze guard.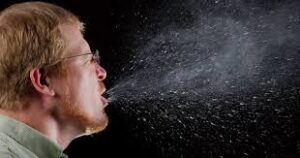 "Cough and Sneeze Protection Screens," is how they are being marketed…
Earlier in the article "Soon, there may be a new must-have perk: the sneeze guard. This plexiglass barrier that can be mounted on a desk is one of many ideas being mulled by employers as they contemplate a return to the workplace after coronavirus lockdowns. Their post-pandemic makeovers may include hand sanitizers built into desks that are positioned at 90-degree angles or that are enclosed by translucent plastic partitions; air filters that push air down and not up; outdoor gathering space to allow collaboration without viral transmission; and windows that actually open, for freer air flow. 
All very good, and some of these changes are evident in our hospitals and retail outlets, but it is imperative that offices have a structure to ensure that all the changes are effected. In other words there is a team of enforcers, from the time the person enters the office area initially to use the hand sanitiser to the odd time he or she may use the toilet. You see that sign in the aeroplane toilets to respect the next user by cleaning up after yourself. One can believe that some who use the toilet are blind. After a few hours in the air the said toilet can become unclean because of lax enforcement. The new office will ensure that cleanliness is maintained
Then there is consideration of the material that you use to outfit the office anew. In a NEJM article and combined with another source, it was shown that the virus persisted up to four hours on copper, eight hours on aluminum, 24 hours on cardboard and two to three days on plastic and stainless steel. Elsewhere it has been shown that on glass or wood surfaces, the virus will remain present for up to 4 days.
Reassuringly it has been shown that Covid-19 can be eradicated within one minute by disinfecting surfaces with alcohol, 0.5% hydrogen peroxide, or bleach containing 0.1% sodium hypochlorite.
Watching the thermographic camera in operation while I waited at Cabrini Hospital was an impressive demonstration of its capability, and the question is the number needed and their positioning. Having temperature taken manually is probably more consuming of staff time. Nevertheless the receptionist or however he or she is described must be someone who understands the basic requirements of public health, and it should not be too difficult to arrange an instruction in this. After all, the responsibility extends to ensuring clean toilets, that there is form of "contact tracing" of anybody in the building, with the current chunky badges of identification need to be reviewed.
One of the other matters which follows is how food and drink is dispensed. Bringing your own coffee cup and lunch is an obvious solution. Trialing take-away has been happening in the community, and therefore how the workers obtain their coffee and lunch needs to be mapped. When food and drink is raised, then the spectre of alcohol is also raised. I have some doubt that those affected by drink respect social distance. Then what does the office do with those who smoke, coffee in hand outside the building. As I walked around the outskirts of the Royal Melbourne Hospital last week, even there were numerous staff members in their scrubs outside smoking in corners away from the elements.
Thus in the end someone in the office must be the arbiter deciding who needs to be tested or sent home. There is a certain unrealistic optimism about a vaccine, and clearly the anti-viral drugs do not work on coronavirus. If they did, the cure for the common cold would have been had long ago. As for hydroxychloroquine … be careful Palmer, what is your pitch when the first person dies using that drug rather than killing the virus – go green rather yellow?
Those in business must take a pessimistic view and not believe the vaccine is just around the corner. However, in equal measure they must take an optimist view that careful planning and implementation of a rearranged COVID-19 office space will support both the reopening of business in 2020, but also recognise this will be the "new norm" for the foreseeable future.
As for masks, they may be obligatory in the operating theatres where the operating team are kitted up with sterile gowns and gloves, however in the community I have this image of the Italian smoking, his mask limp around his chin. Masks are ideal to irritate, to touch – as are gloves when the gloved hands are moving from one potentially infected surface to another. Masks thus can be a definition of false security as are latex gloves – only as clean as the last touch.
In the end, the broader community has to come to an understanding of what is needed to provide a safe working environment because the changes that are needed cannot be achieved without everyone giving up some personal "freedoms". At the same time reliance on pre-COVID-19 legislation to direct the ways things were done won't cut it any more. Governments have to review all their relevant legislation to make sure they don't allow sloppy hygiene to continue.
This is whither I have arrived – a personal exercise calling on what seems to be a reasonable allotment of information in turn to provide a reasonable allotment of advice.
Mouse Whisper
I was self-isolating outside my mousehole when I looked up at my mausmeister's television and saw a man called Nev who turned up on the screen. He seems to reflect this economic imperative, which is taking over from the lingering pandemic, as his mates are getting restless. Doctors should stick to the hospitals was the secondary unvoiced agenda.
Pardon my meek mousiness by addressing you as Nev. I thought I heard it correctly that you said there will not be another pandemic – you will make sure it does not happen again? (see above). Hope the viruses are listening.
You know Nev, you, the bloke who maybe can't see the trees for the Forrest.