"A well regulated Militia, being necessary to the security of a free State, the right of the people to keep and bear Arms, shall not be infringed."
When the Virginia legislature in January were moving to enact a number of mild gun control laws, enter Trump in a post on Twitter:
"Our 2nd Amendment is under very serious attack in the Great Commonwealth of Virginia".
Of course, in true Trump style, the reforms were nothing of the sort.
However, his audience was his gun-toting lumpenproletariat. They had turned up in a mass display of bullying in Richmond, the Virginian capital, armed with a threatening array of guns.
These may be the group that Hilary Clinton lumped under the term "deplorables", but she unfortunately had not done enough groundwork to separate herself as a leading member of the perceived "elite" so that the right-wing conspiracy trolls could accuse her of being head of an elite that was depriving working Americans of their birthright. "Deplorable" is not a defined movement, but an unfortunate word of disdain. Thus anybody disliking Clinton with her trappings of wealth and her continued association with a philanderer would have found it reason enough to vote against her.
What she was attempting to say has been put in a more analytical context by the American historian, Bruce Franklin. In quoting Franklin, I had always interpreted "lumpenproletariat" from a Marxist point of view, Groucho that is. However, what is written below changes that perspective. It is a chilling description of the Trump constituency.
"In Germany, the lumpenproletariat was the main source of shock troops for Naziism. Anyone who worships the spontaneity of unemployed youth should be reminded of the Brownshirts. In the United States, unemployed white youth are a fertile breeding place for the worst forms of racism, national chauvinism, and the cult of the super-male. This is particularly true in the South, in the urban areas into which the dispossessed rural whites have been driven, and in European ethnic neighborhoods. And among these people there is no clear dividing line between lumpenproletariat and white working class." 
The American lumpenproletariat has been allowed to become heavily armed. The diffusion of military equipment into the hands of the local police forces means that a militia loyal to Trump which seeks legitimacy under the Second Amendment becomes so very feasible.
This is the ultimate Trump threat and in the event of the possibility of Trump losing the election, this force could be called to arms in every State, particularly where there is Republican control. Trump or his lieutenants more likely will be there preparing the ground for the militia to be raised as if the nation is under threat (that is, Trump's re-election is threatened) and individual freedoms to do whatever you like (meaning owning as many firearms as you like with the minimum regulation) are OK as long as one supports Trump.
Social media has been a godsend to Trump, enabling him to perfect the tactics he employed in "The Apprentice". It is a medium that is understood and accessible to his constituency.
However, Trump is an old man, and his dissolute lifestyle has challenged the resilience of the gene pool. While he has hinted at a dynastic succession, this is one of the few themes that he seems to have dropped. Yet if he is elected he would be 78 at the end of a second term. The question is, can The Planet afford it, whether he is elected or especially if the electoral college does not return him? One scenario has the Old Man brandishing the Second Amendment calling up a militia drawn from his alienated constituency energised by ethnocentric hatred.
The bulwark against him is not the current crop of Democrat Presidential aspirants, fighting over the carcass of the Party bequeathed by the Clinton dynasty. Let's face it, Bill Clinton's overexposure has legitimised Trump. Clinton is Trump's atavis.
The Democratic Party's survival and that of the USA depends on it securing a majority in the Senate, and maintaining control of the House; otherwise the one party state of Trump will become very much the reality. Very simple solution for the Democrats – win both Houses in November.
The Presidency is but a sideshow with the current crop of Democrat candidates. Can any of them face down a toxic Trump with his putative militia if any of them do win? What would they do? It is a question nobody will want to ask, least of all this mob of candidates.
It was a Dark and Stormy Night
The fires in East Gippsland call to mind something that happened to me as a small child. I have recounted it many times but never in a blog.
I could start this story off by saying: "it was a dark and stormy night", but it actually was. It was May, probably around 1948, when father decided to take my mother and me across the Alps before hydroelectric Snowy Mountains Scheme commenced so we could all see an undisturbed alpine landscape. My father knew that when the Scheme was begun, so would the pristine wilderness go.
It was also the year my mother agitated against the removal of the elms from St Kilda Road to be replaced by desert ash. Somehow the decision to retain the elms was made, and I don't really know how much my mother's agitation influenced anybody. But I remember a Councillor Brens was the target for much of her vitriol. Now the elms in their exotic surroundings of Melbourne are some of the finest in the world.
Anyway back to the dark and stormy night in May. There were a few flakes of snow as my father took one of his famous shortcuts in his Vauxhall Wyvern 10. As we chugged along the forested slopes, my father said that this would be quickest way, judging faith in his map to get to where we were supposed to stay for the night – Bombala.
However, it became obvious to my mother that my father was lost, and as the storm intensified and snow began to fall, it became even more evident that this small car was not equipped with the best of internal lights to read the map, and of course there was not a torch in the car. The headlights on the car were the best illumination to look at a map, and winding up the road searching for a sheltered place to stop to look at the map suddenly became unnecessary.
We had just rounded a corner and there in front of us was a hotel, a bush pub nestling in the forest with lights blazing in each of its windows. Even now I can remember the relief my parents showed in the half-light the interior of this tiny car. To find such a sanctuary like that to them was incredible, if not miraculous. We had reached a dot on the map called Bendoc. After my father had determined that there were rooms available – even from a young age I always had my own room – we all went inside.
The chilliness was soon dissipated by the fire, which had that intense burn when you put hardwood logs onto a fire. The radiated heat sears one's face.
Now warm, and having been confined for several hours in a small back seat, I was running amok in the hotel lounge bar. I suddenly noticed an old bearded man looking intently at me. He was sitting at the fireside drinking a large glass of stout. For a while he sucked on his pipe, and the smoke floated upwards. At last, as if he had enough of this boisterous child flinging himself around the bar, he took his pipe out of his mouth and beckoned me over.
"Son, do you know who Ned Kelly was?" Being a somewhat precocious child, I said; "Yes he was a bushranger."
He paused and said: "I knew Ned Kelly."
That was all. It was as though I had tapped a secret. I did not have enough knowledge to ask anything more. I looked around to see if anybody else in the bar had heard. I said nothing to my parents.
The old man smiled and leant back in his seat and relit his pipe.
That was it.
Except now you know, as you read this, a boy-cum-man who knew a man who knew Ned Kelly.
Do as I say?
It proved too much for Mike Keating and Andrew Podger. This apologia that the Head of Prime Minister & Cabinet, Mr Gaetjens, a person who has never lived outside the public service but obviously has been very adroit in crawling up the bureaucratic slope, has just violated the major tenet of survival. Not that it will matter because he will end up in one of those right wing think tanks nursing his not inconsiderable pension and giving a spray to any successor who he perceives to be to the left of Nicolo Macchiavelli.
Michael Keating and Andrew Podger have stood atop or near the top of the bureaucratic slope, although both of them did not have to crawl, such is and was their ability and moreover their integrity. After all Keating used to play a high standard of tennis with Roz Kelly's husband, but there was never any suggestion that Keating ever compromised his position. Although different in age, both Keating and Podger grew up at a time when sure, you have your political biases, but advice was given in that time-honoured phrase "fearlessly". Maybe in the crawl up the slope, Mr Gaetjens had not noticed.
Both Keating and Podger have made significant contributions to public administration, but I know they would have refused if their political superiors had asked them to do what Gaetjens has done. They would have realised that if they had done that, ever afterwards their advice would have been compromised.
I have not always agreed with Keating, even in face-to-face conversation; and in regard to Podger, disagreement with him has never really been tested. After all, how two people handle inter-personal conflict is a measure of the strength of the relationship.
I do not know Gaetjens, but incurring the ire of such distinguished peers shows that he has violated that axiom for all those who wish to maintain their relevance, namely: autonomy of action is inversely proportional to the controversy generated. In other words you can get away with it so long as you do not create a public storm, stirred up generally but not always by the media.
Gaetjens, you did your political master's bidding. Your retired peers, the ones who do not need to fear retribution from fearless advice, have spoken out. Well, what would you expect! You write a report, which is kept secret but which is seemingly at odds with that of the Auditor-General. Bridget Mackenzie, for weeks beatified by the Government as the Goddess of Generosity and overflowing Cornucopia, stands condemned by this unseen report and off she goes, not because of the Auditor-General's public damnation, but something you may have handed to the Prime Minister.
Job finished.
Can I go now Prime Minister? You will find my recommendation at the foot of the page – well not actually the foot, maybe just after "My dear Prime Minister".
Koroit – my Back Road
Every time I used to go to Port Fairy in the 1970s, I would take the Hamilton Highway to Mortlake and duck down the back road past the racecourse through Woolsthorpe before reaching Koroit, where for the first time you could see the Southern Ocean and you knew then Port Fairy was not too far. Then there was the gloomy grey closed convent and intriguingly a scattering of original milestones along this road to the Princes Highway. Eventually they disappeared, presumably incorporated into someone's garden rockery.
In 1975, we had bought Bowyers Cottage, built in 1848, with its immensely thick rubble stone walls and high ceilings in the front two rooms and in the back rooms where mice ran around the rafters and the ceiling was much lower. It was the time of short summers and being unprotected by the Tasmanian land mass in winter one would feel the full force of the southwesterly gales. It was before Port Fairy became fashionable – before its McMansion suburban development.
Port Fairy, with its misnamed main thoroughfare of Sackville Street, was a coastal village, in the days when you could get a lobster direct from the fishermen, and when the place was alive with abalone fisherman and the favourite drink of their wives was Bailey's Irish Cream. The whole area reminded me of the west coast of Ireland. I felt at home. After all, my ancestors were from Co Clare from the tiny village of Crossard north of the town of Corofin.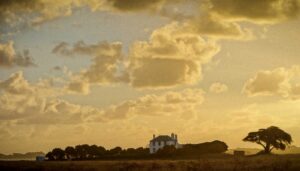 But Koroit always fascinated me from the first time I went there. It was then the Borough of Koroit and despite the Borough being some 65 per cent professed Roman Catholics, I remember the Borough Secretary was a good Salvationist, amid a field of Paddy potato growers. The land was fertile; the rich volcanic soil spilled down from the extinct volcano, which had itself collapsed into a caldera. Named Tower Hill, it has become a unique nature reserve in the middle of this landscape. In the episode of Koroit Back Roads on the ABC this landmark received scant mention, perhaps because the original settlers denuded the original nature reserve to grow potatoes as though there was not enough soil elsewhere. Fortunately it was restored at some time, probably when spud growing became unprofitable, rather than by a conscious act.
In fact the potato growing industry here received a jolt when consumers in the 80s and 90s found potatoes grown in sand did not require the same amount of cleaning as those grown in the heavy volcanic soil of Koroit.
They also used to grow onions there, but as was told to me the fog rot sealed the fate of that industry. There has been sporadic agitation to grow opium poppies, because the Glaxo factory at Port Fairy manufactures opiates currently made from opium poppies grown legally in Northern Tasmania. Let me say when I travelled around the area in the 70s, there was a bit of local Celtic mythology, which suggested that were fields of poppies in the area grown from seed which had blown across from Tasmania, in defiance of the wind direction, a miracle of blarney.
The Koroit episode of Back Roads did give mention of potatoes, which otherwise suggested that it is one continuous St Patrick's Day festivity, where if you were not digging spuds you were dancing or drinking and the leprechauns were rampaging the streets at night.
There is no doubt that Koroit has a strong Irish ancestral condition. I remember walking into Mickey Bourke's Hotel once before I was known there, and everyone stopped talking. You know you are in Ireland when that happens – there is no stronger tradition, except perhaps horses. Not having a race track with all the associated men in cloth caps with brogue on the tongues and brogues on the feet provided was a substantial gap in this ABC exercise in the paddywhackery.
Koroit moreover has not reached that level which defines pure paddywhackery as "the fakey, out-of-a-box Irishness that insists on the same damned songs and the same damned menu and the same damned Guinness advertisements on the wall of every Irish bar outside of Ireland".
However the Back Roads episode, which sought to portray Koroit as a home of the bog Irish, dismissed or ignored an inconvenient fact; namely that it is where an Australian Nobel Laureate went to school.
I remember making a speech to the Koroit school children about Sir John Eccles on the occasion of the Centenary of his birth in 2002. So much for my legacy, but it is a pity that among all the information about Koroit, no recognition was made of this important son of Koroit. The problem is that to mention Eccles would have interfered with the ABC producer's mind's eye's caricature of Irish Australia. Pity, because we don't have that many Australian Nobel laureates to celebrate along our highways, let alone our back roads. 
Mouse Whisper 
As a young boy John Monash met Ned Kelly at Jerilderie. Monash never said what passed between them. So this mouse is proposing a new expression. ME's mouse believes it much more Australian to say, "as Monash said to Ned Kelly" rather than some anonymous actress's exchange with a bishop – and anyway "actress" is no longer a PC word.
For example, as Monash said to Ned Kelly, "hold your horses." And perhaps his advice to go to a nearby town while the weather was good. You know, "Make Hay while the sun shines". As young Monash said to Ned Kelly…