At last he has gone. One down; at least one to go.
Now let me recall a real story based on an experience. It was the early 1980s and I was scheduled to go to America. Before I left Australia, I had a niggling tooth pain in one of my molars, but it just remained that by the time I reached San Francisco. My friend mentioned to me that the Bay to Breakers run was the next day. It was that time of my life when I was in my misnamed "fun run" phase.
San Francisco's Bay to Breakers run starts at the Embarcadero on the Bay, where the ferry terminals are, then goes up the steep Hayes Street hill, along Curtis Street, all gay and Village People music blaring and then through the wooden shingle houses of Haight Ashbury belonging, as it did, in the world of Scott MacKenzie.  Despite being for a time a heavy drinker and smoker, I still got out for a jog every day. Although I never tried marijuana, even though it always seemed to be around, I once owned a house in Fitzroy in Melbourne which I rented out, and only after it was raided by the coppers did I find out that the tenants were growing a crop of cannabis in the back garden in what was known as the Pot House. The police were quite apologetic about the raid damage.
However, I diverge. The last part of the run was through the Golden Gate Park, strewn with pine needles. It filled me with exhilaration. My tooth was forgotten, the level of endorphins was high. The course was downhill amid the aroma of the pine forest. And best of all, the Ocean became visible, and then the run had ended.
Gradually as I wended my way back to where I was staying, the endorphin effect lessened. Celebratory drinks disguised the pain, but when I woke up the next morning, the right side of my face was blown up. I had a fever and generally had lost the exhilaration of the previous day.
I had to go to Orlando in Florida on the other side of the country that day, so we went to the local dentist, who was useless. He was busy and extracting the tooth could not be done there and then.  He prescribed oral bicillin and sent me on my way.
I don't know how I made it across America on my own with only aspirin, bicillin and alcohol. However, the swelling was such that I drew curious glances from my fellow passengers; as far as I could remember nobody said much. But then, when you are that ill, it is difficult to remember.  I knew there was no angel shining a light on me until I arrived in Orlando very late that day where I was met by my "guardian angel".
She took one look at me and contacted a local dental clinic. I could be seen first thing in the morning.
Alone in a bedroom overnight with only an abscess to keep me awake, I sat on the bed and watched television all night. I did not change out of my gear even though I was drenched with sweat; I washed my face but did not have the energy to shower.  I just sat and watched the time crawl past. It was probably the worst night of my life but compared to others who have been in excruciating circumstances, I at least had a goal – I had to live to my 8.15 am appointment.
I was picked up and taken to the dentist. He said as he examined me that it was lucky I was here in the United States as this was one of only a few places at that time where root canal therapy could be being undertaken. Extraction was unnecessary.
The anaesthetic was bliss and then instead of yanking out the tooth, he cleaned the infection out and in so doing, relieved the pressure, inserted local antibiotic and said the treatment would last until I got back to Australia. The dentist prescribed a powerful oral antibiotic. I remember emerging into the sunlight alone, (my angel had to go back to the Conference I was supposed to be attending). I did not feel feverish. I stood waiting for a bus, and even though the anaesthetic was wearing off, I had another bout of exhilaration. The scourge had been expunged.
I have transformed my experience into what may be considered a dental allegory when viewing the receding Rump disappearing down Pennsylvania Avenue.
When Tooth decays, gets infected and causes pain, the immediate response is to extract it and expose the underlying infection. However, if removing Tooth will cause a cosmetic ugliness, would one be tempted to treat the decaying Tooth conservatively with antibiotics and painkillers – or maybe there was nobody skilled enough to remove Tooth or cure Tooth of its affliction.
In the meantime, while there is indecision, the infection spreads and becomes an abscess, and then quickly the whole face begins to swell; and the pain becomes intense. As the affliction heightens, it becomes more difficult to control – until at last, somebody with the requisite expertise comes along and treats Tooth, drains the abscess of its golden strand purulence. A powerful antimicrobial agent is administered. It is touch and go; but the body in which Tooth lives is spared septicaemia, and able to resist a possible secondary infection from other germs.  Tooth is old, but it still can have poisonous aftermath, if infected remnants are left in the socket. Drain the cavity, is the command.
Then over time cavity is allowed to heal; not needlessly over-treated. Just gentle restorative justice for a body which had endured diseased Tooth for so long. So, impeach stage one may be all that is necessary.
Not Exactly the Jerilderie Letters
I am not sure a princess kissing Craig Kelly would turn him into a handsome prince. I'm not sure the spell being broken applies to toads.
Rather Kelly is beneath contempt, peddling the nonsense about COVID-19 cures without being called out by the Government. Rather than humouring this person, Minister Hunt should ensure he is driven from Parliament. However, he is one of the Prime Minister's Protected Species.
Peter Fitzsimons has given us a clue in an article he wrote in September in the Sydney Morning Herald.
"Another star of the Straight Talk Show in recent times has been Deputy Chief Medical Officer Dr Nick Coatsworth. For while it is unusual for a public servant to take direct aim at a politician, let alone one who is a member of the government, Dr Coatsworth didn't hesitate last week when the member for Hughes, Craig Kelly spouted stuff in Federal Parliament that came from the very lowest dregs of President Trump's bilge tank. You remember? Kelly was insisting there is a conspiracy to stop hydroxychloroquine being used, and if not for "groupthink" and the "complete abandonment of reason" driving a "war" on the drug, it would be widely embraced. This view is, of course, dangerous bull and Coatsworth said as much, even if he dressed it up with a little humour."
Time passes. Trump has been denounced and yesterday a new President has been inaugurated to clean the stain. Australia should do the same.
In Australia, Kelly keeps spouting dangerous Trumpian nonsense without being reprimanded. The Deputy Prime Minister thinks that having somebody running around endeavouring to compromise the health of the country is amusing. I don't.
From her privileged eyrie in Toorak, I see the smiling member for Higgins seems to find Kelly's behaviour amusing. Big joke is it, Dr Allen? I wonder what her peers in the Academy of Health and Medical Sciences think.
But back to Craig Kelly.
Fitzsimons gives us the clue. Coatsworth would be an ideal candidate to stand against him. Coatsworth is personable, articulate, knowledgeable, intelligent. What else would you want in a candidate to challenge the Incumbent who has none of these attributes?
You have to be strong to be a candidate standing against Kelly because much of the stuff that will be thrown at you will be from the evangelical gutter, with the nocturnal Sky trolls braying continually. Premier Andrews keeping his cool showed how it can be countered, but Coatsworth has faced Ebola, another scourge.
However, there definitely needs to be a doctor or other health professional with Coatsworth's attributes to stand against Kelly. One thing I don't know about Coatsworth is whether he has a sense of humour – most importantly when dealing with Kelly and his ilk is to have a sense of the ridiculous to complement one's inherent sense of humour. The real problem with people like Kelly, and Trump was a past master, is to be drawn onto their ground and end up by arguing their ridiculous premises.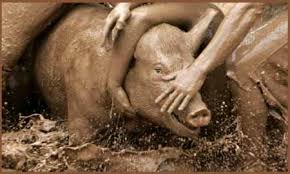 You know what they say, never wrestle with a pig, you both get dirty and the pig loves it.
Without wanting to put down other health professionals, the most familiar are the doctor, the nurse, the pharmacist – hence the need for the best available candidate to be put in the fray with the simple message that Kelly is too dangerous and detrimental the community's interests. However, a preselection battle may settle his fate, although given the experience in Washington recently, I would not necessarily hold my breath.
Message simple – "Hughes needs better" and/ or "Kelly is trying to poison you."
The latter comes out of the playbook of the defeat of David Hill in this same electorate in 1998. Then the head of Sydney Water, Hill was associated with the water contamination scare at the time. A variant on poisoning, but with less validity than Kelly's reprehensible behaviour. However, it was the only NSW electorate where there was a swing against the ALP at that election.
Then there is the other local problem, which can be associated with the word "poison ". That is the steadily accumulating nuclear waste material in his electorate at ANSTO, and has Member Kelly done anything about ridding the electorate of it? After all, it is a Federal responsibility, as is quarantine.
Now to get the right candidate to send Kelly back to his cavern. 
Brief Encounter
When you arrive at a T-junction on the Murchison Highway on the West Coast of Tasmania, you can either go left to Queenstown or right to Zeehan. Now if you go towards Zeehan, you enter the tiny mining township, with its modern amenities for the fly-in-fly-out miners. Once a tin mining area, it is now a flourishing area for zinc ore extraction There is nothing much to see in Zeehan, a number of old buildings attesting to its age. Then, before you see much of the settlement, you turn left past the huge black slag heap and onto the road to Strahan, which is lined by gorse. On the hills above there is evidence of a bush fire, almost unheard of before climate change intervened.
In Zeehan, although I have never seen it (even though I have passed through Zeehan many times), there is a small reserve of land named for Eileen Joyce.
Eileen Joyce was born here in 1908. Eileen Joyce – who? Most Australians would probably scratch their heads and wonder who she was. Yet Eileen Joyce was as famous as Vera Lynn in Britain in World War II. She was a child prodigy, in that she came from very humble beginnings where there was no encouragement for her talents, until her ability to play the piano was recognised by the nuns in her school on the Western Australian Goldfields. Several years after she was born, her miner father had moved the family to a town called Boulder, where a relative owned a pub; that is where Eileen found an old piano and upon which she was given her first piano lessons.
As she tells it, she was the subject of a number of "discoveries" by the nuns in Perth where she was sent because of her piano virtuosity, and then by a series of famous musicians, starting with Percy Grainger and then Wilhelm Backhaus, who recommended that she go to Leipzig to study, which she did when she was 19 years of age.
Her breezy description in an interview disguises the extraordinary talent of this small woman with the delicate but sharp Irish features, the chestnut hair, the green eyes, the elegant backless evening dresses, and above all the flawless piano technique – and her stamina. This last was particularly shown in the war years where the number of concerts she performed was immense.
What she is remembered for, despite having a large repertoire, is her rendition of Rachmaninoff's second piano concerto, where her interpretation was considered on a par with that of the composer himself. Her performance of the second movement is woven through Brief Encounter, the 1945 David Lean film starring Celia Johnson and Trevor Howard.
Their characters meet by chance in a railway tearoom. They are both ostensibly happily married but develop a relationship, initially platonic but then progressing to a passionate love affair until reality of their family situation makes them realise the futility of their encounter. The chance meeting in the railway tearoom ends in the same tearoom, in an excruciatingly understated way.
Brief Encounter was written by Noel Coward, who had an acute eye for relationships, and this film teases out the sadness and futility of so much of life that we, the middle class, call respectability. I first saw the film when I was young without it making much impact; reprising it later in life demonstrates its force – and the train is always a useful metaphor for life's journey and destination.  Eileen Joyce's interpretation of that Rachmaninoff Concerto provides a forceful sound stage, because the music is both upright and passionate; love upon a stiff upper lip.
I listened to an interview with Eileen Joyce later in life. It was not the interview of the retired woman looking back, but a woman still alive and with a very British accent, as though she was bought up in the Home Counties. While she did, from time to time, return to Australia, her grave is in Limpsfield in Surrey, not far from Delius and her beloved conductor, Sir Thomas Beecham. It is said she regretted that she was never made a Dame, but it is the problem of living too long and being forgotten.   
The defile though which Senator Lambie emerged
Sympathy for the working class has, for many, curdled into contempt. By 2016 the concept of "liberal democracy", once bight with promise, had dulled into a neoliberal politics that was neither liberal nor democratic. The Democratic Party's turn towards market-driven policies, the bipartisan dismantling of the public sphere, the inflight marriage of Wall Street to Silicon Valley in the cockpit of globalisation – these interventions constituted the long con of neoliberal governance, which enriched a small minority of Americans while ravaging most of the rest.
Jackson Lears, a professor at Rutgers wrote this in the January 14, 2021 issue of the New York Review of Books (NYR). I could not have put it better myself. The two leading villains in this scenario over the years were Clinton and Blair, but there have been many others.
However, Trump took it beyond any level of tolerance. He collected a constituency in Smalltown USA and elsewhere that felt angered, alienated and xenophobic.
It is said that Roosevelt had some warning of the Pearl Harbour attack but took the option that premature action was not justified. Japan had been telegraphing its punches for a long time before the eventual attack. As a result, an outraged USA arose from its isolationist position and joined the fray.
Likewise, even before he lost the election, Trump was indicating that he would not accept defeat. When it came, he then orchestrated the misinformation and stirred what others have described as his "group narcissists" to storm the citadel. Now normally there would have been "overwhelming force". But not on January 6.
Perhaps if the normal defence response had been mounted and there had been pictures of Trump supporters being turned back, bloodied, gassed or shot, then the Trump grievance may have gained national sympathy. Instead, this was that day there was minimal defence of America against a mad treasonous President. The images of Pearl Harbour galvanised America; the Capitol invasion to destroy the Constitution has similarly galvanised America.
That pathetic bunch of Trump supporters now face the might of America if they want to continue the fight.  But does group narcissism want to see its own blood on its designer flak jacket?
Trump has joined Hideki Tojo in the Trash Can of History. Once King Leer, now the lid is being put on the Trash Can, once the stain remover has been poured in.
What are the lessons for a country which has tried to mimic Trump?
This woman storming the Capitol in the name of Trump was Ashli Babbitt, a 35 year old Californian former servicewoman, who had undertaken several tours of Afghanistan and Iraq. Her final rank was considered lower than one would have expected given the length of her service in the Air Force. She was known to have an explosive temper and to harbour grievances. She had been married twice. She had a large debt from a failed small business investment, and she had two violence orders issued against her. Although once a supporter of Obama, she had been convinced by QAnon conspiracy theories and thus was determined to go to Washington and protest on behalf of Trump.
When she reached the Capital, this is how her presence was described: The raging crowd that bashed in the windows of a barricaded door to the Speaker's Lobby, with a short, tanned woman with an American backpack at the front of its ranks. Her attempt to climb through one of those windows, leading the way, despite a Capitol Police officer pointing a handgun in her direction. The abrupt way she toppled backward after a single shot resounded.
Ashli Babbitt died later that night, and while the word "martyr" was muttered, she was remembered as a poor, misguided person.
When I read her biographical details, her career reminded me of Senator Lambie.
Senator Lambie was born 49 years ago and grew up in a poor northern Tasmanian environment, in more ways than one. She gave birth to her first son while still a teenager, and her second relationship yielded a second child.  When recently asked about her perfect male, she was crude but direct. Her directness has been translated into being an aggressive personality. The accusations of vulgarity and bullying persist in legal action being taken by former staff members. But I jump ahead.
She joined the military with her career ending up as a military police corporal. She was discharged from the military because of a spinal injury and although she endeavoured to get a pension, she was labelled a malingerer and was refused.  That takes us up to about 2006.
Politics was an attractant. She worked for a time in the office of the Labor Senator Sherry, was an unsuccessful candidate for Liberal preselection before falling in with Clive Palmer's Party just before the 2013 national election. 2013 was an auspicious time to be a populist and Lambie attracted a number of votes, enough to become a Palmer Senator. Populism attracts authoritarianism; Senator Lambie is no exception. It did not take her long to break away from Palmer and become an independent, maintaining her own so-called Network.
Lambie's parliamentary career is dotted with trying to rectify her grievances, but she has a forum; she has a vote; the leaders of the nation court her; for now, she is Important – unlike Ashli Babbitt, who only had the streets and social media on which to air her grievances. Babbitt was too poor to be elected anywhere in America where, to be elected, a significant cache of cash is crucially important. However, the Australian electoral system allows for a person whose early career is not too dissimilar to Ms Babbitt to be elected.
I looked at the Senators who currently represent Wyoming, which has a population sufficient to send only one member to Congress. However, as the Constitution dictates two Senators, the same as every other State, Wyoming is well represented in DC.  In relative population terms Wyoming is the Tasmania of the USA – if only in this regard.
The senior Senator there is a male doctor; the other is a female lawyer who, when she was in Congress, was one of three women who insisted on being called "congressman". She has held political office in her State since 1979 when she was 24. She is now 66, not a poor single mother but ferociously espousing the Trump line, even now. A different kind of authoritarian Trumpist but with the kind of power which Ashli Babbitt craved, but did not have.
It is therefore salutary to think that Lambie being elected several times assures the dispossessed that it is possible to go to Canberra, if that's what you want: to be relevant, to be listened to – to avoid looking at the feather dusters that line the walls.
Now re-read the quote from Professor Lears at the head of this blog blot to see what Senator Lambie means in the scheme of things.
Mouse Whisper
In the last years of his life Richard Harris lived in the Savoy Hotel in London. Having become terminally ill, as he was being taken to hospital on a stretcher, he was able to raise himself up as he was carried through the lobby of the hotel and exclaim to the shocked guests, "It was the Food! It was the Food!"
Somebody should have brought the cake in out of the rain.