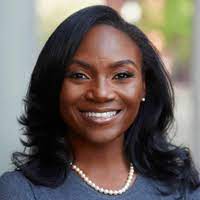 Have you heard the name Kizzmeika Corbett? Well, this 35-year old immunologist is a very significant person. A leading researcher on coronavirus spike proteins and mRNA vaccine technology long before the COVID-19 pandemic emerged, Corbett's work proved critical to developing a coronavirus vaccine in record time. For a year and a half, she worked around-the-clock alongside her team at the National Institutes of Health (NIH), where they developed the vaccine in collaboration with Moderna.
A native of North Carolina, she early showed her innovative scientific mind. It should be added that although it is very rural, part of the tobacco road mythology where the leaf was king, North Carolina is a powerhouse in medical and health-related research, particularly at the University of North Carolina in Chapel Hill and Duke University in Durham.
After a period working on dengue fever at Chapel Hill (with field work in Sri Lanka) and her PhD having distilled immunology research into that virus in 2014, she went to work at the NIH.
Here she attracted the attention of the Head of Faculty, Barney Graham, and was appointed to lead the coronavirus research team, meaning that years before the Virus became a pandemic, Corbett was laying the foundation that would one day allow immunologists, herself among them, to quickly formulate a vaccine against the ever-changing coronavirus.
She has become one of just a handful of scientists around the world with expertise in the viruses' distinctive spike proteins and antibody responses — knowledge that made it possible to quickly develop and deploy vaccines.
It should be noted that the use of mRNA in making vaccines had been around for 40 years, but the breakthrough came when a protective coating for the mRNA was discovered, since injected mRNA without such protection was destroyed in the body.
In her matter of fact way, Dr Corbett describes her work.
My contribution was helping to design the vaccine, leading the preclinical studies that informed the Phase I clinical trial and designing assays used for testing of clinical trial samples.
The quest in early January 2020 was to gear up. We started ordering all the things that we needed around animal experiments. We mapped out a plan. I started assigning roles to team members.
If you want to go fast in a pandemic, then messenger RNA (mRNA) is a shoo-in. It can be manufactured very quickly in very vast quantities, and you can essentially just swap out the protein once you have the system down. We collaborated with Moderna so we could get the system down pat.
Recently she decamped to Harvard as an assistant professor at T.H. Chan School of Public Health. "Assistant" is not far up the academic ladder, but like many who wish not to be overburdened with administration nor become what we used to call in Australia "Qantas professors" because they flew from conference to conference wringing as much as they could from their research.
She is therefore still the epitome of the researcher working long hours with a partner who is the assistant dean in the same school. It is not an uncommon set up, with two people intensely committed to research developing deep personal relationships to compensate for the long hours in the laboratory which research imposes. Having a partner able to share the language in which your research is couched – to understand what drives you, in this case someone who is really changing "the shopfront of society", and not just moving the manikins around to provide an appearance, rather than effecting true change.
A year ago or more, who of the general public had heard of mRNA technology. On December 8 last year, the first dose of a COVID-19 vaccine outside a clinical trial was given. We've moved a long way scientifically in combatting the Virus but it is clear that our social structures have not been so successful.
Dr Corbett had already tried to change that situation, and in so doing, she fell foul of former President Trump. However, it is clear that within Dr Corbett there is more than one messenger RNA.
Such a little disease…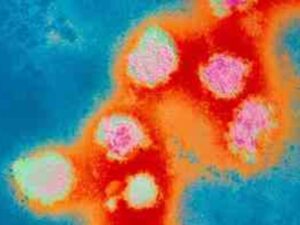 Once, rubella was a scourge of pregnant women. It was a very mild disease. In fact, rubella wreaked havoc in the first trimester of pregnancy. It was very transmissible . It was also known as "German measles", because of its fascination for German physicians in the 19th century, and measles because it caused a rash. Measles comes unremarkably from the Old English, meaning "many spots".
An Australian ophthalmologist, Norman Gregg, first described the association between rubella and birth defects.  As reported in the Australian Dictionary of Biography: His alert clinical observations and inquiring mind enabled him to make his outstanding discovery about rubella. On 15 October 1941 in Melbourne he delivered a paper on 'Congenital Cataract following German Measles in the Mother' to the Ophthalmological Society of Australia which was published in its Transactions. 
My clash with the Virus came twice, in 1964 and 1966. I cannot remember having had rubella, but as happens when you least want it to happen (sound familiar), I was exposed each time to a patient with rubella.
It was a time when a rubella epidemic was sweeping Europe and the United States. During that short period in the USA there were 12.5 million cases of rubella. In the USA, 20,000 children were born with congenital rubella syndrome (CRS)). Of these 11,000 were deaf, 3,500 blind, and 1,800 intellectually disabled. There were 2,100 neonatal deaths and more than 11,000 abortions – some spontaneous miscarriages, and others "performed surgically" after women were informed of "the serious risks of rubella exposure during their pregnancy".
It so happened that in each of the years, 1964 and 1966, I was exposed to rubella in the course of my medical practice – as a first year intern and then as a pathology registrar. I also did a number of locums during those years.
Prophylaxis against rubella was injection of gamma-globulin. In the case of rubella, one was not spared – 10 mls into each buttock and five into the right arm. Being injected with a needle of a gauge that you could probably run a train through, left me with a painful legacy. However, two boys born normal was a no-brainer in terms of receiving the gamma-globulin injection during my wife's first trimester.
The rubella virus had been isolated in 1962, and a vaccine followed in 1969, which was incorporated in the vaccination schedule a year later; and the virus has all but vanished now.
I do remember that one of the members of the Students' Representative Council Executive probably had been a victim of CRS. Her sight was compromised, but we never talked about it, and although she fell into what some would say, the FLK basket, in retrospect her sheer ability, her doggedness in getting things done, yet her innate kindness belied her disability. In retrospect, with all my other colleagues on the Executive, I was a medical student. The other males were law, engineering and architectural students, in those days when men were kings and women were not, she earned respect. And for God's sake, she was a social studies student!
I lost contact with her after university. She has long since died. Yet when I starting writing this piece, I suddenly realised how much we took for granted about this remarkable women. But then I muse alone. All the other members of that Executive, whose memory I treasure, are dead also.
However, my sons, I still remember the injections, well worth it, but hardly a treasured memory. 
Snottites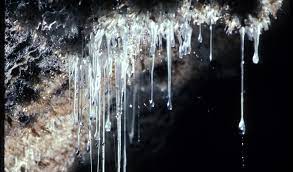 As I probably mentioned in a previous blog, I accumulated New Scientist magazines, even though I never had time to read them.  After I started writing the blog, as the magazines were conveniently stacked in the office, they served as a source of some of my material, even though some were 20 or more years old. Most of the issues came in an era before the modern technologies, and therefore there was a certain quaintness.  Having fulfilled this purpose of providing source material, I broke the link which bound me in this state of habituation and threw them out.
Now I am down to my last few. One of which highlights the snottite. If there were a word which immediately disgusts, "snottite" would be a major contender.
Let me put it in context: This place stinks. The rotten-egg smell of hydrogen sulphide hits before you even enter the mouth of the cave. Acid drips from the walls and ceiling. Slime coats the rock with coloured blotches like ghastly gelatinous wallpaper. And then there are the "snottites", white, wobbling versions of stalactites with the consistency of phlegm.
The snottite is a mixture of gypsum and sulphur, with bacterial activity within them which ensures a stalactite appearance stretching as far as half a metre from the ceiling of these caves. This is the sulphurous environment of the underground where even Orpheus and Eurydice wore gas masks.
The bacteria cause a coating of slime to develop over these calcareous formations. The slime forms curtains and loops that some liken to mozzarella cheese. Some slime is red in colour; some white or black. At the tip of these snottites drops sulphuric acid with a pH of 0.5. This is a hazard for cavers, where a drip on the t-shirt can burn a hole, not to mention the damage if a drip directly hits one in the eye. The skin is bad enough. Just as a comparison, battery acid is 0.8 pH; thus, snottite sulphuric acid is twice as strong.
These snottites exist in a set of caves where life is perpetuated through the metabolism of sulphur. The original cave where they were discovered in the Mexican State of Tabasco was the Cueva de Villa Luz (The Lighthouse Cave). Its name came from holes in the roof of this cave which let the light in; it was a traditional place for religious ceremonies, at least at the mouth of cave.
Then a guy called Jim Pisarowicz, a caver from South Dakota, explored deep into the cave in 1987 and found the snottites. That cave system is two kilometres long. However, the simultaneous discovery of the Lechuguila Cave in New Mexico, stretching 140 kilometres in length and at a depth of 500 metres, in one word dwarfed the original discovery of life in a cauldron of sulphur. Recently these sulphurous caves have also been found in Wales and elsewhere.
Under the microscope a snottite contains a dense mesh of fine bacterial filaments embedded in a mess of sticky polysaccharides that form sulphur crystals. Many of the bacteria oxidise the sulphur, but others devour these organic compounds. There are also higher organisms which consume the bacteria. One researcher has distilled the observations into a "consortium based on sulphur metabolism".
There are fish called mollies which survive in this extremely acidic environment, even though the mollies deep in the cave were somewhat different from those at the mouth of the cave.
What does it all mean?  One supposition is that if there is such subterranean activity on Earth, why not on Mars. Not sure where it gets you – except to make sure your t-shirt on Mars can withstand acid burns.
What I find amazing is that we humans co-exist with a world where sulphur is the essential ingredient. But then, what is Hell?
Personal Irresponsibility
Janine Sargeant MPH
"Just off phone to Aussie friend who visited Germany. Testing station on every corner: takes five minutes, walk in, no line, results in 3 hours at the most. And they can do 80 million daily.  A twitter observation
 On December 12th I wrote the following email. I didn't send it and have just found it saved in my "drafts" folder:
Did you see today's numbers by the way – bloody awful – 800 in NSW? Perrottet better get onto this PDQ or we'll have thousands of cases a day and be locked out of the rest of Australia again.
I looked at this draft email on the 26th, just two weeks later. On the 26th, the case numbers were 6,310. What happened in those two weeks? It was two weeks of Perrottet's Christmas gift to NSW; throwing public health caution in the bin along with the used Christmas wrappings. No abundance of caution, just an abundance of Omicron, although he can't sheet home all the blame to that variant. Masks off, QR codes gone, social distancing ditched – packed nightclubs, parties and raves in!
Today is the 30th, there are 70,928 active cases in NSW and the new cases up to 8.00 pm on the 29th are 12,226. That's exponential growth in anyone's book.
However, the Premier has told us not to worry about case numbers anymore; worry about hospitalisations instead (and those numbers are also now increasing exponentially). Sure, but what about all those people linked to cases who are now in isolation. If you assume a ludicrously low average of one per case, that's over 140,000 in isolation; assume half a dozen, that's getting up towards half a million people in isolation; where do you stop? That's a lot of people who can't leave their houses, who can't work – perhaps in one of those hospitals with burgeoning numbers of COVID cases – and a lot of people sitting at home and wondering just what happened in the past two weeks.
Further, the time now taken to be advised of proximity to a "case", courtesy the recently ceased and more recently-partly reinstated QR code, has blown out to 4-5 days. By which time you may have been out and about with COVID, given that omicron has a median incubation period of 3 days.
The "testing debacle" means that people in isolation who have needed tests on day 1 or 2 and then day 6, were likely to end up having their day 6 test before they even got the results from their first test. What a waste of time and resources. The most modest of Christmas arrangements were thrown into disarray with hosts packing up the Christmas fare and taking to the road to deliver "care packages" around the city to isolating family members. One of our family members recently turned up to a testing centre at 7.30 am and was told there was already a six hour wait – and that was in Melbourne, not Sydney. Have we demonstrated that with 6,000 plus daily cases (and who knows how many people wanting a test so they can go to Queensland), we have effectively broken the NSW Government's testing capacity? All we can say now is thank heavens Queensland and Tasmania have just announced the removal of the PCR requirement from 1 January otherwise testing in NSW would be completely crippled. Although replacing these tests with Rapid Antigen Tests (RATs) is presenting its own difficulties with supply.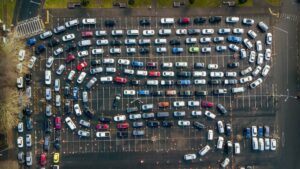 At 6,000 cases a day and with State border crossing PCR requirements, the collection centres have been overrun and pathology labs are days behind despite working round the clock; inevitably, errors have crept in. Positive results require double checking which significantly slows down the test processing so as case numbers grow, the pathology response inexorably slows down. No matter how meticulous a laboratory's quality control, systems and people under extreme pressure inevitably result in human error. So nearly 1,500 people have received wrong results in the past week; of these around 900 have now had their negative results rescinded, having been out in the community for days.
Did anyone foresee this? Where are our public health experts? Go forth and multiply the cases, says the Premier; go on holidays, go to your parties, and that's exactly what has happened. The younger citizens have partied and raved into the night on the back of their vaxxed status and we've seen some spectacular superspreader events. Next, we have New Year's Eve and then an Ashes Test; mercifully, if the Melbourne test is anything to go by, that game will be mercifully short, but just long enough to fill the new year's COVID coffers to overflowing.
Twenty thousand cases a day and half a million in isolation in NSW by New Year's Eve? Not beyond the realms of possibility. Happy New Year from the NSW Government. According to Premier Perrottet "it's all going according to plan" as long as you don't disappear into the shifting quicksand of Government COVID policy. Plans are meant to prevent chaos, not create it.
On the 30th we have now seen a change in the rules of isolation and the Prime Minister telling us we have no right to line up for a COVID test if we don't have symptoms. Hopefully all those industries requiring employees who have been in isolation to have negative PCRs are changing their policies now as well.
And what about those RATs that you can't find for love nor money? It's the only time in my life I've gone into a pharmacy and asked if they have any RATs for sale. COVID – a whole new world.
Hazzard with two "Z" – The Alchemist from Wakehurst
Unlike the previous writer, I had been going to let the stupidity of the NSW government in relation to the Virus go through to the keeper. There are enough satirists, with an eye to the ridiculous – the antics of the Premier Pirouette. Coupled with those of Morrison, Australia potentially has a marvellous export – the Fountainhead Circus.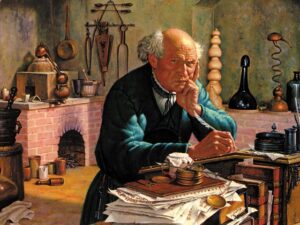 Thinking through what Minister Hazzard had said, what would have happened if a State Health Minister had said during the polio pandemic – "It's inevitable that everybody's going to get it?" You could barely hear this Metaphor through the swishing of iron lungs and the clanking of braces attached to children's limbs.
What do you think vaccination is for, you chump?
The idea that it is a good idea to let epidemics "rip" so we can get the illusory herd immunity, is arrant nonsense. The one thing you and I share, Minister Hazzard, is that our ancestors survived among other things the Black Death. However, there were many other perils our forebears weathered so that you and I could walk on this dry and dusty land.
Even in the time of our forebears, they went to the country from the city to evade the plague bacteria that lived in the flea that lived on the rat that the sailor jacks bought from the city seaports. As you sat on that estate balcony, oh God that dreadful Pirouette is coming up the drive, fresh from sailing back from the Levant. He calls out – "no worries, I have perfumed the air in which I travelled to rid us all of the miasma."
"Must not stand in the way of unlimited travel", he adds.
Our parents dodged the Spanish flu, and even the worst estimate at a time when there was no vaccine defence against the Virus but people wore masks was only 5 per cent of the population. The influenza virus comes and goes as a pandemic, and I know I have had it. But according to the Hazzard dictum, why bother vaccinating – we'll all get it. Nevertheless, there is a new vaccine annually tailored to the particular influenza strain which provides partial immunity. I will take it anytime to avoid the Hazzard spread.
So, Minister Hazzard, let us also dismiss that little reported diphtheria epidemic that your parents dodged in the twenties, to be saved by the arrival of a vaccine in the early 1930s. Of course, your parents were lucky to dodge Spanish flu. Both Spanish flu and diphtheria wreaked havoc, especially among children, as your parents were probably then.
But they are different (diphtheria caused by bacteria and flu a virus), even though both have vaccines to control their spread and hence confound the Hazzard Rule of "everybody will get it". Diphtheria is caused by a bacterium, and the arrival of antibiotics in the 1940s has curbed a bacterial pandemic taking hold.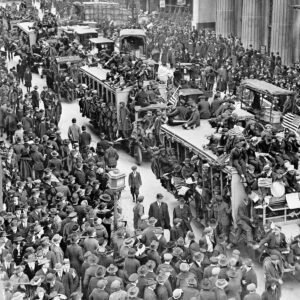 Influenza continues to present a hazard, as I suspect coronavirus will be, also requiring a new vaccine variant annually, although frequency for such vaccine administration remains unclear.
And there is also the matter of "long COVID". If I had lost my sense of smell and taste, if I were young, I would be looking at my future with trepidation, because the nerve fibres of the olfactory cranial nerve enters the olfactory part of the brain near the optic chiasma. Therefore, the virus is very close to the brain when it infects the olfactory nerve, and the course of post-viral brain syndromes is well recorded. I have personally had a family member with such a syndrome with devastating, life shortening effects.
I shudder when Hazzard's comments echo down his corridor of ignorance.
Thus, the voice of Minister Hazzard may also reflect a politician overwhelmed by bad news and in effect surrendering. Time for you to do the right thing and take a rest, murmuring herd immunity as you drift off into stress-related sleep.
I'm sorry, but you are just not capable for whichever of the above reasons, but then some politicians never get it! I suspect you are one of them.
On the other hand, this seems sensible…
Reprinted from the Boston Globe with thanks.
With cases of Omicron surging nationwide, you may be wondering if that runny nose or aching throat is a dreaded case of COVID-19 that's finally tracked you down, or if it's merely a symptom of the common cold.
On top of that, the flu virus, which had all but vanished last year as the pandemic gripped the nation, appears to be making a comeback, according to the latest data from the Centers for Disease Control and Prevention. 
Distinguishing between it all can be hard, and finding a COVID-19 test can be harder. Here we try to break down what we know about Omicron symptoms so far (remember, much is unknown this early in the outbreak) and how they may differ from the common cold and flu, or even from the previous variant, Delta.
Omicron is now the dominant variant in the USA and is spreading at a rapid rate, with cases rising about 23 percent in the past two weeks or so alone, according to data from the CDC. The variant has an unusually high number of mutations, some of which may be enabling it to evade immune protection. And early data has demonstrated that it is about two to three times more transmissible than the Delta variant. As a result, many, including those who are vaccinated, are likely to test positive for the virus.
Because the variant is a relatively new discovery, scientists are still studying the severity of illness and what symptoms it will bring — and if they vary from other strains. Some hopeful news arrived this week, with three teams of scientists, who studied the course Omicron took in South Africa, Scotland, and England, releasing preliminary results that showed infections more often resulted in mild illness compared to those from the Delta variant before it. The findings suggested those infected were less likely to be hospitalised, but there were caveats.
Preliminary reports indicate that those infected with the variant generally display similar symptoms to those who have been infected with either Delta or the original coronavirus. 
Data scientists with the health company Zoe used the most recent data from London, where the prevalence of Omicron is higher than in other regions throughout the United Kingdom, to analyse symptom data and compare it with data recorded in early October when Delta was dominant. The analysis found no clear difference between the two — and only about half of people experienced "the classic three symptoms of fever, cough, or loss of sense of smell or taste." The top five recorded symptoms in both periods were a runny nose, headache, fatigue, sneezing, and sore throat. They tended to be "mostly mild" and "cold-like."
In the United States, possible symptoms of the coronavirus listed by the CDC include fever or chills, cough, shortness of breath or difficulty breathing, fatigue, muscle or body aches, headache, the new loss of taste or smell, sore throat, congestion or runny nose, nausea or vomiting, and diarrhoea.
When Delta became the dominant variant and led to an uptick in cases, cold-like symptoms became more common, as the lead scientist in the ZOE COVID Study noted last week. It appears to be the same case with Omicron, and some of the key symptoms first seen earlier in the pandemic — namely a loss of taste and smell — are not as typical.
An analysis published by researchers in Norway following a small Omicron outbreak among "fully vaccinated" people found that only 23 percent of patients reported a loss of taste, and only 12 percent reported a loss of smell. Meanwhile, a runny or stuffy nose, fatigue, cough, and a sore throat were the most common symptoms.
Early evidence also suggests that Omicron is less likely to spread deep into the lung tissue, despite it replicating in the upper airway quickly, which could help to explain why infections may appear milder. A study undertaken by Hong Kong University researchers found that replication of the variant in deeper lung tissue was more than ten times lower than the original of the virus.
It should also be noted that, according to data collected by ZOE, the symptoms one experiences can vary depending on vaccination status. 
Both the flu and the common cold are contagious respiratory illnesses that share similar symptoms despite being caused by different viruses, according to the CDC. In general, flu symptoms are more intense and begin more abruptly, while colds are usually milder and do not typically result in serious health problems.
The symptoms of the flu, according to the health protection agency, can include muscle or body aches and "fever or feeling feverish/chills." It can have associated complications. Meanwhile, people who have a cold tend to have a runny or stuffy nose.
Compared to the flu, COVID-19 can cause more serious illnesses in some people, according to the CDC. It can also take longer for people to experience symptoms and they can be contagious for a greater period of time.
The CDC also stressed that because some of the symptoms of both the flu, the coronavirus, and other respiratory illnesses are so similar, testing is required to "tell what the illness is and to confirm a diagnosis," especially because people can be infected with both the flu and COVID-19 at the same time.
In short, for those looking to determine what they are sick with for travel or planning purposes, public health experts recommend getting tested for the coronavirus beforehand.
Mouse Whisper
As I was slouching towards Mousehole these words came out of the ether and flattened my nose. 
I think we are well advised to keep on nodding terms with the people we used to be, whether we find them attractive company or not. Otherwise they turn up unannounced and surprise us, come hammering on the mind's door at 4 a.m. of a bad night and demand to know who deserted them, who betrayed them, who is going to make amends."
Rest in peace, Joan Didion. For there will be no more 4.00 am calls, but I know what you meant. Life is indeed complicated.