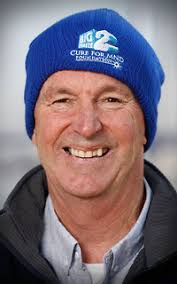 Neale Daniher is a very brave man. I admire him greatly as the epitome of all that is great about being an Australian. He fully deserves the Order of Australia recently bestowed on him; he also deserves to be invested with it as soon as practical while he can still walk.
For seven years his health has progressively deteriorated. He has motor neurone disease (MND), yet he has maintained a defiance against this progressively incurable disease.  Today, he has almost lost his ability to speak. It is a terrible disease, and I know that when I developed my own disease one of the differential diagnoses, soon discounted thankfully, was MND.
The symbol for what Daniher describes as "The Beast", with inadvertently or not its Biblical imagery, has been the ice bucket, the ice bath, the ice pool – a plunge in order to raise funds for research.
The problem is that research into the cure for motor neurone disease is at the same level as it was when I was born. Getting nowhere substantially is not restricted to MND.  I have known researchers who have spent their lives trying to develop a malaria vaccine or find a cure for Duchenne's muscular dystrophy – to no effect. Honourable failures – the dilemma for those seeking more money for such research. That is problem personally I have in contributing money for research into this disease – poor return on investment.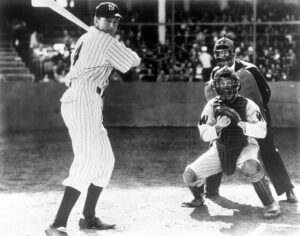 Around the time I was born, a famous baseball player died of amyotrophic lateral sclerosis (ALS), the most common form of motor neurone disease. The disease was given his name, Lou Gehrig. He too was a brave man; a film starring Gary Cooper was made of his life. Lou Gehrig died about three years after the onset when he was only 37 years old in 1941.
Now 80 years on Neale Daniher, in his time a very gifted footballer whose playing days were foreshortened by knee injuries, is dying of the same disease. The onset of his disease was when he was 53. Over seven years survival is testimony to something innate.
Increasingly, auto-immunity is being ascribed as the culprit. Auto-immunity, the tendency of the body to destroy itself when the immune system goes rogue, is the battlefield. It is an area where the disease has been victorious up to now, particularly in the case of this disease, which causes the destruction of the nerve cells that control voluntary muscular movement.
There are a few inconclusive drugs and conservative measures which may prolong life; and as long as Neale Daniher remains optimistic, then his will to live deserves every support. After all, more than 2,000 people have the disease in Australia, and the total cost of therapeutic support per person averages out as $1m. Two are diagnosed every day; two die every day of the disease.
When there is no longer Neale Daniher around fighting against destiny, let us make sure those with this terrible disease do not die alone, paralysed, slowly suffocating. In other words, strengthen palliation, help strengthen family support but do not – I repeat – do not raise false hopes of a cure.
A muddy Saturday
This is a very simple story about a group of University students who, in 1958, won the Juniors Premiership in the Victorian Amateur Football League. It was a time when there was only one university in Victoria and therefore most of the teams that we played reflected the division between "town" and "gown", even though the diversity of the team list reflected the normal cross-section of society. The only bond between us was a desire to play football and being under 19 we were consigned to the Juniors.
The two adult teams were the University Blacks and Blues, which were in the top grade and produced a number of players for the pinnacle, the then Victorian Football League (VFL) where you got paid. The other University team for those who just wanted a game was the University Reds.
There was a hierarchy; even as 18 year olds there were a few university students who just played VFL. which, in those days, had an Under 19 nursery as well. They were just too good to play amateur football. Many were in fact champions, not just making up the then "twenty".
There also was the Victorian Football Association which headed a cascade of suburban and country teams where footballers who had had enough of the paltry returns from playing under the then Coulter Law in the VFL, left to play and/or coach a country team. These players would receive a generous wage and were often set up as the licensee of the local pub.
Then there were the "lily-whites" – the amateurs. In the University hierarchy, this was the place where the cohort of youngsters who were not drafted into the Blues and Blacks played. Some went straight into the top teams; some oscillated between the top teams and the Juniors.
Nevertheless, the Juniors won the Grand Final, and three members of our winning team climbed onto the roof of the University Union Building. They were said to be in a jolly state when they climbed up and affixed the Premiership flag. As one said later, they did not know how they managed to climb onto the roof given the ethanol haze that surrounded them. The flag was returned early the next week neatly folded and nothing more was said.
After that year, the team went their various ways, but one person stuck in my mind and obviously the minds of many of the others, who had known him better. He was a few years older than us and had played for the University team. He was always immaculately dressed, with his signature furled umbrella, given the grounds we played on barely afforded any shelter from the Melbourne winter. He was in direct contrast to the coach, Peter Kelliher, who was a knockabout fellow who acted, as all coaches do, with a mixture of encouragement and invective.
Ian Hamilton Munro was different. He was almost the pastoral adviser to the team – a very kind and compassionate man who was always around when you were injured, when you were having a lousy game. He was a counterpoint to the coach – one person I could always picture on the side lines – often a solitary spectator on a windswept oval.
Somebody suggested that, as we approached the 50th anniversary of the Premiership, the survivors of that year should meet annually for lunch. The first, in 2005, was deemed such a success that it was decided we would have one every year, so that has occurred every year, including 2020. This cohort, then in their youthful sixties when the lunches started are now in their eighties. Our coach, having had a stroke a decade before, was an infrequent participant from early into the lunch cycle.  The immaculate Ian Munro was a regular attender, until he fell victim to old age several years ago – and then he too was gone.
Such a small group, men now who are bonded by a football premiership gained so long ago and all accepting their mortality, has now decided to establish the immortality of their achievement and to honour their paterfamilias by donating a cup in his name for annual presentation by the Melbourne University Football Club for an annual match between the now two Melbourne University Juniors teams.
The cup is made from spun brass, silver-plated. It sits on a dark tallowwood plinth around which is collar of silver-plated nickel with enough space to engrave the annual winners for the next 80 years. It was made by the silversmiths and goldsmiths that make the solid gold Melbourne Cup each year for "that race which stops a nation" – the first Tuesday in November; these same trophy makers also create the trophies for the Australian Tennis Open; they are the last such company in existence in Australia.
Ian Munro might have been embarrassed, like all good generous persons who give much, but never expect recognition. However, he would have liked the enamelled crossed furled umbrellas – one black, one blue – under his name on the trophy – the Munners Cup.
Even to us well aged, he was still always Munners – not Ian Hamilton Munro. However, that name is the cup's pseudonym inscribed on the reverse side of the plinth. A simple story with hopefully a long nostalgic tail.
Morrison – A Description in One Word
What struck me was the stony-faced Prime Minister who had been persuaded by his Mate, Mat Cormann, to attend a West Coast Eagles match. The boos around the ground when he was introduced were universal. As part of a meet and greet in the morning, he had been persuaded by one of his consigliere, the irrepressible Mr Forrest, to partake in morning PT. It was a more typical photo-opportunity to show off his eminently "daggy" self.
He does not like to be booed. I notice that he has not turned up at any of the football matches in Victoria.
The other fact about the Prime Minister is that he is not that intelligent; yes, smart in the ways of the Molonglo swamp but not particularly well read or thoughtful. Like all people not blessed with any real sense of personal identity, he is totally versed in public relations, and therefore takes the temperature of his quarry – be it Liberal Party pre-selection or Australia before doing anything; hence he leads from the rear.
His problem, and his is not unique in this regard, is to have as the rule of thumb that you never have any Ministers and advisers more intelligent than he is.  The Prime Minister has succeeded in that endeavour, with one exception. That is the recently departed German-Belgian-West Australian, a chameleon of great skill, Mathias Cormann. There is a genus of politician who, when the master rings a bell, will argue without any shame but on cue that black is white – and too many do it persuasively, all the time knowing where the career escalator is located. Cormann has shown himself to be such an engaging man.
Morrison does not brook dissent; he just cannot take it. Part of this is explained by his reliance on a Christian belief system that does not take criticism easily. Much of the Pentecostal beliefs are couched in uncompromising, simple terms, which require no thought but a belief in a literal interpretation of the Bible. This is a Book where the ambiguities of the authors have been reduced to cartoons. His father was one such believer, and here is a person who has been coached in what some would say is a heretical belief system.
Morrison's trip overseas has been not unexpectedly revealing. The Prime Minister of Singapore, Lee Hsien Loong, gently chided him about his aggression in relation to China; and even in the matter of mask wearing he seemed to guide our uncertain Prime Minister.
The Prime Minister has been hoping to amble the world stage but having been relegated to a landing slot at an airport distant from the G7 meeting it should have warned him at the start. There are no better people than the Poms in insulting one and then being able to smooth it over once everybody recognises that the insult was deliberate, if nuanced.  The perfect word for British diplomacy – nuance!
The daggy "Scomo" image which he believes is the basis of his rural popularity – in Queensland and New South Wales – seems not to have translated as well into International Prime Minister. Here is a guy who not only threw himself at the feet of Trump but has an old friend with connections with the dark side of the web – one of those peddling those conspiratorial beliefs, which are so much of the Trump madness.
If he were to have someone close who is visionary, with ideas that he could sample, then he may not be in his current predicament – and if he did not have an adviser called Stewart.
Biden has proved not to be the doddering front man that some of us wrongly feared, but at the centre of some hard-nosed advisers, who probably worry that Morrison is a security risk – hence the intrusion of Johnson into the Biden-Morrison meeting. It would be a problem for our relations if his words "ritual sex abuse" get wide currency in the corridors of the White House. Can Biden trust that anything he says to Morrison will not appear somewhere as an unacceptable comment?
When Howard extracted special treatment in the Kyoto Protocols for our fossil emissions, the United States owed us for our support in the Bush War Coalition of the Willing; Biden owes Morrison nothing.
In relation to the domestic scene, obviously if your Government's handout to Big Business is essentially little more than to further enrich, then the recipients of such largesse have every reason to support the current regime. It is not an unusual situation when both sides of politics are compromised, but there is a limit which the community, however rendered compliant by the Virus, will tolerate. Australia sliding into plutocracy is not a pleasant sight.
It is also helpful for Morrison that the Murdoch newspapers' unceasingly support him, bolstering him in a constituency of flag wavers for fossil fuels and where the environment is being progressively degraded by climate denialists.  For the moment these Murdocistas are spooking the rest of the community.
However, this strange remnant from the Trump days has found the world stage somewhat guarded. As one would have expected, he was greeted in France with all the warmth that the appalling submarine contract with the French can muster. Whatever he may think privately, Macron has been polite; it will be interesting to see if he speaks to Morrison through an interpreter – or in English.  If the first, and from afar hard to know, Macron is maintaining distance so that any communications between the two can be properly interpreted, n'est-ce pas.
Another problem for Morrison is that not all the electorates in Australia are obsessed with maintaining coal mining. There are certain electorates in Queensland and NSW where urgent steps must be taken to transfer the workforce to other industries, not to bolster coal which has to be phased out if the world is to survive beyond the end of this century.
Unfortunately, Australia has a Prime Minister who is only concerned with his re-election, and his only response to climate change and the need to reduce carbon emissions is an underlined word "technology" – as if Technology is a God like Baal to be worshipped not defined. Here a throng of happy clapping followers with arms outstretched towards this Solution and repeating over and over again, "Technology. For thine is the Answer."
Maybe I'll wake up and blame all this on something I ate.
Aduhelm 
"I had no sense of where to turn for help, support, or even how to express the diagnosis with family, friends or co-workers. I was lost and crept further inward. There is no single handbook one can read to prepare; each journey is different, each course of the disease takes different, meandering turns—no two are alike, the experts will tell you, an observation that is clearly numbing in so many ways."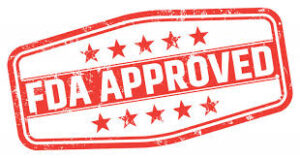 The drug is called Aduhelm. It has just been given the all-clear by America's Food & Drug Administration (FDA) to be prescribed for people with early Alzheimer's dementia. As one correspondent said, for many people Alzheimer's disease has passed through the early stage of memory loss and is not recognised until the cognitive abilities have declined significantly.
The quote above is from Mary, the wife of a journalist, Greg O'Brien who has written On Pluto: Inside the Mind of Alzheimer's, which follows his own decline from the early onset of the disease. Her cry is clear; and there is no wonder that those families where there is Alzheimer's disease in their midst want a cure. No wonder that news of a drug with any prospect for improvement will generate clamour for its availability – now.
Much of the excitement generated by this drug is that it is the first since 2003 to show any promise and it has cleared a path through the FDA, not without controversy, which resulted in some members of the committee overseeing its approval resigning in protest. The method of approval has also instilled a feeling of uneasiness in this blogger.
The drug is supposed to attack amyloid-beta, the protein which appears in the nerve tangle of the Alzheimer brain. However, nobody really can say whether it is the amyloid deposits which cause the disease or whether they are waste, the result of a process which leaves this protein functionally inert in the brain. Amyloid disease is one of those differential diagnoses for unexplained disease which my generation of doctors grew to know about and recognised with its distinct histological appearance on staining.
The problem is this drug, which is defined as an amyloid-beta-directed antibody reducing the number of plaques of amyloid, is that the benefits are minimal against its downside.
This is where the drug company, Biogen, which is set to make a "motza", begins what I call the drug company gavotte. Immaculately arrayed in elaborate steps the gavotte dancers move around in intricate steps, a spectacle of elegant circles, arms waving, legs crossing, all to produce a mannered tableau.
Even the drug company's paid expert, in a beautifully executed twirl, said the drug "potentially prolongs patients' independence by several months, even a few years, as demonstrated in long-term study". She said it is a "stepping stone for our next advances" gracefully executing a series of fluttering steps.
The consumer is transported into a trance, ignoring any side-effects, asking the government to make it universally available. Biogen proposes a charge of USD4,312 per infusion "for a patient of average weight", or USD56,000 per year.
The Institute for Clinical and Economic Review, in a somewhat bizarre statement, has said Aduhelm should cost no more than USD8,300 per year, given the "insufficient" evidence supporting its benefits in clinical trials.
Biogen has defended its pricing strategy, noting that the U.S. dishes out about USD600 billion in direct and indirect costs for the disease that affects roughly six million Americans. Now that is a beautiful sideways gavotte movement by the drug company.
Biogen plans to target between one to two million patients with early onset symptoms, executives said last week. The company, generous to a fault, says it won't raise the price over the next four years.
It should be noted that this drug can only be given as an infusion in a healthcare facility; and then there are the side effects of brain swelling and bleeding, all factors to be integrated into the patient's health status, a patient status which is directed only one way – down.
When the gavotte is transferred to Australia, it will be greeted by a solid history of successful lobbying for drugs of questionable benefits. First, there is the special pleading, which is always highly personal as one would expect. Ron Walker, the flamboyant businessman, was an influential example of this in his quest to have an experimental drug, Keytruda included for the treatment of melanoma, of which he was a sufferer. His influence on the then Minister saw the placement of this drug on the Pharmaceutical Benefits Scheme (PBS) for his particular indication at a per patient cost of $4,500 every three weeks for two years.
He achieved his goal; he died in 2018 with the benefit of an average life expectancy increase of 12 months over the cheaper chemotherapy. Not sure about the quality of that life extension. Nevertheless, the drug can now be prescribed to other cancer patients following the largesse of the current Minister, who provides a taxpayer subsidy of $120,000 annually per patient so entitled. Has Ron Walker's intervention been cost-effective – or just costly?
The drug companies and their shareholders have a different requirement – profit at all costs. Lobbyists hang round drug companies like flies round questionable food, as one of my less than kind associates has said, ever ready to help with selling the product whatever its effectiveness; whatever its cost to the community.
Objectivity is the casualty. Hopefully, the Aduhelm saga will not get to his level, but sometimes I wonder whether governments have lost their sense of smell.
However, the cry from the wife still echoes. Yet will her husband, the author of On Pluto: Inside the Mind of Alzheimer's, take Aduhelm?
My mind drifts back to Neale Daniher, and the need to ensure that while we wait for a cure the palliative services are not ignored, nor the family, and most importantly, that even the person with lowest profile dies with someone holding his or her hand.
Mouse Whisper
In recognition of my friend from Dalarna, Kyrkomus, I am reminded of Carl Linnaeus, the great Swedish botanist, who sometimes got it wrong. He said that potatoes were poisonous, because he noted that the vegetable was related to deadly nightshade. However, the first woman inducted in 1748 into the Swedish Academy in Sciences, Countess Eva Ekeblad, was so recognised by showing that potatoes were essential in the manufacture of wig powder, and more importantly that cool liquor, aquavit.
Skol!