There is no doubt about NSW; by far and away, the most cases of coronavirus in Australia are there. Granted that it is the biggest state, but the cavalier way that public servants and at least one of the politicians have behaved has exacerbated the problem.
Gladys Berejiklian has one very great ability and that is to talk without saying "um" or "ah" without taking a breath.
It makes it is very difficult to interrupt her, and when anybody succeeds in breaking into the flow, her mouth becomes a tiny moue and her dark eyes those of the avenging disapproval. Such a countenance belies the actual situation that she is a weak leader. And now six months to sort out the Ruby Princess fiasco. Really?
Wait a minute, the Premier has adopted the Chant approach of "zig-zag". She has asked Brett Walker SC to have a look at it as well – a "special commission of inquiry" in the same litany as "loved ones".
What next – The Premier's astrologer?
One despairs of any justice in NSW. This confusion gives a number of people time to muddy the waters, and already Ms Sherry seems to have slid away. Predictable! And the same cruise ships with different titles with all their verminous cabins will be back next year scratching the same political backs and contributing nothing to our economy except grief.
Premier, you are always using the words "Loved Ones". Tell me how many of those with the sobriquet of your favourite words have died because of the Ruby Princess fiasco. No urgency to know, Premier, no need to know. Six months will do. Hiding behind a special commission? No, I am sure you are not, as you already have a good idea of what has flowed between Carnival representatives in Sydney and your Government.
Can somebody get Ms Sherry to front an interview with her sommelier boss? After all, she has a wonderful residence in Annandale as a backdrop.
The Ruby Princess fiasco testifies to a Premier who not only tried to deflect the behaviour of her Health Department but also failed to sack those responsible for its behaviour. After all, the fiasco has led to how many deaths? Instead the Premier has filibustered. Asked specifically whether she would apologise to those whose COVID-19 is due to the Ruby Princess, or to the families of those who have died, the Premier – in time-honoured fashion – just answered a different question. However, at least the media are finally onto it – they took their time.
Now the barbarians are at it again. They are those whose natural constituency is in the dystopian world of Trump. The irrepressible Chant is at it again inadvertently aiding the dystopians, as she advocates a "zig-zag" approach. Are you seriously advocating going off on a tangent and then backtracking, and then going off on another tangent and the backtracking to a different position? Zig-zagging, as I interpret it, is all about confusing everybody. Really, Dr Chant, do you really mean that?
However, the person to watch now is Mr Barilaro – you know, the man who wanted to close the ABC, the bushfire station so important for distributing information in his electorate – and then was overseas initially when the bushfires were ravaging his electorate. You remember the man?
In the background he is a cheerleader for re-opening the Rugby League, presumably because of its precarious financial position which, like the berthing of the Ruby Princess, the financial situation of a badly run organisation being more important than the health of the Australian population.
Perhaps it is a prelude to Barilaro bobbing up on another front. As he said in his maiden speech to the NSW Parliament:
The New South Wales ski fields have been forced by successive governments to compete with one hand tied behind their back. My vision is to make the New South Wales ski fields number one again, by removing barriers, aligning government policy and industry opportunity, creating a level playing field and engaging all stakeholders to develop a strategic plan to deliver a world-class alpine experience to rival the best ski resorts in the world. 
In our last blog but one it was pointed out that ski fields are a potent source of community spread of the virus.
As Mr Barilaro said in this same maiden speech, quoting Jack Lang:
Always back the horse called self-interest, it is the one that is trying.
You highlighted this quote, Mr Barilaro. It must have made an impression. 
Primrose Pell
From the 13th century onward, it's easy to see how secretly gay men found in the church, and the church alone, a source of status and power. Marginalised outside, within they could become advisers to monarchs, forgive others' sins, earn a stable living, enjoy huge privileges, and be treated instantly with respect. Everything was suppressed, no questions were asked in seminaries, and psychological counseling was absent (and even now is rare). Scarred, scared men became priests, and certain distinct patterns emerged.
This quote was written by Andrew Sullivan, an openly gay commentator a Roman Catholic and a follower of the great English conservative philosopher, Michael Oakeshott. The full article appeared on 21 January 2019 under the title of the Gay Church in the New York magazine.
Is Cardinal Pell gay? What does it matter if he is? I have no problem with homosexuality that is not predatory. I had a fellow medical student, a good friend, who dropped out of medicine and was subsumed into anglo-catholicism, became an Anglican monk, and I heard that he died of AIDS some time ago.
I have written extensively about Alister Brass, who was an inspiration for me, and whom I miss greatly, even though he has been dead for 34 years. As a teenager I read Peter Wildeblood's account of being criminally charged with homosexuality and then spending time in prison for what was ultimately bad law. I was appalled on reading his book Against the Law.
As a boy, I grew up when the "confirmed bachelor" culture was transitioning into open avowal of one's sexual preference. To me it seemed an innocent pastime for blokes who preferred other blokes, whatever the euphemism.
I have always hated the word "closet"; it may just as well be applying to a confessional box or any dark and secretive environment where homosexual activity is possible. However, homosexuality should not be stigmatised. After all, Tasmania, the last state to do so, expunged it from the criminal code 20 years ago.
Celibacy once may have been a means of survival of the intellectual tradition, but now seems to be a honeypot for communal homosexuality. What is distressing is the level of denial and hypocrisy with which the Roman Catholic hierarchy surrounds this association.
Thus celibacy and homosexuality are uneasy companions, although at one end there is Saint Augustine who was openly gay, and at the other end St Thomas Aquinas to whom homosexuality was an abomination.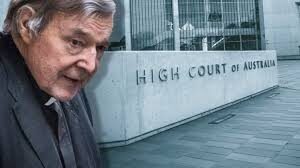 Now Australia has seen George Pell acquitted by the High Court for historic sexual offences. In the background, there is a heavily scrubbed report of the Commission into Institutional Responses to Child Sexual Abuse.
So as not to misstep in the quagmire of the High Court, below is essentially a compilation of quotes, including from those advocating Pell be freed.
Now the High Court judges say that is not enough. Other witnesses who gave evidence that they thought the Cardinal would not have had the opportunity to commit the lewd acts ought to have been taken into account, even though they could not give a first hand or personal evidence of what happened to those boys on that day.
Bizarre. One witness swears on oath: this is what happened to me at this place on this day. Other witnesses say: I do not know what happened on that day but that is not what usually happens – and that creates a doubt and voids the conviction. Compounding improbabilities become "reasonable doubt".
It was argued that because Pell's assistant, Portelli, didn't have a specific memory of standing on the stairs on the chosen dates of December 15th or 22nd, 1996, that his testimony about Pell's practice of being out front could not be relied upon.
 Justice Patrick Keane replied: "I can say I shaved last Friday and I don't have a recollection of it, not because it didn't happen but because I shave on work days".
His point? Do you have specific memories of things done out of routine?
No, we remember things out of the ordinary. Therefore it is unreasonable for Portelli to have a specific memory about two dates in 1996.
The judges also made the point that the accuser's recollection of the sacristy wasn't actually proof of the abuse, only proof that he had been there.
Let me tell a story – perhaps a parable. Let us say it was the early years of the last century. Let us say it was Lonsdale Street in Melbourne. In this parable, there was once a junior barrister who used to be shaved by a barber, as was the custom of the day prior to going work.
At the same time of the day early in the morning there was a judge, a man of distinction, who would come in to the same barber shop and be shaved also. The younger and older men would exchange pleasantries and talk about legal cases while they were shaved and perfumed. Most days, they would leave together and walk to Chambers. However, there were some days the judge would leave before the young barrister. One day, the young barrister, the judge having left earlier, decided to take a short cut up a quiet lane, and turning the corner, he perceived a familiar person – it was the judge, who seemed to be adjusting his trousers. In front of him against the wall was a young boy not more than 13 or 14 clutching a newly-minted shilling.
The young barrister uttered a cry, the man who was the judge turned, his expression one of power. What was the young barrister to do? After all, he and the judge regularly shaved together; how could he in retrospect possibly ever remember the day years on what had happened on that particular day – unless he had openly accused such a respected member of the community then; a man of power, a man who wore a wig, a man who could pronounce life or death on a personal career?
Perhaps, just like all your hypothetical speculation, Mr Justice Keane, there is always a confounding storyline – fable or parable – however you define it.
Especially in a real life situation getting away from our exchanges of parables, if it emerges that there was a history in a person's background of systemic cover ups, the law is presented with a dilemma. Men of distinction do not lie under oath. Axiomatic?
Of course, that is only non-admissible speculation to the collective mind of the High Court, but still enough for a jury to convict in a Victorian court. However in the Court of Courts, there is this reasonable doubt, because no other has come forward to dispute the man of power's testimony. The child is in essence disbelieved.
It will be interesting if Pell, despite all the travel restrictions, suddenly turns up in Rome on his way to a new closeted life in the denizens of the Vatican, away from a succession of the civil cases, which threaten to follow.
However, there was one touch I loved about wee Georgie Pell, the prisoners cheered in Barwon prison when they heard of his release. I remember that the prisoners cheered when Johnny Cash played for them in Folsom prison – but then Johnny Cash had a guitar.
I have one last quote from the porter in Macbeth as he opened the gates – this for the departing Pell, who has had a life of power so eloquently portrayed in the initial quote from Andrew Sullivan.
I had thought to have let in some of all professions that go the primrose way to the everlasting bonfire. 
Boris
He is the type of Pom who reminds me that England is a nice place to visit but not be infected by the culture – by a product of the Eton boot camp – that nurtures the professional buffoon with the razor sharp mind.
Maybe he has now learnt a lesson that will resonate in his future actions. The buffoon, who boasted he was shaking hands with all and sundry in a hospital, while COVID-19 lurked. Hopefully that buffoon will be replaced by a less arrogant and more compassionate person who does not run the country in the same slapdash manner as we have seen him washing his hands – otherwise, God help the United Kingdom.
There is nothing more humbling than looking into the eyes of the person who has saved you. I know from personal experience.
However, the community is sick of spin doctors who aid and abet the culture of lying; Johnson revealed how really sick he thought he was. It was far sicker than the public was led to believe. Those in charge determined that Boris should not die. The fact that he had two staff constantly caring for him showed how intensive his care was. Otherwise he would not have survived. There must have been fear that a secondary cytokine storm may have intervened and finished him off. It must have been close.
Therefore, can we but cast this spinning vermin out from the Temple No 10? Almost Johnsonian?
And for God's sake Johnson, grow up. There are many unseeing eyes watching you. 
The World that Boris Missed
A lot of radio stations in Europe will collaborate this Friday (March 20th 2020) at GMT 07:45 to sound the track of Gerry & The Pacemakers – You'll never walk alone. Please join this collaboration to show gratitude to the people that are doing their best to help us survive this pandemic. And to have our thoughts by the people who lost their loved one.
When I first saw this announcement, it triggered a number of conflicting memories. The song originally came from the Rogers and Hammerstein musical "Carousal", which in turn had been adapted from a French story about a fairground rouseabout who had difficulty declaring his love for his girlfriend; nevertheless she gets pregnant; he is killed in an accident before his child is born; but is permitted to return to earth for a day to see the child.
"You'll never walk alone" is a highly sentimental song, which nevertheless moves me. It is just one of a number of good songs in this musical. However, the musical's recognition was dwarfed at its release by some of Roger and Hammerstein's other musicals: "Oklahoma", "South Pacific", the "King and I". I saw the film as a teenager.
Some years on I was persuaded to go to hear a group of Liverpudlian bands that were touring Australia in the 60s in the wake of the Beatles phenomenon. One was Gerry and the Pacemakers. Gerry Marsden, the lead singer, was one of those Tommy Steele lookalikes – all teeth and quiff.
I went because a friend had free tickets and while I remembered "Ferry cross the Mersey", the West Melbourne Stadium was not the best place for romantic ballads. My memory of it faded from view, until the late Paul Lyneham, the ABC personality with that somewhat crooked personality, revived memories with a band he called sardonically "Pacemaker and the Gerries", which as it turned out in a macabre way foreshadowed his death.
Another fragment many years on – I was in the Melbourne Cricket Ground, the night Liverpool played there in 2013. It was one of the last nights, before I was stricken with my illness – a night I remember clearly walking to the ground and then dodging the traffic to catch a tram back to the apartment – almost my last night of freedom.
In any event, the fans as one had erupted into their Liverpool Football club anthem "I'll never walk alone." In the bellowing it loses the romantic lilt of Hammerstein's words and the melody itself is drowned. However, the intensity remains.
All the pieces have come together with that simple announcement above and the accompanying video of ordinary people singing or miming or whatever – there is something about British working class optimism that makes up for all the Boris buffoonery. 
Opening Australia Too Soon
We now appreciate the Tasmanian Premier closing his borders so none of his Tasmanians can cross to the mainland. However, his action in quarantining the Mainland from the outbreak in Tasmania shows great foresight. We always thought it was the reverse. What cunning!
The "Burnie Incident" is unsurprising, given the demonstrated level of incompetence in the health service, proof of what happens when all the rules that the Commonwealth government put in place are ignored or flouted. Strange things happen when discipline is lax – generally such laxity teams up with incompetence.
One of the problems with many, but by no means all, small hospitals is that administrative capacity of the hospitals is deficient. In particular medical administration is often problematical as incompetents are shuffled between these health services, often with glowing references. This a general comment and not one specifically assigned to either the Burnie or Mersey hospitals, which have a conjoint administration.
Tasmania is lucky it has so many hospital beds. Some years ago, the question was always raised as to why the Mersey Hospital needed to be built, but then there must have been a seer in their midst who saw virus in the mist.
In Burnie, the virus has been let out of the bottle – infection control has been such that COVID-19 has been let loose in the community. One of the Ruby Princess passengers has been blamed for being the first case in the North-West. However ascribing actual blame is for others.
What is important now is that there is a real life situation to follow the out-of-control virus, not some abstract model. Australia can now witness from its falling rate overall what happens in a region where it is easily out of control and to see if the Australian remedy can be reinstated and indeed works.
Burnie in its population makeup is not unlike a western Sydney suburb. There are a string of small towns along the coast from Wynyard, abutting Burnie to Devonport like an attentuated suburban Melbourne and Sydney. I mention Wynyard and Devonport specifically because they are the two travel hubs for north-western Tasmania. Rex flies to Wynyard and Qantas though Qantaslink to Devonport. Devonport is where the Spirit of Tasmania berths, and given the current history of boats and the virus, there is a certain vulnerability I would have thought.
With such restrictions the north-west provides an opportunity to see how quickly the virus can spread and how quickly this underprepared community reacts. If the virus escapes the enforced isolation of the 5,000, then every community in this part of Tasmania is at risk. Possibly viral spread could engulf Tasmania.
The next two weeks will tell all, but it is to be hoped that the introduction of the Army, AusMat, and emergency supplies of equipment and trained staff will halt the spread. There is the complication of the FIFO miners, who are flying in through Devonport but are moved immediately to the mines down the West Coast and thus avoid Burnie. Further, there is always the follow up question of how many miners come from Burnie or other north-west coastal towns?
Hopefully, the police will continue to conduct comprehensive surveillance not only along the coast but also the three main ways south. The first is across Cradle Mountain (from the guys who went from the topiary town of Railton to Strahan – they must have got a shock to be apprehended). The second is the main route down the Murchison Highway, although there is a possible diversion through Hellyer Gorge. Finally, for those who really want to take the COVID-19 virus on a scenic trip South, there is a third route along the Road to Nowhere down through the Tarkine and across the Pieman River at Corinna; hopefully the ferry is still running.
I only mention these routes as apparently there has been an allegation of a COVID-19 carrier, known to have infected a number of health workers, who has vanished from the north-west. Cannot be found. But then there a myriad of unmade roads and forest tracks impossible to police.
It is the problem of Tasmania. One of the most beautiful places on the planet, yet its inhabitants demand much while disregarding their responsibility to conserve and preserve; they could give back more. In this case together with the rest of Australia they may watch how this snafu is corrected.
Mouse Whisper
Hairdressers and barbers take a bow. Excoriated because you were allowed to remain open while others were not, you have plied your trade without being a school for scandalous conduct.
But like all mice I fear a Trim.