I was sitting at the table writing. It was about midnight. No, the candle was not guttering in the fireplace, nor were the shadows sending their long indigo fingers across the room towards me.
And then there was this almighty crash against the window. Looking around the cause was not immediately obvious; however, there she was, crouched on the top of the bars on the window outside just below the curved head jamb – this tiny ringtail possum. She was peering in. This jill has been a frequent nocturnal visitor and generally likes to perch on the balcony rail, but tonight she had been attracted by the light. There are no food scraps left out nor is there a grease trap. However, there is large clump of bamboo below the balcony, and thus there must be a feast of insects in the bamboo, including cockroaches. Cockroaches infest the suburb where we live, and if this adopted Jill as she is called, can contain them, well Jill you can crash into the window any time, as long as you don't bring a Passel, and break the pane.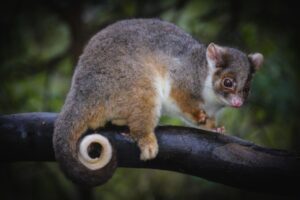 Anyway, we now know when she arrives…
Just like John Elliot 
The late John Elliot and I were contemporaries at the University of Melbourne, but he did commerce and played billiards; I did medicine and played politics. I can't remember him; he was younger than I was.
Our paths crossed in the seventies; sometimes amicably; sometimes less so as he went on his merry way building his Empire and meddling in politics.
One encounter sticks in my mind. It was about 1980, and he had been a guest speaker at an Australian Institute of Political Science Summer School.
We happened to be walking back from one of the sessions, or maybe after his speech.
He turned to me suddenly and said, "You know, Jack, the difference between you and me? I'm a success and you're not. "
What could I say? At that point of time, these two specks trudging through the Universe, he was probably right then. Not sure that was necessarily so later, until he butted his last fag, and trudged further on from me up to that Jam Factory in the sky.
It's a funny thing. He was lucky not to be gaoled. Yet, I really didn't mind Elliot. A friend of mine thought of him as charismatic despite his fondness for ordering culo di maiale with his Fosters. Increasingly transmogrified into a latter-day Mr Punch, he was a creature of our time, not of this time.
Known for Potatoes and not Necessarily those in the Ground
Idaho is one of many states where GOP lawmakers have responded to early-pandemic restrictions with moves to limit public health powers, arguing that the measures paved the way for alarming incursions on people's rights. A state law passed this March gave county leaders veto power over some orders from health boards — like the mask mandate that drew fury and demonstrations in Ada County last year. 
Former Ada County commissioner Diana Lachiondo (D) said she was used to "working quietly in the background" as a member of the region's Central District Health Board. They monitored West Nile virus and made sure toxic algae blooms didn't grow in lakes. Then, she said, the pandemic made public health explosively political.
Opponents of mask mandates showed up outside her home with air horns and audio clips from the movie "Scarface," in which actor Al Pacino famously says, "say hello to my little friend", as he uses a grenade launcher and fires a barrage from an assault rifle. At least one person was armed – from The Washington Post. 
In explanation, Ada County is located in the southwestern part of the U.S. state of Idaho. As of the 2010 United States Census, the county had a population of 392,365,  making it the state's most populous county, with 23.3% of the state's 2010 population. In this county, its seat and largest city is Boise, which is also the State capital. -Wikipedia
When I was undertaking the Rural Stocktake for the Commonwealth Department of Health, I visited WWAMI which were medical schools, organised under the rubric of "rural". The University of Washington, including the main medical school, is highly rated. To get that statement into some perspective, the University of Washington is ranked 16th in the world and third among U.S. public universities according to 2020 Academic Ranking of World Universities.
At that time this University ran the Medical School for Wyoming, Alaska, Montana and Idaho, in addition to Washington, hence the acronym. Given these states have sparse populations there was an avowed intention for them to concentrate on rural health. The problem, as I found out later, is that educating well-trained doctors in rural areas just makes them attractive to city hospitals looking to recruit skilled young health professionals. This hardly solves the dearth of these professionals in rural areas.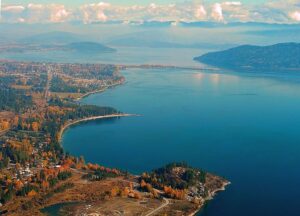 However during my visit, which started out in the very urban coastal Seattle, I ended up seeing some parts of Idaho. It is a state which gets very little attention unless one skis or enjoys the "amenities-rich" areas of the northern part of Idaho extending up to the Canadian border. The town I visited, which exhibited this "amenities rich" profile, was Sandpoint.
The doctors here were well served by students from the University whom they taught. It was a great environment for those wanting a conventional conservative community framed by ski slopes and mountain trails. Nevertheless, it was prosperous and undeniably rural with a population of just under 9,000 and intensely conservative.
There is a division between the northern part where the picturesque forested area is; what one expects of the Pacific North-West.  The southern portion, essentially altiplano and much drier, is where the capital Boise is located. The transition from north to south seemed to be Coeur d'Alene, a large undistinguished town, where I visited an Indian community medical service. I use an ordinary general practice as a yardstick for effectiveness. I grew up in an era of busy general practices and even though I never practised as a general practitioner, I did many locums, including for my father. Later I was associated with many rural general practices in establishing rural intern training. There were very few indigenous medical services which measured up to that yardstick, and a casual view of that one at Coeur d'Alene then would have needed a longer visit, given I visited when there seemed not to be many patients.
The amount of money allocated between Washington and Idaho was starkly demonstrated when I visited the two WWAMI campuses. It was clear that Washington State puts far more resources into education than does Idaho. Buildings, staff, programs – adjoining but so different.  They are in Pullman in Washington and Moscow in Idaho- only the border separates these two campuses.
Boise at that time was a small city, like so many of the state capitals. Unlike Sandpoint, which is at a forested 639m, Boise is on the altiplano at 832 m. So different in rainfall. At that time over 20 years ago, the guys I had lunch with were already talking about Boise becoming the new Silicon Valley; but it took almost the intervening time till now for the concept to stir into reality.  Nevertheless, from a business point of view, Idaho is on the move. On the basis of cumulative GDP and domestic migration plus non-farm employment growth, Idaho ranks 8th in the nation, and yet it lags badly in social expenditure, including that spent on public health.
This has been brought into relief by the COVID-19 crisis. Here is a State still rooted emotionally in a conservative agricultural and mining past of rugged individualism, yet paradoxically dependent on neighbouring Washington State to soak up those that it cannot treat because of the lack of health facilities.
I visited Spokane from where a member of the WWAMI faculty, who accompanied me around Idaho, was based. Spokane is a city of 230,000 in Eastern Washington, only 29 km from the Idaho border and 55 kms from Coeur d'Alene.
Spokane county itself is 53 per cent fully vaccinated (overall 63% Washington State) and across the border the corresponding Idaho county is 39 per cent fully vaccinated (overall 45% Idaho).
The current death rate from COVID-19 in Spokane County is far higher than anywhere else in Washington, being 5 a day based on a 7-day average. Spokane is bearing much of the Idaho caseload. In other words, Washington, where outdoor masking is mandatory, is having to treat the consequences of a State that discourages vaccination, masking, social distancing.  The problem is the area incorporating both States is uniform geographically and unsurprisingly attracted the same people with whom each hence shares much of the cultural heritage and attitudes. The only difference is how each State is coping with the Virus.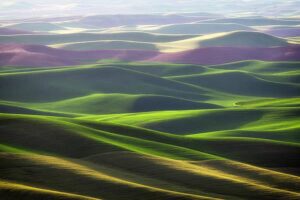 Individualism and pig-headedness are cut from the same cloth. As we drove back from Boise, we crossed the fertile Palouse, wheatlands where the differentiation between the two States was lost. I always thought that education with dispersal of the health knowledge capital into such areas would produce a more rational view of health. Yet Idaho still ranks 37th and Washington 14th in public health measures; but does that apply where the WWAMI campuses intersect at Pullman and Moscow?
In terms of its economic development Idaho is said to be a progressive state. But COVID-19 has questioned its worth, given the macabre report that so great have been the Idaho COVID-19 related deaths lately that the funeral homes are running out of space, being forced to hire mobile morgue facilities and admitting that cremations are running two weeks behind schedule. As the deaths are among the unvaccinated, someone opined darkly that no further government action in this State – where the Lieutenant Governor, Janice K. McGeachin wants to ban mask wearing – may be needed.
Yes, reinforcing the report at the head of this piece, Idaho is the State where some joker threatened to kill the doctor if he did not treat his father with ivermectin for his COVID-19. Is it really the Gem State?
And by the way, it does say something about border closures.
Plat de jour – Tehan-boned stake
While France's military is dwarfed by that of the United States or China, it remains one of the world's strongest and is backed by a world-class domestic military industry.
With 5,000-7,000 soldiers in the Pacific region, 20-40 military aircraft, and seven naval ships, France is the only European nation with genuine military strength in the region. The French air force has also carried out exercises deploying Rafale fighters from France, halfway across the world, to the Pacific as a show of strength.
France also has a seat on the United Nations Security Council, giving it a measure of hard power around the world. But for the great power that France once was, it is sometimes just not enough.
"The decline of France is a theme that emerges often, especially during electoral periods, and is popular among the right and far right. It's the idea that France used to be extremely powerful and influential, and that the France of today is insignificant and contemptible. It's obviously a narrative that can be questioned for a number of reasons."
This is a very sober analysis. Having been against the intrusion by the French into the South Pacific with their nuclear testing program in the 1990's, I worked to try and improve the co-operation throughout the South Pacific between the public health services. This cooperation was also forthcoming in relation to the nuclear testing.
Understandably, at that time there was complete silence shown by the Francophone area. Nevertheless, the problem went away, with the French buckling and ceasing nuclear testing. Language differences remain one of the difficulties, but even at that time the South Pacific Commission, as it was then called, was based in New Caledonia and the recently-appointed Director General at that time was an Australian. This situation is currently ironically the same, with another Australian now heading up the now South Pacific Community – another time of crisis.
When I headed the Australasian Faculty of Public Health Physicians (AFPHM) as President for three years, I made a point of visiting New Zealand at least twice a year, and with the assistance of the then Minister for Development Cooperation and Pacific Island Affairs from 1993 to 1996 was developing a strategy for public health in the South Pacific. My last act, despite my prominent anti-nuclear testing stance, was a meeting in New Caledonia of the then Commission. It was supposed to herald further co-operation.
Unfortunately, two things changed, the Labor Party was voted out. Bilney lost his seat – and the interest from the incoming Government was zilch -and it was also near the end of my fixed term in office. My successor showed no interest in pursuing the matter. He had achieved his standing by being an expert on the anatomy of the rat brain – says it all really.
The French could have been interested and it is important if you want to meaningly communicate with the French to speak the language and know more about them, apart from their cuisine. In the original makeup of the South Pacific Commission, both Great Britain and the Netherlands were members, but they relinquished their seats with the loss of colonies (the Brits did a "Melba" but that was short-lived). However, the French have held onto New Caledonia, the Wallis & Futuna Islands and French Polynesia, and maintained a strong presence. They reluctantly agreed to the creation of Vanuatu in 1980 out of that strange condominium arrangement with Great Britain then called New Hebrides.
There are 26 members of the community incorporating Polynesia, Melanesia and Micronesia. So, although its title is "South Pacific Community," the Micronesian nation members are in the Northern Pacific.
And when Pitcairn Island is incorporated, then the members are guardians over great amounts of the Pacific Ocean.
Thus, the recent clumsiness of Australia has yet to be worked through. I wonder if Morrison even knows we have Our Man in Noumea. Yet I'm sure Morrison would be having regular conversations with His Man in the OECD. At least Corman speaks French fluently – I do not know about the new Australian Ambassador to the OECD, Brendan Pearson, or whether he speaks fluent French.
Morrison has managed to tie himself up in a number of showboats, because of his desire to hold a megaphone. One of the latest, the QUAD– where the quid pro quad is not immediately evident – hope it won't end up in a Quad wrangle. Now, it's AUKUS (if you introduced Canada, it would be CAUKUS and Russia, it would RAUKUS). I also thought Mirage was only a fighter airplane; not a nuclear submarine fleet.
Now the South Pacific Community is one of the only landlines with a French connection left to Morrison. Here there is a common interest, protection of the Pacific Ocean in all aspects for all the nations within the South Pacific Community. Who knows how valuable they will be in the future?
Before WW11 the Japanese had sampans all over the South Pacific, doing a bit of pillaging, fishing and gathering intelligence. The Chinese now have what are euphemistically called "fishing boats" roaming all over the Pacific, doing much the same but in a more sophisticated way. As with Afghanistan and Iraq, we are being dragged away from our base. It is not the South China Sea where our interests lie. There is great deal of ocean for the Community to patrol, let alone the waters of China. At least the French have naval bases in New Caledonia and Tahiti if justification for their interest in the Pacific was needed.
Then, with all this breathless collection of acronyms that Morrison has brought back in his Gladstone bag, why snub New Zealand? After all, New Zealand more than Australia shares a heritage with Polynesia and the South Pacific. Wait a minute, there is another alliance where New Zealand does have a monocle in common with us – Five Eyes. Is that a true sharing arrangement?

But then the cold sixth eye – that of Dawn comes. Australia wakes in a sea of acronyms triumphant, but for what purpose?
At dawn, China remains our major export market (42%) followed by Japan (13%) then the South Koreans (7%), USA (5.5%) and UK and Singapore (4% each) India and New Zealand (3% each). France ranks 22nd; not Asterix but not that much, predominantly coal.
Now didn't Paul Keating question the Australian policy of cutting off our noses…
So which of our alliances incorporates China? Or do we have a Backdoor Alliance somewhere, maybe CAOZ?
I would get confused if I did not know Morrison was a marketing man, and the author of "Where the Bloody Hell are You?" Perhaps you can answer that, Prime Minister. You know you never ask a question without knowing the answer.
The Fragrance of France
I still cannot let go of our crass behaviour in regard to French sensitivity, even though I personally am very ambivalent about the French. That ambivalence is encased in some of my poetry, but I do love my memories.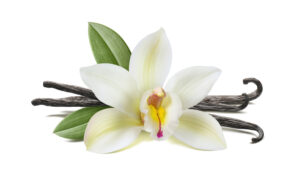 Coming out of that reverie, I have to say I have journeyed across French Polynesia, as well as visiting, with a dose of malaria, one of the French Indian Ocean Département, Réunion, where grows much of the vanilla, ylang-ylang and vetiver, and also has produced a French Prime Minister, Raymond Barre. There is a French naval base there and last year France and India held sea exercises around the Mascarene Islands.
Turning to the South Pacific Ocean, before Bali became the Australian tourist destination de choix, New Caledonia and Tahiti were popular with Australians. This was not because of a love of the Melanesian and Polynesian populations necessarily, but it was a taste of French life in the South Pacific. The lure of Club Med was everywhere. That is the problem. The island population are the backdrop, only incorporated as far as women in shimmying in grass skirts and smiling faces proffering coconut or some other tropical delicacy, or booze.
The myth of the South Pacific was embodied in a popular musical "South Pacific", based on the American, JM Mitchener's novel, Bali Ha'i. The French colonies escaped the barbarity of the War in the South Pacific, it was nevertheless very important to the Americans. Australia was in French Polynesia in the espionage business there when there had been a battle for control between Vichy and Gaullist forces and particularly before the Americans arrived in 1942 and took over control.
During WWII, the American presence in the French Pacific was significant. Noumea was the main US base with 22,000 troops, but it had air bases at Efate and Espiritu Santo in the then New Hebrides where there were 4,300 stationed.  There were 2,600 on Wallis Island, and 4,000 at a refuelling base at Bora Bora and the Raiatea meteorological station in French Polynesia. An uninhabited French possession, Clipperton, served as a meteorological and radio base.
It has been said that the American interlude enhanced the way the French handled these areas post-war as distinct from Vietnam or North Africa. The French were poor colonists in terms of their treatment of the indigenous people, and if one discounts Corsica, the only other remaining overseas territories are in the Caribbean and, uneasily, French Guiana. The French hate giving up their overseas possessions as witnessed by the difficulty in the achievement of Vanuatu's independence, which only occurred because of the unique condominium relationship with Great Britain; this is worthy of a standalone blog.
When I first visited New Caledonia and sought to buy an artefact which typified the culture, the shopkeeper laughed and said the genuine old stuff had all been taken by the Americans during the War – and then in Noumea, the indigenous people were backdrops to colonial French life.
Fortunately, I have been acquainted, through the diaries of a young man who worked on the island of Eromanga in the 30s, of the New Hebrides, then  jointly administered by the French and British. His diaries provided a tantalising insight.
In Vanuatu where I stayed with my friend on his island off Efate in the lagoon, there was more contact with the local indigenous people.
While staying there, we did fly to Tanna. Standing on the edge of an active volcano Yasur on that island was one of those experiences that is hard to forget – no railings, just the hot lava spurting out and upwards  – the trade winds blowing the sulphurous smoke away.
Yet the Americans left a quasi-spiritual legacy in the John Frum movement, but this nation in all its diversity exemplifies the challenge the whole of Melanesia presents, whether being colonised by France, Great Britain and in the past Germany and The Netherlands – and not forgetting now Indonesia.
French Polynesia is where I did have direct contact with the local people when in the Marquesas far out on the edge of French Polynesia. Perhaps of all the places I have ever visited in the South Pacific, this is where I became more immersed and able to observe the interaction between the French colonists and the Islanders. It is said that the Marquesans are the closest to the New Zealand Maoris in both their customs and language.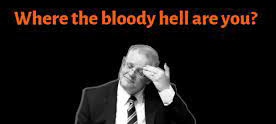 At the time we visited, very little English was spoken, but we got by. However, French Polynesia is spread over a large area of the Pacific Ocean, and therefore strategically it remans important; but even more so now at a time where there are social disturbances whether due to climate change or from disease. Even given French aloofness, it is important not to gratuitously insult the French.
So where does that leave us in relation to the South Pacific Community. Great Britain left in 2004, and the direct American interest is through American Samoa (if one discounts the nations north of the Equator). Apart from the all-pervasive influence of USA, what is the relevance of the albatross called AUKUS?  Especially as I repeat the following from one of my blogs written in May last year by a person far smarter than most, certainly Morrison, i.e. if manned submarines are really needed, Australia should buy nuclear, reducing the number to six and buy them completely constructed and fitted out in France.
I was not aware of any major investment by India in the South Pacific, and Japan certainly was a pest before WWII especially with continuing harassment over the Australian mandate over New Guinea. More recently, trade between Japan and the South Pacific nations is uneven. The largest exporter to Japan from the region is Papua New Guinea, mainly liquefied natural gas (LNG) while other countries export a variety of primary products. More than 95% of exports to Japan from these countries are based largely on mining and fishing-based products. Not particularly useful in terms of either COVID-19 or climate change.
As for India, it has a great facility for getting involved in all sorts of relationships and talking a great deal; but as far as can be discerned, its contribution to the South Pacific in tangible terms has been minimal, and only the ethnicity of Fiji provides any Indian footprint. So much for the QUAD being relevant.
China is a different matter. I could not say this better. While China is by no means the dominant donor in the Pacific, the way in which it delivers its aid — large infrastructure projects funded by concessional loans — makes these projects stand out. Chinese lending has also been used as a vehicle to get Chinese state-owned enterprises into the region. These companies are now competing in commercial activity across the board. According to China's own investment statistics, Chinese construction activity in the region was $958 million as of 2017, almost six times greater than its foreign aid activities.
For instance, China owns Tonga (unless it can reschedule the debt) and it is only recently that Samoa has ditched the proposal for China to build a port. Vanuatu continues to flirt with the Dragon.
But the Chinese own neither French Melanesia nor Polynesia. Not yet anyway; and Australia with its heightened sense of Sinophobia snubs the French. Incroyable!
Willow is not Necessarily Shallow
This push for ridding the language of gender differentiation has reached another closing of the fork, in this case that of between batsman and batswoman. The resultant of closing this fork is "batter".
"Batter" is a word of violence. "The batter battered the bowling." or
"Bumper battered, the batter succumbed."
"Batter" is also that mixture of flour and liquid. There are three types – "drop batter" as in he was "the first drop batter"; "pour batter' obvious but get your spelling right, and "coated batter" which you find on a village pitch in Yorkshire on a mid-summer day.
There you go, for the sake of gender anonymity, "Going out to open the innings is a violent mixture of flour and water."
My solution is to call them Willow.  The bats are willow. Calling the bat handlers "willow" is environmentally conscious. Notwithstanding "Out for a duck, the weeping willow trudged back to the pavilion", the name is more euphonious, and instead of "bumpers", we could have "wind in the willows."
However, as you go out to the crease, would you prefer to be called, "the batter coming to the wicked" or "these willow have the wood on these bowlers".
Some blogs ago, I also questioned…
Mass General Brigham, the state's largest health care provider, said Tuesday that it will not administer Biogen's controversial new Alzheimer's drug to patients, dealing another setback to the Cambridge company and its expensive treatment.
The network, which includes the flagships Massachusetts General Hospital and Brigham and Women's Hospital, is the latest major US health care system to opt against offering monthly infusions of the drug, called Aduhelm, over concerns about its safety and effectiveness. – from The Boston Globe
Mouse whisper
The matter has been raised by the cartoonists already. However, my New Zealand friend Kioreann has a taken this idea for protestors to a far more serious level. The police should be armed with specially designed dart rifles where they fire syringes full of vaccine into each of the protesters. These rifles would fire very penetrative darts since the hides of these protesters are particularly thick.
As compensation, these protesters will be able to collect their "Freedom from COVID-19" certificates as they are driven away in those comfortable vans and the protest date when they will receive their second dart.